USAs Day 4 Women's Distance: Ajee Wilson and Shelby Houlihan Win As Expected As Emma Coburn Wins #8
By LetsRun.com
July 28, 2019
DES MOINES, Iowa — The 2019 Toyota USATF Outdoor Championships came to a close this evening and there were three women's mid-d and distance finals — 800, steeplechase and 5000 — and they went very much according to form. We recap and analyze the races for you below.
Only three women in the 800 final had the IAAF World Championship standard of 2:00.60, so they were guaranteed to go to Worlds as long as they finished and no one else got the standard in the race. They did better than that, going 1-2-3 in dominant fashion. Heavy favorite Ajee' Wilson delivered a wire-to-wire win in 1:57.72 with Hanna Green second in 1:58.19 and Raevyn Rogers third in 1:58.84. The fourth placer, Olivia Baker, was more than two seconds back.  High schooler Athing Mu accredited herself quite well by finishing fifth in a personal best of 2:01.17.
In the women's steeplechase, the three fastest US steeplers history — and in 2019 — went 1-2-3 in the order of their seasonal best rankings as world champ Emma Coburn won her eighth national title in the steeplechase in 9:25.63 after a 66.59 last lap. World silver medallist and American record holder Courtney Frerichs was second in 9:26.61 and Colleen Quigley was third in 9:30.97. With Coburn being the reigning world champ, the US will get four spots at Worlds and there was no drama for the last one as three-time NCAA champ Allie Ostrander was the only other woman in the field under 9:50 at 9:38.52.
In the women's 5000, American record holder Shelby Houlihan got a dominant win as expected in 15:15.50 after a 63.57 last lap. There was a three-way battle for second that ultimately went to Houlihan's Bowerman Track Club teammate and 2019 US leader Karissa Schweizer in 15:17.03, as Elle Purrier (15:17.46) and Rachel Schneider (15:17.91) were third and fourth, both earning their first Worlds qualifications as pros, as Houlihan will only run the 1500 at Worlds (the 1500 and 5000s are back to back at Worlds this year so the double isn't possible).
Below we present the results of those three races and then give you our quick take analysis.
Women's 800 Results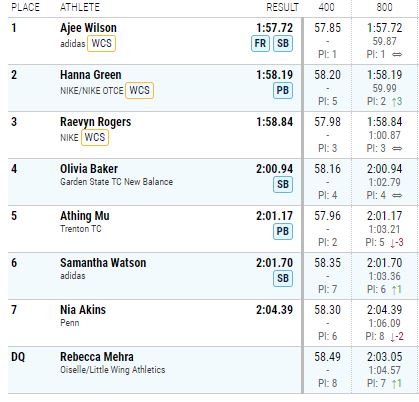 Women's Steeplechase Results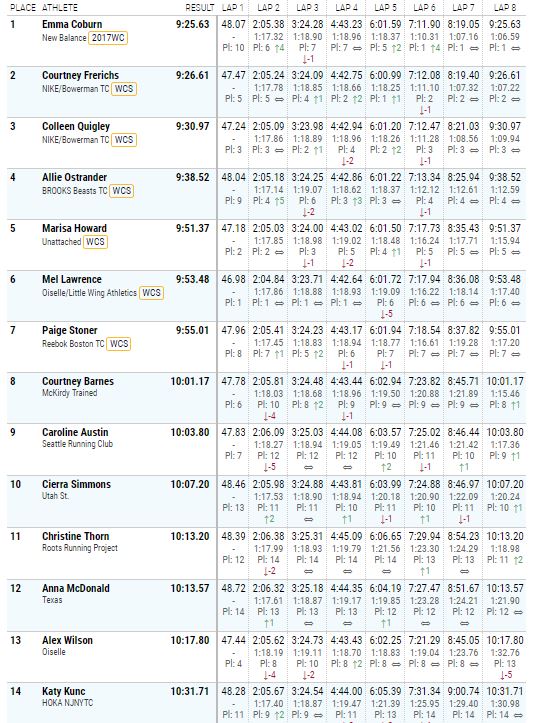 Women's 5000 Results
Article continues below player.
Women's 800 Quick Takes
Ajee' Wilson is utterly dominant against other XX women
In her last 40 800-meter races (including heats), which date back to July 2016, Wilson has been the top non-DSD XY finisher in 39 of them. If XY women are barred from competing at Worlds without having to take a hormone suppressant, Wilson is a big favorite for Worlds.
Ce'Aira Brown just became Ajee Wilson's number one fan
The last few weeks have been tough for Brown, who didn't run at all for five weeks until Friday due to injury. However, Brown could still go to Worlds. If Wilson wins the Diamond League final next month, the US will get to send four to Worlds and USATF confirmed to us that the 4th entrant would be Brown as she was the top finisher with the standard at USAs (even though she didn't make the final).
Women's Steeple Quick Takes
Coburn owns Frerichs, save for one race…..
Coburn is now 16-1 all-time in head-to-head matchups with Frerichs, including 14-1 in their main event, the steeplechase. But that one loss was costly as it's the race where Frerichs broke Coburn's American record in Monaco last year.
Kicking in a steeple is different than kicking in a mile
Of the big three in the steeple, Quigley is undoubtedly the best miler. She beat Houlihan to win the US indoor mile title this year, and her 1500 pb of 4:03.02 is far better than Coburn's 4:05.10 and Frerichs' 4:11.05. Yet it was Quigley who was left in the dust on the final lap today, running 69.94 to Frerichs' 67.22 and Coburn's 66.59.
Quigley said that the obvious difference is the presence of the barriers.
"It's totally different hurdling running those different paces," Quigley said. "You're getting a lot closer to the hurdles when you're running 80+ seconds per lap. You're just coming up to the hurdle, popping over it versus truly hurdling it at a faster pace. And so you take off from further away, and to make that transition is kind of weird."
Quigley was wistful watching the 1500 final yesterday and said it would have been fun to be a part of that race, but acknowledged that it was far easier for her to make the steeple team.
Women's 5000 Quick Takes: That's 5 in a row for Houlihan
After losing in her first three races at the USATF Outdoor Championships — 7th in the 800 in 2014, 10th in the 1500 in 2015, 2nd in the 5000 in 2016 — Shelby Houlihan has now won five in a row (the 5000 in 2017, and 1500/5000 in 2018 and 2019).
Karissa Schweizer gives Iowa 1-2 sweeps in women's 1500 and 5000
Schweizer, who grew up in nearby Urbandale, made her first World team by finishing 2nd tonight behind Houlihan, capping a great weekend for Iowa natives in Des Moines. Yesterday, Jenny Simpson, who was born in Webster City (and decided to scratch this race), was second behind Houlihan (Sioux City) in the 1500.
Elle Purrier's gamble pays off as she continues to reinvent herself
Two years ago, Elle Purrier was 4th at NCAAs in the steeplechase. Last year, she finished 7th at NCAAs — and 6th at USAs — in the 1500. Today, in her first full professional season, she made the World Championship team in the 5,000 — despite never having run one before this year. Purrier had run 4:02 for 1500 earlier this year and would have been a contender to make that team, but opted for the 5,000 in Doha. Today's result showed that she knew what she was doing.
Shannon Rowbury's streak of making teams comes to an end
Rowbury made her first US team in 2008, the year after she finished her collegiate career at Duke. That began a streak of seven straight US teams, highlighted by a bronze medal at Worlds in the 1500 in 2009. Tonight, Rowbury's streak was extinguished, as the 34-year-old finished 6th in 15:25.40. Rowbury took last year off to have a baby, and if that was the only thing she had to come back from, she may have been okay. But she also developed a stress fracture over the winter, and the combination of pregnancy + injury setback was simply too much for her to overcome in 2019.
Talk about the final day of USAs on our world famous messageboard/fan forum: