Young Phenom Report Card: Alexa Efraimson, Konstanze Klosterhalfen, Casey Clinger, Cameron and Tyrese Cooper, Plus Jeremy Wariner Does the 1200
The Week That Was In Running – February 13 – 19, 2017
by LetsRun.com
February 21, 2017
If you missed our extensive recap of the final event of the 2017 IAAF World Indoor Tour in Birmingham – the 2017 Müller Indoor Grand Prix – where we compared Britain's Laura Muir to Steve Prefontaine, catch up here.
Past editions of The Week That Was can be found here. Questions or comments? Please email us or post them in our running fan forum.
****
Jeremy Wariner Runs Half of a 1200
If you are a messageboard regular, you likely noticed that there was a thread last week mentioning that 2004 Olympic 400 champ Jeremy Wariner was scheduled to run a 1200 last week and that he ultimately he dropped out at 600m. That's only part of the story. The 1200 race, which was part of the Grand Prix d'Athlétisme de Montréal, was a pursuit race where you got paid increasing amounts for leading each lap of the race.
The payout was as follows.
Article continues below player.
Lap 1 leader – Can$50
Lap 2 leader – C$100
Lap 3 leader – C$150
Lap 4 leader – C$350
Lap 5 leader – C$600
Lap 6 leader (winner) – C$1,000
Wariner picked up C$150 for leading the first two laps but the winner of the race, Charles Philibert-Thiboutot, go the most (C$1,600) for winning the race in a fine 2:52.08. Philibert-Thiboutot, who has a 3:34 1500 pb, was 4th in the Wanamaker Mile the week before.
There was no way Wariner was going to be leading at 800 in a race like this. We would have been surprised if he had the lead at 600, so Wariner did about as well as could be expected. Afterwards, Wariner's thoughts on the 1200 were what you'd think they'd be for a 400m man:
Well that hurt ?

— Jeremy Wariner OLY (@Jwariner) February 19, 2017
Not that he didn't have a good time in Montreal:
Well Montreal it's been great. I had a blast. Thanks @Mychasiw for another great meet/hospitality

— Jeremy Wariner OLY (@Jwariner) February 19, 2017
MB: Jeremy Wariner update! Racing 1200m this weekend in Canada
MB: Jeremy Wariner drops out 600m into 1200m race
*****
Is Alexa Efraimson Following The Georgie Clarke and Mary Cain Path?
In Montreal, there also was a women's mile with increasing prize money that Alexa Efraimson ran.
Lap 3 leader – C$50
Lap 4 leader – C$100
Lap 5 leader – C$150
Lap 6 leader – C$350
Lap 7 leader – C$600
Lap 8 leader (winner) – C$1,000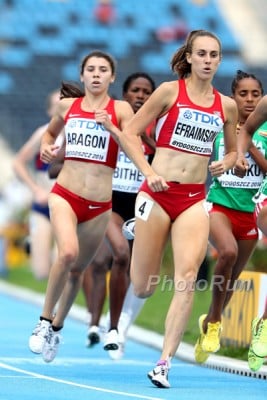 Efraimson, who celebrated her 20th birthday on Monday, led laps 3 and 4 and 6 before ultimate losing to someone nearly twice her age – 35-year-old Sasha Gollish.

1. Sasha Gollish               4:40.19 150 + 600 + 1000
2. Alexa Efraimson              4:40.56      50 + 100 + 350
3. Annie Leblanc               4:41.19
Speaking of Efraimson, we've been looking at her results very closely this winter. The fact that she didn't PR in the 1500 last year has LRC's Rojo a little nervous. In his mind, 2017 for Efraimson is very reminiscent of 2015 for Mary Cain.
In 2013, Mary Cain was the darling of US track circles as she ran her pb of 4:04.62. The next year (2014), she was second at USAs in the 1500 and won World Juniors in the 3000 but she didn't PR at 1500 (4:06.34) and thus we said 2015 would be really important for her as if she didn't PR two straight years, we'd be really nervous. And Cain's SB in 2015 was just 4:09.08 and last year it was 4:10.84. It appears now that she's far from a guaranteed future superstar.
Efraimson, may be following a similar path. In 2015, she ran 4:03.39. But last year, she regressed to 4:06.38 (to her credit she did make the USATF final for the first time). Certainly stellar for a 19-year-old (she was also 6th at the Olympic Trials) but if she doesn't PR this year, there will be concern she's on the path taken by Georgie Clarke and Mary Cain. There is nothing from the indoor season that indicated Efraimson is poised to PR in 2017, but indoors doesn't mean a lot.
Indoors this year, her mile SB was just 4:29.54 (9th Millrose). That's slower than what she ran last year (4:28.91 for 8th at Millrose). We'll be closely looking at Efraimson's outdoor marks this spring to see which way she's headed.
You can weigh in on Efraimson in our Forums- Today is Alexa Efraimson's 20th birthday – How good do you think she'll end up being?
****
Move Over Mary Cain and Alexa Efraimson, The Top 20-Year-Old Non-African-Born Pro Is Konstanze Klosterhalfen 
The non-African-born 20-year-old that everyone may ultimately be paying attention to in five years may not have the last name Cain or Efraimson (who are both 20).  Her name may be Konstanze Klosterhalfen of Germany. Klosterhalfen, who turned 20 on Saturday, gave herself an incredible belated birthday present on Sunday.
On Sunday at the German national indoor championships, she ran a remarkable 4:04.91 pb. Making that time all the more impressive is the fact that she won by 20+ seconds (2nd place was 4:25.34) and there were no rabbits. To go out and run 63.85, 2:10.91, 3:17.22 and 4:04.91 all by yourself is incredible. It's something we think a top American pro like Shannon Rowbury or Jenny Simpson would struggle to do. At the end of January when Simpson anchored her New Balance team to the DMR world record, she only ran 4:27 for 1600 all alone – which is a time that is much slower on an equivalency chart than what Klosterhalfen ran in Germany.
And did we add that she's got great endurance as well? Remember, she ran 32:24 for 10k on the roads last March and won her second straight U20 Euro XC title in December.
If there were a draft of 20-year-old female distance pros, which of the following three would you draft?
| | | | |
| --- | --- | --- | --- |
| Name | Mary Cain | Alexa Efraimson | Konstanze Klosterhalfen |
| Seasonal Best at 16 | 4:11.01 | 4:16.00 | 4:26.58 |
| Seasonal Best at 17 | 4:04.62 | 4:07.05 | 4:19.97 |
| Seasonal Best at 18 | 4:06.34 | 4:03.39 | 4:09.58 |
| Seasonal Best at 19 | 4:09.08 | 4:06.38 | 4:06.91 |
| Seasonal Best at 20 | 4:10.84 | ?? | 4:04.91 |
##
Klosterhalfen isn't the only women's prodigy in Germany. 19-year-old Alina Reh ran 8:53.56 to win the 3000 title last week, defeating 2015 World Championship steeplechase bronze medallist Gesa-Felicitas Krause.
****
Leonard Barsoton & Irene Cheptai Win Kenyan XC Championships — But Is That Bad News for Their World XC Hopes?
The 2017 Kenyan XC championships were held on Saturday in Nairobi. Leonard Barsoton upset reigning World XC gold and silver medallists Geoffrey Kamworor and Bedan Karoki to win the men's senior race, while Irene Cheptai pulled a shocker to win a women's race that included Olympic 1500 champ Faith Kipyegon, reigning World XC champ Agnes Tirop, world steeplechase champ Hyvin Kiyeng and 29:53 10k woman Alice Aprot. You'd think that winning the Kenyan championships — the hardest national championship to win in cross country — would be a good sign for Barsoton and Cheptai's World XC chances. But in the past four editions of World XC — a span during which Kenyans have claimed seven of the eight individual gold medals on offer — the top Kenyan at World XC has never been the winner of the trials. Check it out:
| | | | | |
| --- | --- | --- | --- | --- |
|   | Men |   | Women |   |
| Year | Top Kenyan at World XC (place) | Place at Kenyan Trials | Top Kenyan at World XC (place) | Place at Kenyan Trials |
| 2015 | Geoffrey Kamworor (1st) | 2nd | Agnes Tirop (1st) | 2nd |
| 2013 | Japhet Korir (1st) | 6th | Emily Chebet (1st) | 4th |
| 2011 | Paul Tanui (2nd) | 7th | Vivian Cheruiyot (1st) | 2nd |
| 2010 | Joseph Ebuya (1st) | 3rd | Emily Chebet (1st) | 4th |
As great as Cheptai's win was in Nairobi, we'd still be surprised if she won at Worlds in Uganda on March 26. Just read over the list of names she beat. Cheptai is no slouch herself (14:43 5k pb, two top-10 finishes at World XC) but given the trend and the quality of this year's Kenyan's squad, she has a very tough path to gold in Uganda. However, at the Trials she beat Kipyegon by 25 seconds, Aprot by 31, Tirop by 59 and Kiyeng by 64. Were they holding back or is Cheptai really that good? Barsoton, who is based in Japan, may have a better chance at World XC gold as Karoki is opting out of Worlds to focus on his marathon debut in London.
*IAAF recap: Barsoton and Cheptai Take Kenyan Cross-Country Titles
*Barsoton's Japanese coach celebrates by drinking a Tusker beer and reveals he's got a plan for Barsoton to dominate Tokyo 2020 Barsoton, who runs for Nissin foods in Japan, has other ideas. "My plan for this year is to win the World Cross Country Championships in Kampala and also the 10,000 metres title on the track at the World Championships in London."

****
Cas Loxsom's World Leader Reminds Us How Special Donavan Brazier Was Last Year
Last week, Cas Loxsom ran a world leader of 1:46.13 to win the 800 in Birmingham. And it made us appreciate how special Donavan Brazier's 1:45.93 opener was last year. He was 18. It was the first 800 of his collegiate career. It was January 16. And he ran a time that no one in the world has beaten so far in 2017. Then he backed that up and ran 1:43.55 outdoors to break Jim Ryun's 50-year-old collegiate record.
Big. Time. Talent.
No wonder Nike offered him a lot of money to go pro.
Speaking of Brazier, he raced his first 800 of the year last week at home at Texas A&M and won by 2+ seconds in 1:47.17 (Leo Manzano ran in the same meet and won the mile by nearly 4 seconds in a seasonal best time of 4:02.22).
****
NCAA Conference Action Begins
Most of the top NCAA conferences will hold their conference championships this weekend, but a few were held last weekend. A few things caught our attention.
Navy Lost The Battle But Won The War
At the Patriot League champs, the Navy men came from behind to win their fifth straight title with 187 points as Army was second with 168.66. In the women's competition, Navy was third with 112.33 as Army was fifth with 109 (Bucknell won with 180).
What's interesting is that earlier in the year at the famous Army-Navy dual, Army won both the men's and women's titles for first time in 22 years.
###
At the Mid-Eastern champs (MEAC), the quality of the distance races isn't all that great but there were some crazy performances nonetheless. On the women's side, Martha Bissah – a first-year at Norfolk State via Ghana – won the 800m (2:11.04), mile (4:53.48), 3000m (10:13.70), and ran on the winning DMR (12:02.49). On the men's side, Khalil Rmidi Kinini (Maryland-Eastern Shore/Spain) also won three events and a relay as he conquered the mile (4:14.87), 3000m (8:27.47), 5000m (14:59.30), and DMR (10:07.64).
##
At the Conference USA champs, there was a freshman star from Kenya as expected. However, it wasn't Emmanuel Korir, the man who briefly held the 600m world record this winter, but rather his teammate Michael Saruni who is currently #2 in the NCAA at 800. Saruni won both the 800 (1:50.67 over 2016 NCAA runner-up Eliud Rutto) and mile (4:03.32, which included Jonah Koech). Korir didn't race.
****
High Schoolers Casey Clinger, Cameron Cooper & Tyrese Cooper Produce Some Studly Performances
Several high school boys ran very fast last weekend. At the Simplot Games in Idaho, two-time NXN champ and BYU signee Casey Clinger (American Fork, UT) ran 8:54.97 for 3200 meters, winning by 25 seconds. And did we mention he did it at 4,500 feet of altitude? The NCAA gives an 11.4-second altitude conversion for a 3k at 4,500 feet, so that means about 12.1 seconds for a 3200. Subtract 12.1 from 8:54.97 and you get 8:42.97 for 3200, or roughly 8:45 for two miles. Here's the list of high schoolers in the US who have run 8:45 or faster indoors for two miles:
8:39.15 Edward Cheserek* (St. Benedict's, Newark, New Jersey) 2013
8:40.0 Gerry Lindgren (Rogers, Spokane, Washington) 1964
8:40.70 Lukas Verzbicas'* (Orland, Sandburg Park, Illinois) 2011
8:42.7 Jeff Nelson (Burbank, California) 1979
8:45.19 Alan Webb (South Lakes, Reston, Virginia) 2001
*Not US citizens at the time
Clearly, Clinger is in elite company. Speaking of elite company, on Saturday Cameron Cooper (Oak Park, MI) became just the third high school boy to break 1:50 for 800 meters indoors, clocking 1:49.82 at the UK High School Invite at the University of Kentucky's 290-meter track. Cooper joins Ben Malone (1:49.94 in 2012) and Robby Andrews (1:49.21 in 2009) in the sub-1:50 club. Michigan is quickly becoming a hotbed for middle-distance talent. In the past three years alone, the state has churned out Grant Fisher, Donavan Brazier and now Cooper.
The final HS performance we want to highlight was the 200/400 double by Tyrese Cooper (Miami, FL; no relation to Cameron), who ran 20.44/45.45 outdoors on Saturday at the Louie Bing Classic in Miami (many people, including us, don't think he really ran 20.44 from watching the video below but it was still quick). Clearly, those are exceptional times for February by a high school sophomore (though the 16-year-old Cooper is the age of a junior), especially considering the 200 came into a -0.3 m/s headwind. Unfortunately, only the 400 counts officially as Cooper was disqualified from the 200, which would have set a Florida state record if really a 20.44, for taunting. We've seen video of the incident (embedded below) and it's absurd that Cooper was DQ'd, assuming he didn't do anything crazy while he was out of the frame. All he did was put his hands up before the finish (which, if anything, makes his run more impressive as that could only have slowed him down). Cooper wasn't trying to show anyone up; if Usain Bolt wasn't DQ'd at the 2008 Olympics for doing this, high schoolers shouldn't be DQ'd for celebrating a great race. (BTW, that Bolt video never gets old no matter how many times you watch it).
*So Sick: Casey Clinger just ran 8:54 at 4,500 feet of altitude!! Crushed field and won by 25+ seconds.
*HSer Cameron Cooper runs 1:49.82 – #2 time all-time indoor for US HSers
*Miami track star Tyrese Cooper loses state record 200 time due to finish line 'taunt'
Discuss: Tyrese Cooper runs incredible double but gets DQ
****
Stat of The Week I / Let's Hope They Had Some Appearance Fees
$850 (€800) – amount of prize money that Douglas Kipsanai Chebi earned for running 2:09:48 and placing 4th at the Zürich Maratón Ciudad de Sevilla in Seville, Spain.
The marathon was won by Titus Ekiru who ran a massive 8-minute pb of 2:07:43 to break the course record and pick up $11,680. Titus' huge PR is all the more impressive when one considers his half-marathon PR is just 62:26.
More: Kenyan Titus Ekiru whacks 8 minutes off pb – from 2:15:43 to 2:07:43 CR – at Seville Marathon Spain's Paula González defended her title with a big pb of 2:28:54.
****
Stat of the Week II / A British Road Race That Would Make the Japanese Proud
46.2% – percent of road racers that broke that 15:00 for 5k at the Brooks Armagh Road Race in Northern Ireland last week, where 79 of the 171 male finishers broke 15:00.
The top 3 finishers for men and women were as follows.
Men
1. Ben Connor Unattached, 13:55 PB
2. Brandon Doughty, Reebok ZAP Fitness (USA), 13:55 PB
3. Dewi Griffiths, Swansea Harriers (GBR), 13:58 PB
Women (3K)
1. Laura Weightman, Morpeth Harriers, 8:59 PB/CR*
2. Rosie Clarke, Epsom & Ewell Harriers, 9:02 PB
3. Jessica Judd, Unattached, 9:10 PB

If you happen to know the most sub-15s in a single road race, please email us or post it on our messageboard. MB: What's the most # of sub-15 performances in a single 5k road race?
****
Stat of The Week III / People Don't Run Indoor 5000s All That Often
4 – number of national records set in the men's 5000 at the 2017 Müller Indoor Grand Prix 
****
Quotes of the Week (that weren't quote of the day)
#1 Putting Nitro Athletics in Perspective
"What we do want is three nights of athletics featuring the world's greatest athlete competing in Australia for the first time, a competition playing to a full house, being televised free-to-air to a nationwide and international audience, maybe a touch of controversy here and there – a relay controversy featuring the Bolt team and the locals. Perfect! – all leading to an exciting finale."
–Len Johnson putting the Nitro Athletics series in perspective on Runnerstribe.com.
Johnson responded to critics like Jason Henderson of Athletics Weekly who said that nothing tried at the series was "earth shatteringly innovative."  Johnson said that wasn't the point.
Henderson wrote: "Most of the 'ideas' such as mixed relays, javelin throwing for distance and accuracy, plus unusual races like 150 metres have been tried before. Nitro Athletics has merely thrown them all into one meeting in the sports-mad city of Melbourne during its summer time."
And Johnson responded, "Well, yeah, that is kind of the point. A good minestrone is made up of bits and pieces of meat and vegetables which put together make a delicious winter's meal. Yet on their own they are neither, in Henderson's phrase, "earth shatteringly innovative," nor particularly tasty."
In Johnson's mind, the key thing was the event was on free TV in Australia and it attracted 1.4 million fans on one broadcast.
More: Nitro Athletics: Did you see engagement, fun and laughter?
#2 Jesse Squire Isn't A Fan of Donald Trump 
"Since this (the 2017 Kenyan XC Champs) is a competition run by Athletics Kenya, which makes the Trump administration look honest and organized by comparison, no competition timetable has been published nor do we know if any web coverage will be available. The various races of the day are likely to take place sometime between 8am and 1pm in Kenya, which is midnight to 5am in the Eastern time zone. The Kenya Broadcasting Corporation website has been suggested as a possible video provider."
–Jesse Squire complaining about the lack of pre-race details for the 2017 Kenyan XC Championships on Thedailyrelay.com.
#3 Imagine How Great The Ancient Olympics Would Have Been If LetsRun.com Existed 2000 Years Ago
"When the Ancient Greeks, who invented the Olympic Games as an afterthought to laying the ground rules of Drama, Philosophy, Ethics, Medicine, Astronomy, et al, wanted to venture a bit of soothsaying as well, they would despatch a slave to Delphi to consult the Oracle. We slaves to track and field athletics have a much simpler task nowadays; we just log on to the internet and consult the likes of trackandfieldnews or letsrun. We can get results, reports, stats, and opinions on the state of the sport from across the world. The latter site has its drawbacks, mostly connected with its forum and message boards, where there are a few, sorry, a lot too many trolls, attention-seekers, and people who just can't spell."
–Pat Butcher writing last week on globerunner.org.
Have you read Butcher's book on Emil Zátopek? We have and enjoyed it.
#4 Kate Van Buskirk Is Thankful To Be Pain-Free
"I'm genuinely feeling like winning races and running fast times are incredible and definitely a part of why we do this. But if I had come seventh and run a bit slower, but felt the way that I had felt on Saturday, I would've been just as happy. Because I feel like I'm a runner again.
"One of the hardest parts was that I was in so much pain just in my regular life that I was just in survival mode. I thought: I don't even care if I can never run again, I just want to be able to walk or move without pain at some point. Because it was so severe."
-Canadian middle distance runner Kate Van Buskirk talking last week to thespec.com about her battle with spondyloarthropathy, "a crippling condition that left her unable to even roll over in bed, let alone roar down a track."
#5 It Sounds Like Jordan Hasay Is Made To Run The Marathon
"I remember doing my first 20 mile long run in September and just jogging it hoping I would make it that far! I felt so proud for a whole week afterwards! Now, I've done 20 mile workouts at close to marathon pace that feel pretty easy, so it's amazing to see how the body adjusts."
–Jordan Hasay talking to RunBlogRun about her marathon training.
#6 This Quote Is Incredibly Ironic In Our Mind
"This effort won't require a robot or superman drilled to perfection by scientific faith and medicine, but a good, time-tested human heart, blood and sheer resolve."
– Eliud Kipchoge talking to the Daily Nation about who will be the first sub-2 hour marathoner. If he truly believes what he says, we have no idea why he's in the Nike Breaking2 Project as it's going to have to rely on a scientific or technological gimmick to knock 3 minutes off the marathon WR in the span of 6 months.
More:  Catching Up With Eliud Kipchoge As He Prepares To Try And Break The 2-Hour Marathon
*MB:  It's Almost March And Nike Still Hasn't Released Details Of Sub-2 Project, Still Continues To Work Runner's World For Free Publicity
#7 On Second Thought, The Grass Isn't Always Greener
"It's funny. The grass isn't always greener on the other side….
"We met more people who had been kicked off the team who trained with us. As bad as it was, we met so many great people because of it."
–Cristian Soratos talking to the Bozeman Daily Chronicle about how he hated his time with the Big Bear Track Club last year. Now that he's returned to do what worked for him in college, he's thriving.
More: Cristian Soratos Didn't Enjoy His Time With The Big Bear Track Club Soratos and his girlfriend, former Arkansas All-American Stephanie Brown, had an "acrimonious" split with the club and moved together to Montana where they are now coached by Montana State's Lyle Weese.
*MB: So what's the deal with Big Bear TC?
#8 Shot Putter Tom Walsh Has Come Up With A Plan To Beat Ryan Crouser
"We've got a bit of pig hunting (coming up this week). We might just leave him in the bush in Marlborough somewhere and that will be fine."
– Walsh talking to the NZ Herald after losing a shot competition to Olympic champ Crouser (22.05m) in New Zealand, despite temporarily setting a New Zealand all-comers record (21.46).
The event sounded like a lot of fun as it was entitled the "Mike Greer Homes Big Shot & The Fast K". Fast K? Yes, there was a 1k road race for running fans.
Men's 1k Top 3
1. Luke Mathews, AUS       2:19.24
2. Jordy Williamsz, AUS    2:19.92
3. Hamish Carson, NZL      2:21.40
Women's 1k Top 3
1. Heidi See, AUS          2:39.11
2. Angie Petty, NZL        2:39.85
3. Katherine Marshall, NZL 2:40.29
****
Messageboard Post Of The Week
We loved this post by Track Coach, who started a thread entitled "Ajee Wilson = Class" and then posted:
"(She) sets the American record and all she talks about is how great her coach is and how happy she is for her teammate. A full-time student, trains on a middle school dirt track and has a coach who's also a youth club coach and has a full-time job as a mailman. True blue collar, no strength guy, psychologist, physical or massage therapist, , etc., shows up to most meets with only a teammate."
More: Ajee Wilson = Class 
****
Recommended Reads/ Watches