Who Is Emmanuel Korir – The Freshman That Set A World's Best in the 600m? "I Think He Could Be a World Champion in the 800"
UTEP freshman Emmanuel Korir may no longer have the fastest time in history for an indoor 600, but his talent isn't going anywhere.
By Jonathan Gault
February 1, 2017
The connections between the old coach and his young pupil are too obvious to ignore. Both UTEP coach Paul Ereng and freshman Emmanuel Korir began their careers as 400-meter runners before moving up to the 800. Both are Kenyans who came to the United States for college (Ereng starred at the University of Virginia). Both, at one point, ran faster than anyone in the history of the world (Ereng held the world indoor record for 800 meters from 1989-2000; Korir set a world indoor best of 1:14.97 for 600 meters on January 20, a mark subsequently bettered by American Cas Loxsom). And now they share a campus in the hills of West Texas, overlooking the Rio Grande.
Article continues below player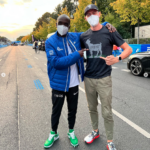 Kipchoge loves the 1:59:40 Shirt Get Yours Today
What a legend!
One item they do not share is an Olympic gold medal, but to hear Ereng, tell it, that may not be the case permanently.
"I think he could be a world champion in the 800," says Ereng, who surprisingly won both NCAAs and the Olympics as a freshman at UVA during his first year as an 800 runner in 1988 (Editor's note: Ereng's Olympic win was such a surprise that NBC announcers Charlie Jones and Frank Shorter famously totally botched the call).
Korir announced himself to American fans with two superlative performances in January — a world-leading 1:46.50 800 in Nashville on January 14 and that 1:14.97 600 in Albuquerque a week later — but his talent was clear to Ereng when he began recruiting Korir last summer. Jonah Koech, the UTEP sophomore who ran 1:46.53 last spring, had trained with the legendary Brother Colm O'Connell, coach of double Olympic champion David Rudisha, back in Kenya. Koech had heard that Korir, who is from a village just outside of Iten and went to the same high school as Rudisha, had begun working with Brother Colm and was interested in coming to the United States for college. Ereng took a visit to Kenya last June to check Korir out in-person and was reminded of himself.
"When I looked at him, he looked more explosive than most endurance event athletes," Ereng says. "He looked more to me like a good 400-meter runner. I came from that kind of background myself as a young man so I thought, 'I'll see how this one goes.'"
Korir had only begun training for the 800 in April, but by May he had already qualified for the final of the Kenyan Championships, where he ran a personal best of 1:46.94 to take eighth. Ereng had seen enough to offer Korir a scholarship, and he came to the U.S. in August 2016.
The first thing Ereng had to do once he began working with Korir was increase his mileage. Korir had spent most of his life as an athlete training as a 400 runner, and if he were to one day run the 800 at a high level, he needed to develop the endurance to survive preliminary rounds.
"There was a lot of development that needed to take place," Ereng said. "He didn't have much base, but he was very talented."
Ereng had Korir run cross country and assigned him between 55 and 60 miles per week in the fall. He also introduced weight training, such as squats, leg extensions and the bench press, something Korir had never done in Kenya. Though Korir was dropped frequently during long runs, the coach told him he didn't care how fast he ran; all that mattered was that he logged the miles and finished the entire session on workout days.
The result was a baptism by fire during races, where Korir's weaknesses were brutally exposed. In UTEP's first major race, the Joe Piane Invitational at Notre Dame, Korir was in 12th place at the mile but faded to 171st by the finish. At the NCAA Championships, he was in 59th at three kilometers but wound up 249th out of 251 finishers. Still, by the end of the fall, he had a base.
"I was prepared," Korir told the El Paso Times. "[Cross country] gave me confidence, it helped me."
Coach Ereng Thinks The College 800m Record Is Soft And Could "Very Easily" Be Broken
Once they switched to the track, Ereng dropped Korir's mileage to 30 per week and the freshman, back in his element, began enjoying workouts again. He blasted his first two races (plus a 45.6 split on the 4×400 the day after his 1:14 600) and Ereng believes that he could one day take down the NCAA indoor record of 1:44.84 — a mark that Ereng set 28 years ago as a student at the University of Virginia.
"I think the record is soft," Ereng deadpans. "I would love it to go that way. I think it would be great. I ran a little slower than 1:19 when I set the record and I think if Emmanuel can come through the 600 in 1:17, he can get the record very easily. Very easily. But we will see."
In some ways, Korir is far more advanced than your typical college freshman. According to both Ereng and athletics database Tilastopaja, Korir is already 21 (DOB is June 15, 1995), which means he is the age of a young college senior (or old college junior). Likewise, his times are commensurate with what you'd expect from a fourth-year, not someone who had never set foot on an indoor track until this season — though after the spectacular debut seasons of Texas A&M's Donavan Brazier and Penn State's Isaiah Harris in 2016, fast freshmen times are becoming more and more the norm.
In other aspects, however, Korir lags behind his fellow first-years across the country. Like many of his Kenyan teammates, Korir has had trouble adjusting to American foods.
"[The dining hall has] a lot of sugary stuff," Ereng says. "Their palate is not used to that. The first thing you actually find is they start losing weight because they're not eating well. Most of the time, they just eat rice, they eat pasta. They're not used to sweet food. Barbecue sauce, they don't like that. If it's grilled chicken, they just want it grilled, no kind of sauce on it."
In addition, Korir is a novice when it comes to racing the 800. Tactically, it's a difficult event to learn; even the best half-milers can take years to master the 800's nuances (although don't tell that to Ereng as he won Olympic gold in his first year in the event). Throw in the banks and extra turns of an indoor 800 and Ereng is still tempering expectations for this season.
"Sometimes people expect a lot from young people, but it takes people time to figure [everything] out," Ereng said.
Ereng, who in addition to his amazing success as a freshman in 1988 also won NCAA titles indoors and out in 1989 and two World Indoor titles for Kenya (1989 and 1991), has plenty of knowledge to share. The problem is, while Ereng says that Korir is a great listener and very coachable, at times, Ereng says it's very hard to know what Korir is thinking.
"He'll come to you and won't say anything," Ereng says, "and you can tell there's something that he wants but you have to get it from him."
Ereng knows Korir is capable of greatness, but for now he wants to see how his athlete responds to the pressure of the collegiate system. He plans on entering Korir in the 800 at this weekend's New Mexico Classic in Albuquerque and ideally a DMR later in the season where UTEP can chase an NCAA qualifier. But the biggest test will come at the NCAA Indoor Championships at Texas A&M on March 10-11, where Korir will face off against Harris, who ran .01 faster than Korir's 1:14.97 mark in a 600 at Penn State last weekend.
Until then, Korir will keep learning under Ereng, deepening the connection they already share.