Book Review: Pat Butcher Travels to the Czech Republic for "Quicksilver: The Mercurial Emil Zátopek"; How Does It Compare to the Other Zátopek Biographies?
By Jonathan Gault
December 15, 2016
"The Year of Zátopek" was truly 1952, when the Czechoslovakian legend won Olympic gold medals in the 5,000 meters, 10,000 meters and the marathon in Helsinki. So let's call 2016 "The Year of Emil Zátopek biographies" as three British authors — Richard Askwith, Rick Broadbent and Pat Butcher — have tackled the life story of the man Runner's World crowned the greatest runner of all time in 2013. In May, I reviewed Askwith's entry, Today We Die A Little! before taking a look at Broadbent's book, Endurance, in July.
Article continues below player.
Since then, it's been busy with the Olympics, fall marathon season and NCAA cross country, but I've finally found enough time to read Butcher's biography, Quicksilver: The Mercurial Emil Zátopek. I was worried that after already working through a combined 678 pages, I'd be Zátopeked out by the time I started Quicksilver, but thankfully that was not the case, for two main reasons: 1) at 194 pages, it is a considerably shorter and quicker read than the other two, both of which weigh in at 300+; 2) Butcher takes a far more personal approach to the Zátopek story than either Askwith or Broadbent, frequently inserting himself into the story, which makes sense as he was the only one of the three to actually have met Zatopek.
The book is also structured differently and reads more like a series of vignettes (there are 64 chapters, few longer than five pages) than a traditional biography. That means that, at times, there are self-indulgences (early on Butcher compares Zátopek to his own father), though they generally tie into the story somehow (a few paragraphs later, he discusses how a journalist viewed Zátopek as a father figure). In addition, Butcher, a longtime track writer who also authored The Perfect Distance about the Seb Coe–Steve Ovett rivalry, includes digressions on the benefits of being left-handed in sports (Zátopek was a natural lefty before he was forcibly retrained by his father and teachers), the famed Australian coach Percy Cerutty and the late Zane Branson, a well-known athlete manager who passed away while Butcher was researching the book.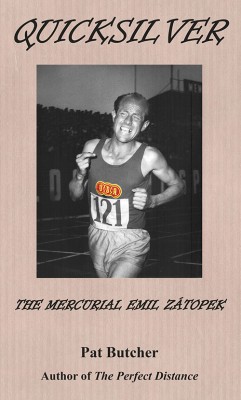 Quicksilver is more similar to Endurance, which devotes chapters to Zátopek's contemporaries such as Gordon Pirie, Alain Mimoun and Jan Haluza, than it is to Today We Die A Little!, which reads more as a traditional straightforward (though extremely detailed) biography. Some of the book's strongest material comes from the men whose lives Zátopek affected, most of whom view him as a god-like figure. Ron Clarke, the first man to break 13:00 for 3 miles and to break 28:00 for 10,000, describes Zátopek as "the grandfather of [Australian] athletics" because of his influence on one of the first Aussie stars, Les Perry (6th in 5000 at 1952 Olympics), while Czech journalist Štěpán Škorpil, who later became something of a handler for Zátopek, credited Zátopek's triple gold at the 1952 Olympics for inspiring him to pursue a career in sports journalism.
All three books discuss the details of Zátopek's training, but Butcher does the best job of distilling the monumental impact Zátopek had on elite running. Before Zátopek, no one knew how hard a runner could push the human body, and no one thought to run the incredible volume of repetitions that Zátopek did. Butcher notes that Zátopek, great as he was, likely did not reach his true potential due to the debilitating number of reps to which he would submit his body (at times 80-100 x 400 meters) and a brutal racing schedule — in 1949 & 1950, a two-year span during the prime of his career, Zátopek raced a total of 32 5,000's and 18 10,000's. Yet others learned from Zátopek's experimentation, adopting his attitude of pushing the body hard during training while realizing that, when it comes to intervals, there is a point of diminishing returns. Butcher summarizes Zátopek's legacy thusly: "he redefined notions of training which, while recognizing his own overindulgence, provided a template which endures."
Butcher took several trips to the Czech Republic to research the book, and though some of the trips to historic sites in Zátopek's life (such as the journey to his birthplace) fall flat, in others, he uncovers hidden gems. One such gem: an interview with a man who worked alongside Zátopek at the Svarnost mine in the 1970s while Zátopek was effectively exiled from mainstream Czechoslovak society for speaking out against the government and the Soviet Union during the Prague Spring of 1968. Like Askwith and Broadbent, Butcher draws on interviews with Dana Zátopková, Emil's widow and an Olympic champion javelin thrower in her own right, but also with several others whom he comes across in his travels, notably the journalist Škorpil and Zátopek's former training partner Lada Kořán. Butcher also quotes liberally from Dana a Emil Zatopkovi — Vypravuji (English translation: As Told By Dana and Emil), the couple's very useful 1960 autobiography, particularly when it comes to Zátopek's early years (which Askwith also leans on in his book).
Because of the book's vignette structure, it's one that you can pick up at any point and read for a few chapters, but it is also somewhat problematic for a binge reader as some stories touch on future events (chronologically) without the proper context while others are repeated (briefly) several times in short order. Of course, if you have read either Today We Die A Little! or Endurance or are familiar with the Zátopek story, the former is not a problem.
Perhaps it's because I have too much respect for the authors, each of whom dedicated considerable time to detailing the life of a challenging subject, but I cannot pick one to recommend over the others; it depends on what the reader is looking for. The most comprehensive biography of Zátopek's life and times is Richard Askwith's Today We Die A Little!. Askwith's book is the best-researched, the best-sourced and provides extensive information not only about Zátopek, but the Czechoslovakia he grew up and lived in. It's the closest you'll get to "the truth," and the best for someone with no prior knowledge of Zátopek, but it's also the longest of the three by far. Rick Broadbent's Endurance is a book not just about Zátopek, but the parallel lives of rivals Mimoun, Pirie and Jim Peters (first marathoner under 2:20) and his onetime coach Jan Haluza. Quicksilver is by far the shortest and least structured of the tree, but with Butcher's frequent interjections and actual, feet-on-the-ground descriptions of the places in Zátopek's life, it feels the most personal. All three contain some minor anecdotes and stories the others do not, but each covers the important stuff: his rise as a Bata factory worker, his career in athletics and the deleterious effects politics had on his later years.
It's probably not necessary to read all three books, but for those that choose to, they're different enough that you won't want to shoot yourself after hearing the same stories time after time. Any would make a fine addition to the running fan's library this Christmas.
Like Today We Die A Little! and Endurance, I rate Quicksilver at four out of five stars.
If you want to support the 'little man', you probably should buy Butcher's book as he self-published it. You can purchase the book from Amazon.co.uk for £14.99. If you are in the US, with shipping it will end up costing a total of $28.10 to get it here (won't make it for Xmas unfortunately). For a few more dollars, $32.28 total (£25.98), you can get an autographed copy by following the link on Butcher's globerunner.org website.


---
Previous book reviews by LetsRun.com can be found here.