Jenny Simpson, Brenda Martinez, Sydney McLaughlin and Emma Coburn Set New DMR Indoor World Record* of 10:40.31
by LetsRun.com
January 28, 2017
BOSTON — Technically, the New Balance United States team of Emma Coburn (1200 3:18.40), Sydney McLaughlin (400 52.32), Brenda Martinez (800 2:01.94) and Jenny Simpson (1600 4:27.66) only set a new indoor world best of 10:40.31 in the women's distance medley relay, because the IAAF does not recognize a world indoor record in this event, but for the packed house at the Reggie Lewis Center in Boston and everyone watching on the national television NBCSN broadcast, this was presented as a world record run, as they easily dispatched the old "record" of 10:42.57.
With the all-star crew assembled, Coburn, McLaughlin, Martinez, and Simpson only needed to run solidly to better the previous indoor mark; challenging the all-time outdoor world record of 10:36.50 would require really good performances across the board.
Article continues below player
Coburn got things started by running the opening 1200m in 3:18.40 and was closely followed by the New Balance Europe team. 3:18.40 was slower than the opening 1200m split in the old indoor record run, but left the team in good shape to get the record if the rest of the team ran solidly. High school sensation and Olympian Sydney McLaughlin ran the 400m in 52.32, but could not shake the European New Balance team. Brenda Martinez blew the race open for the United States team as her 2:01.94 opened up a nearly 3-second lead on Europe. The only question was what could Olympic bronze medallist, Jenny Simpson, muster on the anchor.
None of these women like to race frequently indoors. With that in mind, Simpson needed a manageable 4:29.52 to get the indoor best, and a Herculean 4:23.85 to get the outdoor world record. She split the difference running 4:27.66 and was able to point the baton at the clock as she crossed the finish line.
The world "record" was hers and her teammates.
QT #1: Don't Tell 99% of People Watching This Wasn't a World Record
On the TV broadcast and at the arena, the world record the team was shooting for was the softer indoor world best. The IAAF didn't recognize a world record outdoors at all in the DMR until May 1st, 2015, yet the DMR is run at nearly every collegiate track meet in America indoors and is a popular event on this side of the pond.
For a sport struggling in popularity, if a regularly-run event is run on a legitimate surface in a regularly-run way, we think it's ok to call the fastest time in it a world record.
So meet your new world record holders: Emma Coburn, Sydney McLaughlin, Brenda Martinez and Jenny Simpson.
QT#2: Jenny Simpson Has Missed Emma Coburn at Practice This Year
One of the biggest news items of the offseason was Coburn switching coaches from Mark Wetmore and Heather Burroughs to her fiancee Joe Bosshard and we spoke to both Coburn and Simpson about the change after the race.
Coburn said that she still does many of the same runs in Boulder but she has been trying to do more longer tempos and strength work under Bosshard as she believes that's an area she thinks she can improve on.
"It's been fun," Coburn said. "We're having a good time and I still get to see Mark and Heather's training group all the time…I'm very happy."
Simpson said that Coburn's departure was "harder on me than maybe I thought it would be" but she still sees Coburn frequently in Boulder.
"You go to the first day of practice and you kind of miss her," Simpson said. "And then you go to the second day of practice and you really miss her. And then the first really hard workout where you need that partner in the effort, I missed her the most. So it's been hard but at the same time, she is killing it in life. She's doing awesome."
Emma Coburn interview
Jenny Simpson interview
Sydney McLaughlin interview
McLaughlin, who was decked out head to toe in New Balance gear at New Balance's flagship meet, was asked about whether she would one day sign with the company.
"I don't know yet," said McLaughlin, who has committed to the University of Kentucky. "There's a lot to be considered and a lot to figure out. College first and then we'll see what goes from there."
A reporter then asked if she still intended on signing (with Kentucky; national signing day for football is next week) and McLaughlin laughed nervously.
"I don't know, we'll see what happens," McLaughlin said.
Brenda Martinez interview
PLACE
ATHLETE
RESULT
1200
1600
2400
4000
LN/POS
1
United States

United States [A]

10:40.31

3:18.40

–

Pl: 1

4:10.72

52.32

Pl: 1

6:12.65

2:01.94

Pl: 1

10:40.31

4:27.66

Pl: 1

4
2
New Balance Europe

New Balance Europe [A]

10:49.39

3:18.77

–

Pl: 2

4:11.20

52.43

Pl: 2

6:15.49

2:04.29

Pl: 2

10:49.39

4:33.91

Pl: 2

2
3
New Balance Boston

New Balance Boston [A]

10:55.93

3:25.40

–

Pl: 4

4:19.50

54.10

Pl: 3

6:24.09

2:04.60

Pl: 3

10:55.93

4:31.85

Pl: 3

3
4
Central Park TC

Central Park TC [A]

11:12.77

3:25.19

–

Pl: 3

4:20.17

54.98

Pl: 4

6:27.34

2:07.17

Pl: 4

11:12.77

4:45.44

Pl: 4

1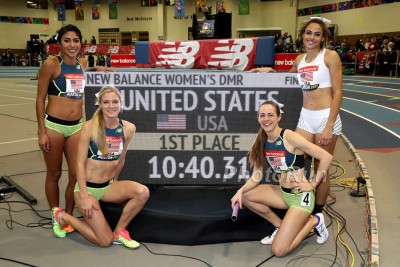 *Full LRC Meet Recap Here *Full results on one page here *Results with splits here