WTW: Double Wins for Bill Aris, Sarah Disanza Rocks It, Jeff Eggleston Goes for It, Paula Radcliffe Improves and More
by LetsRun.com
December 12, 2014
Once again our weekly recap is out very late in the week. At least this way you won't get fired at work for slacking off and reading LetsRun.com. You can read it over the weekend.
Previous versions of the Week That Was can be found here.
Questions? Comments? Email us.
***
Article continues below player.
A few quick thoughts/thumbs up before we get going into the meat of our analysis.
Thumbs up to the Adams State men and Grand Valley State women who both completed rare three-peats, winning their third consecutive NCAA Division II National Championships last weekend in Kentucky. Both teams had the individual champs as well as 13:49 man (8:35 steeple) Tabor Stevens of Adams State repeated as men's champ and sophomore Kendra Foley (4:33.6/9:56.39/16:36.61) won the women's title.
Thumbs Up to USATF for raising the prize money at the 2016 U.S. Olympic Marathon Trials in LA to $600,000 – the same it was going to be if held in Houston. A key reason as to why the USATF Long Distance Running Committee wanted Houston and not LA to host the Trials and why they voted 5-0 for Houston was that Houston was offering an extra $100,000 in prize money. That discrepancy is now a thing of the past.
That doesn't mean that USATF CEO Max Siegel is in the right for ignoring the vote and choosing LA over Houston. It would have been better if Siegel had said, "It sounds like the date of the race and prize money are the sticking points. Let's see if we can get LA to step up on those fronts" instead of just unilaterally acting. USATF is certainly getting in the habit of just ignoring the desires of its members as last week the board ignored a 392 to 70 vote of its membership and nominated Stephanie Hightower, not Bob Hersh for the IAAF Council. We don't know enough about the situation to say too much about it but are concerned as 392 to 70 (85% to 15%) is pretty emphatic. The USATF board has not given a good reason as to why it should ignore 85% of its voting members.
We don't know what it is about our sport but the power grabs by the University of Oregon in conjunction with its Worlds bid (EDITORIAL: TrackTown USA/UOregon Shouldn't Have Kept Reporters From Their Meeting – What UO board learned: 'Training' session should have been open to public) and USATF are disconcerting. It seems as if neither group feels the need to justify their actions to the public.
Both groups are non-profits and should not forget they are supposed to serve the general public good and in the case of USATF members, , not the administrators' good.
More: 2016 Olympic Trials Marathon To Feature A Record $600,000 In Prize Money This is good news since the problem everyone had with LA hosting was that they reportedly were offering $100,000 less prize money than Houston. Hopefully this means LA stepped up and matched or offered more than Houston's original bid.
LRC Archives: Ed Torres Reveals LA To Pay Athletes $100,000 Less Than Houston Would Have For 2016 Olympic Marathon Trial
*LetsRun.com's Thoughts In Weekly Recap When LA Was Picked Over Houston
USATF Board Of Directors Responds To Extreme Backlash For Rejecting Membership IAAF Council Vote
*MB: USATF BS Letter to its Members
*MB: USATF Board overturns 392-70 vote
More USATF News: USATF Reports It Almost Doubled Its Annual Revenue In 20014 CEO Max Siegel announced an increase from $19 million in 2013 to $35 million this year. Largely thanks to new marketing partnerships and the renewal deal with Nike.
****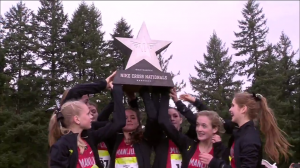 Double National Titles For Fayetteville-Manlius and Bill Aris
We don't spend a lot of time following the team scene at the high school level because LetsRun.com is mainly focused on elite running. Having said that, one team achievement last week stood out so much it merits more than a mention. Fayetteville-Manlius (NY) High School, coached by Bill Aris (whom we interviewed in 2010), won both the boys' and girls' national high school team titles at NXN last weekend.
This was title #1 for the boys, who previously had come close on several occasions (second in 2004, third in 2005, second in 2010, fourth in 2013) and the eighth in nine years for the girls. The double wins make Aris the best high school xc coach in history.
Think about it. This isn't like college cross country where you can recruit. One of LetsRun.com co-founder Robert Johnson's favorite sayings about college cross country is, "How many national titles did Mark Wetmore win at Seton Hall?" meaning without talent you aren't going to be super successful.
At the high school level, there is no recruiting — well certainly not at FM, which is a public school on the outskirts of Syracuse, NY, (at a private school in a major city it would be easy to cherry pick the top kids) — yet FM is a powerhouse team in both genders year after year. Both the boys' and girls' teams have qualified in nine of the 11 years that NXN has existed.
Manlius Boys At NXN Since Its Founding in 2004: 2nd, 3rd, DNQ, DNQ, 16th, 9th, 2nd, 12th, 16th, 4th, 1st
Manlius Girls At NXN Since Its Founding in 2004: DNQ, DNQ, 1st, 1st, 1st, 1st, 1st, 1st, 1st, 2nd, 1st
There can be no doubting Aris' brilliance on the girls' side of things. In terms of the boys, York's Joe Newton has always been the standard-bearer in terms of HS xc coaches. He's such a legend that a movie was made about him. But consider this. NXN has existed for 11 years. Both York and FM have qualified on the boys' side 9 of the 11 years. Both have won one title and been runner-up two other times. In terms of average places though, FM has the slight edge. FM has averaged a 7.22 placing versus a 7.78 for York.
York at NXN – 1st, 2nd, 10th, 9th, 2nd, 13th, 14th, 13th, 6th, DNQ, DNQ – Average 7.78
FM at NXN – 2nd, 3rd, DNQ, DNQ, 16th, 9th, 2nd, 12th, 16th, 4th, 1st.- Average 7.22.
Now some knock Aris' program because many of the top runners don't go on to successful college careers, particularly on the women's side. One women's NCAA coach told us this week week that no FM girl has ever finished on the top 5 of a team at NCAAs.
Our response: so what? Women's running – women's gymnastics as well – at the high school level is filled with women who were super successful but struggled once the maturation process took over. If anything, one could argue the lack of success at the college level shows you how great of a coach Aris is. Is FM the most talented team each year? No. Are they the most dedicated? More times than not.
On the men's side, FM grad Alex Hatz has run 3:39 at Wisco and Tommy Gruenewald broke 14:00 at BYU.
A college coach recruiting an FM kid knows what they are getting – a super dedicated runner who is likely already training at a collegiate level.
FM's two wins even got Aris a feature in the Wall Street Journal: MB: Wall Street Journal feature calls Bill Aris "the Lombardi of teen running".
More: LRC Unbelievable: Fayetteville-Manlius Sweeps Boys' & Girls' Titles At NXN High School Team Nationals
*LRC Archives: 2010 Training Talk With Bill Aris
###
Speaking of great high school running. A 16-year-old in Japan ran a 13:58 5000 last week: MB: 16-year old runs 13:58 in Japan!!! What's the US age 16 record?
That's very impressive. What blew our mind was the fact that the age 16 record in Japan is actually 13:45.86 as that's what Satoru Kitamura ran way back in 1986.
The corresponding record for an American at age 16 belongs to Craig Virgin at 14:12.3 in 1972.
Some on the LetsRun thread say Virgin only ran 14:14.6 but Virgin himself chimed in to say he definitely ran 14:12 and added that he thought he actually ran 14:11 at one point before doing some research to say the record is 14:12.3. Two great posts from Virgin.
More: MB: 16-year old runs 13:58 in Japan!!! What's the US age 16 record?
****
Sarah Disanza and Emily Sisson Rock The 5000
Japanese high schoolers weren't the only people running track meets in December last week. Four runners, led by 2014 NCAA XC runner-up Sarah Disanza of Wisconsin, broke 16:00 in the 5000 at BU on December 6 and likely punched their tickets to NCAA indoors.
5000m:
1. Sarah Disanza            Wisconsin             15:20.57 PB
2. Emily Sisson             Providence            15:21.84 PB
3. Liv Westphal             Boston College  15:31.62 NR
4. Tansey Lystad            Portland              15:51.12 PB
Those top two times are very fast for collegians as Disanza and Sisson are now the fourth- and sixth-fastest women in NCAA history indoors (#3 and #4 on non-oversize tracks). Last year, Abbey D'Agostino led the NCAA at 15:40.55. For her collegiate career, D'Agostino never ran faster than 15:28.11 indoors.
The 15:30.57 also was a massive new pb for Disanza who came in at 16:24.00. Sisson, who was out of XC eligibility this fall, had a pb coming in of 15:33.16.
Disanza turned heads with her second-place finish at NCAA cross and capped a tremendous 2014 with a great run.
The Sub-15:30 Indoor Performers in NCAA History
1. 15:01.70 Jenny Barringer (Colorado) 2009*
2. 15:14.18 Kim Smith (Providence) 2004
3. 15:17.28 Sonia O'Sullivan (Villanova) 1991
4. 15:20.57 Sarah Disanza (Wisconsin) 2014
5. 15:21.66 Betsy Saina (Iowa St.) 2013*
6. 15:21.84 Emily Sisson (Providence) 2014
7. 15:25.47 Aliphine Tuliamuk-Bolton (Wichita St.) 2013*
8. 15:27.42 Sally Kipyego (Texas Tech) 1997
9. 15:28.11 Abbey D'Agostino (Dartmouth) 2013
10. 15:29.24 Deborah Maier (Cal) 2012*
11. 15:29.65 Lisa Koll (Iowa St.) 2010*
*oversize track
More: MB: Sarah Disanza, 15:20 to win BU 5000 over Sisson (15:21)
****
2014 Fukuoka: Makau's Comeback Continues; An American Goes For It 
Thumbs up to Patrick Makau for winning the Fukuoka Marathon last week in 2:08:22. While his winning time wasn't great (and it was a positive split of 63:39/64:43), what was great was that the former world record holder was racing and finishing his first marathon since London 2013 and winning his first since Frankfurt 2012 (2:06:08).
Makau had shown he was healthy this summer with a 27:57 at Beach To Beacon in August but a disappointing 64:48 half-marathon in Spain in October had raised some questions as to how he'd do in Fukuoka. Still only 29, there's plenty of time left for Makau to be a major player on the world scene.
###
Jeffrey Eggleston Went For It Big Time in Fukuoka
There were a few Americans in Fukuoka. One had a good day and got a PB and one at least officially extinguished the common criticism we read of non-African runners. "Oh the Americans (or Japanese, English, etc.) aren't any good because they just try to be the best American (or Japanese, English, etc.) instead of the best in the world."
We'll start with the bold running of Jeffrey Eggleston. Eggleston, who has set two marathon pbs this year, first in Boston in April (2:11:57) and then in Brisbane in July (2:10:52), wasn't content to end 2014 as the US's second-fastest marathoner. No, he went for a big breakthrough in Fukuoka as he went through halfway in the lead in 63:38. However the wheels came off and he ended up a DNF after hitting 35k on 2:12:42 pace.
We've never really believed the criticism that Americans aren't great because they don't dream big enough in the marathon. Yes, many of them are focused on being one of the top Americans, but that's simply because being one of the best in the world isn't a realistic option for them. If they could go out faster and hang on, they would. Eggleston's blow up shows that.
The same logic applies to the Japanese. After Fukuoka, the Japanese federation was very disappointed as no one came close to the 2:06:30 standard they've set for 2015 Worlds. Japan Running News' Brett Larner reports that Executive Director Mitsugi Ogata and Development Committee Director Katsumi Sakai both complained about the attitude of the Japanese.  Ogata said the Japanese athletes weren't "aggressive" enough while Sakai said, "If they don't change their way of thinking they'll never be able to compete with the rest of the world."
In terms of positive news, Sean Quigley, the former La Salle runner who now runs for Saucony, lowered his pb in Fukuoka from 2:14:12 to 2:13:20 (after a 65:08 first half). The 2:13:20 moves him to #10 in the US for 2014, knocking Ian Burrell (2:13:26 in Houston) off the list. And with Fukuoka in the books, we imagine the top 10 list for US men's marathoners isn't going to change. So without further ado:
Top 10 Fastest U.S. Marathoners in 2014
1. 2:08:37 Meb Keflezighi – Boston
2. 2:10:52 Jeff Eggleston – Brisbane
3. 2:10:57 Ryan Vail – London
4. 2:11:20 Bobby Curtis – Chicago
5. 2:11:36 Fernando Cabada – Berlin
6. 2:11:47 Nick Arciniaga – Boston
7. 2:12:52 Josphat Boit – Boston
8. 2:12:55 Shadrack Biwott – Frankfurt
9. 2:13:16 Jake Riley – Chicago
10. 2:13:20 Sean Quigley – Fukuoka
Want to learn more about Eggleston? You're in luck as we did a Q&A with him this week: Q&A With 2:10 American Jeffrey Eggleston Who Reflects Back on A Successful 2014 Campaign After Going Out in 63:38 in Japan.
****
Paula Radcliffe's Getting Faster
The women's marathon world record holder is trying to make a mini-comeback of sorts and end her pro marathoning career on her own terms. She's hoping to run London (and maybe New York) one last time as an elite.
Her comeback — which to this point consisted of two 35-minute 10ks (a 35:49 in September and a 35:28 in October) — took a turn for the better last week as she ran a 15k in Germany in 52:48. So that's 15k at 35:12 pace – a faster pace than she was running for 10k in October.
Let's say her endurance continues to improve. A full marathon at 35:00 10k pace gets you 2:27. A full marathon at 36:00 10k pace gets you 2:31. So a good over/under for London in our book is 2:30 and we're certainly going under.
****
$50,000 For Running Close To 2:50
The Standard Chartered Singapore Marathon was held last weekend. Now normally we don't spend a lot of time talking about the Singapore Marathon. But it was significant for two reasons. The winner of the lucrative $50,000 first prize on the men's side in 2:16:42 was 41-year-old Kenneth Mungara of Kenya. We know we told you earlier that a strong mind will only take you so far in running but Mungara cleary shows that age can just be a number in running for some even in their early 40s.
Now 2:16:42 may seem slow to you first place offers $50,000. But the conditions in Singapore on Sunday were brutal. The mean temperature was 83 and the average humidity was 86% according to Weather Underground.
If you think 2:16 was a bit slow, guess what time won $50,000 on the women's side?
2:46:54.
Yes, that's right. Ethiopia's Waganesh Mekasha Amare won $50,000 with that time. Amare is no slouch though. This was her marathon debut but the 22-year-old has a half marathon pb of 68:48 which equates to 2:24-2:26 in the marathon (JK says it's 2:26:58, McMillan 2:24:48).
****
The U.S. Can Still Lay Claim To Being The #1 (Olympic) Economy
Last week, parts of America were up in arms as the U.S. was passed by China as the largest economy in the world – China surpasses U.S. to become largest world economy – as the International Monetary Fund says China will produce $17.6 trillion in terms of goods and services —  compared with $17.4 trillion for the U.S.
Well we've got good news for all of the American patriots out there. The U.S. is still by far the world's #1 in terms of how much it pays to broadcast the Olympics. Last week, the IOC gave the TV rights to the 2020 and 2022 Olympic games
to state broadcaster 
China Central Television (CCTV)
 for $550 million. NBC pays A LOT more to broadcast the Olympics in the States.
In 2011, NBC paid $4.38 billion to get the Olympics through 2020 and then this May, they agreed to pay $7.75 billion to lock down the Olympics through 2032 (an average of nearly $1.3 billion for each of the next six Olympic Games). Per person, 
Insidethegames.biz reports
that $550 million works out at only around $0.40 (£0.25/€0.32) per head of Chinese population, compared with the approximately $3.80 (£2.40/€3.10) per head paid by NBC for the right to for Rio 2016 in the US.
****
Good Sports Journalism
We always say when real journalists cover track and field it's often quite well done. Case in point, some of the excerpts from a Michael Calvin column in The Independent were pretty amazing:
"Coe launched his campaign by insisting: 'I don't want people thinking there is a better set of chemists in lane five than in lane six.' I have news for him. They already do so. It is no longer possible to suspend disbelief. Track and field is dying, and the post-mortem will suggest suicide.
…Sports politics may be conducted in seven-star hotels, but it carries the stench of the sewers."
Calvin also argued in the column that Coe must insist doping become a criminal offense.
****
True Statement: A D-I Program Is Going To Cut Football, Add Men's XC and Track & Field
Last week, there was a messageboard thread on the fact that the University of Alabama-Birmingham is cutting its (American) football team as it's a big money loser: MB: Huge News FBS Program Cuts FOOTBAL.
We bet most of you not from the state of Alabama thought, "What does that have to do with running?" and moved on. Some messageboard visitors writing in the thread did wonder what impact it would have on the other sports at UAB, but no one had the most important news of all.
We've got good news to report. Not sure why, but for some reason we read the consulting report used to justify the elimination of the UAB football program. We learned that once football is eliminated, UAB will need to add a men's program to have the minimum number of NCAA sports and that the program to be added will be men's cross country, indoor and outdoor track.
Thus it seems that money-losing football programs are coming at the expense of men's cross country, indoor and outdoor track programs.
There is some bad news – if you are a fans of women's bowling and rifle, those teams are set to be cut.
Also, the administration at UNC-Wilmington announced they are planning on cutting xc and track there. If you want to support UNCW's program, we suggest you sign the petition now.
More: Sign petition to save UNCW track and field program here – Program is set to be axed
*MB: UNCW track – Another College Program Bites The Dust
*****
First Beer Mile "World Championship"
The other race of note was the Flotrack Beer Mile "World Championship" which was won on the women's side by Elizabeth Herndon in a world's best of 6:17 and on the men's side by Corey Gallagher. Beer miles in the U.S., are almost always going to have permitting issues in the U.S. as they are normally run on a track (because of the binge drinking aspect of the event and the fact almost all U.S. tracks are associated with high schools, colleges, or cities) and this one was no different as it was moved at the last second from a track that hosts high school meets to the Circuit of the Americas F1 race track. The event showed however, that a beer mile can be held open to the public in the U.S. and this one had "nearly a thousand people".
This "World Championship" did not have men's world record holder and the only sub-5 beer miler ever, James Nielsen, because he is working with a group that is trying to put on its own beer mile "championship" in California. The Cali group had talked with Flotrack about putting it on together. Flotrack then decided to host its own "World Championship" and Nielsen did not take part. Nielsen's group wants to put on an event in the spring (also not at a traditional track).
In the end, it seems as if beer miles are no different from the rest of the sport with various entities clashing for control and administrative shenanigans going on (On the day of the event, Beermile.com, the "official beer mile resource," changed its rules to say a world record did not have to be run on a track. Before, the rules always said a record had to be run on a track) .
*****
Quote of the Week (that wasn't quote of the day)
"To many within and outside our sport, our calendar seems disjointed, lacks a narrative and the essential glue to build excitement and a loyal and passionate following.
"Many fans don't know when the athletics season starts, when it ends, why it seems to bounce around from the USA to Europe to Asia and back again. A harmonized calendar is the key to promotion, marketing, the athletes and member federation development and we must address this."
– Seb Coe, writing in the manifesto he released last week announcing his official intention to run for IAAF president, succeeding Lamine Diack, who will step down in August.
****
Stat of the Week
3,925 rubles ($72.96) – amount it cost to have EPO delivered to your door without a prescription in Russia.
As for more detailed talked of the Russian doping scandal that came out last week on German TV, we are going to wait a few days until we've done a little bit more research. The transcript of the first hour of the German expose ran more than 20 pages. There are three shows. It's going to take some time for us to get informed.
****
Recommended Reads
Nice Read: Profile On 2012 Foot Locker Champ Anna Rohrer, Who Has Battled 2 Years Of Injuries To Get Back On Top
Bill Aris Post-Race Video Interview Talking About FM's Historic NXN Sweep
King Carl Speaks: Carl Lewis Talks About His Full-Time Coaching Gig At The University Of Houston
Good profile of Olympic TJ champ Olga Rypakova of Kazakhistan
****
Quotes Of The Day & Last Week's Homepages:
Note: To see a particular day's homepage, click on the hyperlink of the date. The hyperlink below the date on the quotes will take you to that particular article – not that day's homepage.
---
---
– Fayetteville-Manlius coach Bill Aris talking after his team made a historic sweep of the boys and girls race at Nike Cross Nationals.
---
---
– 42-year-old Australian high jumper Nick Moroney, who has cleared 2.10m or better every year for the last 25 years. Another impressive streak – Moroney has been with the same coach, Peter Lawler, for 27 years.
---
– Former Russian Anti-Doping Agency (RUSADA) employee and husband of a banned 800m runner, Vitaliy Stepanov, talking in a German documentary on a massive Russian doping scandal. The documentary includes scathing allegations against RUSADA, Olympic 800 champ Mariya Savinova, banned marathoner Liliya Shobukhova and even the treasurer of the IAAF.
---
– Seb Coe writing in a column about the changes he'd make as IAAF head. Today, Coe will formally announce his election manifesto, "Growing Athletics in a New Age."
---
---
Questions? Comments? Email us.