LetsRun.com "Training Talk" - Interviews With Top Minds In The Sport
By LetsRun.com
LetsRun.com is dedicated to inspiring people to make their running dreams become reality. "Training Talk" is a way to hear advice that could help your training. We talk with people we think are the most knowledgeable and interesting in the running community. The talks are in-depth - typically over an hour long - and are geared totally to helping serious runners get the information they want to become the best they can be.
To download or listen to any LetsRun.com Training via itunes, please see this webpage.

To listen to any LetsRun.com Training Talk episode via the web, simply hit play in the green box next to the episode description.
Click on the individual episode below for a text recap with highlighted quotes starting with Episode III.
---
Bill Aris - Highly Successful HS Coach at Fayetteville-Manlius
LetsRun.com did a lengthy one hour and 30 minute podcast with Fayetteville-Manlius cross-country and track and field coach Bill Aris (Fayetteville, NY is just outside Syracuse, NY). Aris is the coach of 4-time Nike National champions girls Manlius XC team and the coach of the original Stotans of '04, the boys team that finished 2nd at the inaugural Nike Team Nationals (NXN). Aris talks about magically motivating his HS runners to do magical things, his new pro Stotan Racing team and whether or not his prodigy Alex Hatz will go sub-4 this spring. You can download the podcast here or listen in this embedded player.

Talk Transcripts
*Page 1: Introduction, What is the Stotan Lifestyle, Percy Cerutty, The Process is the Goal, and There is No #1 Runner
*Page 2: Getting Kids to Buy Into the Program, Logistics of Running a High School Program, What to Do With People New to Running, Weekly Mileage
*Page 3: (No Magic) Workouts, Strength Training and Doubles, Collegiate Success, and Running as a Part of Life
*Page 4: Stotan Racing Team, Lopez Lomong vs. Dominic Luca, Alex Hatz and the Sub-4 Quest
LRC Preview: Upcoming Training Talk with F-M Coach Bill Aris
---
Joseph Ebuya - From Nomadic Goat Herder To World Cross Country Hero
Highlights of Training Talk Episode VII With Managers/Coaches Ricky Simms and Noah Ngeny
LetsRun.com was honored to get to talk to the people behind the success of 2010 World Cross-Country champion Joseph Ebuya. For more than an hour, we talked to Ricky Simms and Noah Ngeny about Ebuya's amazing life story and rise to the top.
Simms is the head of PACE Sports Management and is an agent for 80 top athletes from around the world including Usain Bolt. In addition to his agent duties, Simms also is the coach of many top distance runners on the planet including Ebuya, 2009 5,000m World Champion Vivian Cheruiyot, 2009 World 10k Champion Linet Masai, 2008 Olympic bronze medalist and road 10k world record holder Micah Kogo, former world champion Ben Limo and on and on.
Ngeny, who (along with Sammy Rono) is Simms' "man on the ground" in Kenya, is better known as the 2000 Olympic 1,500m champion and 1,000m world record holder. His time of 2:11.96 is still the world record today.
---
American Craig Virgin Celebrates 30th Anniversary Of His World Cross Country Championship
Training Talk Episode VI - Craig Virgin
Our featured guest on Episode VI was 1980 and 1981 World Cross Country Champion Craig Virgin. Virgin is one of the greatest runners in American history. He had a high school record, an American collegiate record, an American record and obviously the world titles in cross country. The reason why we had him on the program is to celebrate the 30th anniversary of his first world cross-country crown. He still remains the only American male to win the world cross country crown.

Virgin joined LetsRun.com co-founder Robert Johnson for an hour-long discussion about some of his greatest races, his training and workouts, the changing state of distance running in the US, the Boycott of the 1980 Olympics, his experience with Nike's Athletics West and his excitement about current US distance runners.
---
Training Talk Episode V - John Cook
The fifth edition of LetsRun.com's Training Talk featured top US coach John Cook. Cook currently coaches many of the top Nike-sponsored US pros including World Championship 1,500m bronze medallist Shannon Rowbury, three-time US 1,500m champion Treniere Clement, 2008 US Olympian and 3:33 man at 1,500m Leonel Manzano, two-time NCAA 800m champ Jacob Hernandez, and David Torrence. Previously, Cook worked with Olympians Erin Donohue as well as Shalane Flangan, who cook guided to the bronze medal in the 10,000m at the Beijing Olympic Games.
Prior to becoming a pro coach, Cook was the men's coach at George Mason University for 19 years. While at GMU, he won the 1996 NCAA indoor title, coached Julius Achon to the collegiate record in the 800 (1:44.55) and coached Abdi Bile to the World Title at 1,500m in 1987.
The appearance of Cook on Training Talk generated a huge amount of buzz. LetsRun.com readers sent us an unprecedented amount of questions prior to the show. We couldn't get to all of them during our 73 minutes with Mr. Cook but we did our best and the show was certainly Training Talk at its very best. No topic was off limits and Cook was his entertaining self throughout. We highly encourage you to listen to the interview via the embedded player, to download it to your computer, or to listen via iTunes.
---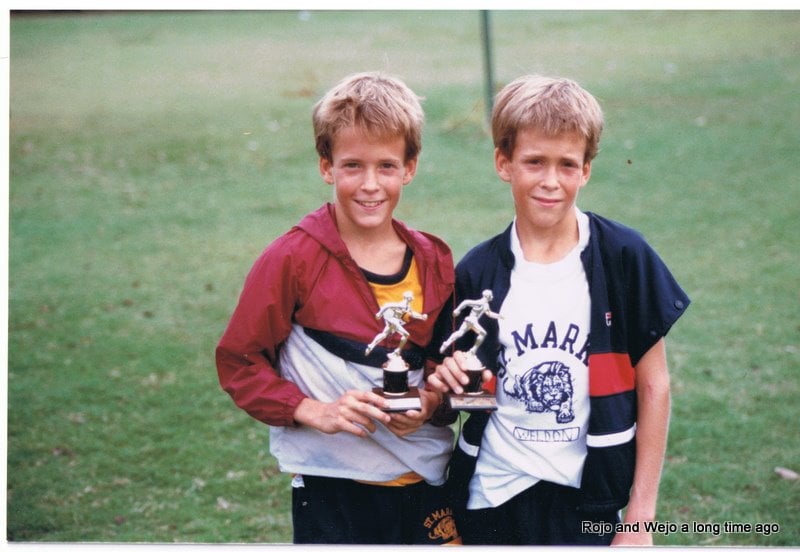 Training Talk Episode IV - Weldon Johnson
Twin brothers and LetsRun.com co-founders Robert Johnson and Weldon Johnson talk about Weldon's rise from a frustrated college runner to 28:06 and twice 4th in the US at the 10,000m. The talk covers many aspects of distance running training including describing tempo and high-end runs, Weldon's mindset, the coach-athlete relationship, altitude training and nutrition.
---
Training Talk Episode III - 2:10 Debut Marathoner Brett Gotcher and his Coach Greg McMillan

Cornell distance coach Robert Johnson talks with American 2:10 debut marathoner Brett Gotcher and his coach Greg McMillan of adidas McMillan Elite in Flagstaff, Arizona.


*LRC MBoard Thread on Greg McMillan


---
Training Talk Episode II - Author Matt Fitzgerald


Cornell distance coach Robert Johnson and LRC Employee #1 Emory Mort talk with Matt Fitzgerald, author of new book Racing Weight: How To Get Lean For Peak Performance and other LRC-recommended training books including Brain Training For Runners: A Revolutionary New Training System to Improve Endurance, Speed, Health, and Results.

To See Matt Fitzgerald's Amazon Author's page, click here.

---
Training Talk Episode I - John Kellogg
LRC co-founder and Cornell distance coach Robert Johnson talks with coach John Kellogg, coaching guru behind the rise of LRC co-founder Weldon Johnson from 30-minute 10k'er to 28:06 runner who twice finished 4th at the USA Championships 10,000m. The talk is about the fundamentals of training for distance and mid-distance runners. A key part of Mr. Kellogg's training is the focus on the repeatability of the training. As a result, prior to the podcast, Robert Johnson wrote an article entitled: Training Talk: Is Your Training Repeatable?
---
---
Runner's World &
Running Times



Combined Only $22
a Year
Save $87

---

Running & Track and Field Posters
---

Offers of interest: Nike Lunar Glide Discount Discounting on this shoe not allowed until recently.
---