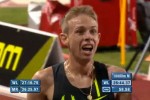 Live Now Paris Diamond League. Offical Thread
It's On: Updated Weather And Pacing Information For Galen Rupp's 5,000m American Record Attempt On Saturday In Paris 12:50 is the goal for the rabbits.
Pretty Funny:

 Sofia Assefa And Other Top African Steeplers Thought Emma Coburn Was The Rabbit When She Got Her Win In Shanghai

 Assefa: "I know her, but when I last saw her, she wasn't this strong, so I thought she was pacing. … Believe it or not, after I finished, I was looking for someone to hand me the [winner's] bouquet."

IAAF Paris Preview: Pole Vault WR Holder Renaud Lavillenie Remains Unbeaten In 15 Competitions This Year US champ Inika McPherson vs. Brigetta Barrett and Blanka Vlasic in HJ, Christophe Lemaitre in 100 vs. recent 9.82 man Richard Thompson, Sanya Richards-Ross vs. Novlene Williams-Mills and Amantle Montsho in 400.
Press Conference Highlights From Paris DL Meet Ashton Eaton considering LJ/decathlon double at 2015 Worlds, Allyson Felix says nothing went wrong at USAs, she never planned on racing more than one round at USAs, Sanya Richards-Ross spoke French, Blanka Vlasic on the comeback from injury and guys – did you know Russian LJer/model Darya Klishina is now living in the US?
Shelly-Ann Fraser-Pryce Says She's Not 100% Fit As She Runs Her First Race In A Month In Paris 200 She's been dealing with injuries and was only 8th place in her last races at the Prefontaine and Rome DL meets.
Sally Pearson Starting Comeback From Injury In Paris Against Dawn Harper Frenchman Pascal Martinot-Lagarde faces David Oliver, Ryan Wilson and Jason Richardson in 110H. Asafa Powell pulled out of the 100 with a hamstring issue in what was supposed to be his first race back from drug ban.
UK's Newest Sub-10-Second Man Chijndu Ujah Making His DL Debut In Paris This race is important Ujah as he's fighting for selection for European Champs as he didn't finish in the top 2 at the the UK Trials.
4+ Months Later: USATF DQ Report From Indoors Finally Out
The Ultimate Holiday Weekend News Dump:

USATF DQ Report Has Been Released

 

The report doesn't take a side in whether there should have been DQs or not, but does finally acknowledge that the DQ of Andrew Bumbalough was a case of mistaken identity. It also suggests some rule changes and mentions the accusations of Nike's/Alberto Salazar's influence.
An American Hero Has Passed – RIP Louis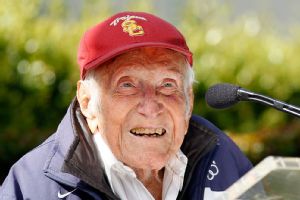 RIP Louis Zamperini – War Hero, American, Track Star And Man updated NY Times obit. Zamperini ran the 5,000 at the Berlin Olympics and then was shot down in WWII and survived 47 days on a life raft in the Pacific and 2 years in a POW camp. If you have not read his biography, it is a must, must read.
On The Boards: Celebrate Louis' great life and pay your respects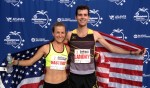 Landry won after a late battle with Tyler Pennel. Sara Hall was the women's runner-up as husband Ryan ended up a DNF with more hamstring problems. *Photo Gallery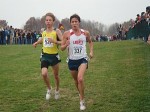 RRW Five Storylines For The 2014 Peachtree Road Race – Where An American Will Win For 1st Time Since 1995 With $100,000 in American-only prize money, many big names have shown up- Olympians Hall, Abdi, Linden, Hastings, Meb and others like Christro Landry. To us, the story line is Josh McDougal's return.

Week That Was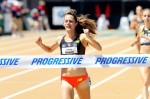 LRC
A Look Back At USAs, $245,000 Reasons Tennessee Is Better Than Penn State, A Non-DQ Controversy & A Top Track Recruit Punching A Girl In The Face
The 
favorites ruled the day at USAs
, the DQ rules were
selectively enforced
, the
NCAA upsets
were
shown not to be upsets
,and we pinch ourselves and confirm the
world is still going on
after
as a major US meet was held outside of Eugene
. Plus it was a really great and really bad week for
football-playing tracksters
and a
quarter million reasons to leave Penn State
.
Full Meet Recap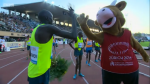 LRC New Kenyan 1,500 Star Arrives As Centro Fails To PR, Dibaba Loses, Tyson Gay Returns In "Drug 100," Bondarenko Goes For The WR, And Sum Keeps Streak Athletissima Lausanne was pretty special. Read all about it, including a bold run by American Molly Beckwith Ludlow.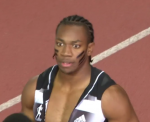 LRC The Five Big Stories From Lausanne  The 5 big stories from Lausanne: Justin Gatlin won the "Drug 100" vs. Tyson Gay, a new 1,500 star is here, 400 Running Supreme, Yohan Blake sucked, and more WR attempts in HJ.
LRC Video Highlights Of 2014 Lausanne Diamond League Meet
Fans React On The Message Board: Official 2014 Lausanne  DL Discussion Thread


Full Coverage In Lausanne DL Special Section
Commowealth Organizers Sigh Relief
Caught With EPO
LRC Chris Derrick, Ryan Vail And Other Elites React To Mo Trafeh EPO Bust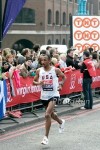 LRC Exclusive Mo Trafeh – American Record Holder At 25k – Caught With EPO, Is Retiring From The Sport The 2-time Foot Locker finalist, 8-time US road champion, and the US 25k American Record holder was recently caught with EPO in his possession, which he admits to purchasing for intended use but never actually using. *Discuss