Updated Weather and Pacing Information for Galen Rupp's 5000m American Record Attempt on Saturday in Paris
by: LetsRun.com
July 4, 2014
We have already extensively previewed Galen Rupp's 5000m American record (12:53.60 from Bernard Lagat) attempt on Saturday here.
However, we've got updated weather and pacing information.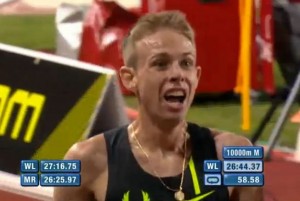 First Italian journalist Alberto Stretti has tweeted out the pacing info and there will be three rabbits, with the last two (Cornellus Kangogo, a 13:11 5000 guy,  and Jonathan Ndiku, 13:11/8:07 steepler who ran 8:12.95 for 3rd in Lausanne yesterday) attempting to go through 3000m at 7:42 which is 12:50 pace, which is 4:06.4 each 1600.
To actually run 12:50, we'd advocate the rabbits go out a little slower than that because the leaders should have a big kick at the end, but the way it works in actuality is likely the pace will drop once the rabbits drop out and then there will be a big kick at the end. We're sure if the goal is to run 12:53.59, Alberto Salazar would want the pace a little slower, but Galen can only blame himself if he doesn't break the record in a 12:50 race.
Article continues below player.
pacers and pacing tomorrow #diamondleague #parisDL @MEETINGAREVA pic.twitter.com/0w0COlp1YA

— Alberto Stretti (@albertostretti) July 4, 2014
The hourly forecast is out and is calling for 70 degrees and a 50% chance of rain at 9pm (the 5000 starts at 8:50pm Paris time). That's good running weather. (Believe it or not the average high on July 5th is usually only 70 degrees in Paris).
The question is the rain and really the wind. There is a 50% chance of rain (rain with no wind is fine), but the forecast is calling for 13mph winds. The Paris stadium is huge and could shield the wind, but we'll find out.
TV Info: Universal Sports Network will air exclusive national television coverage of the IAAF Diamond League from Paris on Saturday, July 5, at 2 p.m. ET LIVE. In addition, universalsports.com will live stream both races to authenticated users. Galen's race is at 2:50pm Eastern. If you don't get Universal Sports on TV there is now a way to watch on your ipad, computer, roku device or phone from our partner Dishwrold see below.
USA Visitors Without Universal Sports: There now is a fantastic way for you to watch Universal Sports (and the Diamond League and World Juniors) live or on demand on your computer, ipad, phone plus tons of international soccer, international news, Bloomberg TV for $9.99 a month. It works well and is perfect if you can't skip off of work for two hours on Saturday you can watch on demand later. There is a FREE trial (no CC required) if you want to test it out.  Click here. You can even use Roku to get it on your tv.
UK IP addresses, the meet will be broadcast live online and on BBC Three starting at 19:00 BST time.
Previous: LRC Preview 2014 Paris DL: Can Galen Rupp Get The American 5k Record, Will Ben True Join The Sub-13:00 Club?
 Discuss: Will Galen Get the American Record?