RESULTS – 2014 Peachtree Road Race Results
by LetsRun.com
July 4, 2014
Are you looking for results for the 2014 AJC Peachtree Road Race?
We've got the results for the elite men's and women's races are at the bottom of this article. Other results can be found at the links below or on the Peachtree website.
Article continues below player
Discuss the results of this race in our forum: Messageboard: Peachtree Results???.
Elite Women's Results (Unofficial)
1 Amy Hastings 32:16 $15,000
2 Sara Hall 32:28 $10,000
3 Rachel Ward 32:36 $7,000
4 Kellyn Johnson 32:49 $5,000
5 Juliet Bottorff 32:55 $4,000
6 Mattie Suver 32:57 $2,500
7 Jen Rhines 33:04 $2,000 + $1,500 Masters
8 Katie Kellner 33:05 $1,500
9 Kara Foster 33:07 $1,250
10 Meghan Peyton 33:17 $1,000
11 Frances Koons 33:18 $500
12 Renee Baillie 33:19 $250
Other notables: 15 Lauren Fleshman 33:32, 18 Desiree Linden 33:40, 19 Blake Russell 33:45, 23 Sara Slattery 34:43 28 Colleen De Reuck 35:13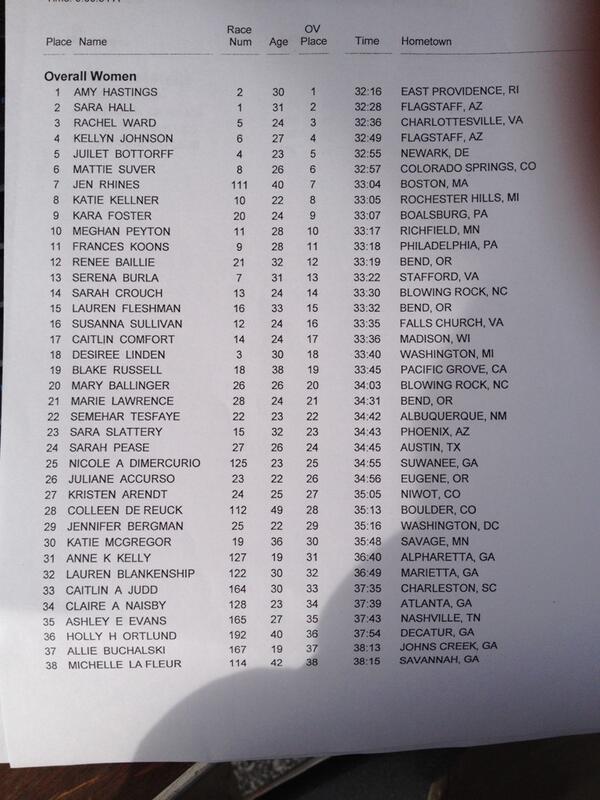 Elite Men's Results (Unofficial)
1 Christo Landry 28:25 $15,000
2 Tyler Pennel 28:30 $10,000
3 Shadrack Biwott 28:52 $7,000
4 Aaron Braun 28:52 $5,000
5 Jake Riley 29:07 $4000
6 Stephen Pifer 29:10 $2,500
7 Bobby Curtis 29:16 $2,000
8 Tyler McCandless 29:19 $1,500
9 Zach Mayhew 29:25 $1,250
10 Ahmed Osman 29:33 $1,000
11 Brendan Gregg 29:35 $500
12 Josphat Boit 29:36 $250
Other notables 14 Josh McDougal 29:41 Ryan Hall DNF