WTW 7/1/2014: A Look Back at 2014 USAs, 245,000 Reasons Why Tennessee Is Better Than Penn State, and Another DQ Controversy?
The Week That Was In Running – June 23 – 29, 2014
by LetsRun.com
July 1, 2014
Previous versions of the Week That Was can be found here.
****
7 Thoughts About the 2014 USA Track and Field Championships.
Article continues below player
Another USA meet is in the books and while all the stars weren't there, the action still was riveting – with big falls in the men's 800 and women's 1500, to an incredible win by a college freshman in the men's 110 hurdles to a great women's 400 final.
Re-live our on-site coverage in our 2014 USA Outdoor Track and Field Championships Special Section. Seven additional thoughts below.
###
Before we begin take 45 seconds to watch the end of the Molly Huddle-Shannon Rowbury dual in the 5000 at USAs. If you haven't seen it, it was a tremendous race.
What did all the distances races at USAs- 800, 1500, steeplechase, 5000 and 10,000 all have in common?
The favorite in every single one of those races won it.
Most of those races had a heavy favorite (Duane Solomon, Jenny Simpson, Emma Coburn, Evan Jager, Bernard Lagat, Molly Huddle, Galen Rupp) who delivered. The only races where it was probably debatable who the favorite was were the women's 800, men's 1500 and women's 10,000 once Flanagan pulled out. In the women's 800 and men's 1500, both TFN and LetsRun.com picked Ajee Wilson and Leo Manzano and they both came through. In the women's 10,000, we picked Conley (who won), they picked Hasay.
###
2. What About The Sport? Too Many Stars Were AWOL
During our coverage of 2014 USAs, at one point, we praised top stars like Galen Rupp for running the meet as others like Justin Gatlin and Matthew Centrowitz didn't even bother.
Then we thought about it. We're praising American runners for running the US Championship? That's absurd. That's like praising a collegian for running the NCAA championships or a baseball player for showing up for a playoff game.
Instead of praising the runners who do show, the ones who don't should be criticized as should the ones that only show up in the most minimal of ways. Sprint stars like Allyson Felix and LaShawn Merritt ran one round and then went home.
Even blue collar runner, Ben True, didn't show up, deciding a 1500m time trial was more important than trying to win his first national title on the track.
If you are a track fan who looked at the entries in the middle of the week and then purchased tickets expecting to see Felix in the 100 final or Merritt in the 400 final, you would rightly be justifiably outraged. Someone on the messageboard last week started a thread asking where the fans were in Sacramento. Our response was, "Where were the stars?"
Runners and agents need to stop being 100% self-absorbed and think, "What about the sport?"
Shoe company contracts needs to have more incentive for running our national championships. (A lot of shoe company bonuses are based on TFN end of the year rankings. It would be great if TFN said it was going to give more emphasis in the rankings to USA titles).
USATF needs to flex the little financial muscle it has to get athletes to USAs. Don't pay any travel (USATF pays travel for the Oxy High Performance Meet each year) to athletes who skip nationals. Tie the USOC health insurance to athletes showing up at nationals if they are healthy.
We know one thing. USATF shouldn't be giving incentive to athletes to show up and run only one round – we'd rather not have them there at all.
An agent told us that he believed the reason why Felix and Merritt ran one race and then skipped out-of-town was because in order to compete in the IAAF Continental Cup, you must run at USAs. We looked up the selection criteria and he's right. Why would the governing bodies not insist that you compete in the final, not just the first round, to be eligible to compete?
The IAAF needs to get involved as well. It makes zero sense that there is a global championship three out of every four years. Have a Worlds/Olympics every single year or every other year, not three out of every four. If this was a Worlds year, we promise you Matthew Centrowitz would have been matched up with Leo Manzano in the 1500 and Galen Rupp with Bernard Lagat in the 5000.
There's a lot of angst out there in track and field circles about why our sport isn't popular except in Olympic years. Making the sport relevant in non-Olympic years certainly is a very hard task but when the top stars just blow off a national championship, they are only reinforcing the message that the sport is irrelevant in the non-Olympic years.
More: Fans pissed off that LaShawn Merrit and Allyson Felix don't run their events
###
3. There Still are Questions About Rules Being Selectively Enforced
USATF's report on the indoor DQ fiasco(s) is supposed to come out later this week. We're interested in seeing what it says.
One of the problems track and field faces is that in addition to there being no full-time officials the rules aren't enforced consistently.
In the men's 800, Charles Jock was clipped inadvertently from behind and there was a DQ of Michael Rutt that was eventually overturned. In the women's 1500, all indications are Morgan Uceny was clipped from behind by Cory McGee, but there was no initial DQ.
In the women's 5000, Shannon Rowbury went from lane two to lane one to the outside of lane two all in the final 100 as she initially tried to forced Huddle inside, shut that down and then forced her outside when USATF umpire's manual clearly states, "Disqualification's SHALL BE RULED by the Referee when a competitor: Veers to the right or to the left so as to impede a challenging runner and causes the challenging runner to run a greater distance."
Yet, there was no DQ.
Should fouls only be called if a protest is filed? Or if the outcome of the race is impacted? These are things USATF needs to address. By selectively enforcing the rules in non-high profile instances, it only leads to charges of favoritism when the stakes are high (Felix-Tarmoh, Grunewald-Hasay) and high profile athletes are involved.
The rule book needs a rewrite. The college coaches have realized this and last week the NCAA Track and Field Rules committee recommended that only "flagrant" cases of impeding should be considered a foul. And we quote from the NCAA press release:
The committee also recommended adding the word "Flagrantly" to the rules pertaining to when a competitor should be in violation of impeding a runner to distinguish it from incidental contact that can occur in running events.
All rules recommendations made by the committee must be approved by the NCAA Playing Rules Oversight Panel, which is scheduled to discuss track and field proposals July 16.
If the addition is approved, the referee, after consulting with the appropriate officials, can disqualify a competitor who:
Flagrantly jostles, cuts across or obstructs another competitor so as to impede the other runner's progress. Direct contact is not necessary; any action that causes another runner to break stride or lose momentum is grounds for disqualification;
Flagrantly veers to the right or to the left so as to impede a challenging runner or forces the challenging runner to run a greater distance;
One other thing about the rule book. Few realize it does allow for a race to be run again. We've never seen that done.
Let's say in the 2016 Olympic final that Abeba Aregawi, Jenny Simpson, Mary Cain and Hellen Obiri are the top 4 seeds and three of them go down in a fall in the final. If you are going to leave the language about a re-race in the rule book, then we'd actually be for re-running the final but not if the 10th, 11th and 12th seeds went down. Maybe that is why the option is in the rule book.
It's not easy.
We say go more along the lines of the NCAA and re-write the rules to ban flagrant contact and allow more incidental contact. Then we won't have to worry frequently how the officials are going to interpret the rules.
More: MB:Shanon Rowbury should have been DQ'd from the 5000.
*LRC What A Race: Molly Huddle Triumphs Over A Brave Effort From Shannon Rowbury In 2014 USATF 5,000
###
4. Maybe The NCAA Upsets Weren't Upsets After All
The USA meet reinforced that the 'upsets' that happened at the NCAA meet weren't flukes.
At the 2014 NCAA meet, Emily Lipari surprisingly didn't contend for the NCAA 1500 title (she was fourth) and at USAs, she was last in her semifinal. At NCAAs, Shalaya Kipp was 'stunned' in the women's steeple by Leah O'Connor, but at USAs, Kipp was beaten by Baylor's Rachel Johnson. At NCAAs,Dartmouth's Abbey D'Agostino was upset at by Marielle Hall in the 5000. Hall ran a PR at USAs, and D'Agostino didn't run USAs because she felt tired, and that ended up likely being the right call from a coaching standpoint (not for the fans). As Lipari and Kipp showed, it's hard to suddenly turn things around in the span of two weeks.
###
5. A Major Meet Was Held Not in Eugene and the World Didn't Come To An End.
A major meet was held in a city that isn't Eugene and guess what? We're still here. The Earth is still spinning, the sun still came up this morning, Bernard Lagat still outkicked guys half his age and Morgan Uceny still fell in the 1500. No life-altering changes here.
Was this meet in Sacramento a booming success? No.
There were some really great track races and enthusiastic fans but to be honest we wouldn't say the venue necessarily left any huge lasting impressions that say, "Damn, Sacramento is the place to go for track!" However, that's not the point.
They did a decent job, 38,284 fans showed up (32,784 fans if you don't count the shot put) and the sport is no worse off than it was before the weekend for being held there. Hopefully bringing the championships to a new area (old for anyone over the age of 25 that remembers 2000 and 2004) garnered some new fans or at least reminded part of the country beside Oregon that, "Yes, track and field does in fact exist in non-Olympic years."
After many races (on all days), tons of kids lined up where the athletes leave the mixed zone to try and get autographs. After the 10,000, some young girls said they were specifically waiting for Galen Rupp. Hopefully, they'll be fans for life.
We've always felt that USATF needs to move its biggest meets around. Yes, Eugene is Track Town USA and is special. In Eugene, not as many fans hurry out to the exits before the 5ks and 10ks and in Eugene and the stands aren't aluminum and there is shade for the fans – so keep bringing it to Eugene often, but keep trying new places.
Also in Eugene, there aren't 20,000 seats so the place looks fuller even if the crowd isn't much larger.
USATF may have it backwards. Eugene, you're so great, you know what? You should get every single USAs in a non-Worlds year. 2014 is a year where it's tough to get both the fans and star athletes to show up. Having it in Eugene will help as 5,000 people will show up for any decent track meet in Eugene (5,244 showed up for the 2013 Oregon twilight meet). Plus in Eugene, the Nike athletes – who generally are the biggest stars in the sport – will be more likely to show up as well and compete in all the rounds.
But why not try a meet on the East Coast? Of if you want better weather what about somewhere near the Great Lakes – Buffalo is great in the summer, Cleveland, Detroit?
What's the worst that could happen? The sport isn't getting any more unpopular, why not take a risk? Don't worry, we're sure no matter what happens, Bernard Lagat will still be there outkicking people in the 5K.
There were complaints about the heat in Sacramento, but the first two days were almost perfect distance running weather for the 5Ks and 10Ks at night. Molly Huddle and Shannon Rowbury almost broke 15:00 and Rowbury was only a second off her PR.
Yes, it got very hot on Saturday and Sunday when the meet was held in the middle of the day, but that's great for sprinters and even 800 runners. Duane Solomon ran 1:44.30 solo. The top-3 women in the 800 ran season or personal bests. The women's 1500 was fast too even off a slower early pace (Mary Cain was less than 2-seconds off her PR). The men's and women's steeples looked pretty tough in that heat, but the athletes still put out very fast times up front.
Yes, Eugene's summer weather is probably more comfortable for fans, but we remember being soaked and cold many days during the 2012 Olympic Trials.
Whatever you do, if the meet is in a 20,000 seat stadium, put tarps on at least 10,000 seats. Empty seats look terrible on TV.
###
6. Welcome Back Sanya
Sanya Richards-Ross, it's great to have you back.
After her 2012 Olympic gold in the 400, Richards-Ross only managed a 51.43 last year in the 400. This year, after we watched her run just 51.19 for 6th at Prefontaine, we wondered to ourselves, "Is she done and content to be a reality TV star?"
Far from it. Coming into USAs, no one in the world had broken 50.00 this year. Richards-Ross ran 49.66 and lost because Francena McCorory ran a fantastic 49.48 for the win.
With her NFL-playing husband and her reality TV show, Richards-Ross is a cross-over star that track and field needs and thus it's great to see her doing well.
More: McCorory edges Richards-Ross for women's 400 title
###
7. It's Absolutely Amazing What Oregon Freshman Devon Allen Won the Men's 110 Hurdles at USAs.
On March 22nd, Oregon freshman footballer and trackster Devon Allen made his collegiate debut with a 14.04 110 hurdles.
We doubt anyone in the world, whether it was Allen himself, his parents, or coaches predicted what would happen over the next three months. His next two races were just in the 13.9s, but spring football was going on.
On May 8th, with spring football over, he broke 13.8 for the first time (13.77 but was smoked by .30 in the race by Ashton Eaton; Allen said it was because he was so star-struck he was focused on Eaton and not himself). A week later though, he got second at Pac-12s in 13.47.
That right there is an incredible freshman campaign. Allen was just getting started.
He ran 13.27 at NCAA regionals and then ran 13.16 to win NCAAs. At USAs, he showed that the NCAA win was far from a fluke as he ran 13.16 to win again.
The Oregonian's Ken Goe opened his article up about Allen's win at USAs with the perfect two lines:
What's next?
The Heisman Trophy?
For the record, Allen red-shirted in football last year and has never played a down for Oregon.
However, he is a big-time football recruit. He was ranked the #16 receiver in the country coming out of HS and had a big impact at the 2014 Oregon spring game where he was named as one of the standouts after their second scrimmage as he "caught a touchdown pass and both covered and returned kickoffs well."
After winning USAs, when asked about choosing between the NFL and track, he threw track fans a bit of a bone according to Goe:
"That's the question," he said. Making an "NFL roster would be fun, but you have to ask 'Super Bowl or Olympics.' The Olympics is huge. It's something that happens every four years. The Super Bowl happens every year."
We aren't 100% buying the pro-track answer. During the spring, he said he preferred football as he told Andrew Greif: "It's a different passion and just being on the field with your teammates is a kind of a different feeling. I enjoy it (football) more."
We hope he continues to do both, but really focuses on track for 2016.
More: *Oregon receiver Devon Allen tries to go full-speed with football after track and field success
*The legend of Devon Allen hurdles onward at the USA Track & Field Championships
****
Stat of the Week
Mega thanks to ace stat man Ken Nakamura for this stat.
11 – number of Americans with a sub-13 PB in the 110 hurdles after Ronnie Ash broke it in the semis of the 2014 USATF Outdoor champs.
1 – the most any other country has under 13 (only 15 men have ever done it).
Of the 15 men in history to break 13, Ash had the biggest PB to do it as he improved from 13.19 to 12.99. That is 0.2 sec improvement, which is largest improvement into sub-13 club in history. Roger Kingdom, who went from 13.14 to 12.97 in 1988, had the previous biggest improvement to join the sub-13 club.
After the big PB, the law of averages struck as Ash failed to finish in the final.
****
It Wasn't A Good Week For Football/Trackster Nigel Bethel II
While Allen was making positive press last week, negative press was made in Texas by another aspiring track/football star.
2014 FL 2A 100 and 200 state champ Nigel Bethel II (windy 10.46 and 20.01 this year), who had enrolled early at Texas Tech this summer so he could get ready for football where he was a star cornerback in HS, was dismissed from the school after he punched someone after a pickup basketball game.
Kicked out of school for punching someone after a pickup basketball game? Isn't that a little harsh? Not when the person being punched is female and requires surgery.
Bethel, Texas Tech's #1 football recruit this year, allegedly punched star women's basketball player Amber Battle.
Even more amazing was the reaction to this whole episode from Bethel. After punching a woman, a Twitter account under the name Nigel Bethel II had a post that said according to Lubbockonline.com, "Trouble always seems to find me … "
More: Lubbockonline.com: Battle hit in face by Tech football recruit
*MB: Not good: 2014 FL 100m and 200m state champ punches woman in face – kicked out of Texas Tech
*Q&A About track with Bethel
****
For the record, Morgan Uceny got up and finished
We always thought it was totally stupid that there were quite a few vocal critics complaining when Morgan Uceny didn't finish the 2012 Olympic final after getting tripped.
In baseball, when it's a tie game in the bottom of the ninth with one out and a deep fly ball is hit, do fans complain when the fielder doesn't even bother to field it? Of course not, why would they? The outcome has been decided, they simply let it hit and walk off the field.
The same thing was true in 2012. The moment Uceny went sprawling to the track, the outcome was decided. She wasn't winning, wasn't medaling, the race for her was over.
NBC didn't show what happened this year but Uceny did get up and finish in 4:24.01.
More: Video of Uceny's race via USATF.tv.
****
A Picture Is Indeed Worth A Thousand Words/Photo of the Week I
Last week, distance runner Mo Trafeh issued a statement to LetsRun.com saying he was retiring from the sport as he'd been caught with EPO.
An astute LetsRun.com messageboard poster found the following picture of Trafeh, who Chris Derrick said other elites referred to a MoPO as they just assumed he was on EPO, winning the Cow Harbor 10k road race. Take a close look at the building on the right.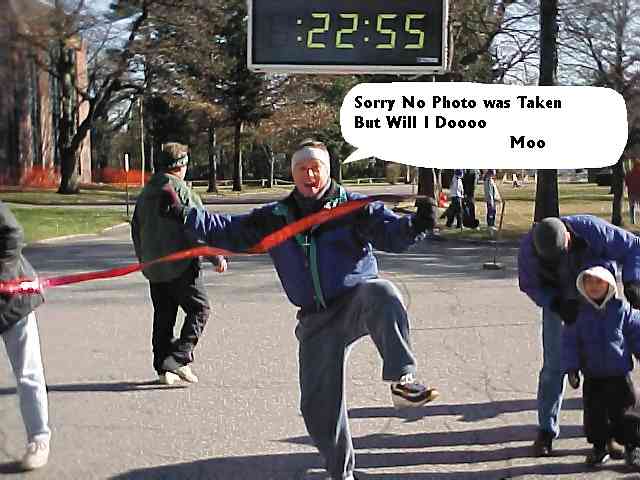 We'll have more on Trafeh EPO bust after it's formally announced by USADA as his lawyer asked us not to say anything that might jeopardize the proceedings.
More: MB: A picture says a thousand words…
LRC Chris Derrick, Ryan Vail And Other Elites React To Mo Trafeh EPO Bust
LRC Exclusive Mo Trafeh – American Record Holder At 25k – Caught With EPO, Is Retiring From The Sport
*MB: Mo Trafeh, 2-time FL finalist, 8-time US champ, US 25k record holder, has been caught with EPO, will retire from sport
****
Photo of the Week II
The women's 5000 was probably the most exciting finish at 2014 USAs. How exciting? Very exciting as shown by the reaction of Evan Jager.
The photographer is Jeff Cohen (jeff@trackandfieldimage.com). Check out his website or blog or twitter account @Trackfieldimage.
****
Full Disclosure/$245,000 Reasons to Leave Penn State
Wouldn't it be nice to know how much Abbey D'Agostino signed for with New Balance? How much was Leo Manzano making with Nike and how much does he make for Hoka One One?
How much did Tennessee pay Beth Alfred-Sullivan to get her to move from Penn State to Tennessee?
Oh wait, we know the answer to the last question.
Included as an attachment on the press release announcing Alfred-Sullivan as the Tennessee coach was her entire contract. Pretty amazing stuff (We guess as a public university Tennessee realizes that everything is subject to a freedom of information request so why not just release it in the first place).
$245,000 per year plus a car or $850 per month for a vehicle, plus up to $25,000 in moving expenses.
But that's just base pay, she gets $7,000 extra for every SEC championship and $14,525 if one of her six teams (cross, indoor or outdoor for both genders) finishes in the top 10 in the country. Sadly, cross country success isn't valued as much as track by the Tennessee AD as a cross country national title pays no more than finishing top 10 whereas a track and field national title pays $28,000.
****
Messageboard Topic Of The Week/Recommended Reads
We've got our recommended reads from last week below, many of them the result of some great work by the Sacramento Bee in conjunction with the 2014 USATF Outdoor champs.
One of the articles is on shot putters Michael and Michelle Carter which led us to starting a thread on the messageboard which we thought was pretty interesting:
MB: Track nerds: Was Michael Carter's 81'3.5″ shot put in 1979 truly the "greatest high school performance ever?"
Recommended Reads:
Great track journalism: Sacramento has been a special place for Michelle Carter and her father Michael Michelle won a NCAA title in Sacramento in 2006 but dad Michael much more famously produced arguably the greatest single performance by a HS track and field athlete in history in Sacramento in 1979 – a 81-3.5″ heave. "What Carter did at the GWI, I consider the greatest high school performance ever. It's not even close."
Great profile of Miss. State's 800 star Brandon McBride – His mom made his college choice for him and he's thrilled with the results McBride is a big-time talent. 2 NCAA titles before his 20th birthday.
1968 Olympic champion Jim Hines remembers 'Night of Speed' when he became world's first sub-10 man in Sacramento in 1968In the span of 7 hours, three men broke the world record and 7 tied it. "There will never be another night like it" and, "That was the greatest ever.
****
Quotes Of The Day & Last Week's Homepages:
Note: To see a particular day's homepage, click on the hyperlink of the date. The hyperlink below the date on the quotes will take you to that particular article – not that day's homepage.
– Jenny Simpson after winning the 1500 at 2014 USAs asked if she had any doubt coming in that she would win.
---
– Leo Manzano after winning his second US outdoor 1,500 title representing his new sponsor Hoka One One. Manzano has run in nine US outdoor championships and finished in the top three all nine times. Ridiculous.
---
– 5-time US champion Alysia Montaño talking about racing the women's 800 at the 2014 US Championships while 8 months pregnant. Afterwards, she also said, "The biggest thing I know is that labor is going to be way harder than the 800 meters."
---
– Mary Cain talking to Marc Bloom about her new life as a real pro, not a high schooler who is pro. Cain's first race as a high school grad will be this week at the 2014 USA Champs where she'll take on the now undisputed high school sensation Alexa Efraimson.
---
---
– USATF head Max Siegel, speaking in a nearly 2,500-word piece by David Woods of the Indianapolis Star on the financial side of the sport. In NASCAR, Siegel's old sport, the support of the automakers is cherished. *Discuss
Questions? Comments? Email us.