Week That Was: Ryan Hall Criticism, Canadian Marathoners, E. Dibaba's Stunning Marathon Debut, College XC And More
By LetsRun.com
October 19, 2011
We are slowly trying to get back in the habit of getting our weekly recaps out each week. The previous recap covered six weeks worth of action as the blockbuster summer track season got the best of us. This one covers the last two weeks. We try to provide some insight into the Bank of America Chicago Marathon and the Ryan Hall/Phil Hersh interaction, NCAA cross-country action, the Canadian marathon record, how you define a real marathoner, and what makes runners great.
****
2011 BOA Chicago Marathon Is In The Books & Ryan Hall Disappoints ... Or Does He?
One of the bigger stories over the last two weeks was the Ryan Hall - Phil Hersh interaction after Hall's 5th place finish at the Bank of American Chicago Marathon. Our thoughts on the matter are pretty simple really. Let's get them out there quickly and then elaborate.
1) We don't get why people are upset when Ryan Hall doesn't win a major marathon. It is our dream to see an American-born athlete win a major in our lifetime but we certainly don't expect it.
2) We don't get why people get so upset when journalists criticize athletes - their job is to ask tough questions and provide insight, not operate an athlete's fan club. That being said, given point #1, we don't get why Hersh was so incredulous that Hall was happy with a non-win.
Ok, let us explain.
Quick, how many major meets (meaning Diamond League or World Championships) have Nick Symmonds, Andy Wheating, Matt Centrowitz, Chris Solinsky, Matt Tegenkamp, Dathan Ritzenhein and Galen Rupp won in their careers? The answer - ZERO.
We point that out because those are some of the biggest American born stars on the track in distance running currently and they've won zero major meets. And that's in track, where each event is held seven times a year. In the marathon, it's even harder, as there are only 5 majors and one realistically can only compete in two of them a year.
Our point is, people shouldn't expect any American-born athlete to win. Dream it? Yes. Expect it. No.
(Now admittedly, we left Alan Webb out of that list on purpose because he actually did win a Diamond League meet - back when it was called the Golden League - Paris 2007 and Khadevis Robinson won the 800 last year in Rome).
Ryan Hall's Career Marathons
2011
2:08:04 - Chicago - 5th Place - 2:27 Back
2:04:58 - Boston - 4th Place - 1:56 Back
2010
2:08:41 - Boston - 4th Place - 2:49 Back
2009
2:10:36 - New York - 4th Place - 1:21 Back
2:09:40 - Boston - 3rd Place - 0:58 Back
2008
2:12:33 - Beijing - 10th Place - 6:01 Back
2:06:17 - London - 5th Place - 1:12 Back
2007
2:09:02 - New York OT - 1st - 2:02 Ahead
2:08:24 - London - 7th - 0:43 Back
In terms of Ryan Hall, was his Chicago race disappointing? In our minds, it was indeed a little disappointing, as he's shown a couple of times during his career that he's capable of a 2:06 performance on a flat course. But in reality, he's been pretty darn consistent in his last three marathons. He's finished 5th, 4th and 4th over the last two years and finished 2:27, 1:56 and 2:49 back of the winner (yes, he did run 2:04:58, but that was wind-aided whether you want to believe it or not and thus we focus on how far back from the win he was).
Looking farther back at his non-Olympic or non-Olympic Trials performances, Hall is pretty darn consistent throughout his career actually. Hall has run 7 majors and finished 4th three times, 5th twice and third and 7th once. We hate to admit it but if you are a betting man, bet on him to finish 4th and you'll likely win some dough.
Now the controversy in Chicago arose because Hersh was incredulous that Hall could be happy with his performance. Many of you are probably asking yourselves as Hersh did, "How could that be possible?" Losing never is a lot of fun but the fact of the matter is 2:08:04 is nothing to be ashamed of. It's the third-fastest time of Ryan Hall's career. Remember, in the history of humanity, only three American-born men have ever broken 2:09:00 in the marathon. Ryan Hall owns the 5 fastest American-born times in history.
2:04:58 - Boston 2011
2:06:17 - London 2008
2:08:04 - Chicago 2011
2:08:24 - London 2007
2:08:41 - Boston 2010
Hersh certainly has the right to ask Hall the question of how can he be happy. But the stats reveal that one doesn't have to view someone as nuts to be happy with a 2:08:04 5th-place showing in Chicago, particularly if they are American-born. (Ever notice how some of the Kenyan guys extend their arms out in celebration at the finish even when they don't win? They are happy with their performance).

Ryan Hall
Hersh no doubt would like Ryan to go for broke more often. Instead of dropping off at 14 miles as he did in Chicago, just stay up with the leaders until he no longer can manage it. That not only is not Ryan's style (he more than anyone has often run his own pace and it's one of the reasons he ran a stunning 59:43 half marathon with no rabbits); it's not the way running works. A guy drops off at 14 miles not because he isn't "tough" enough, but because he feels his body just can't keep that pace for 12 more miles. Sure, Ryan has a luxury none of the Kenyan guys have - getting paid really well for running a 2:08 marathon. We're all human and incentives affect us all. However, going for broke often does not end well. Evans Cheruiyot was a former Chicago champ, and he hung with the leaders until 30k. What happened to him? He ended up two minutes behind Ryan.
A guy who drops off 14 miles into a major marathon was not going to win it, no matter what his tactics or incentives were. If Ryan were Kenyan, he might have been incentivized to stay with the leaders a little bit further, but it wouldn't have made a difference in terms of him winning or not and it could have led to a much worse performance.
If Ryan's running style is his problem, then Phil should persuade Chicago to tie his performance bonus to his position 20 miles into the race. Supposedly NY did something similar in Dathen Ritzenhein's debut in 2006 and that's why he ran so hard for 20 miles only to completely blow up at the end (2:14:01 finishing time with the last 2km at 6:33 mile pace).
One more point - in some ways, Ryan Hall reminds us of Bob Kennedy. Back in the early 1990s, when the 5,000 world record was 12:56, Kennedy looked at the world record and said to himself, "I want to be a sub-13:00 guy come the Olympics and I'll be in the hunt." Well, he was a 12:58 guy in 1996 when Atlanta rolled around - but by the time he got there, the world record had moved on to 12:44. Similarly, Hall is a darn good marathoner and can run in the low 2:06 range on his best day. But the marathon has moved a long way in the last few years. Last week alone in a single race in Amsterdam, seven Kenyans broke 2:07 in the marathon and three ran faster than Ryan Hall's non-wind-aided personal best of 2:06:17.
But people should never forget that with 800 meters left in Atlanta, Kennedy gave American fans a real thrill as he had the lead in the 5,000 final. Ryan Hall similarly has given us goose bumps, whether it was by leading London in 2008 or dominating the Trials later that year or running 2:04:58.
Currently, however, Hall is roughly 2 minutes behind the world's best, which is further behind than he was in 2007. One does not need to be in good half marathon shape to win a major marathon, but for Hall to win something major, he needs to re-find the magic he had in 2007.
****
Ejegayehu Dibaba's Stunning Debut - And What Does It Mean For Her Sister(s)?
While we're on the topic of Chicago, we need to talk about Ejegayehu Dibaba's amazing marathon debut, where she ran 2:22:09 for second place after staying with the leader Liliya Shobukhova through halfway.
You may be thinking, "Ho-hum an Ethopian a Dibaba ran 2:22 in the marathon." Well, stop that thinking.
Sure, Dibaba is an Olympic silver medallist at 10k in 2004 and the older sister of world 5,000m record holder Tirunesh (14:11.15) and world junior XC champ Genzebe.
However, until Sunday, she had run one half marathon in her life (1:16 way back in 2001). She has been largely injured since 2008 and did not race at all in 2010.
It was announced she was running Chicago the week of the race. Granted there is the possibility her participation in Chicago was known in advance with the official announcement delayed, but we don't think so. A bunch of women pulled out of Chicago and they had to scramble for a replacement. Up stepped Dibaba, and the result ... 2:22 for 2nd place. She clearly had to be training all fall hoping to make a marathon debut at the right race. But to do it on such short notice is impressive. And it's scary to think what it might mean for the marathon debuts of her sisters. If anyone knows the details surrounding the timing of Dibaba's debut, please email us.
****
College XC Heats Up
The NCAA cross-country season always really gets going in full force in the 2nd weekend in October. That certainly was the case last week, as the Pre-Nats and adidas Wisconsin meets and others were held. In terms of analyzing who are the favorites, we will not waste our time trying to compare times on various courses.
That being said, on the men's side, our thoughts are certainly the same as message board poster "froshtosh," who started a thread last week entitled:

Is National Champs: Ok State vs. Wisconsin, or am I missing something?

3rd Last Year
Assuming froshtosh is correct and that is the case, we will give you Three Reasons Why You Should Root For Wisconsin.
1) They're the underdogs.
Did you love the iphone at first and think it was super-cool but are now tired of it and all things apple? The same concept applies to cross-country. You rooted for OSU to break through, but it is okay to root for Wisconsin as they are the underdogs. OSU scored 77 points last year and has everyone back, so quite honestly, the fact we are even having this discussion is a bit shocking. They'll be super-tough to beat.
2) Oklahoma State never races any of the big meets prior to NCAAs.
Cross-country doesn't have much of a fan base, but it does not help things that nothing really means anything except at conference and NCAAs, especially with how OSU treats the season.
3) It would be cool for Mick Byrne to win his first national title with a nearly all-American squad.
At LetsRun.com we hate it when people take a holier-than-thou approach and rip coaches at lesser-tiered schools for having cross-country teams full of foreigners. When Byrne was at Iona, he was ripped by a small minority of people for having a ton of foreigners on the team. Our response to anti-foreign rants has always been consistent.
Who else do you think that is any good wants to go to a school like Iona? Or Eastern Kentucky (EKU X-C roster is 65% foreign (and #19 in the NCAA)?
The simple answer is not very many top Americans would go. So a coach at a school like that has two options. Be mediocre or use his scholarships on foreigners.
A good coach is a good coach. Period. Mick Byrne can prove that by winning at Wisco with only one foreigner in his top 5.
And it will also be interesting to see what Stanford does this year. Oklahoma State may have won the last two NCAA titles, but heading into the NCAAs, Stanford was the heavy favorite in 2010 and 2009 and cratered badly both times. They only lost one guy from last year's team (Elliott Heath) and this year they appear to be taking a much more low-key approach to the season, trying to do a reverse-Stanford (not peak too early).
*2010 NCAA Cross-Country Results
Women's Team Battle Thoughts
We don't have much to say other than - get back to us after the Big East meet. The Big East has four of the top 9 teams in the country, so we'll see how they look when they race full squads next weekend. Florida State and Washington had great weekends to move up to #1 and #2, but to us, the story of the year is Vanderbilt. From unranked to #3 in the land. INCREDIBLE.
Individual Thoughts
Sheila Reid won last year and she won in Wisconsin so we're assuming she'll repeat.
As for the men, we have two contrasting thoughts:
1) Seeing Lawi Lalang destroy everyone by a ton week after week makes us think he might be a 4-time chamipon if he doesn't go pro early. Our thought process is simple: How can a freshman with a 13:30 PR who wins the Wisconsin meet by 15+ seconds and Griak by 28.6 seconds possibly lose?
... and then we get the answer to our question, which we pose in form of another question.
2) How can Iona's Leonard Korir, a guy with a 27:29 PR, possibly lose?
****
"A" For Effort But The Canadian Marathon Record Will Stay At 2:10:09

Reid Coolsaet
It's not all that often that we get excited by people trying to break 2:10:00 in the marathon anymore but we certainly got excited on Sunday when we woke up and logged onto LetsRun.com and learned that Canadian Reid Coolsaet was on 2:07-high pace at the halfway mark in the Scotiabank Toronto Waterfront Marathon.
The Toronto marathon was serving as the unofficial Canadian Olympic Marathon Trials and instead of playing it safe to make the team, Coolsaet was bold - very bold. He went out with the lead group and it looked as if Jerome Drayton's Canadian record of 2:10:09 from 1975 might finally be broken. However, it was not to be, as Coolsaet faded a bit and finished in 2:10:55, as Eric Gillis also punched his ticket to London by the narrowest of margins - 1 second (2:11:28).
At first glance, considering three humans have run 2:03 this year, it seems almost unimaginable that the 2:10:09 record from 1975 still stands. But in reality, it's not that unbelievable if one considers the following stats, which will also bolster our above argument showing people why Ryan Hall's 2:08:04 in Chicago wasn't too shabby.
America has a population of over 300 million people while Canada is basically 1/10th our size (33 million). In US history, only 11 American-born athletes have ever broken 2:10:00 (15 have broken 2:10:09) and only three have ever broken 2:09:00.
So while at last count, 1,539 people have broken 2:10:09 in world history, it's not easy for North Americans to do. Based on population and how often it has happened in America, we guess one could say it seems as if 1 to 1.5 people should have run faster in Canada.
More: *Reid Coolsaet & Eric Gillis Qualify For Canadian Olympic Marathon Team *LRC Jerome Drayton's Canadian Marathon Record Lives To See Another Day *Kenneth Mungara Wins 4th-Straight Toronto Title In Photo Finish (2:09:49)
****
This Ought To Scare You If You Are A Fan Of The Elite/Professional Side Of The Sport
Before we get to our quotes of the week that weren't quotes of the day, we thought we'd share with you a very scary quote. We at LetsRun.com have long held a tiny, tiny fear that the mass participation marathons will eventually turn into nothing more than charity runs where the professionals go by the wayside. If you think we are just being paranoid, then clearly you didn't follow the controversy last year, where people tried to look into the so-called scandal in London as to how "little" money the race actually generated for charity, as tons of money is spent on management and appearance fees and prize money.
Well, the mindset that the pros are a waste of money appears to be coming stateside. The sad thing is that it's coming from a former elite himself.
Check out what 8-time Olympic Trials competitor and marathon coach to the masses Hal Higdon had to say prior to the Chicago marathon in the Chicago Tribune.
"I also think Chicago is past the point where it needs large numbers of elite runners."
Considering there are only five marathon majors in the world, we think this quote is inexcusable. The majors need as many pro runners as possible. End of story.
Higdon apologists will probably say that Higdon likely meant "I also think Chicago is past the point where it needs large numbers of elite runners (to attract a large mass audience)," but we aren't so sure as the author of the article wrote, "The Chicago Marathon has grown beyond world-record chases."
More: *Chicago Marathon Is Not Just For Runners Anymore
****
12 Quotes Of The Week (That Weren't Quotes Of The Day)

#1 - Being Tough Makes One A Champion
"You've got to be tough. No matter how talented you are, when you're running 10,000 meters, it's not going to feel good."
- Indiana University stud Andy Bayer talking in a nice piece in the IU student newspaper that explored what traits (in addition to talent) make some runners great. His coach Ron Helmer focused on needing to have a desire to compete: "You have to love to compete. Obviously, you have to be talented. You have to train at a very high level, but none of that matters if you don't have the ability to go into those high-pressure situations and be able to enjoy that challenge."
More: *The Mindset Of IU Runners: Being Elite Athletes Takes More Than Talent, Discipline
****
#2 - Cash Goes A Long Way
"Being a world champion is somehow difficult. But it's better to have that pain and get paid."
- World Half Marathon champ Wilson Kiprop talking in a nice Independent article that examined what makes the Kenyan runners great. Let there be no doubt, the financial incentive plays a big role.
That being said, we'd like to point out the world is full of billions of poor people and very few of them can run fast.
More: *Running As Fast As They Can For A Future
****
#3 - Picking Your Birth Year Is Important
"Sometimes I think I should have been born 40 years ago when my times would have won me the Olympics. Or in 40 years when the Kenyans have given up."
- Belgian steepler Pieter Desmet (8:15 PR), talking in the same Independent article on the Kenyans. Desmet certainly thinks the Kenyans have a physiological advantage.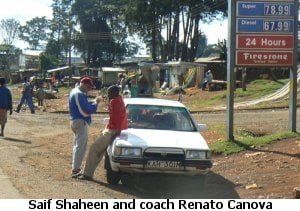 LRC Article on Iten Here
****
#4 - Europeans Have Gotten Worse, Which Makes The Kenyans Look Better
Famed Kenyan coach Renata Canova thinks everyone is looking at the question of the Kenyan dominance incorrectly and from the wrong frame of reference.
He believes that it is Europe and the United States that have gone backwards in athletics, creating the impression of a Kenyan revolution. "We continue to speak about why the Kenyans are so strong. We should ask why is Europe so weak," he says.
The world record set by the comparatively unknown Kenyan Patrick Makau in Berlin in September is a "soft one" according to the wizard, who says it won't last the year. "There are seven people who can run faster," he says.
****
#5 Everyone Else Does It - Why Not Me?
"In Kenya, everyone runs marathons, so I knew I had to run one at one point. I'm just happy it worked out, and I'm looking forward to running one again."
- Kenya's Stephen Muange after making his marathon debut in Baltimore, where he won in 2:15:16.
We bet Muange is unbelievably happy and ready to run another one, as somehow in the year 2011 he managed to pick up $25,000 by running a mediocre 2:15.
On other point, way more Americans run marathons than Kenyans each year, Americans just don't run them nearly as fast.

More: *Kenyan Muange Wins Baltimore Marathon In His First Race At That Distance
****
#6 Dwain Chambers Deserves A 2nd Chance
"His only conceivable rationale for not quitting (the sport) is the one he gives. It would be a privilege to represent his country in the sport he evidently adores. If that isn't as close to an irony-free definition of the Olympic ideal as we are likely to come, I'd be intrigued to know what is. ... When a man is willing to endure ridicule, disdain and guaranteed failure purely for the joy of taking part, is it too much to expect that he be given what the Prime Minister identified, in another context, as everyone's right? Surely Dwain Chambers deserves that second chance."
- Telegraph writer Matthew Norman writing about British sprinter Dwain Chambers' refusal to quit the sport and his desire to compete in the Olympics one last time even though his odds for success and even inclusion are low.
Chambers' Olympic aspirations did get a boost last week when it was announced that LaShawn Merritt can't be banned from the Olympics for his doping ban as that's against WADA rules.
In our minds, the ruling on Merritt was the correct one. You can't just make up the rules as you go along. That being said, we do think doping cheats should be banned for life - but the same rules should apply to all - not just a select few.
More: *British Columnist: Dwain Chambers Really Does Epitomise The Olympic Games Spirit
****
#7 Gradual Improvements Are The Key
"I could have gone faster, but it wasn't necessary."
"It is the best way to get results, go gradually. Not get injured."
- Liliya Shobukhova, after 3-peating at the Chicago marathon, in a spectacular time of 2:18:25 - making her the 2nd fastest women's marathoner in history. Shobukhova's statement coincides perfectly with the 1st Two Training Rules of LetsRun.com:

1) Stay healthy.
2) Progress in your training each year in a logical fashion.
We always tell runners, "Take the next step, have success and stay health. Don't try to take any short cuts."

More: *Next For Shobukhova - Conquering London In 2012
****
#8 Awakening The Sleeping Lion Otherwise Known As Moses Mosop
"Moses (Mosop) is a strong guy, he's a 2:03 guy and that isn't something to joke about. I knew I was awakening a lion that was asleep."
- Bank of America Chicago Marathon runner-up Wesley Korir explaining to LetsRun.com why he made a move at the 30km mark in Chicago. Korir thought that a countermove was coming, most likely in a big way, and he was proven correct.
More: *Chicago Marathon 2011: Moses Mosop A Superstar, Liliya Shobukhova Becomes Second-Fastest Women Ever
****
#9 Moses Mosop On The Significance (Or Lack Thereof) Of Wearing The "Stop Mosop" Shirt In Eugene
Moses Mosop talking to Sabrina Yohannes about wearing the "Stop Mosop" T-shirt in Eugene after setting the 25k and 30k world records. The T-shirt was meant to bring back memories of the "Stop Pre" T-shirt from the 1970s.
"They gave it to me at the race because they said it's the name of a guy who was running there, he was a great man. I don't know the meaning, but there's a story behind it. He's a famous runner. It's something good, not something bad."
****
#10 Desire Goes A Long Way ... Sponsorships Don't Just Fall Into Your Lap Always
"I'd actually sent him a couple of videos from my college races, just to put something in his head, in case anything happened later in the year. It was something I had in my mind, to be part of that group, that was so successful. Then after my 3:34 things started to open up. I ended up meeting Salazar a few times in Daegu, and then it all came together in the last week or so."
- Ireland's Ciarán Ó Lionáird explaining how he ended up the ultra-elite training group coached by Alberto Salazar even though he failed to score a single point at the NCAA outdoors this year.
More: *Ó Lionáird Raises Stakes With Move To Beaverton
****
#11 Real Marathoners Run Sub-2:10
"I'm going for sub-2:10, if I'm going to call myself a marathon runner, that's where I need to be. Sure a 2:06 or even a 2:05 could pop out but I'm thinking about sub-2:10 this time."
"I did a build up to Boston this year and I was doing stuff that I didn't think would ever be capable of doing so I want to come to the roads and show the world what I'm capable of. It's my little secret that I want to share."
- Irishman Alistair Cragg talking about what he's hoping for at this Fall's ING New York City marathon.
More: *Can Ireland's Alastair Cragg Revive European Men's Marathon Running?
****
#12 The Easiest Verbal Commitments Secured In History
"They both gave me verbal commitments at dinner. After her [Reynah] not-so-pleasant experience two years ago, it was nice for her to come back and get it done this year."
- Shippensburg cross-country coach (and former World Championships bronze medallist) Steve Spence talking about how he got verbal commitments from his two daughters over dinner.
More: *Shippensburg's Reynah Spence Captures MPC Girls' XC Race; Palmyra Wins Team Title
****
Recommended Reads
*An Inside Look At Iten, Kenya & What Makes The Kenyans Special - Running As Fast As They Can For A Future
*Profile On Stephen Machooka, Who Was The First Kenyan Distance Runner To Compete As A US Collegiate He won the Ivy League (Heptagonal) Championship for Cornell in 1961, setting a CR at VCP and becoming the first black All-Ivy XC runner.
*Decathlete Daley Thompson Doesn't Have His Medals, He Has His Memories "I'm obsessive," he declares. "I want to know the answer to how good I am. Most people aren't. They kid themselves, 'If only I had done this or that.' I don't give myself that luxury. I do it and whatever the answer is, it is."
*Colorado Resident Chris Siemers Takes Hard Road - Skips Chicago - Runs Colorado Record 2:18:48 To Qualify For Olympic Trials
*British Columnist: Dwain Chambers Really Does Epitomise The Olympic Games Spirit
*Alan Abrahamson: USATF Boldly Does Something Right
****
Quotes Of The Day From The Last Two Weeks:
Tuesday: 10/18: "Wait. What's this? USA Track & Field, arguably the most dysfunctional of all major American Olympic sports federations, maybe getting something not just right but possibly taking an ambitious step to profoundly reshape the future direction of the sport in the United States and even worldwide?
In announcing Monday that it had retained Indianapolis-based Max Siegel Inc. as part of a wide-ranging plan to restructure its marketing and communications efforts, USATF boldly steps into the 21st century."
- The opening three paragraphs of a column by Alan Abrahamson writing about USATF's decision to hire Max Siegel Inc. to handle its marketing.
---
Monday 10/17: "I decided to roll the dice and [run] with the leaders. I wanted in the middle but because of the wind I had to pick [a race position].
It was a lot faster than I had planned going out. I thought I'd take a risk today and it kind of blew up in my face at 36, 37 [kilometres]. I didn't think I was running fast anymore and was just happy to be in third overall at that point. Then I came around the corner and saw the clock and was pleasantly surprised to have run a PB [personal best]."
- Reid Coolsaet, talking after going out for in 63:58 for halfway and then hanging on for an Olympic berth and 2:10:55 personal best in the Scotiabank Toronto Waterfront Marathon, as Jerome Drayton's Canadian national record of 2:10:09 from 1975 survived to see another day.
---
Sunday 10/16: "I went to the 20 km thinking 'oh wow I'm going to meet all of these idols of mine like Blake Russell, Joan Benoit, Deena Kastor and Magdalena [Lewy-Boulet].' All of these people I've only read about. At the beginning they didn't know who I was or what I was doing there, but they have really embraced me."
- Janet Cherobon-Bawcom, who became a US citizen this year and then from Labor Day on won the USA Road Running Circuit title. Nice profile from USATF on how she got started in the sport and got her amazing running career started (she was on a 40 mile walk to her aunt's house when Olympic champ Peter Rono offered her a ride).
---
Saturday 10/15: "Hall simply believes that 'one day great things could happen.' He's not deterred by the evidence of his many third, fourth, and fifth-place finishes. He just keeps on believing.
I'm dubious. I can't help myself - I've got that hyper-objective journalist's disease. When I look at the tidal wave of fast-and-getting-faster marathon runners from around the world, I see no sign that Hall will win a major marathon, or an Olympic medal.
Yet I find Hall's attitude totally refreshing. Maybe I'm growing weary of my own narrow lens. I'd like to crack things open a bit. I'd like to believe in the improbable."
- Amby Burfoot, talking about how always positive Ryan Hall in the aftermath of the Hall-Hersh confrontation in Chicago.
---
Friday 10/14: "It felt that a little bit of my achievement that day, and how hard I worked for it, was being devalued - not just for me, for women all over. Everybody's area records, national records [and world records] were just wiped out without any explanation or any warning. I think that hit a lot of women."
"Going forward, it's a little bit harsh because it limits women's options for setting world records, because the majority of road races are mixed."
- Paula Radcliffe, talking about how she feels the new IAAF women's marathon record rule is unfair. Talking about her 2:15, she still contends that she was not "paced" to the record, saying, "I was really conscious that I never ran behind them. ... I was racing the guy and I was really annoyed that he actually beat me."
---
Thursday 10/13: "Members of your profession said it was unpatriotic. B******s. All anyone out there wants me to do is kick everyone's a***. That's all I wanted to do. I had prepared for a year so why would I do anything that's in the slightest bit detrimental to that? I don't need to be seen doing stuff."
"Mostly the people whose views I care about would be that guy there, the girls walking down the street. If they think I'm OK, they're as good a judge as anyone writing in the newspaper."
- UK Olympic decathlon champion Daley Thompson, talking about his decision not to carry his country's flag during the 1984 & 1988 Olympic opening ceremonies. Completely focused on being the best he could be, he said, "I'm obsessive, I want to know the answer to how good I am. Most people aren't. They kid themselves, 'If only I had done this or that.' I don't give myself that luxury. I do it and whatever the answer is, it is."
---
Wednesday 10/12: "What prompted her to run a marathon at nearly 39 weeks pregnant? Speculation was rampant, but to me, it seemed like Miller ran because that's what she does. She runs. This was neither her first pregnancy, her first marathon, nor her first pregnant marathon. As a local physician told me later that day, 'I don't think she's crazy ... it sounds like she's an elite athlete to be able to run that many miles this late in pregnancy.'"
- Chicago Tribune writer Ronnie Reese, reflecting on having to interview the Chicago Marathon mom - the morning after she gave birth and ran a marathon in the same day.
---
Tuesday 10/11: "I was confident that this was possible. This is the real Mile High Club right here - Sub-2:19. One person (belongs to it)."
- Chris Siemers, 30, after skipping the Chicago marathon and running a 2:18:48 at altitude to break the Colorado state record and qualify for the Olympic Trials in the process. A very old-school result that deserves praise.
---
Monday 10/10: "There are more than a few impressions to take away from the Bank of America Chicago Marathon, but one of them above all others will surely ring true.

Moses Mosop is a superstar."
- Mike Knapp writing for LetsRun.com about Moses Mosop's impressive victory in yesterday's Chicago Marathon. Liliya Shobukhova, who became the second fastest women ever, was pretty impressive herself in the women's race (and ran a faster final 7k than Moses).
---
Sunday 10/9: Chicago Live Now!
---
Saturday 10/8: "If you can run 2:02, if you are at 80-85 percent of shape off of basic training it indicates you can run in 2:05."
- Renato Canova, coach of Bank of America Chicago Marathon favorite Moses Mosop, at Friday's press conference. Mosop has been dealing with an Achilles injury. Can an 80-85% Mosop beat Ryan Hall?
---
Friday 10/7: "I'm going to try to win, but not to break the world record. Not now, maybe next time."
- Moses Mosop, talking about how he will not being making an attempt at the World Record at the Chicago Marathon this Sunday. There has been a lot of talk about the possibility of a new record, but Mosop says due to injury problems, he's "maybe at 80%."
---
Thursday 10/6: "Somebody could write a dissertation about all the things we've been doing wrong ... but it's like we've looked around at all the great African runners and just conceded, 'This is who we are. We're not going to win on this stage.'"
- Greg Meyer, last American-born man to win the Chicago Marathon. American Ryan Hall has a shot to prove Meyer wrong on Sunday. LRC men's preview here.
---
Wednesday 10/5: "And the way the powers have structured the whole apparatus - with every athlete an independent contractor, and represented as such clawing for Olympic selection – you need the IAAF and USATF more than they need you. And they know it! You're just an individual. They own the game. They can fill your lane in an instant."
---
Tuesday 10/4: "At 27 I am beginning to understand that my career must one day come to an end. I believe in the campground rule, 'Leave it better than you found it,' and I don't want to leave the sport I love to the next generation in its current state. I understand that there is much tradition and history in track and field and that its purity needs to be maintained. However, if these rules are not altered and brought into the 21st century, we may not have a sport to protect for much longer. There is a cancerous tumor in the sport of track and field and its name is over-regulation."
- Nick Symmonds in an open letter about how he feels the IAAF and USATF are "crippling our sport" with things such as strict advertising regulations and the new women's marathon record rules.
---
Monday 10/3: "(Sammy Wanjiru's death was) heartbreaking for me. I truly liked him. He did everything we asked. He had the heart of a lion, a champion. If you look back on what he did in such a short time, arguably you could say he was the greatest marathoner we've ever seen.
****
Last 6+ Weeks' Homepages
To see any homepage on LetsRun.com, just change the URL to match the corresponding date:
So August 1 would be https://www.letsrun.com/2011/homepage0801.php
So August 15 would be https://www.letsrun.com/2011/homepage0815.php
---
Runner's World &
Running Times



Combined Only $22
a Year
Save $87

---

Running & Track and Field Posters
---

Great Running Shoe Deals Nike Lunar Glide $79.99 A very popular innovative Nike shoe on sale now.
---