The Week That Was In Running: February 20-26, 2012
By LetsRun.com
February 29, 2012
Get ready, as we span the world and start looking at the 2012 Olympic Trials with London less than 150 days away.
This week, two of LRC's favorites disappointed in Tokyo (or did they?); we reap praise on 800 meter runners Duane Solomon, Erica Moore, Ben Scheetz and Harun Abda; we tell you why track and field will never be like the NFL; we break down the men's 1,500 at USAs, and give you the official LRC 50 US Olympic mid-d and distance hopefuls. Plus major props to Jeff See for some amazing acrobatics.
****
Father Time Wins/Stat Of The Week
What were you doing on August 22nd, 1993?
Many of you weren't even born (including world indoor junior 3,000 world record holder Isaiah Koech, if his birth date of Dec. 1993 is to be believed), but on that day Haile Gebrselassie was winning the first of his 6 World/Olympic 10,000 titles.
The fact that heading into last week, people were even contemplating that Haile Gebrselassie would make the 2012 Ethiopian Olympic marathon team is amazing.
But after last week's late fade in Tokyo, where he ended up 4th in 2:08:17, it's hard to fathom any scenario where Geb makes the team short of his running another marathon within the next few months (which Geb hasn't ruled out). Tokyo was a very unusual marathon in that both men who were clear of the field, Gebrselassie and last year's champ Hailu Mekonnen, faded at the end. Very unusual. Geb was clear of Mekonnen so Mekonnen fading could be explained at trying to go too hard and keep up with the leader. Gebrselassie says back pain was his problem. Geb seems to always have an excuse when something goes wrong and at some point he may just have to say, "I'm getting older." His excuse might have some validity this time. First, according to Brett Larner who is the expert on all things in Japanese running, Geb pulled away from Mekonnen on the slight uphills at the 36-37km point. Not the indication of someone tiring. He got passed after the downhills. Downhills could easily cause back problems. Geb also dropped a water bottle at 35km and stopped to pick it up before deciding not too according to Larner. That might jar Geb's his back a little. The other explanation is the hills (on the elevation map they appear to be less than 15 meters tall) took more out of Geb that he thought.
2011 was clearly the year of the marathon for the Kenyan men, as they just dominated, setting course records in all of the 5 majors - Boston, London, Berlin, New York and Chicago - and had 14 of the 16 fastest times on the year.
But so far, thanks to Dubai, 2012 has been the year of the Ethiopian marathoners.
Here's our Stat Of The Week for you.
6 - Grand total of Ethiopians prior to 2012 that had ever run under 2:06 in the marathon (Haile Gebrselassie 2:03:59, Gebre Gebremariam 2:04:53, Tsegay Kebede 2:05:18, Lelisa Feyisa 2:05:23, Bado Worku 2:05:25 and Getu Feleke 2:05:44)
7 - Number of Ethiopians that broke 2:06 in Dubai earlier this year, including 3 sub-2:05s (Ayele Abshero Biza 2:04:23, Dina Sefir Kemal 2:04:50, Markos Keneti Guteta 2:04:54, Tadese Tola Woldegeberal 2:05:10, Yami Dadi 2:05:41, Shami Abdullah Dawit 2:05:42, Deressa Chimsa Edae 2:05:42)
****
Yuki Kawauchi Disgraces Himself ... Or Does He?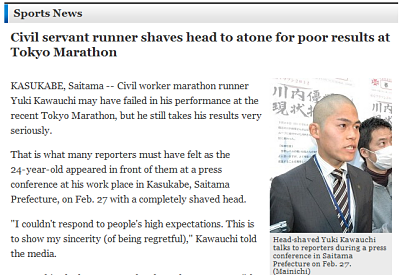 Haile G wasn't the only runner to leave Tokyo disappointed.
Japanese amateur star Yuki Kawauchi, who rose to prominence a year ago at the Tokyo Marathon when he beat all of the Japanese pros by running 2:08:37, returned to Tokyo last week hoping to run 2:07 and secure a Beijing Olympic spot. Kawauchi went into the race full of confidence as he was the #1 finisher at Fukuoka in December - the 1st of three Japanese Olympic selection races - when Kawuachi ran 2:09:57 as a training run (Two weeks after that he ran 2:12:33 in another marathon. Crazy). But Kawauchi came up way short of his 2:07 goal in Tokyo as he only ran 2:12:51, slowest of his 3 marathons in the last 3 months.
The time for Kawauchi and his fans was undoubtedly disappointing but in our minds, Kawauchi may have left the race with more fans than what he showed up with, as Japan Running Report's Brett Larner reported that Kawauchi didn't make any excuses about his showing afterwards. When is the last time an American athlete was this frank after a disappointing performance?
"I'm disappointed in myself that I let my confidence get shaken by not being able to get my drink bottles at 5 km and 10 km. Maybe it was a lack of preparation, or a lack of experience. ... It was disgraceful."
When asked if he thought his 2:09:57 performance from Fukuoka might get him named to London, Kawauchi responded:
"If you're not good enough to be internationally competitive then you don't need to go to the Olympics."
But the verbal self-mutilation wasn't enough for Kawauchi; he was so disgusted by his showing in Tokyo that he did what every professional athlete who has a bad day does - he shaved his head.
"I felt that I had to give everyone who supported me a sign of my remorse. It's better that my shame be exposed for everyone to see."
Apparently, it's the second time that Kawauchi has shaved his head after a disgraceful performance.
To our horror, it seems as Kawauchi will soon be trying to make amends for his Tokyo disappointment, as he'll be running the Düsseldorf Marathon on April 29th.
Kawauchi isn't afraid to run marathons - and run them often. Admittedly, sometimes Kawauchi runs marathons as training runs, but Düsseldorf will be his sixth marathon in less than six-plus months.
Kawuachi's Busy Marathon Schedule
2:16:11 18 Daegu 4 Sep
2:14:31 4 Osaka 30 Oct
2:09:57 3 Fukuoka 4 Dec
2:12:33 2 Hofu 18 Dec
2:12:57 12 Tokyo 26 Feb
????? ??? Dusseldorf 29 April
More: Brett Larner's Japan Running Report: Kawauchi, 14th In 2:12:51: "I Do Not Think I Will be Picked" For Olympics; Shaves Head
*Civil servant runner shaves head to atone for poor results at Tokyo Marathon
****
Four 800-Meter Runners Impress
Last week a number of US 800 meter runners caught our attention. We try to give them some publicity as they by no means are stars of the sports - at least yet!!!
1. Duane Solomon - The former USC Trojan absolutely dominated the men's 800 at the US championships as he won for the second straight year. Solomon's margin of victory of 1.32 seconds over Michael Rutt, who has run 1:47.11 indoors already this year, is ridiculous for a US Championships at 800m. A great run for the 27-year-old Solomon. Solomon has run 1:45 in 4 of the last 5 years outdoors, so he's got a good shot at the 2012 US Olympic team.
(The bad news is Solomon won't be on the World Indoor team as he has not run under the 1:48.00 indoor standard. A simple way to make the sport better would be, if a country has the maximum number of "A" qualifiers in an event, then the IAAF should let the country send whoever it wants to fill those spots for the World Championships. The point of the "A" qualifiers is to limit field sizes and make sure athletes are competitive. The other point should be to send the best people possible to the meet and Duane Solomon showed he is the best indoor 800m runner in America. From his post race interview on ESPN it sounds like (race video at that link too) he was not aware of the standard).
2. Erica Moore (photo on left) - The former heptathlete should now officially be considered a legitimate Olympic hopeful at 800m as she won the women's 800 at USAs by an even more ridiculous 1.99 seconds, as she dominated her training partner Phoebe Wright. Three weeks ago, Moore almost beat Maggie Vessey in Boston (both had the same time) and her domination of USAs showed that was by no means a fluke.
More: MB: Erica Moore -- USATF 800m champ *This is who she is: Erica Moore
3. Ben Scheetz - The Division III runners from Amherst did his best Nick Symmonds impression by running a new D3 indoor record of 1:47.43 at the New England Championships.
More: MB: Ben Scheetz sets D3 Indoor 800m record - 1:47.43 *Race Video
4. Harun Abda - The Minnesota Gopher junior, who currently leads the NCAA list in the 800 at 1:46.97, also had a ridiculously large margin of victory last week as he won the Big 10 600 by 1.77 seconds with a stellar 1:15.86 clocking. That mark ties him for #8 on the all-time world indoor list. He's tied with a very famous 800 meter runner - 1997 Olympic champion Vebjørn Rødal of Norway and ahead of the 2000 Olympic champ Yuriy Borzakovskiy.
All Time Top 11 Indoors at 600m (Source TAFWA).
1:15.12 Nico Motchebon 1999
1:15.60 Dmitrijs Milkevics 2005
1:15.65 Kevin Borlee 2011
1:15.69 Jackson Kivuna 2011
1:15.77 Donato Sabia 1984
1:15.80 Chip Jenkins 1987
1:15.86 Vebjørn Rødal 1998
1:15.90 Osmar dos Santos 2004
1:15.92 Richard Kiplagat 2011
1:16.02 Yuriy Borzakovskiy 2010
Want to take a guess at what the best 600 meters ever run is - indoors or out?
Abda's got some work to do. American Johnny Gray ran 1:12.81 outdoors back in 1986.
****
The 50 "Official" US Olympic Mid-D And Distance Hopefuls (As Of 2/29/2012)
Solomon's and Moore's big wins got us to do a little work. For as dominant as their victories were, neither one of them possesses the Olympic "A" standard qualifying mark of 1:45.60 or 1:59.90 respectively. And without an Olympic "A" standard, you in some ways aren't quite officially Olympic hopeful, as if you don't have the standard, you aren't going to the Olympics.
We decided to do a little research and find out how many US runners have the "A" standard in the mid-d and distance events. The results appear below (all marks are from 2011 except for David Torrence's 1,500, which is from 2012).
Solomon and Moore have a tough road ahead of them, as there is a combined total of 20 US men and women with "A" qualifiers in the 800 - the most of any mid-d or distance event. By our count, all told, there are 50 different people with Olympic "A" qualifiers in the various events (including 11 who are double qualified).
Note: The US Olympic Trials end on July 1st and qualifying marks must be earned by July 8th, so for all practical purposes, you need to have the "A" before the Trials to go to the Games.
As a result, the trials might be a little anti-climatic in a few events on the men's side. As it currently stands, only 2 men have the standard in the men's steeple and only 4 in the 10,000 and 5 in the 5,000.
2012 US Olympic A Qualifiers (As Of 2/28/12)

Men's 800 - 1:45.60 - 12 "A" Qualifiers
1:43.83 Nick Symmonds (OTC) Monaco DL 07/22
1:44.03 Khadevis Robinson (Nike) Monaco DL 07/22
1:44.67 Charles Jock (UCI) USATF 06/26
1:44.71 Robby Andrews (Va) NCAA 06/10
1:44.71 Cory Primm (UCLA) Eagle Rock 05/21
1:44.83 Tyler Mulder (OTC) Eagle Rock 05/21
1:45.06 Elijah Greer (Or) NCAA 06/10
1:45.28 Casimir Loxsom (PennSt) Jerome Cl 07/01
1:45.34 Ryan Martin (UCSB) Big West 05/14
1:45.43 David Torrence (Nike) Eagle Rock 05/21
1:45.52 Leonel Manzano (Nike) Barcelona 07/22
1:45.56 Richard Jones (SMTC) Jerome Cl 07/01
Close:
1:45.83 Russell Brown (OTC) Eagle Rock 05/21
1:45.86 Duane Solomon (Saucony) Eagle Rock 05/21

Women's 800 - 1:59.90 - 8 "A" Qualifiers
1:57.48 Alysia Montaño (Nike) World Ch 09/04
1:58.37 Morgan Uceny (adidas) Lignano 07/19
1:58.50 Maggie Vessey (New Balance) World Ch 09/04
1:58.61 Alice Schmidt (USOCCV) Lignano 07/19
1:59.12 Molly Beckwith (Saucony) Lignano 07/19
1:59.25 Phoebe Wright (Nike) USATF 06/26
1:59.62 Geena Gall (OTC) Lignano 07/19
1:59.67 LaTavia Thomas (Nike) Ninove 08/07
Close:
2:00.17 Erica Moore (unat) USATF 06/26
2:00.19 Anna Pierce (Nike) Eugene DL 06/04

Men's 1,500 - 3:35.50 - 5 "A" Qualifiers
3:33.11 Bernard Lagat (Nike) Paris DL 07/08
3:33.59 Lopez Lomong (Nike) Barcelona 07/22
3:33.66 Leonel Manzano (Nike) Paris DL 07/08
3:34.39 Andrew Wheating (OTC) Paris DL 07/08
3:34.46 Matthew Centrowitz (Or) Monaco DL 07/22
Close:
3:35.66 David Torrence (Nike) Feb. 18, 2012 - Sydney
3:35.70 Russell Brown (OTC) Mt SAC 04/15
3:35.89 Chris Solinsky (Nike) Mt SAC 04/15

Women's 1,500 - 4:06.00 - 4 "A" Qualifiers
4:00.06 Morgan Uceny (adidas) Brussels DL 09/16
4:03.54 Jenny Simpson (New Balance) Monaco 07/22
4:03.72 Christin Wurth-Thomas (Nike) Rome 05/26
4:05.73 Shannon Rowbury (Nike) London DL 08/06

Close:
4:06.63 Shalane Flanagan (Nike) Monaco DL 07/22
4:06.77 Gabriele Anderson (Brooks) London DL 08/06
4:07.04 Erin Donohue (Nike) Joensuu 07/27
4:07.44 Katie Follett (Brooks) Eagle Rock 05/21
4:07.57 Treniere Moser (Nike) Eugene DL 06/04
(missing on this list is indoor sensation Brenda Martinez who nearly beat Jenny Simpson at USA Indoors)

Men's Steeple - 8:23.10 - 2 "A" Qualifiers
8:17.27 Bill Nelson (New Balance) Monaco DL 07/22
8:19.10 Ben Bruce (OTC) Barcelona 07/22
Close:
8:23.27 Kyle Alcorn (Nike) Cardinal Inv 05/01
8:23.36 Brian Olinger (Reebok) London DL 08/05
8:25.95 Dan Huling (Reebok) Eugene DL 06/04

Women's Steeple - 9:43.00 - 5 "A" Qualifiers
9:37.16 Emma Coburn (Co) London DL 08/06
9:38.92 Bridget Franek (OTC) New York DL 06/11
9:39.48 Sara Hall (Asics) Rome DL 05/26
9:40.63 Delilah DiCrescenzo (NYNJ) Birmingham 07/10
9:41.12 Stephanie Garcia (Va) Gent 07/30
Close:
9:43.95 Lisa Aguilera (Nike) Eagle Rock 05/21
9:47.03 Lindsey Allen (McME) Gent 07/30

Men's 5,000 - 13:20.00 - 5 "A" Qualifiers
12:53.60 Bernard Lagat (Nike) Monaco DL 07/22
13:06.86 Galen Rupp (Nike) Birmingham DL 07/10
13:10.22 Chris Solinsky (Nike) Melbourne IWC 03/03
13:14.75 Matt Tegenkamp (Nike) Monaco DL 07/22
13:19.58i Chris Derrick Millrose 11 Feb
Close:
13:21.55 Andrew Bumbalough (Nike) Heusden 16 Jul
13:24.11 Ben True (ITA) New York DL 06/11
13:25.82 Brandon Bethke (unat) Cardinal Inv 05/01
13:26.14 Elliott Heath (Stan) Cardinal Inv 05/01

Women's 5,000 - 13:20.00 - 11 "A" Qualifiers
14:45.20 Shalane Flanagan (Nike) Paris DL 07/08
15:00.57 Lauren Fleshman (Nike) London DL 08/06
15:08.64 Desiree Davila (Hansons) London DL 08/06
15:10.01 Molly Huddle (Saucony) USATF 06/24
15:10.44 Jen Rhines (adidas) London DL 08/06
15:11.47 Kara Goucher (Nike) Eugene DL 06/03
15:11.49 Jenny Simpson (New Balance) Mt SAC 04/15
15:14.25 Magdalena L. Boulet (Saucony) Stockholm 07/29
15:14.31 Amy Hastings (Brooks) USATF 06/24
15:15.34 Liz Maloy (New Balance) Lignano 07/19
15:16.04 Angela Bizzarri (Brooks) USATF 06/24
Close:
15:21.18 Julie Culley (NYAC) USATF 06/24
15:21.75 Christin Wurth-Thomas (Nike) Mt SAC 04/15

Men's 10,000- 27:45.00 - 4 "A" Qualifiers
26:48.00 Galen Rupp (Nike) Brussels DL 09/16
27:24.67 Bobby Curtis (Reebok) Cardinal Inv 05/01
27:28.19 Tim Nelson (Nike) Cardinal Inv 05/01
27:28.22 Matt Tegenkamp (Nike) Cardinal Inv 05/01
Close:
27:51.78 Scott Bauhs (adidas) Cardinal Inv 05/01

Women's 10,000 - 31:45.00 - 5 "A" Qualifiers
30:39.57 Shalane Flanagan (Nike) Cardinal Inv 05/01
31:16.65 Kara Goucher (Nike) USATF 06/23
31:28.66 Molly Huddle (Saucony) Cardinal Inv 05/01
31:30.37 Jen Rhines (adidas) USATF 06/23
31:37.14 Desiree Davila (Hansons) USATF 06/23
Close:
31:48.58 Magdalena Lewy Boulet
A few thoughts about the list.
1) We failed to realize that Chris Derrick got the "A" standard when he ran 13:19 at Millrose earlier this month.
2) We also failed to mention last week that David Torrence's 3:35.66 opening victory in Australia - while amazingly good for an opener - was a scant .06 off of what he'd like to have, as the "A" standard is 3:35.60.
3) We know that Andrew Bumbalough did run 13:16 last year. But that came before the qualifying window opened up on May 1st. If you think anything is wrong with our list please email us but remember the qualifying window started on Marh 1.
5) What About The Sport? In our minds, it's crazy that someone like David Torrence might get top 3 at the US Trials and then miss the Olympics because he didn't run .06 faster in some meet. If track bureaucrats expect fans to pay big dollars to attend the US Trials, it needs to mean something in every event. As we mentioned above in the piece on Duane Solomon, the IAAF needs to transition to multiple "A" standards being good for the whole country. So if the US has 3 people with the "A" standard in an event it gets to send whatever 3 people it wants to Worlds or the Olympics. Then for sure the Olympic Trials would be more clearcut for the fans and the athletes.
****
One Reason Why Track & Field Will Never Be Like The NFL
While we do think the presentation of track and field can be greatly improved in a lot of ways, we always laugh at the people who think "If only track and field was presented better, it would be so much more popular."
It would be more popular, but there are inherent aspects about the sport that make it hard to understand (but great, by the way, for a website like LetsRun.com, as one reason our site is popular is we try and make the sport easier to follow) and limit it's popularity.
Case in point - in what other sport would you see the following headline?
Arkansas Beats Florida To Win SEC Title But Florida Moves From #2 To #1 In National Rankings As Arkansas Falls From #1 To #2
That's exactly what happened last week. The #1 nationally-ranked Arkansas men won the SEC title but the runner-ups at SECs - Florida - actually overtook them for #1 national ranking.
We'd say that's ridiculous, but the fact of the matter is Florida probably does have a better shot at NCAA glory than Arkansas and there is no debate as to who won SECs.
One thing about the 2012 SEC indoor meet - The Hogs got the 14-point win in part thanks to a nice effort by freshman Patrick Rono, who got the individual mile win and kicked home the DMR to a win as well.
Collegians/coaches may know Rono as the NJ MOC 800 and 1,600 double winner last year, but older visitors who don't follow the high school scene who don't know Rono may see that last name and ask, "Is he related to Peter or Henry?"
The answer is yes. Patrick Rono is the son of 1988 Seoul Olympic 1,500 gold medallist Peter Rono, who works for New Balance. His mother, Mary Kirui, was no slouch herself as she won the bronze medal in the 10,000 meters at the 1987 All-Africa Games.
One cool thing about Patrick. When he won the two state titles last year, he wore his dad's red adidas shorts from Seoul for good cluck.
More: Patrick Rono of Lyndhurst wins 800 and 1,600 meters at Meet of Champions *STFCCCA Conference Champs Central
****
Performance Of The Week - Bernard Lagat Destroys Galen Rupp & Lopez Lomong
Father Time may be catching up to Haile Gebrselassie, but Mr. Time is having a hard time catching up with 37-year-old Bernard Lagat.
Going into last weekend's much anticipated matchup with Lagat, Galen Rupp's coach Alberto Salazar said the following of the Rupp-Lagat rivalry (or lack thereof, as Lagat had won all previous 11 matchups):
"To be honest, it hasn't been that close in the past when they've raced. Lagat has handled him pretty easily. But every year Galen has gotten better. He's definitely not going into this conceding victory to Lagat. Galen is starting to close the gap. At some point he may pull even. Maybe it will be this year. We'll see."
In the end, the results were what they've been all along in Rupp-Lagat races. Lagat handled Rupp "pretty easily" but it was a bit shocking as after some gutsy frontrunning, Rupp had next to nothing left at the end of the race and he ended up a distant third - some 10 seconds back of the brilliant Lagat, and Lopez Lomong got second.
But Lagat was simply sensational over the last 200, and particularly the last 100 - or should we say 80? - meters. When Lagat went into the last turn (last 100m), the race was already in hand but that didn't stop Lagat. He legs turned over faster and faster and his final sprint home was simply breathtaking even though no one was near him.
At the time, we just thought, "Wow, that's ridiculous. He looks GOOD. Can a human being run any faster than that? A final 200 like that will almost certainly result in Olympic gold."
The finish reminded us of two things.
1) 2010 when Lagat made a mockery of the 2010 world indoor final, as he was utterly brilliant in his destruction of the field, "laughing, smiling and waving as he crosses the line."
2) How Lagat lost the 5,000 final last summer in Daegu. People seem to forget that Lagat was rolling on the final turn (video of final lap can be watched here) before he bumped into Imane Merga (who was eventually DQed) at the start of the homestretch. Lagat said after the race that the bump cost him the title as he said he purposely had saved something for the final 80 meters. Well, in Albuquerque, Lagat seemed to be doing a solo dress rehearsal for the London 5,000, turning it on with about 80 meters to go and going all out to the line.
Lagat's final 200 of 25.42 compares very favorably to the 26.03 that was covered by the leaders in Daegu at the end of the 5,000 (although the overall leader to leader last 400 in Deegu was much faster than in Albuquerque - 52.62 versus 56.13).
Watch for yourself.
On the left, we've embedded the whole race with no commentating (all of the races from USATF are available on the Runnerspace website). On the right, we've embedded the highlights of the kick from the ESPN broadcast as it without a doubt proves that the production of track and field on TV matters. Tim Hutchings' commentating makes the race is great (the actual race call is better than the highlights)). USATF appears to be uploading the broadcast footage to Youtube.
****
Upset Of The Week/5 Takeaways From The 1,500 At USAs/The Ignored Performance Of The Week
2011 World Championships bronze medallist Matt Centrowitz went into the USA 1,500 final having run 3:53.92 to win his only indoor mile in 2012. His chief rival, Leo Manzano, went into the race after having finished last in his only in mile of the year with a 3:57.92 time.
But after the race was over, Manzano was the victor as he won thanks to a final 400 of 53.35 (26.61 - 26.74).
5 Takeaways from the 1,500 at USAs.
1) We've been saying this for a while now but we'll say it again (and we know his former coach Jason Vigilante agrees with this sentiment) - Leo Manzano is very, very good in races where he has a chance to win.
The guy has a good finish and is very competitive. Sometimes he has terrible performances in fast time trial races found in the Diamond League in Europe, but he's often great in races where he's near the front. Remember, last year, he finished ahead of Andrew Wheating at USAs.
2) Centrowitz fans have little to worry about.
Centro's loss was a bit surprising given his and Manzano's recent form, but Centro still did run the fastest last 400 of anyone in the field at 53.24 (26.23, 27.01). His 26.23 penultimate 200 was probably just a bit too much this early in the year.
3) Rupp's last 400 impressed us.
The night before, Rupp looked terrible at the end of the 3,000, but in the 1,500 at USAs, he looked better than we would have expected. His final 400 of 53.92 was pretty good.
4) If you can explain Russell Brown's inconsistent 2012 season, you are smarter than we are.
Brown's 3 indoor miles/1,500s have been either pretty good or really bad.
Feb 4 - Disappointing 4:00.79 mile in Boston
Feb 11 - Much better 3:54.08 mile in Arkansas.
Feb 26 - Terrible last place 3:56.62 1,500 in New Mexico.
5) The race was a fantastic race. It featured great commentating by Tim Hutchings (can he just officially always be the guy on ESPN?), a 3-way battle for the win off the final bend and a slow time.
We still have no idea why people think the sport is about rabbitting people to relatively fast times in boring, races of no consequence in Europe. The sport is about competition. 'Significance' makes memories, and rarely is time what makes a race significant.
But the race also featured an incredible fall/recovery by Jeff See. See was knocked down with about 350 to go, did a full somersault and kept on running. It's was one of the most incredible things we've ever seem - definitely the Ignored Performance of The Week
Watch for yourself below (we've got it to start with 400 to go but you can watch the whole race)
****
Near-Upset Of The Week - Brenda Martinez Almost Takes Jenny Simpson's Scalp
Brenda Martinez has had a great 2012 indoor season so far with wins at New Balance and the US Open and a gutsy front-running 3rd place showing in Arkansas. But all year, we hadn't gotten a chance to see how she might looks against one of the current Big 4 (Simpson, Rowbury, Uceny, Wurth Thomas) of US women's 1,500 running. Well, on Saturday in Albuquerque, Martinez raced the world champion Simpson and nearly came away with the win.
Martinez's final 200 was by far the best of anyone in the race, as the final 200 of 30.08 was more than half a second better than Simpson, who closed in 30.58. Her final 400 of 62.75 was also better than Simpson's split of 63.13. How did she not win? Well, she was boxed and didn't get out until too late.
Tactics cost people a chance at victory much less than most people seem to think, but this was an instance where it clearly did. Now after the race, Simpson said she had little idea that Martinez was fast approaching. Would Simpson have been able to hold her off? We'll we won't find out at Worlds as Simpson is skipping them.
In 4th place at USATF Indoors was Lauren Johnson (should we call her "LaJo" or "LoJo"?) who until her senior year of college 3 years ago primarily was a basketball player, and had PRs of 2:19 - 800m, 5:38 – mile, and 19:52 – 5km. Thankfully she started taking running seriously. More on her here at Johnsonrunning.com. We wonder how little LRC would have turned out if we named it that instead.
Final 400 of Women's 1500

****
Recommended Reads/Listens
*From 2009 About World's Best 10k Runner Sammy Kitwara: Sammy Kitwara The Best Runner You've Never Heard Of
*LRC USATF And Athletes At Impasse Over Uniform Regulations: USATF Says Blame Nike Contract
*A Look Back At The Last Time London Hosted The Olympics: The 1948 "Austerity Olympics"
*Sports Illustrated & Tim Layden Profile Mo Farah & Galen Rupp: A Bond Born At Speed
*Q&A With British Jav Legend Steve Backley, Who Says Emil Zatopek Was His Hero
*A Stunning Olympic Upset: Britain's 4 X 100 Win In 2004 A team with no finalists at 100m or 200m beat a USA all-star team that didn't drop the baton. *Video of Race
****
Links To Learn More About The Key Events From Last Week
World's Best 10k: Vivian Cheruiyot Wins In 30:47 As World 10k Bronze Medalist Linet Masai Is 3rd (31:09), Shalane Flanagan 6th (32:20) Sammy Kitwara won for the men over Vicent Chepkok and Eritrea's World Half Marathon record holder and 2004 Olympic medallist Zersenay Tadese. Imane Merga finished back in 7th place. *MB: Vivian Cheruiyot, Sammy Kitwara Win
*From 2009 About World's Best 10k Runner Sammy Kitwara: Sammy Kitwara The Best Runner You've Never Heard Of
Barcelona Half: World Champ Abel Kirui Wins In 1:00:28 Peter Kamais was 4th in 1:01:14.
*Finish Line Video With Abel Kirui Victory Dance Doesn't look like he was too tired.
USATF Indoors *Results *LRC Day 1 Photo Gallery *LRC Day 2 Photo Gallery *Race Videos *LRC Day 2: Manzano Outkicks Centrowitz And Rupp To Win 1,500; Simpson Holds Off Martinez *LRC Day 1 USATF Indoor Men's 3k: Lagat, Lomong Crush Rupp
Tokyo Marathon *Top Tokyo/Geb Results *LRC Tokyo Photos *LRC Geb Goes For It ... Fades To 2:08:17 4th
Stockholm - *Results *Video Of PV WR *More Yahoo Photos Of Record *World Record For Yelena Isinbayeva Yelena Isinbayeva is fully back as she went 5.01 for the world record. Asked whether anyone could beat her this year, she said, "I think you can answer that question yourself," in reference to her 29cm winning margin. Isiah Koech won the 3k over Dejen Gebremeskel, Caleb Ndiku and 7:29.94 man from earlier this year Augustine Choge. Morgan Uceny ran 4:08 to get a close 3rd in the 1,500m as Anna Pierce struggled again.
*Brit Holly Bleasdale Was A Distant Second In PV With 4.72m *Athletics Weekly Recap: Mohamed Aman Wins 800 In 1:45.84 As Adam Kszczot Is A Disappointing 5th
College Conference Action *USTFCCCA Champs Central
****
Quotes Of The Day From Last Week/Last Week's Homepages
Note: To see a particular day's homepage, click on the hyperlink of the date on the left. The quote's hyperlink will take you to that particular article - not that day's homepage.
Monday 2/27: "I could run another marathon in two weeks. I felt fantastic here for the first 30 kilometres, then had some problems at the end of the race. Sometimes you are too ambitious. This can happen. My target was 2-05 today but it didn't work out that way. On the last downhill, I started to get some pain in my back. The last 5km was the worst I've ever run."
- Haile Gebrselassie speaking after his disappointing 4th-place finish at the Tokyo Marathon, indicating he hasn't given up on gaining selection for London 2012. The question now is which marathon will he choose. It can be assumed he won't do London in April, as he has previously said he would never run London in the spring after he had to drop out in 2007 due to the high pollen count and his allergies. As it stands, he sits 22nd on the Ethiopian Olympic marathon list and would need 2:04:54 to break into the top 4.
---
Sunday 2/26: "I just wanted to show those guys that Daddy can still kick."
- The great Bernard Lagat speaking with his son Miika at his side after his 25-second final lap won him the USATF indoor 3,000m title over Lopez Lomong at elevation in Albuquerque. After leading 11 laps, Galen Rupp was gapped before the bell and is now 0-for-12 against Lagat.
---
Saturday 2/25: "I eat, sleep and run. It is part of my life. I will someday stop competing, but I will not stop running."
- The great Haile Gebrselassie. Gebrselassie kicks off a great 3 hours of running tonight at 7:10 pm Eastern as he tries likely for the last time at the Tokyo Marathon to make his final Olympic team. Then at 10 pm Eastern, Bernard Lagat and Galen Rupp square off again.
---
Friday 2/24: "To be honest, it hasn't been that close in the past when they've raced. Lagat has handled him pretty easily. But every year Galen has gotten better. He's definitely not going into this conceding victory to Lagat. Galen is starting to close the gap. At some point he may pull even. Maybe it will be this year. We'll see."
- Alberto Salazar talking about Galen Rupp's chances against Bernard Lagat at the US Indoor Championships 3,000 on Saturday night. Who do you think will win? Take our poll on the right. *MB: "Galen Rupp won't concede anything when he takes on Bernard Lagat."
---
Thursday 2/23: "What are you going to be when you grow up?" Janet Evans asked her daughter. "Do you want to be an Olympic swimmer?"
"No," she replied as she took off sprinting. "An Olympic runner."
- Former Olympic swimming champ Janet Evans asking her daughter, Sydney Evans, what she wants to be when she grows up. Looks like the sport is making headway somewhere.
---
Wednesday 2/22: "I was leery (about brining Mo Farah in). I think we've got the best training program in the world, with Alberto's coaching and Nike's resources. And now we're adding one of our chief competitors. I said to Alberto, 'Why are we bringing this guy in?'"
and
"People were saying I was using steroids when I was 15. They'd say I'll burn out in three years. It was hurtful at times. But no regrets. Things have gone pretty well."
- Galen Rupp talking candidly in a fantastic Sports Illustrated profile of him and Mo Farah by LetsRun friend Tim Layden. The features includes recaps of workouts that the duo have done like 8 x 1,200 at 4,500 feet in 3:09 with 2 minutes rest and nuggets of info not known before (Rupp's a 10.9 runing-start 100m man, whereas Farah's just 11.3).
---
Tuesday 2/21: "He's amazing. In one week, he can turn things around. This is a youngster who can dunk a basketball, throw a football a mile and bench press 225. He's all lean muscle. We do core work, but Za'von is the kind of kid who will have eight-pack abs without doing one sit-up." After all, this was a runner who as a sophomore ran the second fastest high school 4 x 800 relay leg ever, a 1:47.99 anchor at the 2009 outdoor nationals.
- Liverpool high school coach Justin Block talking about high school sensation Za'von Watkins. If you don't know who Watkins is, it's time you learn who he is, as he really is exceptional. The HS quarterback, who split a 1:47.99 in 10th grade, really can get in shape incredibly fast. This year because of a concussion in football, he didn't start running until December but dominated both the US Open and Millrose miles. We saw him run a mediocre 4:28 for 1,600/36.43 for 300 on January 7th and thought, "That's the one everyone is talking about?" A month later, he's a totally different athlete. This photo here of Watkins is truly incredible. We love how he a) Knows how to celebrate and b) Looks like a football player.
---