Thanks to Facebook Brit Lee Merrien Named to Olympic Marathon Team
By LetsRun.com
April 27, 2012
Good news came out of Britain yesterday for marathoner Lee Merrien as he was named to the British Olympic marathon team after a facebook campaign to get him named.
Merrien, the top Brit at the last two Virgin London Marathons, failed to meet the British qualifying standard of 2:12:00. He also missed by 18 seconds getting top 20 at the World Championships last year which would have put him on the team. However, only two Brits had met the tougher British qualifying standard, so Britain was only going to send two marathoners (instead of the max of 3) to its home London Olympics despite the fact Merrien's 2:13:47 personal best made him eligible for the Olympics.
Merrien technically didn't have grounds to appeal the selection and a facebook and PR campaign were started to get him on the team. GB Athletics threw out his initial appeal and then reversed course yesterday and named him to the team.
We at LetsRun.com believe the US model is the best. If the athlete is good enough to hit the IOC qualifying standard, then the country should send them to the Olympics if there is a spot available. The British selectors usually have tougher standards arguing that that raises the bar for their athletes.
Interesting story nonetheless. BBC article on his selection here. Article saying Merrien shouldn't be put on team here. Emails from agent Brendan Reilly below on Merrien's plight. Before we could post them, we heard Merrien had been put on the team.
Grassroots Support Growing for Lee Merrien to be Named to UK Olympic Men's Marathon Team
April 25, 2012
A fan of British marathon runner Lee Merrien has created an impromptu Facebook page called "Select Lee Merrien" to support the selection of Merrien to the British marathon team for this summer's London Olympic Games. As background, Merrien ran a PB 2:13:47 to finish as the top British runner in Sunday's Virgin London Marathon, thereby also winning the race's Jim Peters Award for a second consecutive year. While Merrien's result is well under the IAAF "A" standard of 2:15:00, he missed UK Athletics' own standard of 2:12:00. The British federation had opened the door somewhat by also including a standard of a Top 20 finish in last summer's Daegu world championships marathon as sufficient for selection; however, Merrien came up just short in Daegu, finishing 22nd, 18 seconds off of 20th place.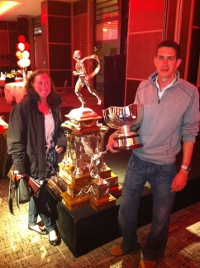 When the Olympic selectors named the UK team this past Monday, a full contingent of three women (Paula Radcliffe, Mara Yamauchi, Claire Hallissey) was named, but only two men (Scott Overall and David Webb) were tabbed. Merrien has followed procedures to file an appeal, and a final decision is pending.
Jonathan Bean provides a very calm and rational explanation of his reason to support Lee's selection in an article he posted yesterday to the "Ethical Athletics," entitled "The case for Lee Merrien." (http://ethicalathlete.wordpress.com/2012/04/24/the-case-for-lee-merrien/)
Facebook users can check out the new "Select Lee Merrien" Facebook page. In less than 24 hours, the site had gained 2,385 "Likes," and was adding about two per minute at the time this press release was being written.
In addition to Lee Merrien, Boulder Wave represents three other UK athletes who raced the Virgin London Marathon: Lee's teammate on Newham and Essex Beagles, John Beattie (adidas), who ran a seven minute PB of 2:16:38 to finish as 2nd UK man; Freya Murray (adidas), coached by Steve Jones, who finished as 2nd UK woman in a sterling 2:28:10 debut; and Louise Damen (adidas), who finished as 3rd British woman in 2:31:37, the 2nd-fastest mark of her career. Boulder Wave also represents reigning Olympic champion Constantina Dita (ASICS) and reigning World Champion Edna Kiplagat (Nike).
Attached photo: Lee Merrien and wife Theresa with the Jim Peters Award at the Sunday evening farewell dinner of the Virgin London Marathon. (Photo courtesy of Boulder Wave, Inc.)
LeeMerrien Named to UK Olympic Men's Marathon Team!
April 27, 2012
The British Olympic Association has today formally named Lee Merrien to the UK Olympic team in the men's marathon for this summer's London Olympic Games.
Merrien was at first left off Team GB when the Olympic marathon team was announced this past Monday afternoon, with selectors selecting only two men, despite the 2:13:41 PB run by Merrien in winning the UK men's championship title as part of last Sunday's Virgin London Marathon. With the IAAF having set a standard of 2:15:00, Merrien was well within the qualifying time, and a grassroots show of support across the UK by running fans and media helped to prompt UK Athletics to reevaluate their decision.
According to UK Athletics website today, Merrien's appeal this week for selection was denied, but "the Selection Panel was asked to reconsider if exceptional circumstances existed, as it could under the policy. The UKA Selection Panel therefore reconvened and following consideration of all relevant facts and using its expert opinion, exercised its discretion to nominate Lee Merrien to the BOA."
When reached today, Merrien was on a beach near his home on Guernsey in the Channel Island, playing with his three- year old son, Thomas. Merrien commented, "Well, of course, I am absolutely delighted by this turn of events. I felt I had done the hard work and earned my way onto the team. The show of support here this week on my behalf has been unbelievable, especially that Facebook page [an impromptu Facebook page named 'Select Lee Merrien' created by a fan this week quickly gained nearly 3,000 Likes]. I hadn't expected anything like that. The phone calls haven't stopped today. I want to thank the selectors for viewing my case again, and I will be very proud to represent the UK this summer. I will absolutely make the most of this opportunity."
The 2012 men's Olympic marathon will be held on August 12th.
Merrien is represented by Boulder Wave, and coached by John Nuttal. He is sponsored by ASICS and is a member of the Essex and Newham Beagles track club in the UK. In addition to son Thomas, Lee and his wife Teresa also have an infant daughter, Jessica.