Cam Levins Outkicks Lawi Lalang to Win Mt. Sac 5000m
By LetsRun.com
April 20, 2012
The big story at Mt. Sac on Friday night was Southern Utah's Cam Levins outkicking NCAA XC, 3000m and 5000m champion Lawi Lalang to win the 5000m in an Olympic qualifying 13:18.47.
The time was nearly a 20 second pr for Levins and most importantly got him a Canadian Olympic "A+" qualifier. (The Olympic "A" standard is 13:20.00, but Canada's more stringent A+ standard is 13:19.62. Can a Canadian explain the .38 difference to us? Regardless, expect to see Cam in London). Former NCAA champ and LetsRun.com Puma Faas Challenge winner David McNeill (Australia) also got the "A" standard.
Levins has become a cult hero on LetsRun.com with tales of 160 mile weeks and the fact he raced in two races fans actually see pro meets during the collegiate season, the New Balance Indoor Grand Prix 3000m and the Wanamaker Mile. We guess this run answers the question whether Levins was racing too much. (Video and results below).
In the women's 5000m, Jenny Barringer did not run and American record holder Molly Huddle got the win over Aussie Eloise Wellings. A minor surprise was Dartmouth's Abbey D'Agostino and Stony Brook's Lucy Van Dalen just ahead of Villanova NCAA star Sheila Reid.
The Puma Miles had $10,000 in prize money if the runners went under 4:30 for the women and sub 4:00 for the men. French drug cheat Jamal Aarrass was a dominant winner in 3:52.21 ahead of Canadians Taylor Milne and Nate Brannen who need the Canadian and Olympic "A" standard of 3:35.50. (Brannen split 3:36.7 here). Hilary Stellingwerff won the women's title ahead of Serbian and former Villanova star Marina Muncan but didn't break 4:30 so we think that means the women don't get any cash.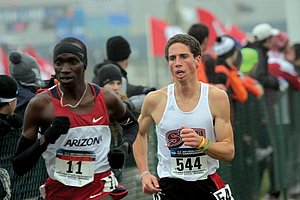 The tables have turned
The women's performance of the night in the mid distances however may have been in the 1500m where Washington's Katie Flood (NCAA DMR winner) ran 4:11.66 for the win. (In addition to the mile there were 1500s at Mt. Sac)
Results of the key distance races below. Full meet results here.
Event 120  Men 5000 Meter Run Invit Elite
===============================================================
    Name                    Year Team                    Finals
===============================================================
Finals                                                         
  1 Cameron Levins               Southern Utah         13:18.47
  2 Lawi Lalang                  Arizona               13:18.88
  3 David McNeill                Unattached            13:19.31
  4 Andy Vernon                  Melbourne TC          13:23.20
  5 Aron Rono                    Unattached            13:23.52
  6 Stefano La Rosa              Italy                 13:23.58
  7 Brian Olinger                Reebok                13:26.94
  8 Rory Fraser                  Unattached            13:27.70
  9 Kennedy Kithuka              Wayland Baptist       13:28.61
 10 Robert Cheseret              US Army               13:29.62
 11 haron lagat                  Golazo sports/Nike    13:33.64
 12 Joe Stilin                   Princeton             13:38.36
 13 Sean Houseworth              Air Force WCAP        13:45.40
 14 Kensuke Takezawa             S&B                   13:46.73
 15 Miles Batty                  BYU                   13:46.84
 16 Andrew Springer              Georgetown            13:48.74
 17 Stephen Pifer                Oregon Track Club     13:49.80
 18 Tyler Pennel                 Western State         13:51.42
 19 Juan Carlos Romero           Mexico                13:52.49
 20 Borrego Diego Alberto        Mexico                14:04.48
 21 Nick Happe                   Arizona State         14:07.26
 -- Tiidrek Nurme                Estonia                    DNF
 -- Bolota Asmerom               Unattached                 DNF
 -- Mark Christie                Ireland                    DNF
Last Lap (or Full Race) of Men's 5000m Via Runnerspace Below. More Mt. Sac here
(If you want full race with announcers via Flotrack here)


Women's 5000m:
Event 220  Women 5000 Meter Run Invit. Elite
===============================================================
    Name                    Year Team                    Finals
===============================================================
Finals                                                         
  1 Molly Huddle                 Saucony               15:15.91
  2 Eloise Wellings              Melbourne TC          15:20.67
  3 Abbey D'Agostino             Dartmouth             15:23.35
  4 Lucy Van Dalen               Stony Brook           15:23.54
  5 Sheila Reid                  Villanova             15:23.64
  6 Kim Conley                   SRA Elite             15:24.89
  7 Aliphine Tuliamuk            Wichita State         15:26.07
  8 Julie Culley                 Asics/NYAC            15:29.80
  9 Katie Mackey                 Brooks                15:31.59
 10 Emily Brichacek              Melbourne TC          15:31.65
 11 Emily Infeld                 Georgetown            15:34.26
 12 Emily Sisson                 Providence            15:34.54
 13 Sandra Lopez                 Mexico                15:37.00
 14 Adrienne Herzog              Brooks                15:42.90
 15 Brie Felnagle                Adidas                15:43.60
 16 Bogdana Mimic                Villanova             15:44.15
 17 Megan Wright                 New Balance           15:47.84
 18 Sara Hall                    Asics                 15:52.17
 19 Marisol Guadalupe Romero     Mexico                15:52.57
 20 Megan Goethals               Washington            15:58.12
 21 Anna Pierce                  Nike                  16:04.38
 22 Liz Costello                 Tennessee AC          16:08.95
 23 Lauren Kleppin               Western State         16:10.36
 24 Rebecca Donaghue             New Balance           16:19.36
 25 Brenda Martinez              New Balance           16:23.75
 26 Frances Koons                New Balance           16:40.39
 27 Emily Pidgeon                Unattached            16:45.34
 -- Katrina Wootton              Unattached                 DNF
 -- Malindi Elmore               Speed River TFC            DNF
 -- Elizabeth Maloy              New Balance                DNF
 -- Georgie Clarke               Unattached           X15:41.44
Puma Women's Mile
Flash Results, Inc. 
                   54th ANNUAL MT. SAC RELAYS                   
           "Where the world's best athletes compete"            
Hilmer Lodge Stadium, Walnut, California  - 4/19/2012 to 4/21/20
 
Event 213  Women 1 Mile Run Invit Elite
================================================================
World Record: W 3:50.46  1993        Yunxia Qu, China           
American Rec: @ 3:57.12  1983        Mary Slaney, Athletics West
 Meet Record: $ 4:08.92  1993        Maria Mutola, Mozambique   
    Name                    Year Team                    Finals 
================================================================
Finals                                                          
  1 Hilary Stellingwerff         Speed River TFC        4:31.04 
  2 Marina Muncan                New Balance            4:31.52 
  3 Delilah DiCrescenzo          PUMA                   4:32.11 
  4 Lauren Bonds                 Adidas Raleigh         4:33.21 
  5 Bridey Delaney               NSWIS Sydney           4:34.14 
  6 Maggie Infeld                New York Ath           4:34.45 
  7 Orla Drumm                   Unattached             4:36.81 
  8 Lennie Waite                 TeamROGUE Elite        4:37.51 
  9 Jackie Areson                Charisma Sports        4:38.99 
 10 Alice Schmidt                Nike                   4:43.11  
Puma Men's Mile
Event 113  Men 1 Mile Run Invit Elite
================================================================
World Record: W 3:26.00  1998        Hicham El Guerrouj, Morocco
American Rec: @ 3:29.30  2005        Bernard Lagat, Nike        
 Meet Record: $ 3:37.99  2009        Lee Emanuel, New Mexico    
    Name                    Year Team                    Finals 
================================================================
Finals                                                          
  1 Jamal Aarrass                Unattached             3:52.21 
  2 Taylor Milne                 Canada                 3:54.29 
  3 Nate Brannen                 Saucony                3:54.81 
  4 Zane Robertson               New Zealand            3:56.13 
  5 Craig Miller                 Melbourne TC           3:56.41 
  6 Garrett Heath                Saucony                3:57.25 
  7 Brenton Rowe                 Unattached             3:58.06 
  8 John Bolas                   Melbourne TC           3:58.31 
  9 Jake Robertson               New Zealand            4:01.82 
 10 Geoff Martinson              Prince George T&F      4:02.30 
 11 Kyle Miller                  Nike                   4:02.88 
 12 Sam Horn                     Falcon Distance        4:03.04 
 -- Geoff Harris                 Adidas Canada              DNF 
 -- Christian Hesch              Nike Run LA                DNF 
Women's 1500m:
Event 214  Women 1500 Meter Run Invit. Elite
================================================================
World Record: W 3:50.46  1993        Yunxia Qu, China           
American Rec: @ 3:57.12  1983        Mary Slaney, Athletics West
 Meet Record: $ 4:08.92  1993        Maria Mutola, Mozambique   
    Name                    Year Team                    Finals 
================================================================
Finals                                                          
  1 Katie Flood                  Washington             4:11.66 
  2 Nicole Schappert             NYAC                   4:12.94 
  3 Kristen Gillespie            Arkansas               4:13.41 
  4 Ashley Miller                Nebraska               4:14.53 
  5 Jessica Tebo                 Colorado               4:15.15 
  6 Rachel Schneider             Georgetown             4:16.21 
  7 Jessica Sparke               Great Britain          4:16.73 
  8 Emily Lipari                 Villanova              4:17.17 
  9 Heidi Gregson                Iona                   4:21.55 
 10 Madeline Chambers            Georgetown             4:22.05 
 11 Amanda Mergaert              Utah                   4:22.76 
 12 Shelby Houlihan              Arizona State          4:24.12 
 13 Katrina Drennen              Montana                4:24.46 
 14 Lauren Borduin               Georgetown             4:26.37 
 15 Josephine Moultrie           New Mexico             4:27.54 
 16 Rebekka Simko                Penn State             4:36.77 

Men's 1500
Event 114  Men 1500 Meter Run Invit. Elite
================================================================
World Record: W 3:26.00  1998        Hicham El Guerrouj, Morocco
American Rec: @ 3:29.30  2005        Bernard Lagat, Nike        
 Meet Record: $ 3:37.99  2009        Lee Emanuel, New Mexico    
    Name                    Year Team                    Finals 
================================================================
Section  1                                                      
  1 Andy Baddeley                New Balance            3:40.33 
  2 David Bishop                 Unattached             3:40.79 
  3 Jeff See                     Unattached             3:40.80 
  4 Jeremy Rae                   Notre Dame             3:40.93 
  5 Erik van Ingen               Binghamton             3:40.94 
  6 Jordan Williamsz             Melbourne TC           3:41.93 
  7 Liam Boylan-Pett             NJ-NY Track Club       3:41.99 
  8 Duncan Phillips              Arkansas               3:43.14 
  9 Tommy Schmitz                Saucony                3:43.50 
 10 Robby Creese                 Penn State             3:46.38 
 11 Adam Cotton                  Harvard                3:47.28 
 12 Kris Gauson                  Unattached             3:52.28 
 -- Geoff Martinson              Prince George T&F          DNF 
Section  2                                                      
  1 Matthew Maldonado            Unattached             3:39.52 
  2 Peter Corrigan               Running Room           3:41.13 
  3 Ryan McNiff                  Adidas Team Green      3:42.18 
  4 Owen Dawson                  Penn State             3:42.54 
  5 Darren McBrearty             DCU/Letterkenny AC     3:43.75 
  6 Jordan Chipangama            Northern Arizona       3:44.14 
  7 Justin Marpole-Bird          Unattached             3:45.42 
  8 José Juan Esparza            Mexico                 3:45.46 
  9 Darius Terry                 Unattached             3:46.08 
 10 Zach Dahleen                 Southern Illinois      3:47.78  
On the boards:
More Mt. Sac: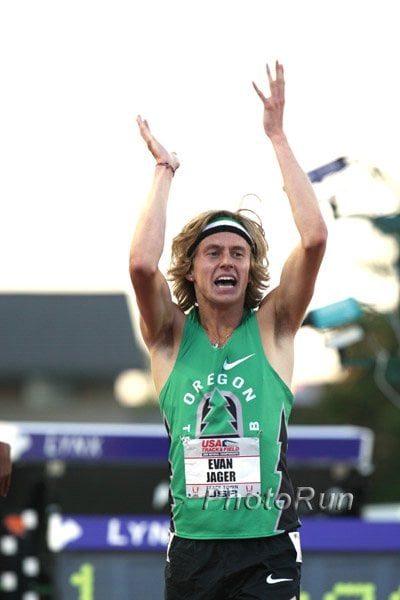 LRC: Evan Jager Throws Down Last Lap of 64, Wins Steeple Debut In Olympic B Standard of 8:26