Walter Dix Impresses As Does Duane Solomon - Jeremy Wariner Loses
Molly Beckwith Also Remains Undefeated Outtdoors
By LetsRun.com
April 21, 2012
The final day of Mt. SAC traditionally belongs to the sprinters and 800 runners and they certainly didn't disappoint early in this Olympic year, as a number of people put up some eye-opening marks.
We recap the key events and then present the results for those events (with videos for many of the races) at the bottom of this article. Full meet results here. Videos of all races appear here and here.
100s: Walter Dix 9.85!!!
Usain Bolt, Yohan Blake and Tyson Gay, pay attention. Not a lot of people may have noticed but last year, there was one man who won a medal in both the 100m and 200m and it was Walter Dix, who got a silver in both events. Well, he just opened up 2012 with a stellar 9.85. Yes, it was wind-aided (2.4 mps), but 9.85 in April is darn good. Dix wasn't the only guy under 10.00, as Mike Rodgers returned from a 9-month doping ban and ran 9.97 for 2nd.
Mens' 400: Martyn Rooney Edges Jeremy Wariner As Both Break 45.00
Britain's 25-year-old Martyn Rooney saw his Olympic prospects improve greatly as he took the scalp of 2004 Olympic champion Jeremy Wariner for the first time in his career after 7 consecutive losses (Rooney did "beat" Wariner in 2007 when he finished 5th in a race that Wariner was a DNF). Losing is never fun, but Wariner probably isn't too upset, as both runners broke 45.00, with Rooney running 44.92 to Wariner's 44.96. Rooney's 44.92 was the fastest he's run since the semifinals of the 2008 Olympics when he ran his career best (44.60).
In the women's 400, Nigeria's Bukula Abogunloko ran the 10th-fastest time of the year at 51.87. Abogunloko is a name you likely haven't heard of but maybe one you want to remember as she's just 17 according to her IAAF bio.
800s: Duane Solomon's Strong Early 2012 Continues As Molly Beckwith Remains Undefeated On Year
US indoor champion Duane Solomon, who ran 1:45.83 last week, stayed undefeated outdoors on the year, as he won the men's 800 by a wide margin (.58) in 1:46.03, dispatching many of the top collegiate talents in the process, including 2011 NCAA runner-up Charles Jock (1:47.15 ) and fellow NCAA finalists Ryan Martin (1:46.74) and Casimir Loxsom (1:47.89).
Former Indiana runner Molly Beckwith, who was 7th at USAs last year, was the class of the women's 800 field as she won by a ton in 2:00.34, as 2011 World Championships 6th placer Maggie Vessey struggled (2:02.16).
High Hurdles: Jason Richardson's Season Debut Goes Well
2011 world champion Jason Richardson got the win in his hurdles debut for the year in 13.20 as 2005 and 2007 world champion Michelle Perry beat 2004 Olympic champion Joanna Hayes in the women's hurdles, as Perry ran the #3 time on the year (12.70).
400 Hurdles
Michael Tinsley became the 4th American to break 49.00 on the year already in the 400 hurdles as he beat 2-time Olympic champion Angelo Taylor in the 400 hurdles. Tinsley's 48.83 put him #2 on the US list for the year behind Bershawn Jackson (48.49) but ahead of Joshua Anderson (48.88) and Joshna Dutch (48.96).
Arixona's Georganne Moline came into the year with a 57.41 PR but she's now #2 in the world thanks to her 55.25 PR.
Event 101  Men 100 Meter Dash Invit Elite
=====================================================================
World Record: W  9.58  2009        Usain Bolt, Jamaica               
American Rec: @  9.69  2009        Tyson Gay, Nike                   
 Meet Record: $  9.86  1998        Ato Boldon, Trinidad              
    Name                    Year Team                    Finals  Wind
=====================================================================
Finals                                                               
  1 Walter Dix                   Nike                      9.85   2.4
  2 Mike Rodgers                 Nike                      9.97   2.4
  3 Peter Emelieze               Nigeria                  10.08   2.4
  4 Egwero Ogho-Oghene           Nigeria                  10.13   2.4
  5 Christian Malcolm            Great Britain            10.16   2.4
  6 Cordero Gray                 Unattached               10.19   2.4
  7 Leroy Dixon                  DoublePillar             10.28   2.4
  8 Amr Seoud                    Egypt                    10.30   2.4
 -- Marlon Devonish              Great Britain               FS   2.4
Event 201  Women 100 Meter Dash Invit Elite
=====================================================================
World Record: W 10.49  1988        Florence Griffith Joyner, USA     
American Rec: @ 10.49  1988        Florence Griffith Joyner, World Cl
 Meet Record: $ 10.87  1987        Merlene Ottey, Los Angeles TC     
    Name                    Year Team                    Finals  Wind
=====================================================================
Finals                                                               
  1 Lauryn Williams              Saucony                  11.17   1.5
  2 Michelle Lee Ahyee           Trinidad-Tobago          11.19   1.5
  3 Lisa Barber                  Elite Factory            11.20   1.5
  4 Laura Turner                 Unattached               11.31   1.5
  5 Damola Asayomi               Nigeria                  11.31   1.5
  6 Agnes Osazuwa                Nigeria                  11.34   1.5
  7 Phobay Kutu-Akoi             Unattached               11.53   1.5
  8 Jessica Davis                USC                      11.54   1.5
                                                                                                
Event 107  Men 400 Meter Dash Invit Elite
===============================================================
World Record: W 43.18  1996        Michael Johnson, USA        
American Rec: @ 43.18  1996        Michael Johnson, Nike       
 Meet Record: $ 44.45  1992        Steve Lewis, Santa Monica TC
    Name                    Year Team                    Finals
===============================================================
Finals                                                         
  1 Martyn Rooney                Loughborough             44.92
  2 Jeremy Wariner               Adidas                   44.96
  3 Bryshon Nellum               USC                      45.18
  4 Yousef Al-Masrahi            HSI International        45.74
  5 Errol Nolan                  Houston                  45.86
  6 Greg Nixon                   Asics                    45.91
  7 David Neville                Nike                     46.34
  8 Luke Lennon-Ford             Great Britain            46.82
 -- Joey Hughes                  USC                        DNF
Event 207  Women 400 Meter Dash Invit Elite
===============================================================
World Record: W 47.60  1985        Marita Koch, East Germany   
American Rec: @ 48.70  2006        Sanya Richards, Nike        
 Meet Record: $ 49.59  2000        Marion Jones, Nike          
    Name                    Year Team                    Finals
===============================================================
Finals                                                         
  1 Bukula Abogunloko            Nigeria                  51.87
  2 Keshia Baker                 Unattached               52.06
  3 Nicola Sanders               Nike                     52.63
  4 Geisa Coutinho               Unattached               52.75
  5 Nicole Leach                 Unattached               52.82
  6 Ciara Short                  Unattached               53.32
  7 Margret Etim                 Nigeria                  54.53
  8 Asami Chiba                  Toho Bank - Japan        55.37                                                                                                                                                                                                                                                                                                                                                                                                                                                                  
                                                                                          
Event 110  Men 800 Meter Run Invit Elite
================================================================
World Record: W 1:41.01  2010        David Rudisha, Kenya       
American Rec: @ 1:42.60  1985        Johnny Gray, Santa Monica T
 Meet Record: $ 1:44.98  2006        Khadevis Robinson, Nike    
    Name                    Year Team                    Finals 
================================================================
Finals                                                          
  1 Duane Solomon                Saucony                1:46.03 
  2 Prince Mumba                 Santa Monica TC        1:46.61 
  3 Ryan Martin                  UC Santa Barbara       1:46.74 
  4 Lachlan Renshaw              Melbourne TC           1:46.90 
  5 Charles Jock                 UC Irvine              1:47.15 
  6 Tetlo Emmen                  ICR                    1:47.17 
  7 Andrew Ellerton              Unattached             1:47.47 
  8 Richard Jones                Santa Monica TC        1:47.73 
  9 Casimir Loxsom               Penn State             1:47.89 
 10 Julius Mutekanga             CPTC New Balance       1:48.19                                                                                                                                
Event 111  Men 800 Meter Run Olympic Dev. Elite
================================================================
World Record: W 1:41.01  2010        David Rudisha, Kenya       
American Rec: @ 1:42.60  1985        Johnny Gray, Santa Monica T
 Meet Record: $ 1:44.98  2006        Khadevis Robinson, Nike    
    Name                    Year Team                    Finals 
================================================================
Finals                                                          
  1 Brandon Johnson              Boulder RC             1:46.84 
  2 Mike Rutt                    NJ-NY Track Club       1:47.04 
  3 Tevan Everett                NJ-NY Track Club       1:47.19 
  4 Harun Abda                   Minnesota              1:47.20 
  5 Jamaal James                 UNAT-NJ-NY             1:47.27 
  6 Brian Hill                   BAA                    1:47.65 
  7 Christian Gonzalez           NJ-NY Track Club       1:48.02 
  8 Kyle Smith                   Phoenix Athletics      1:48.23 
  9 James Eichberger             Arizona                1:48.40 
 10 Tim Bayley                   PUMA                   1:48.51 
 11 Brandon Shaw                 Evo Track Club         1:48.75 
 12 Christian Smith              Unattached             1:48.80 
 13 Dustin Emrani                NJ-NY Track Club       1:49.35 
 14 Moise Joseph                 Haiti                  1:49.62 
 15 David Pachuta                Minnesota              1:50.38 
 16 Jaden Ostapowich             Edmonton Thunder       1:53.58                                                                                                                                
Event 210  Women 800 Meter Run Invite Elite
================================================================
World Record: W 1:53.28  1983        Jarmila Kratochvilova, Czec
American Rec: @ 1:56.40  1999        Jearl Miles Clark, Reebok  
 Meet Record: $ 2:00.27  1992        Meredith Raney, Nike       
    Name                    Year Team                    Finals 
================================================================
Finals                                                          
  1 Molly Beckwith               Saucony                2:00.34 
  2 Nachelle Mackie              BYU                    2:01.11 
  3 LaTavia Thomas               Nike                   2:01.81 
  4 Treniere Moser               Nike                   2:01.93 
  5 Jessica Smith                Valley Royals          2:02.10 
  6 Maggie Vessey                New Balance            2:02.16 
  7 Lemlem Ogbasilassie          Unattached             2:02.62 
  8 Laura Januszewski            Brooks                 2:02.99 
  9 Heidi Dahl                   New Balance            2:03.80 
 10 Lea Wallace                  Nike                   2:04.70 
                                                                                                
Event 211  Women 800 Meter Run Olympic Dev. Elite
================================================================
World Record: W 1:53.28  1983        Jarmila Kratochvilova, Czec
American Rec: @ 1:56.40  1999        Jearl Miles Clark, Reebok  
 Meet Record: $ 2:00.27  1992        Meredith Raney, Nike       
    Name                    Year Team                    Finals 
================================================================
Finals                                                          
  1 Tara Bird                    Great Britain          2:03.52 
  2 Melissa Bishop               Ottawa Lions           2:03.91 
  3 Gabriela Medina              Mexico                 2:04.07 
  4 Katie Palmer                 BYU Track Club         2:04.40 
  5 Karine Belleau-Beliveau      Vainqueurs             2:05.05 
  6 Christina Rodgers            Tucson Elite           2:05.26 
  7 Helen Crofts                 Unattached             2:05.34 
  8 Lacey Bleazard               BYU                    2:06.38 
  9 Akari Kishikawa              Japan                  2:06.60 
 10 Brianna M. Kane              Valley Royals          2:08.98  

            
Event 131  Men 110 Meter Hurdles Invit Elite
=====================================================================
World Record: W 12.87  2008        Dayron Robles, Cuba               
American Rec: @ 12.89  2010        David Oliver, Nike                
 Meet Record: $ 13.22  1999        Larry Wade, Nike                  
    Name                    Year Team                    Finၡls  Wind
=====================================================================
Finals                                                               
  1 Jason Richardson             Nike                     13.20   3.7
  2 Omo Osaghae                  Adidas                   13.24   3.7
  3 Ryan Wilson                  Saucony                  13.36   3.7
  4 Ashton Eaton                 Oregon Track Club        13.52   3.7
  5 Bano Traore                  France                   13.56   3.7
  6 Logan Taylor                 DoublePillar             13.60   3.7
  7 Ronald Brookins              Unattached               13.63   3.7
  8 Cedrique Smith               Azusa Pacific            13.78   3.7

Event 132  Men 110 Meter Hurdles Olympic Dev. Elite
=====================================================================
World Record: W 12.87  2008        Dayron Robles, Cuba               
American Rec: @ 12.89  2010        David Oliver, Nike                
 Meet Record: $ 13.22  1999        Larry Wade, Nike                  
    Name                    Year Team                    Finals  Wind
=====================================================================
Finals                                                               
  1 Todd McKown                  Wichita State            13.69   0.5
  2 Trevor Brown                 Colorado St.             13.75   0.5
  3 Lawson Montgomery            Wichita State            13.77   0.5
  4 Matt Tetzlaff                North Dakota St.         14.03   0.5
  5 Jacob Yowell                 UC Irvine                14.19   0.5
  6 Ross Blanchard               Unattached               14.33   0.5
  7 Kennith Ferguson             HSI International        14.40   0.5

Event 231  Women 100 Meter Hurdles Invit Elite
=====================================================================
World Record: W 12.21  1988        Yordank Donkova, Bulgaria         
American Rec: @ 12.33  2000        Gail Devers, Nike                 
 Meet Record: $ 12.63  2000        Anjanette Kirkland, Nike          
    Name                    Year Team                    Finals  Wind
=====================================================================
Finals                                                               
  1 Michelle Perry               Nike                     12.70   2.5
  2 Joanna Hayes                 Unattached               12.72   2.5
  3 Yvette Lewis                 Chula Vista Elite        12.74   2.5
  4 Angela Whyte                 Vandal Track Club        12.75   2.5
  5 Nicole Denby                 Unattached               12.80   2.5
  6 Jessca Zelinka               Canada                   12.93   2.5
  7 Indira Spence                Adams State              13.09   2.5
  8 Raven Clay                   Findlay                  13.49   2.5
  9 Candice Davis                Unattached               18.00   2.5

Event 232  Women 100 Meter Hurdles Olympic Dev. Elite
=====================================================================
World Record: W 12.21  1988        Yordank Donkova, Bulgaria         
American Rec: @ 12.33  2000        Gail Devers, Nike                 
 Meet Record: $ 12.63  2000        Anjanette Kirkland, Nike          
    Name                    Year Team                    Finals  Wind
=====================================================================
Finals                                                               
  1 Shalina Clark                DoublePillar             12.81   3.3
  2 Vashti Thomas                Academy of Art           13.02   3.3
  3 Kori Carter                  Stanford                 13.14   3.3
  4 Seun Adigun                  Nigeria                  13.19   3.3
  5 Christie Gordon              Unattached               13.29   3.3
  6 Lauren Smith                 U Knight TC              13.41   3.3
  7 Lauren Blackburn             USC                      14.04   3.3  

Event 134  Men 400 Meter Hurdles Invit Elite
================================================================
World Record: W 46.78  1992        Kevin Young, USA             
American Rec: @ 46.76  1992        Kevin Young, Footlocker      
 Meet Record: $ 48.49  2002        Chris Rawlinson, Great Britai
    Name                    Year Team                    Finals 
================================================================
Finals                                                          
  1 Micheal Tinsley              Adidas                   48.83 
  2 Angelo Taylor                Nike                     49.38 
  3 Kenneth Medwood              Evo Track Club           49.54 
  4 Keisuke Nozawa               Waseda University        50.16 
  5 Richard Davenport            Loughborough             50.50 
 -- david hughes                 Unattached                 DNF 
 -- Jeshua Anderson              Nike                       DNF 

Event 234  Women 400 Meter Hurdles Invit Elite
===============================================================
World Record: W 52.34  2003        Yuliya Nosova, Russia       
American Rec: @ 52.61  1995        Kim Batten, Reebok          
 Meet Record: $ 55.18  2004        Brenda Taylor, Nike         
    Name                    Year Team                    Finals
===============================================================
Finals                                                         
  1 Georganne Moline             Arizona                  55.25
  2 Joke Odumosu                 Nigeria                  55.78
  3 Satomi Kubokura              Niigata Albrex           56.33
  4 Shevon Stoddart              PUMA                     56.35
  5 Meghan Beesley               Loughborough             56.56
  6 Jasmine Chaney               Unattached               56.60
  7 Ayla Smith                   Unattached               57.45
  8 Kianna Elahi                 Iowa State               57.64
  9 Ryann Krais                  Kansas State             58.63          

                                                                                                                                                                                                                                                                                                                                                                                                                                                                                                                                 
                              
LRC

Cam Levins 13:18.37 Outkicks Lawi Lalang
More Mt. Sac: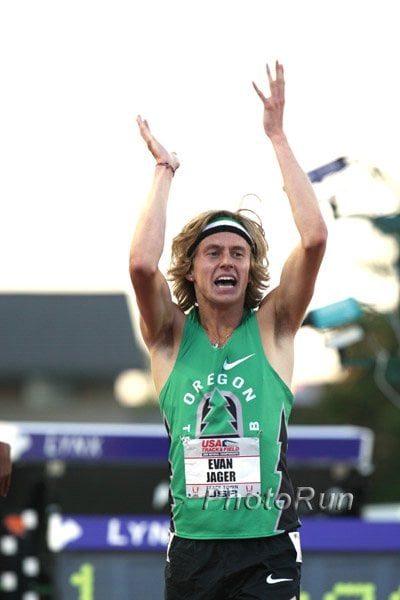 |
LRC: Evan Jager Throws Down Last Lap of 64, Wins Steeple Debut In Olympic B Standard of 8:26