LRC A Fan's Guide To The 2012 New Balance Indoor Grand Prix Saturday's meet is a real treat for distance fans. How will the US 1,500-meter stars like Centrowitz, Uceny, Simpson and Rowbury fare in their 2012 debuts? Can Anna Pierce rebound? Galen Rupp and Mo Farah in the mile. The Ethiopian queens Defar and Dibaba will also will be there, as will the real King James - Kirani. And don't forget the man who last year beat eventual world champ Mo Farah with one shoe - World Champs 5,000m bronze medallist Dejen Gebremeskel. And to the delight of LRC junkies, college star Cam Levins was added yesterday.
*LRC Press Conference Photos

Latest:
Galen Rupp Says Wet Weather Of London Is Great For His Allergies He's racing mile vs. Mo Farah on Saturday.
No US Woman Has Ever Won A Medal In The 1,500m At The Olympics, But 2012 Could Be Our Shot Talks about Jenny Simpson, Morgan Uceny and Shannon Rowbury, who will all race at NB tomorrow. USA Today
Nearly 10 Years Later, Nicole Teter's American Indoor 800m Record Still Stands The 1,000m record could fall Saturday.
Cool Cam Levins Takes On The Big Boys: Salt Lake Paper: Cam Levins "Gets Prestigious Invite" To New Balance Meet This Weekend A huge Thumbs Up for the meet inviting him and for his college coach letting him race the big boys instead of worrying about racing two weekends in a row. This is what is right about the sport.
Cam Levins Talks About His Double Last Weekend, Says He Likes To Run 155-Mile Weeks Every Week Except Championship Season Yes, 155 a week.
On The Boards: Levins vs. Centro - NB Grand Prix 3,000m this weekend! Props to NBIGP and S. Utah for getting Levins in the meet this week. *Irishman Ciarán Ó Lionaird Is 3rd Of Salazar's Athletes In NB Mile
Silas Kiplagat Talks About Running Indoors, Advice From Lagat, And More Plus news he will race Amine Laalou in Arkansas in a 1,500. Leo Manzano is in this race as well. Earlier reports said this would be a mile. Bring Back the Mile! Hopefully it's a mile and you might see a 3:50.
US Distance News
Week That Was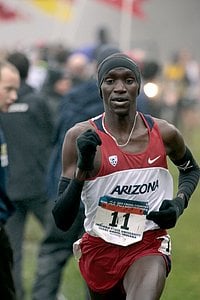 LRC The Week That Was In Running: January 23-29, 2012 This week, we start by showing how a single marathon in Dubai surpassed the entire history of US marathoning, we analyze Haile G's chances for London 2012, praise Cam Levins and Nick Symmonds, wonder if Lawi Lalang can medal in London, mark the return of Stephen Sambu and recap the greatest blowup at the 2012 US Olympic Trials Marathon.
Japan Distance News:
*Preview Of Japan's Beppu-Oita Mainichi Marathon You can watch live beginning at 11:50 a.m. Japan time on Feb. 5th.
*Japan's World Champs 5th Placer Yukiko Akaba Skipping Tokyo Marathon To Run Olympic Selection Race At Nagoya On March 11th
*Japan's Yuki Sato Says He Wants Japanese Record For 10,000 This Year The record is 27:35.09 and his PR is 27:38.25.
Bank Of America Chicago Registration Open
LRC Abdi Talks Olympics As He's In Chicago For Launch Of Registration For 2012 B Of A Chicago Marathon Abdi talked to LRC's Wejo via phone. Abdi discussed the Chicago launch, his track plans, his training group, and gave us an update on drug cheat Martin Fagan. Registration was over 18,000 as of 4pm.
NCAA News
We Agree 100% But Still Don't Think He Should Be Allowed In The Olympics
Seb Coe Says Oscar P Is Big-Time Star Who Brings Lots Of Publicity To Track & Field
Europe's Version Of BALCO?
28 Athletes From Around The Globe Implicated In German Doping Scandal link fixed A Dr. who worked at the Olympic training center is believed to have treated athletes' blood with UV light before re-injecting it. 3 Time Olympic/WC silver medallist in long jump James Beckford of Jamaica is one of athletes in probe, as are many German cyclists.
*Doc Denies Claims, Says Blood Was Treated To Stop Infections
More Olympic Logo Madness? We Kind Of Like It Except For The Mistake
Madrid Being Ridiculed For 2020 Olympic Logo As It Looks Like 20020 That's nothing compared to the oral sexual act that is actually being used for 2012 London.

*Competing Doha 2020 Logo To Come Out On Feb. 10
News From Jamaica
1956 1,500 World Record Holder Istvan Rozsavolgyi From Hungary (3:40.6) Dies At Age 82
US Open: LRC Silas Kiplagat Over Lagat, Asafa Powell Is Back, So Are Lolo Jones And Terrence Trammell World Champs silver medallist Silas Kiplagat used a burst of speed over the final lap to turn back Bernard Lagat in the mile at MSG. Asafa Powell and Veronica Campbell Brown looked good in the 50s, Terrence Trammell upset David Oliver in the hurdles, Lolo Jones came back from injury, World Champ Jesse Williams opened higher than he did in 2011, Brenda Martinez won the mile (and Anna Pierce was well-beaten), and a MSG high school record was set in the mile.
US Distance Guys & Gal Making News
Crazy NRR Link Of The Day: Shark Seen Swimming Just Meters Away From Ironwomen Triathletes
The Big Interview: Dathan Ritzenhein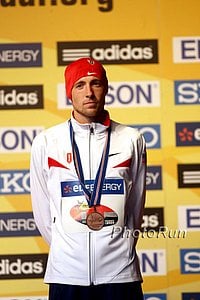 LRC Ritz Reflects On The Trials, His Years With Alberto, And Looks To The Future 24 hours after Dathan Ritzenhein just missed making the 2012 the Olympic Marathon team, a frank but more upbeat Ritz sat down and talked with LetsRun.com. He looked back on the Trials race ("I ran pretty good. It just was not enough.") and back on the last three years with Alberto ("He is a very smart, very passionate guy more than anything. He will find the way." and "There's been many times when we've screwed up.") before looking ahead to both the immediate future ("The Olympics is everything.") and farther down the road ("I do love the marathon, but I think I love being good better ... I want to succeed at what I'm going to be best at."). A confident Ritz has big plans for the future. A must read (or watch) if we can say so ourselves. Plus we give you splits of the last 3.2 miles in Houston.
London Marathon Goes To Iten
Virgin London Marathon, Which Made 2012 Athlete Announcements In Kenya, Is Giving Back To Iten, Eldoret Communities



LRC Photo Of The Day: Virgin London Marathon Fields Announced From Iten, Kenya We didn't realize London was in Iten to announce its 2012 fields. Very cool.

Yesterday: London Does It Again Emmanuel Mutai To Try To Defend London Title Against World Record Holder Patrick Makau & Slew Of Other Top African Talent
Bring Back The Mile Officially Launches For years, we (and many in the sport) have wondered why the mile isn't the #1 distance event in the land and why it's not run instead of the 1,500 or 1,600. Finally, someone has decided to do something about it.
*Bringing Buzz Back To The Mile *Discuss *Like On Facebook
Recommended Read: NY Times Article On Australia's LJer Mitchell Watt, Who Quit Track For 5 Years But Came Back And Got 2nd At The World Champs Apparently he was convinced to keep competing by a "12 page email" from his coach.
LRC Men's Marathon Trials Analysis And Reaction The 2012 Trials race was a classic. We throw some love to the top 3, ponder Ritz's future in the marathon, tell you who had the best debut, and tell you who that guy you never heard of was. Plus we talk about Meb's 74-year-old badass dad and look at the fortune of some old timers who didn't make the team, Josh Cox and Dan Browne, in addition to the ones who did (Meb and Abdi).

Sunday Update: 24-Hours-Later Update On Ritz: "I do love the marathon, but I think I love being good better." Ritz indicated he still loves the marathon and is not done with it. He also said, "I ran pretty good yesterday."

Race Recap: Meb Keflezighi Captures 2012 Olympic Trials Marathon Title

NY Times Recap: Meb Over Hall, Abdi Grabs 3rd Spot The race lived up to the billing as the top four all broke 2:10, whereas previously there had only been one sub-2:10 in OTM history. After a blistering first half (63:25), Meb Keflezighi got his 2nd PR in 69 days, as he ran 2:09:08 to win over Hall (2:09:30). A resurgent Abdirahman (2:09:47) hung on for the final Olympic spot in 2:09:47 over Ritzenhein, who broke 2:10:00 for the first time (2:09:55). In the process, Meb became the first American to make an Olympic marathon team 8 years after making it previously. Abdi had no idea until we talked to him that Martin Fagan, whom he trained with some this winter, had reportedly tested positive for EPO.
LRC Trials Live Thread Here
Trials On The Boards:
Lance And LIVESTRONG
Outside Magazine Article Accuses LIVESTRONG Foundation "If Lance Armstrong went to jail and Livestrong went away, that would be a huge setback in our war against cancer, right? Not exactly, because the famous nonprofit donates almost nothing to scientific research." *MB: Livestrong expose in Outside magazine
Patrick Makau Reacts To Renato Canova's Comments That His WR Will Be Broken This Spring Makau: "It makes me wonder if the record is a preserve for some region, tribe or runners. What shocks me is that some people are speaking ill of me just because I broke the world record ... Let us not talk much but redeploy our energies on good training and skills that will power our legs to do the talking."
Two Good Distance Reads
European News
RIP: Legendary University Of Colorado/Army Coach Jerry Quiller Passes Away At Age 69 Mark Wetmore: "I've been lucky to know many people considered to be successful ... athletic champions, Olympians, wealthy people, well known or influential people. But I'm not sure I ever knew anyone more successful than Jerry Quiller."
Drug News
USADA Wipes Nearly All Of Eddy Hellebuyck's Masters Career From The Books EPO Eddy, who dominated the American masters seen in the early 2000s, when caught testified that he had never intentionally used EPO. Then he came clean in December 2010 to RunnersWorld. We might have been willing to not call him EPO Eddy, but somehow he wanted to claim he should keep his records because the statue of limitations ran out. Moral of the story - Be careful of what a convicted cheat tells you. Eddy, please accept you didn't earn those results. *MBoard Thread On Eddy

Nice Editorial On Martin Fagan We Missed Last Week "An Irish cheat is the same kind of a cheat you find anywhere else ... I wish Martin Fagan good health in the future. But he'll never really know peace until he accepts that it wasn't depression or a lack of Athletics Ireland funding or injuries which made him take EPO. It was the man in the mirror." The article also contrasts how Cathal Lombard, who also admitted to using EPO, was crucified in Ireland by many, but Fagan got a lot of sympathy. We hope Martin turns his life around. However, many of us at LRC are skeptical, he was tested the day after he first ever injected EPO as he claims. And as the RW Hellebuyck article says, if you know anything about doping and want to help clean up the sport, email us, you can remain anonymous.

More Doping News:
*US Amateur Thrower Gets 2-Year Doping Ban From UK Anti-Doping Agency For Taking Doctor Prescribed Medication
*South Korean Sprinter Lim Hee-Nam And Portuguese Steeplechaser Sara Moreira Receive 6 Month Bans For Failing Doping Tests In Daegu Why only 6 months? They don't even miss the Olympics.
High Schoolers In The News
International Distance News
Valerie Adams, Jacko Gill Competing In Co-Ed Shot Put

BBC Radio Looks At The Kenyan Success Of Iten
Yesterday
David Rudisha To Open Season With 400 On Feb 18 And 800 On March 3rd In Australia
Hurdlers In The News
Good/Bad News
Millrose Games To Be Broadcast Live On YouTube Sports The major part of the meet goes from 6:45 pm to 10 pm ET on Saturday. Tim Hutchings will commentate. The good news is people can watch it live and for free. The bad news is it's no longer on national TV live for the first time in 5 years. (Earlier we said it was going to be on tape delay tv as well but are trying to confirm that)

*LRC 6 Thoughts On Millrose Being On YouTube
More Post-Weekend Collegiate-Related News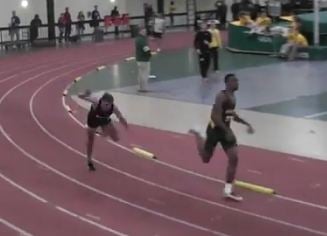 LRC Alan Webb Falls In 800 At George Mason In Comeback Race #2 link fixed Alan stumbled coming off the final turn and hit the track but still got up in finished in 1:59. He was on 1:53-high pace before the fall.

Arkansas: Latest: Coach Li Says Lawi Lalang Was After Collegiate Record In Mile But Lost Concentration A Bit When He Ran 3:55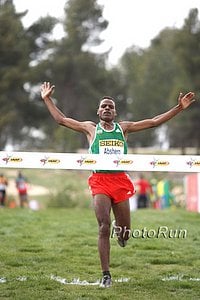 LRC Hello World, Meet Ayele Abshero (2:04:23 Debut!) The 21-year-old former Jr. World XC champ's marathon debut was super-special, as his surge with just over 3km remaining decimated the deepest marathon field in history, as four men broke 2:05 in the race, eight broke 2:06, 10 broke 2:07, and 17 broke 2:10 - all records as fastest-ever times for places were recorded in spots three through 17. 2011 belonged to the Kenyan men, will 2012 belong to Ethiopia? The women's race was super-fast and super-deep as well, as 3 women broke 2:20 in the same race for the 1st time, as Aselefech Mergia ran 2:19:31 to win and a record 9 women broken 2:25. Martin Lel was a DNF, Ramaala 2:12. *AP
*Butcher: Ethiopians Strike Back
*MB: 4 guys I've never heard of go sub 2:05 in Dubai
Wejo Speaks: LRC What About The Sport? Wejo, an outspoken critic of Millrose Games moving to the Armory, says don't celebrate USATF sticking it to Millrose. Celebrate the sport being on ESPN.
Be Inspired By These Two Olympic Trials Breakthrough Performers
Big Names In The News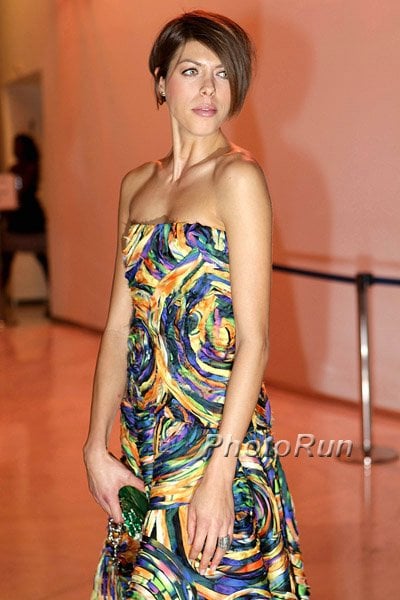 *Achilles Surgery Does In Blanka Vlašić's Indoor Season Before It Even Begins

*LaShawn Merritt Gets Huge USA Today Profile: "I don't go near the Internet anymore."

*Leo Manzano Is Training At Altitude In Mexico

Wejo Speaks: LRC What About The Sport? Wejo, an outspoken critic of Millrose Games moving to the Armory, says don't celebrate USATF sticking it to Millrose. Celebrate the sport being on ESPN.
Don't Write Her Off Just Quite Yet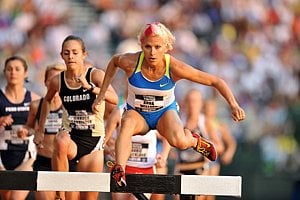 Recommended Read After Falling Off The Map In 2011, Anna Pierce Is Talking Big At Start Of 2012 As She's Hoping To Get The AR In The 1k In Boston. Pierce, who had a disastrous 2011, talks big about 2012 as she's figured out what caused the 3:59 runner to only run 4:10 last year. Does your doctor ever tell you not take antibiotics unless you absolutely have to? Well, apparently there is a reason: "It kind of ended up being an overgrowth of a yeast or a bad bacteria in my body that was a repercussion from having taken all those antibiotics over the years." We're excited she's back as it makes the women's 1,500 even more exciting, but we just hope she doesn't run 50-flat in the 400.
Flanagan Over Davila, Goucher Gets Third As Top 4 All Break Old OTrials Record Flanagan (2:25:38) pulled away from Davila (2:25:55) and Goucher was third in 2:26:06. Amy Hastings broke the old Trials record at 2:27:17 but didn't make the team. Deena Kastor was 6th in 2:30:40.
Vivian's Win Streak Comes To An End: Linet Masai Crushes Cheruiyot In Seville XC Vivian's last lost was in an XC race to Masai in Nairobi a year ago.
Asbel Kiprop Makes A Statement As Kenenisa Bekele Finishes A Distant 11th At BUPA Great Edinburgh Cross-Country Kiprop, the Olympic 1,500 champion, cruised to victory over the 2008 Olympic steeple, 5k and 10k champs, and showed he's intent on being the first since Seb Coe to defend an Olympic 1,500 title. European XC champ Fionnuala Britton won the women's title.
*IAAF Recap: Kiprop Totally Dominant On Last Lap
*Bekele Suffers But Seems Unfazed How bad was Bekele? Well, 5 Brits beat him, including one who was doubling back from the 8k, but Bekele was confident afterwards: "I'm not serious for this race. At this time of the year I don't want to be in very good shape. It is too early. It is a long time to the Olympics. I want to build up slowly."
*Bekele: "I lack fitness." "I was not confident before the race. But it's a long time until the Olympics and it is too early to be in better shape."
Great Marathon News
LRC 2:05:06!!! Geoffrey Mutai Caps Year In Style An unbelievable year in men's marathoning had an appropriate finish, as the Kenyan man who had the most unbelievable of all years, Geoffrey Mutai, smashed the previous NYC Marathon record by a stunning 2:38 - that's two minutes and 38 seconds. If it wasn't the greatest 2nd-greatest men's marathon performance ever, you'll have to tell us what was. American Meb Keflezighi hung with the leaders for 20 miles after a blistering 63:16 1st half and ended up with a much-deserved PR. Mutai picked up $200,000 by winning, but the big financial winner was runner-up Emmanuel Mutai, who won $635,000 ($500,000 for the WMM title).


LRC Mary Keitany Beats Herself The women's race was full of gut-wrenching drama, as Mary Keitany went out in a crazy 67:56. The problem was she came back in 74:42, as unheralded Firehiwot Dado (Rome Marathon champ) got the win.

LRC Post-Race Interviews: Meb And His Coach Bob Larsen Talks About His PR Despite Throwing Up Plus the winners - Geoffrey Mutai, Firehiwot Dado, men's and women's top 3, Ed Moran, Molly Pritz, Lauren Fleshman and Bobby Curtis.
Lance Won't Face Charges
Lance Armstrong Investigation Ends With No Charges Filed Some aren't happy, including Betsy Andrew: "Our legal system failed us. This is what happens when you have a lot of money and you can buy attorneys who have people in high places in the Department of Justice." What do you think? Vote below: