What About The Sport? Tirunesh Dibaba And Meseret Defar Not Racing Each Other In Boston
By LetsRun.com
February 1, 2012
Last week, it was announced Ethiopian superstars Tirunesh Dibaba and Meseret Defar would both be running this weekend's New Balance Indoor Grand Prix. Before you applaud the great news, realize that this represents the worst side of the sport, as Dibaba and Defar won't be racing each other. Well, you're not surprised because our sports stars constantly duck each other, right?
This one is even worse. Dibaba is running the two-mile and Defar is running the 3,000m. The lack of star matchups is killing the sport, but this one is a total affront to the fan. An indoor 3,000m and a 2-mile are basically the same thing. And if you think this has happened before - yes, it has. In 2008, the reverse occurred - Dibaba was in the 3,000m and Defar in the 2-mile (hard to believe but in 2008, Galen Rupp couldn't break 4 in the mile either). At least in that situation, they both were on world record attempts. This time, neither race is being billed as a world record attempt. The 3k/2-mile is a way for them to avoid racing each other. Technically, they are not running the same event, but we see no difference between this and Asafa Powell and Justin Gatlin running separate 100m races at Pre in 2006.
We reached out to the meet to see if they had a comment on Defar and Dibaba not racing one another. We got this response from meet director Mark Wetmore:
"While Tirunesh is healthy and rounding into very good fitness, this will be her first track event since August, 2010. We had already lined up a strong field for the women's 3,000m with a great race expected between Jenny Simpson, Meseret Defar and Shannon Rowbury. I just didn't think it would be fair to Tirunesh to throw an athlete of her caliber into a situation where she would be at a distinct disadvantage given her recent injury layoff and lack of recent track races. But we really wanted her at the event, so we made an additional race. If you are in the arena, you'll see the world's best 3,000m and the bonus will be a chance to watch Tirunesh take some big steps back to the top as she prepares to defend her Olympic titles in London. She has set two World Records in Boston so the fans know and appreciate her at the Reggie Lewis Center."
That's certainly a better excuse than we thought we were going to get (as it's fantastic that arguably the greatest female distance runners in history in Dibaba is on the comeback trail and will be at the meet), but it is still insufficient. If Tirunesh Dibaba is not ready for prime time, then have her run a 1,500m. If there isn't a 1,500m, then don't have her run. Let her sign autographs. Don't insult the fans by putting her in a 2-mile. In 2006, we barely stood for it but at least then they were both going for World Records.
They Have To Race Each Other At The Olympics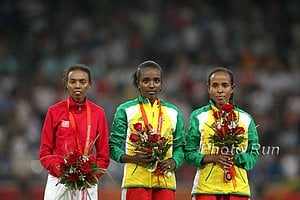 Part of the problem here is that Global Athletics, which puts on the meet, also manages the careers of Dibaba and Defar. It's a conflict of interest for sure, but is one that is common in the sport (agent Ray Flynn is the meet director for Millrose, agent Jos Hermens directs the Shanghai and Hengelo meets). Here the conflict raises its ugly head. Defar and Dibaba both get nice appearance fees and Global Athletics presumably still gets its cut on the appearance fee. Even if they forego their 15% cut of the appearance fee (we do not know they are doing this but it seems like a good idea for a sponsor of the meet to require it to dampen the conflict of interest) by signing one of their athletes, they are still making their athletes happy and making life easier down the road. Plus we've heard over the years that Dibaba and Defar really don't like each other, so they probably don't want to race each other.
Email Of The Week Blasting The Mockery Of Competition
Maybe in our second decade of existence at LetsRun.com, we're getting a bit old and are not as outraged as we should be about this. Or maybe it is our own conflict of interest (the New Balance Indoor Grand Prix has been advertising on letsrun.com and the two key people at Global Athletics in Rich Kenah and Mark Wetmore have always been great to LetsRun.com as well as to LetsRun.com co-founders Robert and Weldon Johnson personally) that almost caused us not to say anything about this.
However, one reader was very outraged and his email is what got us to write this piece. So here it is:
Just received a press release from the New Balance Boston Indoor Games that announces Dibaba and Defar coming to this year's meet. Unfortunately, once again they will run in separate events, Dibaba in the 2M and Defar in the 3k. Did they not receive enough complaints last time they did this? Did they spend money on that? It's bullshit, and I can't find anywhere on the New Balance meet site to complain. I hope you will again highlight this as an example of everything that's wrong with the professional side of the sport, and we can all hope that someday agents/meet organizers/athletes will all set aside their personal interests in situations like this and actually give fans something to get excited about. I bring kids down to this meet every year (I sent you guys the pic last year of my kids with some of the milers at the end of the meet) to show them the professional side of the sport they participate in. It saddens me to have to explain to those kids that money interests dictated the decisions that led to a major redundancy in the schedule and an even bigger let-down for fans who want to see some of the best runners in the world perform.

You guys do a great job, thanks for reporting on this sort of thing.

Brandon Newbould - New Hampshire
Well said, Brandon. We also received a couple of emails on this subject that compared track and field to tennis. The first was from a regular everyday visitor:
a 3k AND a 2mile? absolutely bullshit. you don't see federer or nadal avoiding each other in tournies, well, because 1) they can't really avoid it and 2) they know it makes them better.

Why does TF allow for this? this is killing track and field. most HS runners don't even know who dibaba is, and it is because we don't create rivalries and the like.

thanks for letting us know about this mess.
(Let us pause to say high school runners need to learn who Dibaba is. She may be the greatest female distance runner ever. We can see why the meet wants her there.).

The other email mentioning tennis was from pro runner Scott Bauhs, who ran the Worlds 10,000m last year for the USA. Before the news came out about Dibaba/Defar, he wrote a blog piece on flotrack about the great matchups in tennis and how we need more of that in track. He has a radical proposal of getting rid of the World Champs and having a series of Majors like in tennis. We haven't thought much about his proposal except to say be careful what you ask for (if the Worlds were on pure talent and not limited to 3 per country, there might be 20+ Kenyans/Ethiopians in the distance races.) We're not sure about the solution but agree wholeheartedly with Scotty about what the problem is in the sport:
"Right now the sport is structured so that only hardcore fans have any reason to watch. Without match-ups story lines are never able to develop."
One of the problems with track and field is there is not a league (i.e., cartel) forcing the athletes to face one another. Speaking of tennis, did you know the men's tour has mandatory events outside of the majors where the stars have to compete or they are suspended? Can you imagine the outrage track athletes would have if they were told they had to compete somewhere? If this could pass antitrust muster in the EU, maybe track needs to strengthen the Diamond League rules to force starts to compete.
We're getting off subject. This is supposed to be about Boston.
We weren't sure of the appropriate response. How about not covering the women's 2-mile on LetsRun.com?
In our younger days, we might have tried to organize a boycott of the 2-mile from fans at the race, but our boycotts haven't turned out too well in the past.
Maybe we should open it up to you. What, if anything, should fans at the meet in Boston do to voice their displeasure? Email us if you have any ideas.
PS We can't boycott covering the women's 3000m as it is a really good race. Don't get us wrong outside of the 2 mile this meet is stacked in the distance just like it is almost every year. Meseret Defar vs World 1500m Champion Jenny Simpson plus Shannon Rowbury. It's probably the best distance race of the night although Centro Jr vs Silas Kiplagat vs 5000m medallist Dejen Gebremeskel at 3000m is interesting as is Rupp vs Farah in the mile and the American record attempt at 1000m via Uceny, Wright and Pierce.
PS2 As disclosed above in the article, the New Balance Grand Prix has been doing some advertising on LetsRun.com.