A Fan's Guide To The 2012 New Balance Indoor Grand Prix
*Meet Website *Last year's meet can be relived here (lots of great action plus Alan Webb getting upset.).
By LetsRun.com
February 3, 2012
*LRC Pre Race Press Conference Photos

Below we break down the 2012 New Balance Indoor Grand Prix for you in the order that it takes place. For the professional fields, we start by giving you a brief description of each competitor before we break down the race for you. For the non-pro races,we just give you the competitors (if we have them).
In each race, the runners listed in red are one's we expect to possibly contend for the win. In a few events, we put a few additional runners in blue who are interesting people to watch but ones we don't think will contend to win.
5:00 PM - Men's Masters Mile
The Field:
Pete Bottomley Dirigio RC
Frances Burdett Greater Springfield Striders
Jason Cakouros HFC Striders
Charlie Kern Unattached
Ron Kochanowicz Unattached
Kent Lemme Greater Springfield Harriers
Titus Mutinda Team RUN
Ray Pugsley Unattached
Chris Simpson Eliot TC
Bart WASIOLEK EKG - Connecticut

5:20 PM - Youth Relay
The Field:
Attleboro Y Jaguars Attleboro, MA
Cambridge Jets Cambridge, MA
Hernandez School Boston, MA
Providence Cobras Providence, RI
Waltham Track Club Waltham, MA
Boston United Boston, MA
5:20 PM - VISA Men's Shot Put
USATF/Meet management hasn't put the names up on the competitors up on the website. Given the depth of US shot putting, we're sure it will be a great field.
5:25 PM - Girls Junior Mile
Discuss the high school mile races in our forum here: 2012 New Balance Indoor Grand Prix High School Mile Discussion
The field:
Annika Gompers
Camille Blackman
Cayla Hatton
Haley Pierce
Kelsey Margey
Madison Granger
Marika Crowe
Megan Moye
Molly Keating
Reagan Anderson
Sarah Gillespie
Wesley Frazier
5:40 PM - Women's Pole Vault
USATF/Meet management hasn't released this field either but considering the meet management also represents 2008 Olympic silver medallist, Jenn Suhr, who was world ranked #1 last year, we assume she's competing.
Women's Pole Vault:
Jenn Suhr - USA
Janice Keppler - USA
Jillian Schwartz - ISR
Lacy Janson - USA
Becky Holliday - USA
Kylie Hutson - USA
5:45 PM - Boys Junior Mile
Discuss the high school mile races in our forum here: 2012 New Balance Indoor Grand Prix High School Mile Discussion
The field:
Joe Hubbard
Kevin Thomas
Stephen Robertson
David Taranto
Michael O'Donnell
Tom Awad
Craig Angels
Dan Lennon
Thomas Graham
Tim Ball
Thomas Madden
Chris Allen
5:55 PM - Women's 800: Ethiopia's Teen Sensation Fantu Magiso Tries To Hold Off Maggie Vessey and Lativia Thomas and
The Field:

Maggie Infeld USA - 25-year old former Georgetown runner has pbs of 2:03/4:10 and is totally overmatch on paper. Might be the rabbit as she's double entered.
Fantu Magiso ETH - 19-year old Ethiopian was the class of the field at the US Open meet at MSG last weekend. She was a world championship semi-finalist where she ran 1:59:17, Ethiopia's national record (and national junior record) - proving that Ethiopia isn't known for it's middle-distance prowess. That may start to change with her and Mohammed Aman on the men's side.
Nicole Sifuentes CAN - 25-year old former Michigan runner has pbs of 2:02/4:06. Last year she ran 2:03/4:08. Ran 1:30 for 600 on Jan 21. Realistically she's an Olympic hopeful at 1,500 and maybe 5000. Not quite fast enough for 800.
Latavia Thomas USA - 23-yr old former LSU runner really had a great end of the season after bowing out in the semis at USAs. To little fanfare, she won her last six 800 of the year and lowered her pb from 2:01.40 to 1:59.67 in a single race. Not counting Morgan Uceny, she's won of 7 potential US Olympians with the A standard in the 800. 4th in Boston last year, she was 2nd at the New Balance Games at the Armory in 2:02.71 on January 21st.
Maggie Vessey USA - 2011 world championship finalist (6th) is making her 2012 season debut. She has had a great last 3 years as she's broken 2:00 in all three. Her indoor PB came at this meet last year when she was third (2:01.87) but that was her third race of the year and she went from 2:09 to 2:03 to 2:01 so she maybe a bit rusty here.
Ajee Wilson USA - 17-year old high schooler was handily beaten by Magiso at US Open last week but the time was slow (2:09.39 to Magiso's 2:07.54) so it's hard to know what type of shape she's in. But in that race, she did beat Stephanie Charnigo who has already run 2:03.37 this year.
LRC Analysis: This is an interesting race on paper. From the US perspective, it is an interesting battle between the old guard of US 800 meter running Maggie Vessey, who recently turned 30, and the new guard Latavia Thomas (just 23), and perhaps the future of US American running in 17-year old phenom Ajee Wilson. Of those three, we'd say we'd expect Thomas to be the best only because Vessey hasn't race yet this year and it took her a while to get going last year. But expect the victory to go to the Ethiopian teen Magiso.
6:05 PM - MBTA Men's 400 World Champ Kirani James Debuts As A Pro Indoors
The Field:
Tabarie Henry ISV - 24-year old former Texas A&M star is the embodiment of how good the collegiate sprinting is in the US. His sophomore year, he was 4th at world's in the 400 - yet only 2nd at the junior college nationals (44.77 got 2nd!!). Last year, he didn't even make the finals of NCAAs but was 7th at world's. Runs for the US Virgin Islands.
Bershawn Jackson USA - 2005 world champ in 400 hurdles was 6th last year at world's in hurdles. Runner-up to Quow last week at US Open at 600 yards. Hard to believe he's still just 28 years old.
Michael Tinsley USA - 27-year old has had the unfortunate experience of finishing 4th at USAs in both 2011 and 2009 in the 400 hurdles. A bit overmatched on the flat as his 400 pb is just 46.05.
Renny Quow TRI - 24-year old was 2009 world championship bronze medallist. Ran 44.84 at worlds last year but didn't' make final. Winner of 600 yards at US Open last week.
Johnny Dutch USA - Former South Carolina star is known for his prowess over the hurdles. How about this stat? His open pb in the 400 is 47.57. His 400h pb is 47.63. He went pro after winning NCAAs as a junior in 2010 with that 47.63. Found it tough as a 1st year pro last year as he only ran 48.47 and was 5th at USAs.
Kirani James GRN - 19-year old sensation has don't almost nothing wrong over the last few years. Won 2-NCAAs titles outdoors at Alabama before winning world's last year as a teenager. 44.80 indoor pb.
LRC Analysis: There are world champions and then there are special world champions. Don't get us wrong, you have to be an incredible athlete to be the be a world champion as being a world champion means you are the best in the world at something after all. But every once in a while, a guy or girl will come around and instantly aficionados know that they are a class above even the normal winner. Think Usain Bolt in the 100, Asbel Kiprop in the 1,500, etc. We'd certainly put Kirani James in that category. He's someone who could dominate the 400 for a long while and may be eventually challenge the WR.
It's James 2012 opener so it's hard to know what to expect but last year he opened up in 45.47 on February 3rd so we'd expect something equally as good. A very quality field has been assembled to challenge him and if James loses, we'd expect the winner to be Renny Quow.
Last weekend at the US Open, three of these guys raced at 600 yards and the results were as follows:
1 Rennie Quow TRI 1:11.20
2 Bershawn Jackson USA 1:11.31
3 Tabarie Henry ISV 1:11.75
In that race, Henry was never really battling for the win so we don't see him doing it here either. And Jackson, Dutch and Tinsley really are hurdlers so this race really should be a battle between Quow and James.
6:15 PM - Girls' High School 4x400m Relay
South Shore TC
Mansfield TC
AB TC
Weymouth Youth TC
Staten Island Gators TC
Stanners TC
SJB Elite TC
St. A's TC
Marl Louis TC
Villa Bears TC
6:25 PM - Boys' High School 4x800m Relay
Lowell TC
Titans TC
St. John's TC
Acton Boxboro TC
Brookline TC
Warrior TC
Bronx Rams TC
Fidelis TC
St. A's TC
Knights TC
SJB Elite TC
Firebird TC
6:40 PM - Men's 60m Hurldles: David Oliver Versus Aries Merritt Round II
The Field:
Ty Akins USA - 13.25 performer ran 13.30 last year. Would be an Olympian in nearly every country but the US.
Dominic Berger USA - 25-year old has 13.32 pb and was 7th at USAs indoors and out last year. Would be an Olympian in nearly every country but the US.
Lehann Fourie RSA - South African went to Nebraska shows you how loaded the US is at the hurdles as his 13.44 pb is nothing by US standards, but well under the Olympic A of 13.52.
Aries Merritt USA - 13.09 man was 5th at world's last year. Finished .04 behind Oliver last week at US Open.
David Oliver USA - American record holder at 110h had world-leading times indoors in the 60m hurdles and outdoors in the 110m hurdles in 2011. Was 2nd at US Open last week to Terrence Trammel at 55m. Should do better at 60m than 55m.
Omo Osaghae USA - Big 12 champ last year for Texas Tech fell at NCAAs and didn't make finals at USAs. PB though is 13.23. Only .02 behind Oliver last week at US Open. Would be an Olympian in nearly every country but the US.
Jeff Porter USA - 13.26 man was 5th at USAs outdoors last year. .03 behind Oliver at US Open last week. Would be an Olympian in nearly every country but the US.
Ryan Wilson USA - 2003 NCAA champ is a 13.02 guy but only ran 13.35 last year. 31 years old.
LRC Analysis: This race a second look at David Oliver's early season form as he the American record holder ended 2011 on a really poor note after running the fastest time in the world early in the year. Oliver looked pretty good in finishing 2nd last week at the US Open against most of the guys in this field including Aries Merritt, who was 5th at world's last year. This probably should be considered to be: Merritt versus Oliver Round II.
The race also is just a good reminder as to how deep the US is in many of the sprint events. Most of the other guys in this field would be big names if they were from other countries. For example, currently Britiain is up in arms that their top 110 hurdler, Andy Turner, who has a pb of 13.22 is injured. A 13.22 guy in the US is basically an afterthought in many ways.
6:45 PM - Women's 2 Mile
The whole field hasn't been released yet but this race is all about one thing - the return of Tirunesh Dibaba. It's hard to argue that Dibaba isn't the greatest long distance track runner in history given her six global golds (3 at 5,000, 3 at 10,000) so it's good to see her back on the track for the first time since August 13, 2010. Dibaba missed all of 2011 except for a 10k road win which came on the last day of the year - December 31, 2011.
In case you've missed it, we've already expressed some feelings on this race: LRC What About The Sport? Tirunesh Dibaba And Meseret Defar Not Racing Each Other In Boston
We guess if we weren't going to cover the 2mile we shouldn't put the names here but we will.
Tirunesh Dibaba - ETH
Ashley Higginson - USA
Jackie Areson - USA
Delilah Dicrescenzo - USA
Angela Bizzarri - USA
Athena Koini - GRE
Frances Koons - USA
Stephanie Garcia - USA
Marina Muncan - SRB
Molly Beckwith - USA
7:08 PM - Men's 3000: USA vs. Kenya vs. Ethiopia: World Championship Medallists (Including Matt Centrowitz) At 1500 and 5000 Battle
The field:
Andy Baddeley GBR - 3:49 miler is in good form as he won New Balance Games mile at Armory in 3:57 two weeks ago. Olympic finalist from 2008 is motivated to get back in top form as he still needs 'A' standard in 1,500 after disappointing 2011 (3:36.47 sb). Has 3000 pb of 7:42.75 from 2010.
Ben Bruce USA - Steeplechaser ran 8:19 last year over barriers but he's overmatched at this level when there aren't barriers. Flat 3000 pb is just 7:56.86, which wouldn't even make NCAAs in this day and age.

Matthew Centrowitz USA - It seems like most of people's time on LetsRun.com is spent speculating - "Can xxxxx (insert name of random distance guy or gal) ever be able to be truly competitive and maybe medal at worlds or the Olympics?" As a result, we need to remind everyone that the 22-year old has already done what everyone else - Rupp, Solinsky, Wheating, Symmonds, Webb, etc. - have been dreaming of for years - win a global medal. Last year, he won NCAAs first and then got third at world's !!! 3000 pb is 7:50.59. Look for that to go down as we think he's in good shape as he was 4th at USATF club xc in early December. That being said, we don't really expect him to contend for the win here. It should be remembered he was only 4th at NCAAs last year in the 3k.
Mark Draper GBR - 3:56 miler only ran 4:06 at New Balance Games at Armory a few weeks ago.
Dejen Gebremeskel ETH - Quick. Who was the third placer behind Bernard Lagat and Mo Farah in the 5000 last year at world's? This man right here. The forgotten man. How quickly things can change in the world of distance running. Last year at this meet, he had one of the more remarkable performances in recent memory. He lost his shoe at the beginning of the race, ran without it and still out-kicked the eventual world champion in Mo Farah for the win in a fantastic 7:35.37.
Hagos Gebrhiwet ETH - Databases tell us that this guy is just 17 years old. Finished 5th at world youth's last year in 7:45. It will be interesting to see how he stacks up against the seniors in probably what is his first major pro race on the track. He's in good shape as he ran 27:57 for 10k on December 31st, getting the win in a sprint finish.
Garrett Heath USA - 25-year old Stanford grad was in good form at this meet last year as he ran 3:55.87 in the mile to get 2nd. Then he got injured (?? at least that's what we think happened) and missed USAs before coming back with a 3:55 mile at 5th Avenue. PhD candidate at the Stanford Technology Ventures Program in the Management Science and Engineering Department. 7:50.28 pb.
Silas Kiplagat KEN - World championship silver medallist at 1,500 ran 3:29.27 in 1,500 in 2010. 7:39.94 pb at 3000. First race of 2012.
Caleb Ndiku KEN - Many, including us, have thought that this former world junior champion in both cross country and the 1,500 is going to be a future star. His PBs for 19-years old at 3:32/13:18 are good, but will 2012 be the year he arrives on the senior scene? Showed good fitness by winning xc meet in France in middle of January.
Ben True USA - 13:24 5000 runner had a good 2011 but his 3000 pb is just 7:59. Former Ivy League star at Dartmouth.
Justin Tyner USA - Former Air Force runner was 5th at NCAA indoors last year. 7:53.91 pb.
Cam Levins CAN - Had fantastic collegiate double last week at 7:48/1342 in Washington. A week later, he tries to see how he stacks up against the pros. The guy has developed a cult-following on Letsrun.com has he's been known to train at 155 mpw and isn't afraid to race. Plus he goes to Southern Utah. He represents the ultimate blue-collar runner success story.
Haron Lagat KEN - Journey man road racer has 8:15 steeple pb from last year. 7:56 indoor 3000 pb came at this meet last year when he got 8th.
LRC Analysis: This race is one of the highlights of the night from a LetsRun.com perspective. So many storylines to follow. The big one is the silver and bronze medallists at 1,500 in American Matt Centrowitz and Kenya's Silas Kiplagat battle against the world championship bronze medallist at 5000 in Dejen Gebremeskel of Ethiopia. USA vs. Kenya Vs. Ethiopia. 1500 guys versus a 5000 Specialist. In reality, we don't expect Centrowitz to contend for the win but if he does - competitors beware for the rest of the year. Gebrmeskel has to be considered the favorite given the fact he beat Mo Farah last year in this race while only running with one shoe. It will be interesting to see if former world junior xc and 1500 champ Caleb Ndiku contends as well.
7:25 PM - Visa Women's 60m
USATF/Meet management hasn't released this field either.
Tianna Madison - USA
Lauryn Williams - USA
Lakya Brookins - USA
Shalonda Solomon - USA
Murielle Ahoure - IVC
Alexandria Anderson - USA
Gloria Asumnu - NGR
Aleen Bailey - JAM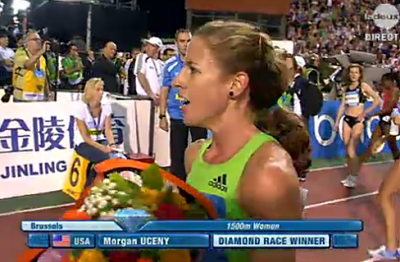 7:30 PM - Women's 1000m: Can Morgan Uceny Get the Americna Record, Can Anna Pierce Right the Ship?
The Field:
Morgan Uceny- Despite Jenny Simpson's gold, last year Morgan Uceny was the top 1500m runner in the world right as she won the Diamond League title and had the top time in the world as well. She also was world ranked #7 at 800m as she ran 1:58.37 so the 1000m is not a bad distance for her.
Phoebe Wright- Two time NCAA champ at Tennessee ran 1:58.22 in 2010 and missed Worlds last year by one spot. She's run 2:02 this year and opened with a 2:00 last year so she can run fast early in the year.
Anna Pierce: In 2009 she was undefeated in the World at 800m winning in Brussels and Paris and she went sub 4 for 1500m. In 2010, she didn't go sub 4:04 for 1500m but did break 2:00. In 2011, she didn't break 2:00 or run under 4:10. Last week she opened in 4:40 for the mile. Something clearly appears to be wrong but talent doesn't go away.
Charlene Thomas- From Britain, more of a 1500m runner. Outclassed here although ran 2:01 in 2009.
Maggie Infeld USA - 25-year old former Georgetown runner, now medical student has pbs of 2:03/4:10 and is totally overmatched on paper. She's also entered in the 800. Maybe she's a rabbit?
Stephanie Charnigo - Her 2:03 to open at the New Balance meet at the Armory was a pb. Part of Gags, NJ/NY Track Club, was a DII 400m runner at University of Findlay.
Will the American Record Fall? Two years ago in Boston Anna Pierce and Morgan Uceny raced in what some thought might be an American record attempt. Jen Toomey' 2:34.19 AR was never in jeopardy as Kenia Sinclair nipped Pierce for the win. Pierce at the time was coming off an undefeated 800m season the year before with 4 big international wins while Uceny was coming back from injury. Now the roles are reversed, Uceny is the star, the #1 ranked mid distance runner in the world, and Pierce, her training partner is struggling. Looking at the decline of Pierce the last two years and her opener in 2012, we'd be shocked if she turned it around here. Asking Uceny to get the American record in her first race seems like a stretch but expect her to get the win over Wright in a good race.

Uceny has come a long way. 4 years ago at this meet she got her first pro win in 2:05.
7:40 PM - New Balance Men's Mile: Training Partners Mo Farah and Galen Rupp Drown Down To The Mile To Face Last Year's Champ Russell Brown
The Field:
Galen Rupp USA - Coach Alberto Salazar loves to have the American record holder at 10,000 work on his speed. 2012 debut. 3:56.22 mile pb.
Mo Farah GBR - World championship 5000 is race-sharp as he outkicked Augustine Choge last week in Glasgow.
Russell Brown USA - 26-year old was surprise champ last year in boston in 3:54.81. Ran 3:51.46 at Pre but didn't get out of heats at USAs. PB of 3:35.70 is just off the A standard of 3:35.50.
James Brewer GBR - Ran 3:57.92 for 2nd at the New Balance Games at the Armory two weeks ago for 2nd behind Baddeley. 24-year old has 3:54.80 pb.
Ciaran O'Lionaird IRL - His failure to score in the 5000/10000 at NCAAs ending up costing Florida Stat a national title. But in hindsight it seems as if the 13:33/28:32 guy was in the wrong event as he went on to run 3:34.46 in the 1,500. That being said, we doubt he has the wheels to kick at this level.
Sam Horn USA - Might be the rabbit as his pb came last week in Seattle at 4:03.97. Has run 1:49.29.
Henok Legesse ETH - 3:34 1,500 performer only ran 3:36 last year. Was 4th in Boston last year.
Liam Boylan-Pett USA - Former Columbia runner ran 3:59.40 for 5th at New Balance Games two weeks ago.
Matthew Scherer USA - We figured Horn was the rabbit but this guy is a 1:46.11 800 guy. Maybe there ar two rabbits?
LRC Analysis: This race has a lot of names but very few true star milers in is to it's a bit hard to handicap as the stars are 5k/10k guys (hell we really think Rupp is a half-marathon/marathon guy). We give the edge to Farah however as he's race sharp and there's no way of knowing if Brown will be able to find magic in a bottle and pull off a shock win yet again. While we don't think Rupp has the wheels to contend in the mile (but if he does, like with Centro, watch out), it will be interesting to see how he looks in his 2012 season debut. Plus we are interested in seeing Rupp's training partner Ciaran O'Lionaird.
7:50 PM - New Balance Women's 3000: World Record Holder Meseret Defar Takes On World Champion Jenny Simpson And Many Of The World's Top 1,500 Runners
The Field:
Liz Maloy USA - With zero fanfare, the 26-year old former Gtown runner now has the Olympic 'A' standard at 5000 thanks to her 15:15.34 pb from last July and thanks to the fact that the IAAF recently lowered it to 15:20. 3000 pb of 8:56.89
Jenny Simpson USA - The world championship gold medallist at 1,500. Need we say more? Not much. Except for the fact that it's her 2012 debut and her 3000 pb is 8:42.03.
Sara Hall USA - Ryan's wife is hoping to make the US team in the steeple this summer. Has 3000 pb of 8:52.35.


Shannon Rowbury
Shannon Rowbury USA - Anyone remember when she was the #1 1,500 meter runer in the US and a bronze medallist at world's? That was just 2+ years ago. Now she's trying to regain that form. Last year, after missing some time, she only ran 4:05. Healthy in 2012, she'll be looking for a big year as this is probably her best bet for Olympic glory at age 27. 3000 pb from 2010 is a stellar 8:31.38.
Btissam Lakhouad MAR - Moroccan national record holder from 2010 (3:59.35) was 4th at world's last year. Rarely runs anything but the 1,500 as her 3000 pb from what we can tell is just 9:08.02.
Marina Muncan SRB - Former Villanova runner is running out of time if she's every going to make the Olympics. At age 29, her pb is 4:08.02 but she only ran 4:14.97 last year. Was a well beaten 6th at New Balance Games mile two weeks ago in 4:42.
Megan Wright CAN - 2008 Olympian for Canada at 5000. 4:11/15:11 runner who ran at West Virginia.
Gotytom Gebreslase ETH - 17 year old won World Youth title last yeari n 1500 in 8:56.36.
Siham Hilali MAR - 25-year old bowed out in semis of 2011 world champs in 1500. 2008 Olymipc finalist. Set pb of 4:01.33 last year.
Meseret Defar ETH - Since winning Olympic gold in 2004 in 5000, Defar hasn't been golden outdoors on the track since. However, shes' been golden indoors at 3000 every year - 2004, 2006, 2008 and 2010. Indoor 3000 world record holder at 8:23.72. If she loses, we'd be stunned.
Mardrea Hyman JAM - 39-year old is hoping to make Olympics one last time in steeple.
LRC Analysis: As we mentioned above, Defar is no longer dominant outdoors like she once was but she hasn't lost a beat so far indoors at 3000 so we'd be stunned if she lost. We really want to see how Rowbury and Simpson look at their 2012 debuts, plus want to see the young 17-year old Ethiopian Gebrselase.