2012 US Men's Olympic Trials Marathon Preview - Three Of These Men Will Run For The US In London
We Break The Field Down Into 10 Contenders - The One Lock, Three More Who Should Make The Race For The Final Spot Interesting, Five Long Shots & One Wild Card
By LetsRun.com
January 11, 2012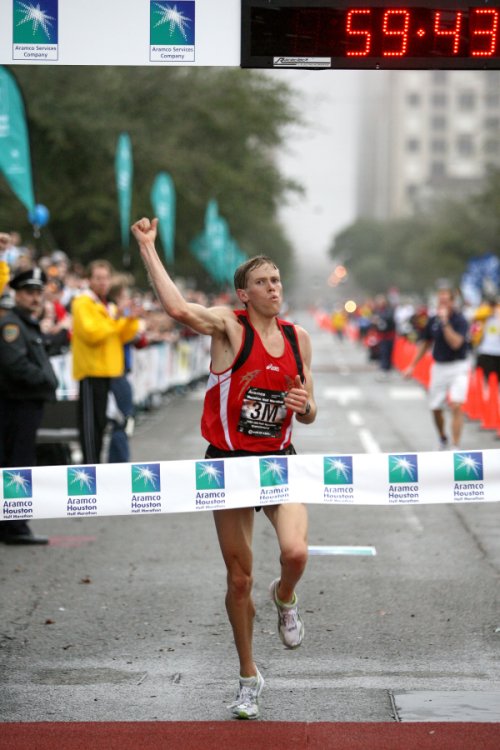 Houston Has Been Good To Hall In The Past
With the recent resurgence in the fortunes of US distance running, one thing about Saturday morning's 2012 US Olympic Men's Marathon Trials is clear: these Houston trials certainly won't resemble the year 2000, when the US only sent one man to Sydney as there was only one under the 2:14:00 "A" standard.
US distance running has improved vastly since the abyss of the low-mileage 1990s. Thirteen athletes have qualified for Houston with a 2:14:00 time or better and 21 are under the new IAAF standard of 2:15:00 (although skeptics might point out that only 6 have run under the older and stiffer 2:14:00 standard during the Olympic qualifying window, as compared to the Trials qualifying window). As a result, the US will certainly be sending three men to London.
With the improved quality of the US men, prognostications have been made about how hard it is going to be to make the 2012 US Olympic men's marathon team. The fastest American marathoner and half marathoner in history, Ryan Hall (2:06:17/2:04:58a PR, 59:43 half PR), has predicted that the top three men will all run under 2:10:00 in Houston.
Hall seems to think that a lot of people will go sub-2:10 in Houston. That's easy for him to say because a sub-2:10 is a normal occurrence for Hall.
Hall has run nine lifetime marathons and in seven of them he has broken 2:10. And his non-sub-2:10s were both credible performances, as he ran 2:12:33 to get 10th in the Olympics in Beijing and 2:10:36 on the hilly New York course to get fourth in 2009. Even that type of performance would almost certainly still make the team in Houston this year. So the best way to think of Hall in our minds is to realize this - he'll have to have a career-worst marathon performance to not make the team.
As for the rest of the field - well, let's just say Hall has a huge leg up on nearly all of them, as hardly any of them have ever gone sub-2:10 or realistically dream of it.
In total, 157 men not named Ryan Hall have qualified for Houston. Of them, exactly two have ever broken 2:10 and they have run sub-2:10 a total of 8 times (Meb Keflezighi has done it seven times and Abdi Abdirahman has done it once). Let's say the average person has run 3.5 marathons. If we ignore Meb and Abdi, the rest of the field is 0 for roughly 500 at going sub-2:10 and Hall is 7 for 9. A sub-2:10 is no small feat for an American runner, as only 16 Americans have ever done it in history. And a sub-2:10 marathon has only been achieved once in US Olympic Trials history by - you guessed it - Ryan Hall in 2008.
So Ryan Hall is almost > than the entire rest of the field.
As a result, we've decided to make Ryan Hall our first pick for the 2012 US Olympic Men's Marathon team and label him as:
The One Guy That We'd Be Absolutely Stunned If He Didn't Make The Olympic Team And Is A Virtual Lock To Make It As He's Always A Sub-2:10 Guy
The 16 Sub-2:10 American Men


2:04:58a   Ryan Hall        
2:05:38    Khalid Khannouchi       
2:08:47a   Bob Kempainen    
2:08:51a   Alberto Salazar   
2:08:53a   Dick Beardsley
2:08:56    Abdihakem Abdirahman
2:09:00a   Greg Meyer        
2:09:13    Mebrahtom Keflezighi      
2:09:27a   Bill Rodgers     
2:09:31a   Ron Tabb    
2:09:32    David Morris      
2:09:35    Jerry Lawson                      
2:09:38    Ken Martin                          
2:09:41    Alan Culpepper                      
2:09:57a   Benji Durden
Now we know the running world is full of dreamers. Hell, we gave our website the motto "Where Your Dreams Become Reality" when we ourselves were training for the 2000 US Olympic Marathon Trials.
As a result, we don't want to be the bearers of bad news, so we'll let our friend at Running Times, Scott Douglas, be the one - PRs do matter.
As Scott explained in his great article, it's very rare that someone PRs and makes the Olympic team.
Counting the 1984 trials, of the 19 Olympic men's marathoners most recently chosen, only 4 ran PRs to make the team. But this time, the reverse is going to happen? Instead of 2:09-2:11 guys running 2:12-2:14, as in 1984, 2:11-2:13 guys are going to run 2:09?
Ah, but (in 1984) it was windy that day, and humid, and there were other extenuating circumstances. The thing is, there are always extenuating circumstances. That's what happens when you gather a bunch of people in one spot on one day and tell them the first three finishers get to run in the Olympics. There's the weather, or the course, or the time of year, or the favorite who everyone's keying off not feeling great when she wakes up, or a million other things.
As a result, we don't think there are that many guys in the field besides Hall that are even capable of breaking 2:10:00, as hardly anyone has ever done it in their lifetime.
But in picking who might grab the final two Olympic spots, we actually decided to use 2:10:00 as the measuring stick for our Olympic Trials preview.
Since we know Hall is more than capable of it, we figured the best way to break down the field is to think of it this way: "Who could possibly break 2:10:00?"
Three Guys That Are Likely To Make The Team Because If They Are On, They'd Likely Go Sub-2:10 In Good Conditions & An Honest Pace From The Start (Listed In Alphabetical Order)
#2 Meb Keflezighi - 2:09:13/61:00
Meb Keflezighi has an Olympic silver medal and an ING New York City title to his name. Additionally, he has gone sub-2:10 seven times and he comes into New York after a PR in his last marathon. As a result, he'd normally appear in our first category of guys that we'd be stunned if they didn't make the team.
However, there is some doubt regarding Meb. What is it? Well, three things.
1) He's attempting to make the marathon team 69 days after running the New York City Marathon. That's a quick turnaround for anyone, let alone someone who had a little bit of difficulty getting going until 4 weeks after New York and thus didn't start running until 41 days before Houston.
2) Meb is 36 years old. That's not really that old for a marathoner who PRed last time out, but the end is near at some point and it undoubtedly makes the quick turnaround harder. On the plus side, Meb has a ton of lifetime miles in his legs, so that might help given he had no time to build up a base.
3) Meb didn't qualify four years ago.
#3 Dathan Ritzenhein - 2:10:00/60:00 (How much does that suck to think he couldn't run 1 second faster in both races?)
We debated about where to put Ritzenhein, as many would argue that he's an unproven marathoner at the truly elite level.
Yes, the prodigious talent has never gone sub-2:10 (his PR is 2:10:00), but he did make the 2008 Olympics in the marathon and in Beijing he was the top American finisher in 9th place - one spot ahead of Ryan Hall.
Plus, the last time he was healthy and running for Alberto Salazar in 2009, he was on fire, as he ran 12:56.27 for 5,000 and then 60:00 to earn a bronze medal at the World Half Marathon Championships. And in our brains, it's hard to imagine that a sub-13:00 and 60:00 guy can't break 2:10:00.
But if we were going to go negative for a minute, we'd point out that a lot of sub-13:00 guys haven't done it in the past. If 5-time World Half champion and sub-13 guy Zerseney Tadese can only run 2:12, then maybe Ritz truly does run out of fuel at 2:10:00.
And it needs to be pointed out that most of 2010 and 2011 have been what much of Ritz's professional career has been - a washout due to injuries.
Still, Ritz did run 2:12:33 in New York in 2010. Only six other guys in the field have run that fast in the qualifying window. So on what we'd call an average day, Ritz is certainly in the hunt to make the team. On a good day, on a 12:56-type day, he's almost definitely on the team unless Ryan, Meb, and Trafeh are all also on their game.
The problem with Ritz is we really have no idea if he's in shape as his coach Alberto Salazar doesn't share much with the media and Ritz isn't flying into the Trials until the night before the race. It wouldn't shock us if this guy won it or was a complete bust.
#4 Mo Trafeh - No Marathon PR/60:39 Half PR/29:54 10k PR
Some of you may be asking yourselves who the guy is and where did he come from, as he has never finished a marathon and he's never run faster than 29:54 in the 10,000 according to tilastapaja.org.
Well, trust us, insiders and many fellow competitors are scared to death of this 26-year-old who was born in Morocco but went to HS in the US and college briefly at AZ, and they're worried for the following reasons:
1) The 29:54 that he ran for 10k was run in HS (after running 9:08 for the deuce as a sophomore). He also has good mid-d speed. For example, he ran a 1:50/3:43 double in 2009.
2) He's run way faster than 29:54 in the midst of longer races, as shown by this picture: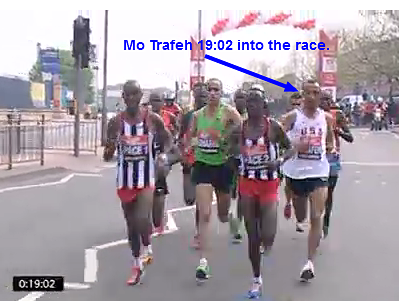 That's a picture from this year's Virgin London marathon, where Mo ran with the leaders for 15k, whipping through 10k in 29:24 (2:04:03 pace). An American that has the guts (or stupidity) to try to run with the lead pack in London, the world's most competitive marathon, is certainly capable of making the US Olympic marathon team.
3) Mo has a half marathon PR of 60:39. That's #6 all-time in the US and everyone by now should know how we feel about half marathon success normally equating to marathon success. And oh yeah, that's 28:44.8 10,000 pace for 13.1 miles.
4) Mo is in form. Unlike virtually everyone else in the field who have done little to impress in the pre-Trials buildup, Mo raced a 61:39 half marathon in China on December 18th. We believe (we aren't 100% certain because our database cuts off at 61:29) that is better than the PRs of everyone in the Trials except for Hall (59:43), Ritz (60:00), Abdi (60:29), and Meb (61:00).
5) Mo outkicked Ryan Hall for the win in the half last year in Houston.
We asked LetsRun.com coaching guru John Kellogg if we were crazy to think Trafeh might be the #2 or #3 pick to make the US team at the Trials.
"Heck no. That's not crazy at all. If that guy's clean, he's probably the best emerging long-distance road running talent the US has had since Khalid Khannouchi and the only guy in the field other than Ryan Hall who's capable of a 2:08-flat or better right now if he gets it right."
We asked, "As big a talent as guys like Rupp and Hall and guys like that?" and JK responded, "In that same league for sure."
5 Guys With A Chance - The 2:11-2:12 Guys Who On The Absolute Best Days Of Their Lives Could Theoretically Break 2:10:00 (Listed In Order Of Their PRs)
We've talked about the top 4 contenders above.
In our minds, everyone else in our list needs some help to make the team. If the guys above run their best, the guys listed here basically have no chance.
That may seem a bit harsh, but people need to think of it this way. The next group of guys for the most part are 2:11-2:12 guys who on a career day might just squeak under 2:10 (7 of the 16 men who have run sub-2:10 in American history have run between 2:09:27 and 2:10:00 and only two have run faster than 2:08:47). Meb is on average a 2:09-2:10 guy. These guys are 2:11-2:12. So that's a 2-minute difference, which is roughly 5 seconds a mile. If there was a college mile race, how often would you expect a 4:00 guy to lose to a 4:05 guy? Almost never.
In terms of the 2:14 guys who don't even make our list, think of it this way - that's 10 seconds a mile off of 2:10. Would you expect a 14:30 5k guy to beat a 14:00 5k guy? The answer is obvious.
Now anything can happen in a marathon and that's the whole beauty of it. Someone could crack at the very last minute. So these guys have a fighting chance.
5) Brett Gotcher - 2:10:36/62:09
Given the fact that his 2:10 PR came in Houston two years ago, Gotcher maybe deserves his own category above the people below.
If he's having a fantastic day and Ritz is a little bit off, our brains could rationalize a scenario where Gotcher could beat a Ritz or one of the top 4 (whereas the other guys in this group need to be way off their best games for these guys to beat them), but Gotcher on paper is just not as good as the top 4 guys in our minds. Take the US 10-Mile Champs in October. Gotcher ran very well and was third in 46:51. But who won in 46:46? Mo Trafeh.
Reports do indicate, though, that his training is going well as he recently finished 90 seconds ahead of his 2:11 marathon teammate Nick Arciniaga in a 15-mile tempo.
6) Jason Hartmann - 2:11:06/63:07
The 30-year-old isn't a one hit wonder in the marathon, as he was 2:11 performer last year and a 2:12 performer the year before that. Ran a 63-minute half in December, so we know he's been training fairly well. He's also still running sub-28:30 on the track, which means we could see him being in "sub-28 shape," which means a 2:10 is a possibility. Recently ran in the 63:30s in Las Vegas (along with Lehmkuhle), so we know he's fairly fit.
7) Nick Arciniaga - 2:11:30/63:22
Like Hartmann, the former 800 runner isn't a one hit wonder in the marathon, as he's run 2:11 in each of the last two years. Plus, he likes Houston, as his marathon PR comes from Houston last year and his half marathon comes from Houston the year before that. But he was only 41st at World Champs and fans of his were probably discouraged by his 39th-place showing at club cross-country nationals in early December. But Arcianaga says things have been turning around since he had a hip injury diagnosed properly but he admitted he's still 90 seconds behind his teammate Gotcher on a hard 15-miler. However, if you read his blog or listen to Arcianaga talk about that workout, he seems VERY upbeat about it.
Sometimes, it's good to come into a race rapidly gaining fitness and Arciniaga (as well as Meb Keflezighi) will be doing that, as he still plans on running 100 miles the week of the race.
Will history repeat itself? Last year, Arcianaga PRed in Houston after having bombed his fall marathon (2:18 in Houston) when he just went into the race planning on pacing his teammate Gotcher.
This year, he goes into the race after bombing at the World Champs having only recently gotten over his injury.
8) Jason Lehmkuhle - 2:12:24/62:32
Lehmkuhle is an experienced veteran. The 33-year-old has shown up well in his last 5 marathons as he's run 2:12-2:14 in all five.
That would likely have been good enough to make the team 12 years ago, but not this time. Recently ran in the 63:30s in Las Vegas (along with Hartmann), so we know he's fairly fit.
The problem is he's likely going to need a PR-type effort to make the team and those don't normally happen. Of course, he did PR at the last Trials when he ran 2:12:54 in the hilly Central Park to get 5th.
It would be a great story if he did make it, but on paper he looks like a guy who might twice be top 5 but never on the team.
9) Tim Nelson/Brent Vaughn - 2:15:06/62:11 For Nelson; No Marathon For Vaughn/62:04
Ed. Note: As of Wed. Jan. 11, Nelson has scratched but Vaughn is declared. But Nelson was really our pick here, so you can read what we had about Nelson/Vaughn for kicks, but we are adding in Fernando Cabada into this spot. Vaughn will likely show up later in a second article coming tomorrow as a possible "really long shot" pick.
Okay, we know some of you are outraged with this pick.
For starters, neither has run 2:11-2:12.
Our response is: They are part of Jerry Schumacher's training group and you don't get into Schumacher's group unless you are super-elite. Vaughn was a 13:18 guy in college who has run 62:04 in the half and Nelson is a 27:28 guy now.
Now we know some of you are also confused/nitpicky/outraged that we have two names down for one spot. Well, Nelson is really our pick here, but since his teammate was better than he was in their half marathon tempo a few weeks ago, we thought we'd cover our bases. You know how in horse racing, horses with the same owner are counted as the same betting odds? Yeah, we're doing that here. Admittedly we didn't do that with Gotcher/Arciniaga, but it's our website so we can do whatever we want.
Anyway, we don't want to hear how Nelson struggled in the half in Miami last month, where he only ran 67:44. We've always said that running in hot weather and running in ideal conditions is often a totally different sport for certain runners. And we don't want to hear about how Nelson's marathon PR is only 2:15.
A 27:28 10,000 equates to a 2:09:14 marathon on John Kellogg's chart. As JK pointed out, 27:30 types with little or no marathon experience often do pop those equivalent times of 2:09-2:10 early in their marathon careers - Craig Virgin, Alberto Salazar and Alan Culpepper, for instance. Plus, that 2:15 was in New York and it was Nelson's debut.
Plus, the whole point of this preview is to be elitist. When Wejo was training for the Trials in 2000 and founded LetsRun.com during his free time, he wanted to be THAT GUY who has the big breakthrough and makes the team (and Wejo had a big breakthrough and dropped his 10,000 time by 1:22 in a single race as he got ready for the Trials). But more times than not in running, it isn't "Where your dreams become reality" but rather "Where your dreams get crushed by someone who is more talented than you."
And thus we pick the 27:28 guy as someone to watch. And lest we not forget, the guy dispatched Alan Webb, German Fernandez and Matt Centrowitz in a 3,000 last year.
#9) Fernando Cabada (Ed. Note: He's our late addition after the Nelson scratch)
Fernando Cabada - 2:12:27/62:32
Ran 2:12 in his first marathon in 2006. Hasn't broken 2:15 since. He now says he can run 2:08. "If I was to run a 2:08 on January 14th, that wouldn't surprise me."
Originally, we had Cabada at the very top of our 10 Very Long Shots list, which is coming out tomorrow, and this is what we had written for that: With a 2:12 PR and his US titles at 25k, we would have Cabada as one of our actual top 10 favorites (certainly ahead of Tim Nelson or Brent Vaughn) and not among the "long shots" were it not for his trends of sporadic and inconsistent racing and of getting worse in the marathon following his debut. The talent for long road races is obviously there, however, as are the prior accomplishments, so he gets the top spot among our "long shots." John Kellogg's conversion chart says Cabada's US record 25k (road) time of 1:14:21 is equivalent to a marathon time of 2:11:39, and Cabada was within a minute of that in his debut marathon, so if he's healthy and in shape, watch out.
Wait, there are supposed to be 10 guys on the list and Nelson/Vaughn only count as one. So who else is left?
The Wild Card - The 2:08 Guy
10) Abdi Abdirahman - 2:08:56/60:29
As we mentioned in the intro, Abdi is one of three people in the field to have ever broken 2:10:00 in the marathon. In fact, he's #6 all-time in US history at 2:08:56. The problem with Abdi is he hasn't done a lot since 2008 when he made the Olympics and almost got the American record in the 10,000 when he ran 27:16 at Pre. A 2:14 marathon in New York in 2009 was followed by a pretty much non-existent 2010. But Abdi has improved on the road circuit as the year has progressed and was in pretty good shape heading into his marathon buildup, as he won the US 20k in September and was 6th in the US 10-mile in October.
If the training has continued to go well and Abdi's motivated, watch out, as this is certainly one of the greatest talents to ever lace them up for the US. And it's not like Abdi's that old. He just turned 35.
The marathon has never seemingly been Abdi's love, as he's only raced six of them. But of the five career marathons he's finished, only once was he over 2:14.
And from reading the AZ Star, it sounds like things are going well, as his coach Dave Murray sounds upbeat in this story.
Well, one thing hasn't gone well of late for Abdi. His SUV was stolen while he was out on a run recently.
Note: If Abdi's been training and is healthy and motivated, we'd have to say he belongs on the list maybe behind Ritz and ahead of Gotcher.
The Race:
Being from Texas, we know that the weather there is very unpredictable. The good news is very good conditions are in the forecast for Houston on Saturday, with a low of 42 and high of 61 with winds less than 10 mph. And all we can say is thank God the marathon wasn't on Tuesday when there were floods in Houston (check out this video of the storm in Houston).
Will we see three or more sub-2:10s?
It's certainly possible, as we think there are four guys in the field who would LIKELY run under 2:10 on a good day and a few more who MIGHT have a really big day and do it.
However, the race isn't rabbitted (although Ryan Hall very well may just go after it early) and Meb is coming back off of NY and Ritz has never broken 2:10:00 and Trafeh has never even finished a marathon.
And besides, how often do people get the marathon correct? The odds of 3 of the 4 "likelies" doing it on the SAME day (or even one of the "maybes" doing it) are way less than 50%.
We'll predict two sub-2:10s with the third qualifier being in the 2:10 range. Thus, some records could be set.
Most sub-2:10s (only one has happened before).
Fastest third-place finisher (the fastest third-placer was ironically in 1980 when the runners already knew they weren't going to the Olympics, when LetsRun.com visitor Kyle Heffner ran 2:10:55 for the 3rd spot).
The fastest 4th-place finisher in Trials history (current best 4th-place time held by Dave Gordon, who ran 2:11:59 in 1984).
The Pace: One of the exciting things about the Trials is to try to envision how the race will play out.
We can envision a tactical start like there was at the last Trials before Ryan Hall just put on a clinic over the 2nd half, as he went 1:06:17 and then 1:02:45. These type of races are always pretty interesting as it gives a lot of people false hope for the opening half.
Yet we can also see Hall going out a more honest pace. This type of race would also be fascinating. Let's say Hall just goes out the door at 2:08 pace. Who goes with him? Trafeh, Ritz and Meb. What about Abdi? Or with only 41 days of running, does Meb play it safe and think, "Some of them will come back to me."
If he had a traditional coach, we can't imagine Hall would go out much faster than 2:10 pace and we'd imagine there is no way he'd go near the lead until at least 10km in - much like the last Trials, which featured a slow first 7 miles but blistering last 19. But with Hall, anything is possible honestly.
It will be interesting to anticipate.
Predictions: We want to see if any of the major players speak to the media before we make them. Come back later in the week. We'll predict our top three and give you a list of 10 other guys that theoretically could somehow make it if several of the huge favorites falter.