ESPN Takes A Look At CharityBets: Want to bet on Olympians? Now you can The LRC advertiser is now mainstream as it's getting ESPN coverage. Bet on whether Meb makes the OT this week. Walter Dix is also on-board.
Marathon News
Lance And Livestrong
Outside Magazine Article Accuses Livestrong Foundation "If Lance Armstrong went to jail and Livestrong went away, that would be a huge setback in our war against cancer, right? Not exactly, because the famous nonprofit donates almost nothing to scientific research." *MB: Livestrong expose in Outside magazine
Olympic News
If You Didn't Already Know, There's A Pretty Big Race In Houston The Day After The Trials, Too
OT Marathon News
Galen Rupp Says He'll Pull Out Of Olympic Marathon Trials We're sure many Olympic hopefuls are breathing a huge sigh of relief as the debate as to whether Rupp would run, rabbit if he did start or go all out is over a week before the starting date, as his coach Alberto Salazar wants him to work on his speed by racing indoors. We'd argue that by training for the marathon and getting stronger, Rupp just did a ton for his speed. Kudos to Rupp to not waiting until the last minute to decide. Rupp: "It would be difficult to do all the speedwork for (the 10k), and still train for the marathon."
*MB: Rupp Out
Patrick Makau Reacts To Renato Canova's Comments That His WR Will Be Broken This Spring Makau: "It makes me wonder if the record is a preserve for some region, tribe or runners. What shocks me is that some people are speaking ill of me just because I broke the world record ... Let us not talk much but redeploy our energies on good training and skills that will power our legs to do the talking."
Alan Webb's Comeback Begins
Raffi Cote = Matt VanDenHengel
Alan Webb Returns With A 1:55.02 And Loses To A Senior From Gwynedd-Mercy College Whose PR Is 1:53.53 In his first race since April and his first race since dumping Alberto Salazar, American mile record holder Alan Webb busted the rust with a 2nd-place 1:55.02 performance in a race that was won by the previously unknown Matt VanDenHengel. For everyone writing off Mr. Webb, we remind you that "talent doesn't go away" and that two years ago, Galen Rupp similarly lost to a freshman walk-on in January in the 800 in a 1:54 race. Since then, Rupp has run 13:06, 26:48 and 60:30.
*Alan Webb Interview With Ian Brooks: "I had to start somewhere."
More: MB: *Webb runs 1:55.02 today at Armory *Alan Webb's 800m In 1:55 Was A Good Thing *Webb spotted in 800 at Armory *Rupp loses to freshman walk-on at 800
LRC Todd Morgan And Pete Watson To Be New Women's And Men's Cross-Country Coaches At UVA
One We Missed - 2012 Millenium Mile
Yet Another Sub-4 Mile Took Place At New Year's Millenium Mile In NH That's #24 in the race's 13-year existence (it is downhill).
*Video Highlights From 2012 Millenium Mile
*Race Website
Stars On the Comeback Trail
Want To Watch Track & Field On TV? - Get Out Your Credit Card
Universal Sports Moves From Free To Cable (Directv) Only We're sure many LRC fans will complain about having to pay to watch track and field, but think about how many hundreds of dollars you pay to watch an NFL or NBA game each year. This makes sense from a business sense - put the channel on a sports package so they can get subscription fees for niche sports.
*LA Times: Universal Sports channel didn't disappear, it just seems that way "The channel has not gone under but rather has changed its distribution strategy and is basically starting from scratch."
*Letter From Universal Sports CEO David Sternberg
Track And Field 2011 Men's World #1s - Event By Event - MEN & WOMEN To get the top 10 lists, you need to purchase the magazine.
Good News
Olympic Track Champion Lee Evans Undergoes Successful Brain Surgery
Sad News
Frank Horwill 1927-2012 Horwill founded the British Milers Club and coached Tim Hutchings (most of you in the US know him as the the really good British announcer on track TV broadcasts; his real claim to fame was a 4th in the 1984 Olympic 5k). BMC Remembrances here.
*IAAF Remembrance Here
The Running Story Of The Year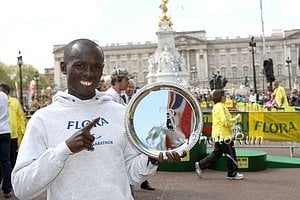 Japan Running News Recaps The Life And Career Of Sammy Wanjiru Barcelona Olympics marathon silver medalist Koichi Morishita: "The people who were supporting Sam were only motivated by the money flowing around him, not from the heart, and they didn't give him the kind of support he really needed. You hear a lot of disturbing things about his family too, his wife, and I can't help but think that he should have had more people around him who cared about his soul."
Did You Get Your Run In On Christmas?
On The Boards: Haile G trains twice a day, every day, except christmas. Who doubled today?
*Merry Christmas / How Far Are You Running Today?
More US Open And Millrose
LRC USATF Trying To Continue The 99-Year MSG Track Tradition Continues With The US Open USATF is attempting to put on a fan-friendly 2-3 hour meet (instead of 6 hours) with the promotional muscle of MSG behind it with a focus on the pros and a few select high school races. Since MSG is helping promote the meet there is a chance for success. Will the meet make changes to entertain fans once they get in the door to bring them back for year 100? See below.

LRC Emails Track And Field: Entertain Or Continue A Slow Death An email from an LRC visitor: "The Millrose Games as you knew it no longer exists. So what? Why should any track athlete or fan care?" got Wejo to think about our sports slow decline and what needs to be done to change it. Entertaining meets with good matchups. An another emailer who co-authored books with both Bill Bowerman and Bill Dellinger says why not have a pro Millrose (at the Garden) and a separate amateur one (at the Armory)?

Yesterday: LRC How The Millrose Games As We Knew Them Died On October 2, 2009, steps were put into place to give the Armory the rights to the Millrose name. Considering the mission of the Armory and the declining attendance, it was only a matter of time before the meet moved.
LRC Boys: Cheserek Outkicks Futsum For The Win This race lived up to its hype as the top 2 African-born stars went mano-a-mano until the final 100m. After a cat-and-mouse 9:50 opening 2 miles, their last 1.1 was run at a pretty quick pace (4:31 mile pace), but the winning time of 14:51.5 wasn't close to Reina's 14:36 CR.

LRC Girls: Molly Seidel Turns Back Tough Challenge From Erin Finn Seidel was the favorite, undefeated in 2011, but Finn was the top returner and Finn made it super-interesting as she opened up a big lead and even managed to regain the lead once Seidel caught her.

Recommended Read: Dyestat Recap: Cheserek, Zeinasellassie Forge Bond In San Diego

More Coverage: *Newark Star-Ledger Recap Note the paper incorrectly reports their last 800 as being a 1:54. No chance.
*San Diego Tribune Recap Cheserek says he just wanted win - might go for Reuben Reina's record next year.

MB: *Where would Cheserek have placed at NCAA XC? *Cheserek and Futsum's last 800 meters - 1:54? *Poll: How old are Cheserek and Futsum? *Will an American male ever win Foot Locker again? *Another FL Finalist Staying Home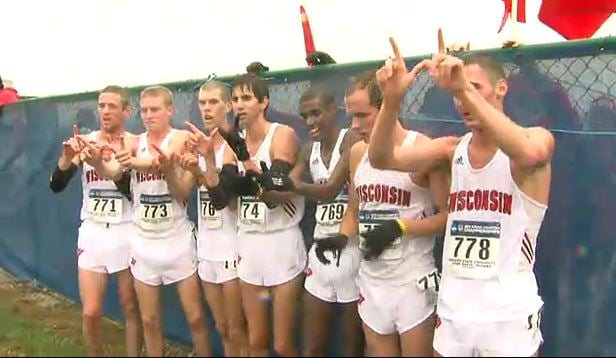 Men: LRC Wisconsin Badgers Take Control Early As Lawi Lalang Dominates Lawi Lalang waited until 5k before deciding it was time to crush the competition once and for all, while #1 Wisconsin showed no fear and put a stranglehold on the competition from the very beginning and held off a belated charge from Oklahoma State and a surprising Colorado team as the Cowboys tried to three-peat. American Chris Derrick took home individual runner-up honors to cap a brilliant career in style. *Discuss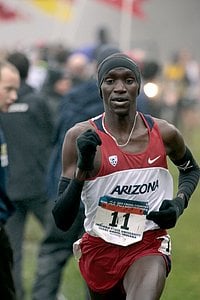 More: Wisco #1: *Give 'em five: Badgers lay claim to program's fifth national title *Krause earns redemption as Badgers storm to fifth national title host.madison.com
OSU #2: *Dave Smith Calls Loss "Disappointing" - But Expected www.okstate.com
Colorado #3: *Wetmore Calls Medina Most Improved Runner In Country www.denverpost.com *CU Coach Mark Wetmore Pleased With Buffs 3rd-Place Run
Individual: Coach Li - I Think Lalang Would Have Got Course Record If He Was Pushed www.arizonawildcats.com
Week That Was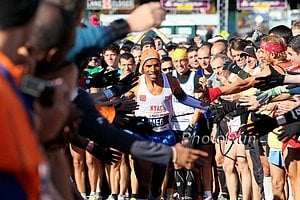 LRC Geoffrey Mutai Amazes Again, Adam Goucher Retires, & Lukas Verzbicas Calls It Quits We go behind the scenes to take a look at the last two weeks in the running world, which included the NYC Marathon, Adam Goucher's retirement, and Lukas Verzbicas leaving Oregon mid-season. Plus we take a look at the Phil Hersh-Ryan Hall spat and compare Hall to Tim Tebow.
Millrose And Other Upcoming Indoor Action
Benedict Arnold II
MSU's Patrick Casey Transfers To Oklahoma You'd think a state school from a state like Oklahoma would want home-town heroes to stay at home. Instead they raid sub-4 miler Riley Masters from Maine and now Casey from Montana State. This comes after Trevor Dunbar went to Oregon from Portland. Coaches, grow a backbone and don't release them. Part of your job is to educate and teaching people that it's ok to be 100% self-centered is wrong. *Discuss
LRC Jan 10-12: The Puma Faas Team Answers Your Questions On The MBoard In part of Puma's effort to show its new Faas line is made for the LetsRun.com audience, Puma's Faas designers and product managers are braving the LRC messageboard and answering questions from the LRC audience on Tuesday-Thursday. So if you've got a question or comment about the Faas line, Puma, or running shoes in general, let's hear it.
*Meet The Puma Faas Team Learn about the people that are chatting with you on the mboard.
Earlier: The Puma Faas Team Starts To Answer Your Questions
ESPN Q&A: Lolo Jones On Her Magazine Cover Pic *MB: Lolo Jones - Cover of this months Outside Magazine
Olympic News
The Week That Was
LRC The Week That Was In Running: January 2-8, 2012 In this week's weekly recap, we praise the Japanese collegiate system, wonder if Alan Webb and/or Kenenisa Bekele are done, talk about the $347 marathon and talk about the dream job that lets you charge $200 an hour while running the Boston marathon.
More Results From The Weekend
Woman's More-Than-33-Year Running Streak Ends With A Slip "She had run at least a mile a day, every day, since July 5, 1978, through sickness and health, blizzards and blistering heat, at home and abroad." But after 12,212 straight days of running, she fell and broke her ankle and the streak has ended.
It's Official: ING New York City Marathon Returns To Live National TV In 2012 As Part Of Five-Year Deal With ESPN/WABC-TV The release is even better than anticipated, as in addition to being on live on ESPN2 (and online if you have the right cable company), the race will also have a two-hour highlight show later in the day on ABC. Live national TV on a channel people get in your home country should be a requirement for being a World Marathon Major.
Post-Edinburgh News
USTFCCCA's Weekend Collegiate Results Links
International News
Asbel Kiprop Makes A Statement As Kenenisa Bekele Finishes A Distant 11th At BUPA Great Edinburgh Cross-Country Kiprop, the Olympic 1,500 champion, cruised to victory over the 2008 Olympic steeple, 5k and 10k champs, and showed he's intent on being the first since Seb Coe to defend an Olympic 1,500 title. European XC champ Fionnuala Britton won the women's title.
*IAAF Recap: Kiprop Totally Dominant On Last Lap
*Bekele Suffers But Seems Unfazed How bad was Bekele? Well, 5 Brits beat him, including one who was doubling back from the 8k, but Bekele was confident afterwards: "I'm not serious for this race. At this time of the year I don't want to be in very good shape. It is too early. It is a long time to the Olympics. I want to build up slowly."
*Bekele: "I lack fitness." "I was not confident before the race. But it's a long time until the Olympics and it is too early to be in better shape."
*11 Years Since Bekele Finsihed Outside Top 10 Of Any Race
*US Men Struggle In 8k Team Competition, But Bobby Mack Finishes 2nd And Beats European XC Champ
*Neely Spence Takes 4th Place In Her First Pro Race; Bobby Mack & Jon Grey Go 2-4 In Men's Race
*American Dominates Jr. Boys Race Oklahoma State's Kirubel Erassa, who ran 14:19 in HS, won easily.
*MB: Alan Webb running better than Bekele *Jr. Race In Edinburgh - (America?)/OSU Guy Dominates!!!
Other Results From Saturday
Michael Johnson Speaks Out Against "Plastic Brits" "It's hard to believe it when athletes who have tried to represent their country and couldn't make that team turn round and claim that all along they wanted to represent Great Britain."
Kenenisa Bekele Says He's Not Afraid Of Mo Farah And Wants To Be The First To Win 3 Olympic 10k Titles He says he's not sure if he will also double with the 5k. And a note that you can never trust the media, as this article makes it sound like he's not sure if he'll race the Olympics at all.
International Results/Preview
Asafa Powell Says If He Can Stay Healthy He Thinks He Can Beat Usain Bolt "Over the years, before everyone came on, I was the only one out there running very fast. I got quite comfortable, and it became a habit for me to slow down before I get to the finish line. I need to just power through."
LRC Support The Sport Of Cross-Country And The Bay Area Track Club - Run In 2nd Annual Bay Area Cross Challenge On January 15th 3:54 miler David Torrence is involved in the event and has offered LRC visitors the opportunity to save $15 by typing in "resolution" to the checkout box.
Great Marathon News
Sprint/Jump News
Simon Bairu Running For Olympic Berth And Boys & Girls Clubs Thanks To CharityBets.org (Sponsored)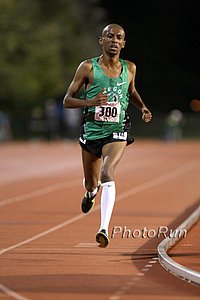 Will Simon Bairu Make The Canadian Olympic Team? 2-time NCAA XC champ and Wicso star Simon Bairu needs to run sub-2:11 at next weekend's Chevron Houston Marathon to make the Canadian Olympic Team. Can he do it? Wager on Simon at CharityBets.org. The Regina, Canada native is benefiting his hometown Boys & Girls Club and needs a sub-2:11 marathon for his charity to collect all money wagered. CharityBets creates a charitable result for any running event. How fast will Simon go? More on the 7-time Canadian National Champion here.
*Article: Simon Bairu - Chasing The Olympic Standard (And Raising Money For Charity Too) *MB: Discuss
The Weeks That Were
LRC Tirunesh Dibaba Returns, Dunbar Follows In His Dad's Footsteps & Meb Tries To Make The Olympic Team On 41 Days Of Running In case you've been (like us) more focused on the Holidays than keeping on top of the limited action in the world of running over the last two weeks, we are here for you. From the return of Tirunesh Dibaba to Meb trying to make the Olympic team off of 41 days of running to some high-profile transfers, we've got you covered.
LetsRun.com Puma Marathon Trials Prediction Contest
LRC Puma Marathon Trials Prediction Contest The Trials in Houston are less than two weeks away and we're back with our world famous prediction contest. Shalane or Desi? What about Deena or Kara? Ryan or Meb? What will Dathan and/or Galen do? Pick the top 10 in the men's and women's races perfectly and you could win $250,000. Come out on top of the other LRC faithful and you could win some great Puma prizes as they celebrate the Feb. 1 launch of the first motional control shoe the in the Faas line, the Faas 800.
NCAA News: Neely Spence Goes Pro
Week That Was
LRC Centro Goes Pro (Should German Have Too?), Kawauchi, NXN, And How Soft Are The Women's Olympic Marathon Trials Standards? We cover the big stories in the world of running in the last week, the ones above, plus the USATF convention and we take a look at the amazing depth of the Fukuoka marathon, where you can't compete unless you can run under 2:42.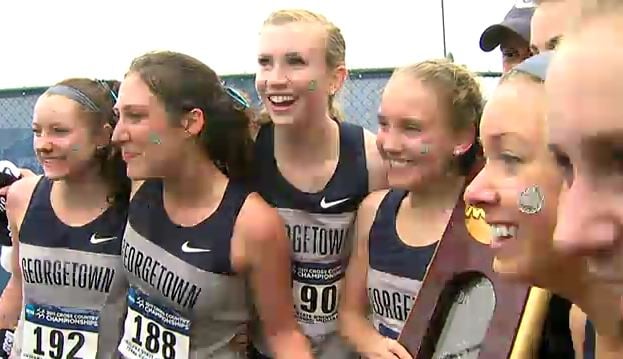 Women: LRC Georgetown, Reid Win Tight Battles Six women kicked for home over the last 400m of the race but in the end it turned into the duel many expected and Sheila Reid of Villanova got the narrow win over Jordan Hasay. The big surprise was in the team's race, where the Georgetown women, who were only third at Big East, won by eight over Washington as #1 Florida State faltered and finished 4th. *Discuss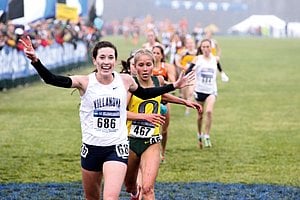 More: *Georgetown Gets Its First National CC Title GUHoyas.com
*Washington Comes Up 8 Points Short GoHuskies.com
*#1 FSU Finishes 4th & Coach Karen Harvey Pulls No Punches "I felt like I was watching a nightmare. I really thought there was no way this is happening." www.seminoles.com
*Wetmore Says 11th-Placed Colorado Women Purposely Peaked For PAC-12s, Not NCAAs www.denverpost.com
*The FSU Women Finished Fourth And The Men 12th At NCAA Cross-Country Championships www.seminoles.com
*Lananna Says Hasay's Runner-Up Finish Was A Big Step Forward As She Didn't Get Antsy & Kick Too Early www.oregonlive.com
He Will Be Missed Adam Goucher Retires Goucher is having knee surgery on Friday and says his competitive racing career is over. We've always said that one way to judge whether a runner's career was a good one or not is simple: Were They Good Enough That They Could Retire Or Just Quit?
Goucher certainly is retiring, as he had an INCREDIBLE career - Foot Locker champ, NCAA champ indoors, NCAA champ outdoors and NCAA champ in XC, USA champ in XC and track and an Olympian. Goucher is a runner at heart and we wouldn't rule out seeing him in the 2016 Marathon Trials.
*MB: Adam Goucher retires
LRC 2:05:06!!! Geoffrey Mutai Caps Year In Style An unbelievable year in men's marathoning had an appropriate finish, as the Kenyan man who had the most unbelievable of all years, Geoffrey Mutai, smashed the previous NYC Marathon record by a stunning 2:38 - that's two minutes and 38 seconds. If it wasn't the greatest 2nd-greatest men's marathon performance ever, you'll have to tell us what was. American Meb Keflezighi hung with the leaders for 20 miles after a blistering 63:16 1st half and ended up with a much-deserved PR. Mutai picked up $200,000 by winning, but the big financial winner was runner-up Emmanuel Mutai, who won $635,000 ($500,000 for the WMM title).


LRC Mary Keitany Beats Herself The women's race was full of gut-wrenching drama, as Mary Keitany went out in a crazy 67:56. The problem was she came back in 74:42, as unheralded Firehiwot Dado (Rome Marathon champ) got the win.

LRC Post-Race Interviews: Meb And His Coach Bob Larsen Talks About His PR Despite Throwing Up Plus the winners - Geoffrey Mutai, Firehiwot Dado, men's and women's top 3, Ed Moran, Molly Pritz, Lauren Fleshman and Bobby Curtis.
Alan Webb: "I had to start somewhere."
Other News
*UK's Jenny Meadows Shooting For A Gold Medal At World Indoor Champs She'll also compete at the Aviva Indoor UK Trials and Champs on February 11th.
*"Is Usain Bolt History's Greatest Track Athlete?"
Trailer For "ITEN - The Town Of RED Dust"
Got A Question For Puma? Now's Your Chance To Ask It
Got A Question On Running Shoes? Puma Wants To Hear It In part of Puma's effort to show its new Faas line is made for the LetsRun.com audience, Puma is making its designers and product managers of its new Faas line available for three days to the LetsRun.com audience starting January 10. They'll respond to your questions and educate you about the Faas line. They want to hear your questions now, however, so they'll know what you are most interested in in advance. So if you've got a question or comment about the Faas line, Puma, or running shoes in general, now is the time to ask it. Click here to submit your question.
Olympic Marathon Trials Less Than a Week Away...This Should Get You Pumped Up
Week In Review
LRC Tirunesh Dibaba Returns, Dunbar Follows In His Dad's Footsteps & Meb Tries To Make The Olympic Team On 41 Days Of Running In case you've been (like us) more focused on the Holidays than keeping on top of the limited action in the world of running over the last two weeks, we are here for you. From the return of Tirunesh Dibaba to Meb trying to make the Olympic team off of 41 days of running to some high-profile transfers, we've got you covered.
DIII Represent (If You've Got A Darkhorse Runner You Want People To Know About For The Trials, Email Us)
Yearly Vote (Note: TMFKAMG = The Meet Formerly Known As Millrose Games)