LetsRun.com Rojo's Tour of China, Part 2 - The Great Wall Not too much about athletics in this one, except Rojo was too exhausted to make it to the top of the Great Wall and he did meet Leo Manzano's dad's employers. Rojo talks about the smog, the taxis being bugged, getting some digits, and getting only the money stolen from his wallet. Plus he's embarrassed about the American cyclists who showed up wearing black smog masks.
LetsRun.com Rojo's Tour of China, Part 1 - Hanging Out With Usain Bolt
Rojo went to the Puma Party put on for Usain Bolt. Open bar, Chinese dancers putting on their best sorority girl imitations, and then Rojo going 1-on-1 with Bolt. Rojo actually asked Usain about moving up to the 800m. Bolt hinted the Jamaicans want him to run the 4 x 400m. More importantly, Bolt apologized for visiting Facebook instead of LetsRun.com.
Thanou Refuses IOC Request to Appear for Herself at Hearing on Whether She Can Compete at Olympics
Distance News from Wednesday: *Alberto Salazar Pleased With His Group's Training In Houston
*Josh McAdams New Balance Commercial That Aired During SportsCenter
*Hazel Clark Blogs That Lindsey Anderson Had a Good Time Trial
*Tasmyn Lewis Says She Knows She'll Be Racing Cheats in Beijing, Steve Moneghetti Calls Her Out for Making Excuse Before Games
*Everyone needs to go out and buy the New Yorker and read the Ryan Hall profile. We've received 4 emails recommending it and it was written by a former Princeton XC captain.
Sprint News from Wednesday:*Marion Jones Will Be Able to Watch Olympics From Prison TV
*Horror Season Has Left Australia's John Steffensen Only Running the 4 x 400m
*British 400m Star Tim Benjamin Turns Focus to 2012
*Shawn Crawford Might Be Back
Hispanics Lagging Behind Blacks in Terms of US Olympic Representation
More Mainstream Usain Bolt News: Bolt Addresses The Media in Beijing and They Tell Him He'll be Doubling Times of London Usain said there was an 80% chance he would double. The media then told him his coach had said on Sunday that Bolt was doubling.
*Usain Bolt Says Its 80% He'll Double in Beijing
*Usain Bolt Has His Media Day in Beijing Telegraph.co.uk
Walter Dix is Doubling vs. Bolt Anything Dix does will be a surprise to anyone outside of the NCAA crowd. He could surprise big time.
*Walter Dix Sounds Like a Distance Runner, Says the Strongest Guy Wins Not the Fastest
More Olympic Sprint News: *Olympic 400m Hurdle Champ Felix Sanchez Says He'll Wait Until August 15th to Decide Whether to Defend His Title Sanchez has been injured all year.
*Nicola Sanders Was Only .04 Away from Gold Last Year at Worlds in 400m, But Britain Has Forgotten Times of London
*Craig Pickering Confident Britain Can Do Well in 4 x 100m Relay
*Kim Gevaert to Retire at End of Season So She Can Have Kids IAAF
*Jackie Joyner-Kersee Tabs Kelly Sotherton for Gold in Beijing in Heptathlon
SI Catches Up With Frank Shorter Frank talks about drugs and how youngsters are obsessed to talk to him about Pre.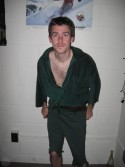 LetsRun.com Olympic Trials Prediction Contest Recap
The world-famous letsrun.com prediction contest for the Olympic Trials was a huge success. Football players, shot putters, DIII All-Americans and wives out to upstage their husbands did very well in our contest. We give you the run-down (and in case you're wondering., that guy on the left is on the home page today because the winner of the contest was given control of the home page for a day).
*Message board thread on front page photo
Our Blowout Beijing Prediction Contest Will Be Up Tomorrow
Three Russian Race Walkers Test Positive for EP 1was favored for gold. The tests were in April but for some reason are just being announced.
Too Bad NBC's Coverage Has Regressed and Won't Show Track Live on the Internet (or TV) Aaron Ross, Sanya Richards' Boyfriend, Intends to Watch Her 400m Heats on the Internet Someone needs to tell the NFL player, Ross, that contrary to NBC's announcement of "record coverage" of the Olympics, it will be anything but record in our book. Way back when, in 1992, prior to the internet, it was possible to watch every track and field event in the Olympics live on television (on pay per view). Somehow NBC execs with all their consultants in the day of NFL Sunday Ticket, MLB Extra Innings, and MLS Super Pass, have forgotten the most fervent Olympic supporters, the people who consider the Olympics a sporting event worth watching live (and would pay big bucks to do so). Instead we're all supposed to exist in a 12- to 15-hour time warp.
Olympic Track News from the AP Wallace Spearmon talks about Usain Bolt and the men's 100m, bookmakers odds on the 100m, plus some of the US team goes to the mall in China (McDonald's and Starbucks of course), plus news Jeremy Wariner is skipping the training camp for the opening ceremonies (good decision in our book) and a Tyson Gay watch (Gay hasn't raced since the Olympic Trials and still isn't in the camp).
Please Don't Tell Us You're Surprised (unless you're surprised they actually got caught)
Huge Doping Scandal in Russia: 6 Athletes, Including 1:54.85 800m world leader Soboleva and 2-Time 1,500m Champ Tomashova, Are Suspended This is big, big news. The 6 suspended include Yelena Soboleva, who had dominated the mid-d ranks in 2008 with 1:54.85 and 3:57.71 world leaders (the 3:57.71 was also a world indoor record) and double (2003 and 2005) 1,500m World Champ Tatyana Tomashova. Also suspended are Yuliya Fomenko (3:59.41 for 2nd at World Indoors this year, 2nd at the Russian Olympic Trials), European discus champ Darya Pishchalnikova, former world record holder in the hammer Gulfiya Khanafeyeva and distance runner Svetlana Cherkasova. The 6 suspended did not test positive for any substance, but the IAAF, by running DNA analysis on their samples, realized they were submitting fake samples for out of competition tests (which leads to involvement of some co-conspirators in the process). This shows the IAAF program to target suspected cheats (based on profiling samples) is making some progress, although it also shows the anti-doping authorities still cannot actually detect the drugs the cheats are taking.
*Message Board Thread
Latest: AP Article on Doping Scandal
*Russian Suspensions Are Good News for Shannon Rowbury She's #2 in the world heading into Beijing.
*Russian Positives Lead Many to Wonder If There was a Systematic Doping System in Place for Some in Russia New York Times
*Anti-Doping Authorities Became Suspicious of Russians Because Everything was Too Perfect Times of London
On the boards: Is Borzakovskiy Clean?
*DNA Convergance, how exact is it?

DN Galan LRC Recap Defar 14:12.88, Robles 12.91, Asafa Powell 9.88 over Bolt's 9.89, Kaki 2:13.93 1,000m WJR, Richards Crushes Felix at 400, Craig Mottram is Back
It was a great meet. The women's 5k record seemed out of reach until Defar threw down a 60.37 last lap to give the record a scare. Craig Mottram ran 54.59 for his final lap to crush the field in the men's 5k. (Watch on Demand at WCSN)
*Results
*Video Highlights
*Heptathlon Star Kluft Looking to Focus on Long Jump Only
*Scottish Paper Refers to Bolt as "Blunder Bolt" After Defeat by Powell

Friday: Golden League Paris *Results
LRC Recap Shannon Rowbury 4:00.33 to Finish 2nd, Dayron Robles 12.88, Wariner Crushes Merritt, Jelimo and Vlasic Stay Perfect The meet was a great one, but that's what you should expect with the Golden League. Dayron Robles gave the world record a scare, Jeremy Wariner ran his 4th fastest time ever, Pamela Jelimo dominated again but may have some trouble with the Russians. American Shannon Rowbury showed she's still a force to be reckoned with as she ran a very impressive 4:00.33. Alan Webb did not toe the line to defend his 2007 Paris title.
*Message board thread on Rowbury
Great Profile on Walter Dix: "If anyone thinks he runs a race just to run a race, he's got another think coming. He's going to run a race to win the race. I don't care how big or how small it is." - Walter Dix's dad. The article is full of interesting info. Walter cried after he lost his first race; he long jumped 23' 10" at age 14.
Rome Golden League: *Photos
*Yelena Isinbayeva Is Pumped And Excited After New PV World Record The reigning Olympic champ said "anger" at talk that Jenn Stuczynski might be the favorite fueled her to the record.
LRC Recap: Wariner over Merritt, Jelimo Dominates 800, Asbel Kiprop in 1,500, Sihine and Dibaba in 5k, Isinbayeva World Record
*Results Merritt walked down Wariner in the final 100m and appeared to have him at the line but he leaned too soon, giving Wariner the victory by the slimmest of margins. Canada's Nate Brannen ran 3:34.6 to get the Olympic qualifier in the 1,500.
*Asafa Powell Suffers Groin Problem and Pulls Out of Final The Jamaican had the lead in his heat but then pulled up and didn't run the final.
*IAAF Recap of Rome Golden Gala: Yelena Isinbayeva Sets World Record
*AP Recap of Golden Gala - Portugal's Francis Obikwelu Wins 100m In 10.04 He was 2nd in 2004 to Gatlin.
Pre-Meet News
*IAAF Preview Merritt vs. Wariner is the highlight but it should be a great meet.
*Golden League Betting Wariner Favored over Merritt


LRC: Recap of Final Day of Olympic Trials: Lagat Cruises, Rowbury Dominates, Alan Webb Treniere Clement Left Off Beijing Team In both the men's and women's 1,500s, those having the best 2008 seasons made it to Beijing as the 3-time US champions Alan Webb and Treniere Clement picked a horrible time to have bad years. The US men's 1,500 team is all foreign-born, with Bernard Lagat, Lopez Lomong and Leo Manzano. We recap all of the action on the final day of a fantastic 2008 Trials.
*LRC Sunday Photos
On the boards: Webb: How Did It All Go So Wrong?
Rowbury Dominates Women's 1,500
More on Men's 1,500: Steve Sherer on Webb: "Going from world leader to not making the team, that's sad."
*Bernard Lagat Talks About Alan Webb Finishing Fifth
*Update: Tyson Gay Has Mild Leg Strain, Will Miss 2 Weeks The big news in the prelims was Tyson Gay falling over in his 200m quarter and 3-time World Champ and Olympic champ Allen Johnson stopping in the hurdle quarters.
*Video of Gay Falling
*Time Catches Up with Allen Johnson (Video and article)
*Tyson Gay's Family Says He'll Run In Beijing
Shocker:Current CU Star Billy Nelson Makes It, Former Buff Steve Slattery Comes Up Short Nelson peaked when it mattered most as he set his 2nd straight PR and got the Olympic A standard.
*Anthony Famiglietti Has Mixed Emotions on Beijing The guy loves the city but also feels for Tibet.
*A Look Back At How Lindsey Gallo and Morgan Uceny Did In Semis
*ESPN.com: Race Walk Gets No Respect
*1996 Olympic Champion Allen Johnson Bows Out of Hurdles He's been battling injury and says he hopes to be back next year.
A Look Back At Men's 10k.
*Rupp Rises To The Occasion.
*Column: Don't Get Carried Away About Rupp's Run This positive article on Rupp points out the allusions to Prefontaine are too much.
*Sports Illustrated Looks at Rupp's 2nd Place Run
*LA Times looks at Torres Twins' Quest For Olympics

Thursday: LRC Anna Willard Sets American Record, LaShawn Merritt over Jeremy Wariner Willard was super-impressive in the steeplechase as she got the American record before the appreciative crowd. Merritt defeated Wariner for the 2nd straight time (after getting some advice from Alan Webb) and then Wariner didn't go on the Olympians lap and skipped the post-race press conference, although he did come back to address the press and we have a video with him. The other distance action on Thursday was the men's and women's Round 1 of the 1,500s and Round 1 of the men's steeple, which we recap below:

LRC Round 1 of 1,500, Men's Steeple: Webb Returns and Impresses, Lomong Points His Finger, High Schoolers Advance (link fixed) We've got it all covered, from the return of Alan Webb to fine form to two high school girls advancing to round 2 to Said Ahmed talking about his new training group with 800 sensation Kaki to Steve Slattery talking about his new training group. Text, photos and video.
*Anna Willard Wins Olympic Trials With New American Record Willard: "It's amazing. I can't even comprehend it. Especially four years ago, thinking about where I was. I sucked four years ago. So to see how far I've come, it feels really, really good." Willard isn't lying when she says she sucked 4 years ago. 3 years ago her steeple PR was 10:35. Now it's 9:27.
*Wariner Loses Again As Clyde Hart Coaches Richards To Women's 400 Title Dumping his coach wasn't too smart, was it?
*7-Year Itch? New York Times Looks at Alan Webb 7 Years After He Crushed HS Mile Record
*ESPN Columnist: "Why did we have to wait so long for the trials to return to Pre Country?" We agree but are worried they are going to oversaturate Eugene with track. In our minds, they ought to have the Trials here every 4 years and NCAAs in one of the middle two years, so there is a championship meet in Eugene every two years.
*Great Read: Sports Illustrated's Tim Layden Reflects On 1st Half Of Trials And Looks Ahead To The Men's 1,500
*Controversy Erupts In Eugene As Adam Goucher is Let Into Field For 10k Field With 32nd Best Qualifying Time While Runners 25-31 Are Left Out USATF doesn't seem to have a clear policy in place. And the USOC seems to be concerned about a lack of due process for the athletes. We wonder if ultimately the USOC will look at the no-bid awarding of the 2012 Trials as well.
*SF Chronicle Looks Back at 1st Half of Trials
*NY Sun Looks At 2nd Half of Trials Rips NBC's Coverage of Trials
1,500s Start Thursday
*Chris Lukezic Hoping to Avoid 4th Place Again The former Georgetown runner was 4th in 2004 as a 20-year-old. He also was 4th in 2006 and 2007 but amazingly at only age 24 isn't viewed as being the future of the sport as he wasn't even invited to the USATF press conference for the event. He hopes to changes those sentiments this year. Lukezic: "I couldn't have asked for better training. I've had no hiccups."
*Nice Profile Of Bernard Lagat in Boston Globe
*Alan Webb Profile in NY Times
*Jordan Hasay Added to 1,500 Field


More on Men's 800: *Video of Men's 800 Final
*Men's 800 Sweep was Validation of Bringing Trials, Lananna to Oregon Registerguard.com
*Oregon Goes 1-2-3 in 800 Registerguard.com

Alan Webb, Bernard Lagat, Lopez Lomong Press Conference Result
*Jenn Stuczynski Hoping for World Record at Trials USA Today
*Doping Has Taken Away Belief of Amazing Performances
*Olympic Coach Bubba Thornton Throws Down Gauntlet To Usain Bolt
*Meet Earning High Marks At Halfway Point
*Bryan Clay Just Misses Dan O'Brien's American Record in the Decathlon
*5k Victory a "Walk in the Park" For Lagat USA Today
*High Schooler Jordan Hasay on the Bubble for the 1,500

Trials Photos: *Monday (800s, 5k men)
*Sunday (Men's 100)
*Saturday (Bunch of Prelims Women's 100)
*Friday (Womens' 10k)

Upcoming at the Trials: *PCS at Villard Street Pub Tons of stuff and a free coaching clinic Saturday.
*Running Film Festival Thursday through Saturday.
*Daily Eugene Running Co. Events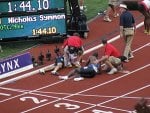 Monday: Men's 800 - Nick Symmonds Leads Eugene Sweep
The men's 800 more than delivered on its pre-race hype as the Eugene crew came through big time. Nick Symmonds got out of a box with 160 to go and catapulted to a 1:44.10 dominating PR victory. Wonder boy Andrew Wheating charged late for 2nd, and Christian Smith (the 29th seed out of 30 coming into the meet) outleaned three-time defending US champ Khadevis Robinson for the third Olympic spot.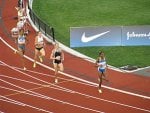 Women's 800: Hazel Clark Goes Wire to Wire as Everyone Staggers Home USATF put 12 people in the final and as a result it went out in 56.8 (we had the split wrong earlier) seconds. The final 200 wasn't pretty but Hazel Clark held on for the win to make her third Olympic team, Alice Schmidt was second to make her first, and Kameisha Bennett was third. Bennett, however, was not under the Olympic qualifying time of 2:00.00 and as a result, Nicole Teter made her second Olympic team.
*More Monday LRC Recap: Women's 5k and Steeple Semis, Mens and Women's 400 Semis
*Jenn Stuczynski Profile In USA Today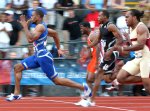 Sunday:LRC Sprint Recap: Tyson Gay 9.68, Bershawn Jackson Storms Back, World Leader LaShinda Demus Comes up Short Gay ran the fastest 100m ever under any conditions (although the wind was 4.1 mps) as Walter Dix showed he's the real deal and Darvis Patton continued his fine 2008. World leader Lashinda Demus failed to make the team in the 400m hurdles. Queen Harrison and Tiffany Ross-Williams both made the team over Demus with their fathers in prison.
*Race Videos from Sunday
LRC Sunday Field Event Recap Olympic Champ Dwight Phillips Comes Up Short, Jeff Hartwig Makes Team at 40, Momma Power in the Discus Defending Olympic champ Dwight Phillips didn't make the team in the long jump. 40 year old Jeff Hartwig made the team in the pole vault and the US is only sending two to Beijing in the triple jump.
*Race Videos from Sunday


Day 2: LRC Tyson Gay 9.77, Muna Lee 10.85 Maybe the greatest US day of 100m sprinting ever as six men went sub 10.00 in the QUARTERFINALS of the men's 100, not to mention Gay's 9.77 in his new beautiful adidas uniform and Jeff Demps blistering a 10.01 high school record. Muna Lee won the fast women's 100, Reese Hoffa got the shot, and the Olympic spots in the women's heptathlon came down to the wire.
*Muna Lee Overcomes Car Accident, Wins 100m Up until May 31st, she'd never broken 11.00 for 100m.
*Great Article on Tyson Gay Aiming High
*IAAF Recap of Day 2 Gay amost cried after barely advancing in round 1o f 100m. He more than made up for it in round 2.
*Hyleas Fountain Produces World-Leading 6667 To Win Heptathlon
*ESPN: Will We Ever Be Able To Enjoy Track?
*Ex-Drug Cheat Torri Edwards Moves Closer To Olympics By Finishing 2nd


OlympianDay 1 Women's 10k: Flanagan, over Goucher but Amy Yoder-Begley Steals the Show Shalane Flanagan outkicked Kara Goucher for the 10k win, but the story of the night was Amy Yoder-Begley running one of the gutsiest races ever at storied Hayward Field to make the US Olympic Team. Yoder-Begley squeaked under the Olympic A standard by 1.6 seconds after running 10 seconds off her 5k PR the second half of the 10k in the hot Eugene conditions.
Recommended Read:16-Yr-Old Laura Roesler Gets Much Deserved Praise In NY Times The 3-time winner of 100, 200 and 400 at the ND state meet advanced to the 800 semis with a 2:03.
*Katie McGregor Agonizingly Finishes 4th For 2nd Straight Trials
*Dick Patrick's 10k Recap For USA Today
*Blood Testing Occuring at Track Trials

Awesome Read: Tyson Gay Profile In LA Times Philip Hersh wrote an excellent profile on America's sprint sensation Tyson Gay. Read about the man who is pleased to be the underdog in the 100m and who used to take two bags to Europe - one bag of clothes and one of junk food.
Previous:
Recommended Read: HS Stars Beware: A Profile Of One Of The Stars of the 1984 1988 Trials - Roy Martin The guy was a stud HS sprinter (10.18, 20.13) who absolutely killed Michael Johnson on a weekly basis. Pro stardom eluded him. 20 years after his Olympic performance, the Dallas paper catches up with him. This guy was a legend in our hometown. Great read.
*1968 US Olympic Team Greatest Ever?
*Sacramento Paper Looks at Trials Returning to Eugene
*Eugene Is Spending $6.5 Million - St. Kitts Nevis Is Spending $45,000 On Their Trials
*World Champ Lauryn Williams Profile
*USATF OT Distance Preview from Norwich, CT This preview is full of inaccuracies but it's good to see the Trials getting publicity in small papers.
*Plenty of Activities in Eugene During OT's
Again, Who Are The Idiots That Schedule USA Jrs and NON For The Same Weekend???
USA Jrs. *Schedule/Results
*8:34.40!!!! German Fernandez Breaks Jeff Nelson's 2 Mile Record *Results 64.2, 2:10, 3:14.9, 4:19.4, 63.9, 64.7, 63.3, 62.9
*Message board thread
*Nice Recap from Dyestat Fernandez played basketball Friday afternoon before breaking the record.
*Videos of Race
On the boards: How long till Fernandez record goes down?
*Photos
*Neely Spence Won Girl's 2 Mile at NON
LetsRun.com London Men: Lel Leads 3 Under 2:05:30!!!, Ryan Hall 2:06:17
Ryan Hall Goes Through Halfway on World Record Pace
The 2008 Flora London Marathon will be remembered for a long time. The lead pack of 9 went through 5k at 14:21 (2:01 pace). They continued together (yes, all 9) through halfway on world record pace (1:02:13). Ryan Hall then went to the front soon after and asked the pacemakers to go FASTER. Soon Hall was off the back, but he would catch the leaders briefly again and go on to run 2:06:17. Until Sunday, only 7 guys had ever run under 2:06:15, now 11 have. Up front, it came down to a 3-man battle over the final mile before Martin Lel got his 3rd straight World Marathon Major win over the final quarter mile as he led 6 guys under 2:07 and to $50,000 bonuses each. Recap, photos, video above
This Guy Has Totally Won Back Our Respect
Maasai Warriors Finish Marathon link fixed One of them went back to the course and finished the race a day after being forced to go the hospital after a ceremonial wrap cut off his circulation. He said, "It was very important for me to do this. This is what I came to England for."
LetsRun.com Ryan Hall Reflects On His Incredible Run We tell you (and let you watch) what Ryan, his dad, his granddad, his coach and even Martin Lel had to say about Ryan. Lel was full of praise for the American and shocked by Ryan's attempt to get the pacemakers to go even faster. If Hall didn't already have your respect, he does after reading this article, as he pays homage to a throwback type of guy - Steve Jones. Text and Video.
LetsRun.com Video: Ryan Hall Talks About His 2:06:17 at the 2008 Flora London Marathon
*More LRC London Videos Here
*Photo Gallery
Paula Update: Paula Radcliffe's Bad Luck Continues: Typhoon Prevents Her From Training Outside The typhoon is pretty serious and could impact the opening ceremonies. The good news for Paula is she was spotted running outside the day before.
*Paula Radcliffe Spotted Running Outdoors on Macau Golf Course (Photo)
*Typhoon May Cancel Opening Ceremonies Times of London
Lopez Lomong Restores Faith in Olympics By Being Made US Flag Bearer LA Tmes

LRC Exclusive Our World Famous $1,000,000 Prediction Contest Is Back & Better Than Ever Our 2008 edition of the contest is our best ever as it's up more than a week before the start of the track events at the Olympics and we have prizes 10 deep. Plus a $1 million perfect ballot bonus as well as a more realistic $20,800 perfect distance ballot bonus. Enter now and help spread the word. The men's long jump is now part of the contest (it was missing for the first few hours).
USATF CEO Doug Logan Blogs About Being an Outsider to the Sport "I saw track as the general public saw it, not as 'track insiders' saw it. The insider/outsider viewpoints about where the sport is and what it needs can be vastly different. I feel the outsider angle is the one we most need." We agree. Plus he talks about a 9-year-old asking whether drugs would make him stronger.
Living the American Dream Lopez Lomong to Carry the American Flag at Opening Ceremonies We've always liked Lomong's attitude and like the fact he went out and campaigned trying to be made the flag bearer. *Message board thread

Meb, Khannouchi, and Kate O'Neill are Running Falmouth This Weekend Life goes on for those who didn't make the Olympics.
Paula Radcliffe Video Interview with Guardian - She Says Cross Training May Have Helped Her Aerobic Base
More Paula: 2/3 in Online British Poll Think Paula Will Toe the Line in Beijing
Pamela Jelimo and Nicholas Kemboi Depart for Beijing Both are teenagers with bright futures. Kemboi is the more overlooked of the two and was a surprise 3rd at the Kenyan Trials, but he did run 3:33 as a 16-year-old.
*Josh McAdams Will Go to Optometry School After the Olympics Running used to define his life. Now he puts it in its proper perspective.
*Josh McAdams Blog
Ron Mann Got A Lot of the Flagstaff Running Boom Going; Now He's Off to Beijing
Former WADA Head Dick Pound Wants to Cancel International Portion of Olympic Torch Relay
It's Official: Paula is Racing And Her Aim is To Win Radcliffe says she is racing "unless my leg breaks down and I can't run." The GB team and her husband say it has not been decided 100%. Plus Paula reveals she got swelling and fever from a nasty spider bite two weeks ago and had to miss four more days of training.
*Paula Radcliffe Video Interview With BBC BBC
*More on Radcliffe www.telegraph.co.uk
*Steve Cram on Paula and His Decision in 1984 to Run When He Was Not 100% (He Got Silver)
*Paula: "Probably the hardest thing is that I enjoy running, it's what I like doing and being stuck inside on a treadmill or on gym equipment doesn't give you the same enjoyment. But ... it's given me some extra toughness. In the closing stages of New York I was thinking about all the time I spent in the pool training and that's nothing compared to what I've done this time outside of running. I'm racing unless my leg breaks down and I can't run. That's it. That has already been decided." We saw Paula cross train back in 2001 and said at the time she is the most impressive athlete we have ever seen. We're sticking to it. If any athlete in the world could pull off an Olympic gold by cross training, it is Paula.
Marathon: Zhou Chunxiu is China's Best Bet for Gold in the Marathon, But Her Parents Won't Be on Hand to Watch Times of London
US Olympic Distance News: A Look at America's Immigrant 1,500m Team Manzano was born in Mexico, but was illegally smuggled into the US at age 4 (if he had to walk some of this himself, it's incredible), Lomong was fleeing armed rebels in the Sudan at age 6, and Lagat grew up in Kenya with what perhaps was the easiest of the three's early lives.
800m: Nick Symmonds Ready to Go Statesmanjournal.com
Steeple: Lengthy Article on Anna Willard Her mom credits Brown coach Craig Lake for getting Anna serious about the sport her senior year.
Ritz Wants a Medal in Beijing (Grand Rapids Press Article and Video)
Leo Manzano QA Before Beijing Olympics His parents are taking their first flight ever to go watch him in China.
It's Official: Jason Dunn New Stanford Coach
*Message board thread on this (started Tuesday before the announcement Wednesday)
With a Bronze from 2004, Kelly Sotherton Says She Deserves More Press If she wins the gold she'll get it. We still hope Kluft does the Heptathlon with 0 training and sees how it goes.
Good News: Paula Radcliffe Flying to British Training Camp on Sunday
In-Depth Look by Yahoo at Why Jeremy Wariner Dumped Clyde Hart The article presents it as a business decision and perhaps some jealousy of Sanya Richards, who supposedly gets more in endorsements than Wariner. If that's the case maybe Wariner should also cut back on his agent Michael Johnson.
IOC to Store Beijing Urine Samples for 8 Years USA Today
Iraqi Athletes to Be Allowed at Olympics Perhaps this Washington Post editorial pointing out the IOC's inconsistency with Iraq caused the IOC to change course.
Haile G to Run Great Australian Run in November
LRC Recap Heusden Night of Athletics: Jenny Barringer 9:22.73 American Record Win over Willard, Paul Koech 8:00.57 Steeple WL, Gary Reed 800 Win, Morgan Uceny Remains Undefeated in Europe, Kiwi 5k Record for Blincoe, Alan Webb 3:35.86 Barringer and US Champion Anna Willard had another thrilling duel with Barringer winning by .03 as both smashed the US record. In other action, Cornell alum Morgan Uceny remained undefeated in her European campaign as she won the 1,500. In the 5k, Chris Solinsky hung on 13-low pace until falling apart at the end. Kiwi Adrian Blincoe ran 13:10.19 to break Dick Quax's 30+-year-old Kiwi record. Alan Webb ran 3:35.86 for 6th in the 1,500.
*Message board thread on Barringer/Willard
*Race videos in LRC Recap and more at Flotrack
*Heusden Results
New York Times Looks At Jamaica's Amazing Sprint Success The Times article points out that no Jamaican-based sprinter has ever tested positive for steroids. Impressive. The Times also points out that Jamaica doesn't have its own out-of-competition testing (not a surprise, since it's basically a third world country).
Not Only Was Hitler Evil, His Regime Also Supported Cheating In Track
*Amazing story about a man who posed as a woman as part of a plan to win the 'women's' high jump gold in 1936 He finished 4th in the ladies high jump. This pretty much sums up what happened next: "At a train station in Germany, two ladies noticed him in a skirt but with a five o'clock shadow. A doctor was summoned, he lifted the skirt and (his) career was over."
Non-Distance Action from Final Day of Olympic Trials:
Men's 200: Walter Dix Leaves the Meet Atop the US Sprint Ranks
*Pole Vault: Jenn Stuczynski Nearly No-Heights, Goes on to Break American Record in Pole Vault
Women's 200: *Allyson Felix Cruises in 200
*Marshevet Hooker Falls Across Line to Make Team in 200 After Finishing 4th in 100
110 Hurdles: David Payne Makes Olympic Team in Hurdles as Anwar Moore Falls After Clearing the Final Hurdle David Oliver ran 12.95 to defeat Terrence Trammell.
Triple: Aarik Wilson Wins Triple Jump, Sets Hayward Field Record
Javelin: Bobby Smith Wins Javelin But He Doesn't Have "A" Standard So He Won't Be in Beijing
LRC Fam Goes Wire to Wire in Steeplechase
Anthony Famiglietti led from the gun to win the men's steeplechase at the Olympic Trials. Billy Nelson of CU had a huge final lap to get 2nd, the Olympic A time and a ticket to Beijing. Last year's champ Josh McAdams ran a smart race to get third. Interviews with Fam, Olinger, McAdams and Nelson.
More: Anthony Famiglietti Has Mixed Emotions on Beijing NYTimes
LRC Women's 1,500 Preview The men's race is getting all the attention but the women's should be a good one.
Friday: LRC Abdi Goes Nearly Wire to Wire, Outkicks Rupp; Kara Goucher Storms Back to Win 5k It was a great night of action at Hayward Field. We've got event-by-event recaps, photos, and video. In addition to the finals above, high schooler Jordan Hasay made the final of the women's 1,500, breaking the high school 1,500m record. All the favorites made the 1,500 finals, including Lopez Lomong, who told us he's going to win the 1,500m final.
More from Eugene Register Guard:
*Interesting Look at Rupp Hoopla, Don't Get Carried Away in the Mania Abdi stopped Rupp and the comparisons to Pre are unfair.
*Galen Rupp Rises to Occasion in 10k
*Kara Goucher Wins Women's 5k
*Breaux Greer Failed to Qualify in Javelin after Rotator Cuff Surgery
*AJ Kruger Wins Hammer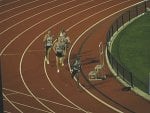 Men's 5k Final: Bernard Lagat Makes It Look Easy
Perhaps we shouldn't be surprised that the double world champ, Lagat, made it look so easy, but he dispatched of the field over the final 200. 4th placer at Worlds last year, Matt Tegenkamp, was 2nd, as 2005 Worlds team member Ian Dobson was third. Bolota Asmerom was 4th and Chris Solinsky, who pushed the pace for 1,100 of the final 1,200m, finished fifth. Adam Goucher stepped off the track with 2 laps to go as the race was not going to hit the Olympic qualifying time of 13:21.50, and he wasn't happy about it afterwards. Solinsky also was left to do all the work after Matt Tegenkamp didn't follow through on the tentative plan to take over the lead with 2 laps to go.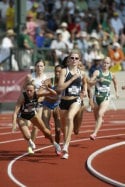 by John NepolitanSaturday: LRC 800 Semis: Chaos in Women's 800, Jacob Hernandez, David Krummenacker Out A fall in semi #1 turned the day's proceedings into a waste of time as an appeal put all 8 runners into the final. Monday's final will be more like a high school race with 12 runners as a result. On the men's side, the Olympic dreams of former World indoor champ David Krummenacker likely came to an end as he now joins the list of great American runners to never make an Olympic team. NCAA champ Jacob Hernandez was eliminated.
*Day 2 Photos
800: Nicole Teter: ""I don't know what a protest would be based on"
More Coverage: SI: Tim Layden of SI on Tyson Gay
*Eugene Register Guard:
Heptathlon: Hyleas Fountain Wins 5 of 7 Events to Set World Leader in Heptathlon
Shot: Hoffa Leads Big 3 in Shot Put to Beijing
Pole Vault: Tommy Skipper Chokes in Pole Vault Qualifying With 3 No-Heights
Bolt Defeats Powell Wins Jamaican Trials The crazy thing is Powell's 9.97 would only be 6th in the US quarters. Bolt ran 9.85.

AgonyLRC Day 1 800/5k Prelims: Men's 5k Semis: Alysia Johnson Out, Khadevis Robinson Struggles Round 1 of the 800 had two shockers as defending women's champ Alysia Johnson didn't advance and defending men's champ Khadevis Robinson only finished 6th in his heat but advanced to the semi on time. The other favorites looked good in both races. Lopez Lomong won his heat , but was disappointed with his time, and said he'll keep running the 800 here until he runs 1:44 even if that means running the final. Galen Rupp likely won't run the 5k final, but that didn't stop him from winning his 5k heat, and fist pumping to the crowd.
*Defending Champ Alysia Johnson Finishes 9th, Taken Off Track in Wheelchair www.sfgate.com
Other News
Unbelievable
New York Times Give Press to Study Showing EPO Test Isn't Effective at Catching Cheats Researchers gave 8 people EPO and then sent off blood samples to WADA-accredited labs. They rarely caught any hint of EPO and some even gave off false positives.
2008 NCAAs D1 Results

NCAA Day 4: LRC Hernandez Edges Wheating, Manzano Wins, Hannah England Runs NCAA Record The Wheating/Hernandez duel more than lived up to its hype. Leo Manzano went out in style, Hannah England ran very fast but she owes a big thank you to Sally Kipyego. A Cornell athlete won the men's triple jump for the 2nd straight year, Walter Dix took the 200, Cory Martin won the shot and the hammer. We recap the action.
*Day 4 Photo Gallery
*AP Recap: Florida State, Walter Dix Three-Peat, LSU Women Win
Interviews: Wheating, Hernandez, Manzano, England, Kipyego, Bowman, Dix, Martin and more.
*4 Guys Go Sub-45 in NCAA 400
ExxonMobile Bislett Games *Bislett Game Results


14:11.15!!!!!! 1:42.69 for Kaki
*Photos
Tirunesh Dibaba's performance was simply amazing. Running in 78-80 degree weather, she smashed the world 5,000m record. She averaged 4:15 each 1,500m and ran her last 1,500 in 4:06-4:07. Jen Rhines ran a 14:54 PR. In other action, in the much-anticipated 800m matchup between teen sensations Abubaker Kaki and David Rudisha, Kaki was simply amazing. He led coming into the homestretch then blew away the field the final 100m, running 1:42.69, the first sub-1:43 clocking in 5 years and a junior world record as Rudisha ran a PR but lost for the first time in 12 races. Pamela Jelimo showed 1:55s are routine for her as she clocked a 1:55.41, Samitova-Galkina ran a 9:14 steeple and Andrew Baddeley went sub-3:50 to get the big upset in the mile that we're sure everyone in Britain will be writing about tomorrow. Jeremy Wariner ran 43.98, his first sub-44 clocking before the Trials. Despite our harping on his decision to switch coaches, he's running very well (nonetheless, his loss may have cost him $200,000).
*Tirunesh Dibaba: "I could have run faster" iaaf.org
*Athlete Quotes from Bislett
*Baddeley Breaks Through
On the boards: *Dibaba 14:11.15 WR!
*Andrew Baddeley 3:49.38!
*Wariner 43.98 at Bislett
LRC: NY Mini Hilda Kibet Wins, Deena Third Deena Kastor and Madaí Pérez put up a brave fight but Hilda Kibet was too good on the streets of NY. Text, photos, video
*NY Mini Results
*Photos

Justin Gatlin's Suspension Upheld
He can't compete until 2010.
*Gatlin says his running career isn't over.
LetsRun.com Boston 08 LetsRun.com Party Photos The party hosted by Puma was a smashing success. A packed house, as those passionate about running (from ages 5 to 65+) came to celebrate a great weekend in Boston. LetsRun.com fans celebrated with Rojo, Wejo, Matt Taylor, and a few legends in the sport, including former marathon world record holder Steve Jones and Olympic Silver Medallist Sonia O'Sullivan. The Harpoon beer was flowing, DJ Inkognito kept things going and contrary to popular opinion, there was a healthy mix of males and females. The reviews were excellent. "It's refreshing not to see the same 50 people (industry insiders) at a party." "Most favorable female-to-male ratio I've seen in a long time."
You'll Be Hearing About This For a Long, Long Time
*Maurice Greene, HSI Linked to Steroids A few HSI athletes have been caught doping in the past (Larry Wade the most notable), but this NY Times article brings to print some of the rumors some of you may have heard. And it is a sad, sad day for American sprinting if true.*Times Of London Story on Maurice Greene Being Accused Of Doping
Maurice Greene Defends Himself He says he never used drugs but did pay for teammates' bills without asking what it was for. Greene: "This is a bad situation for me. My name's come up in something and it's not true."
LetsRun.com London Women: Mikitenko Wins Crazy Women's Race The women's race went totally not according to form. German Irina Mikitenko was the surprise winner. The race went out slow, then picked up, then slowed back down again. Then Gete Wami wiped out at a water stop, nearly knocking her own teeth out, fell off the back, then battled back only to get dropped again as Mikitenko threw it down the final 5k. And a perfectly sunny day turned into a cold, windy rainstorm at times. Text, Photos, and Video
Other London Coverage: *Yelling Makes GB Team: A great moment when she looked rival Hayley Haining in the eye at 19 miles. Amazingly, both ended up happy as both PRd.
*British Men Could Run 25 Miles, Everyone Else 26.2 Miles and They'd Still Lose in London
*World Marathon Majors Points Standings - Lel Has a Huge Lead; Wami's Is Narrowed by Mikitenko
*Dick Patrick of USAToday Writes About Ryan Hall
*American Ryan Hall Mixes it with Kenyans
*AP Story on Ryan Hall: Hall Confident About Beijing Chances
*Quotes From the Top 3 in London
*Gas Leak Causes London Marathon to Be Diverted
*Paula Radcliffe Talks About Her Beijing Preparations
*Jon Brown Blasts UK Performance Director Dave Collins The 4th placer in the marathon at the last two Olympics absolutely rips Collins - a man who somehow managed to fail to show up at world cross country last month when it was in Scotland.
101 Years Old, Still Smoking, Running and Drinking: Buster Martin: "I'm not worried about the fags because I'll carry them with me. Everyone says smoking kills but it's taking a long time in my case." The 101-year-old legend plans on smoking while running Sunday's London Marathon.
LetsRun.com 2007 Worlds Coverage:
*Sunday's Homepage Ndereba marathon
*Saturday's Homepage
*Friday's Homepage Tyson Gay
*Thursday's Homepage Lagat
*Wednesday's Homepage Lagat
*Tuesday's Homepage Bekele 10k
*Monday's Homepage Tyson Gay
*Sunday's Homepage Dibaba/Goucher 10k
*Saturday's Homepage Kibet Marathon
*NYC Reebok Grand Prix:USAIN BOLT 9.72 World Record!! *Meet Results *Video of Usain Bolt's 9.72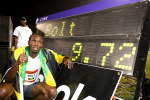 Bolt Runs 9.72.The Jamaican put on a show in the Big Apple to conclude a meet that showed exactly what track can be in this country - a large sold-out crowd, live TV and unreal performances. Tyson Gay ran a great race with 9.85 but was soundly beaten. In other action (like anything else matters), Veronica Campbell-Brown ran the fastest 100 of the year (10.91). In the distances, Paul Koech ran a U.S. all-comers record in the steeple, Lauren Fleshman went sub-15 for the first time, Lopez Lomong got his first big professional win and Yusuf Kamel edged Khadevis Robinson in a very close men's 800. *Message Board Thread Here
*LRC Distance Recaps
*Photo Gallery
*Race Results Weekly Distance Recap With Athlete Quotes
*NY Daily News Recap (Only NY newspaper that delayed Sunday publication to include the Bolt article)
*Ato Boldon Wonders Whether Bolt Can Get 100, 200, and 400 World Records USA Today
*Usain Bolt Not Overly Excited about World Record USA Today
*Athlete Quotes from Reebok Grand Prix
Drug Talk: Hopefully Bolt can join some sort of baseline testing program like Tyson Gay to restore people's confidence.
*Drug Scandal Hangs Over Bolt's 9.72 Times of London
*Progression of 100m World Record
*NY Times: Is Bolt Clean? New York Times
Om the boards Please, Jesus, Let Bolt Be Clean We think he should voluntarily join a baseline testing program like Tyson Gay. And while we're at it, we think that everyone's baselines should be published.

Olympic Trials:

LetsRun.com: Deena Triumphs in Boisterous Boston It was an incredible day on the streets in Boston. The fans turned out in droves to cheer on America's finest and Magdalena Lewy-Boulet made it interesting by opening up nearly a 2-minute lead before Deena Kastor came from behind for the win. We give you all the analysis, talk about Deena's strategy, and more (Joan Benoit's final competitive marathon).
*LetsRun.com Boston Women's Olympic Trials Photos
*4 Minute Highlight Video of Post Race Comments Deena, Magdalena, Blake Russell and Joan Benoit all give their take.
*Victah Sailer Photos Link fixed. Photos reshuffled. A few captions added.
More coverage:
*USAToday article by Dick Patrick
*Joan Benoit Article in NY Times
*Olympic Trials Coverage Splits for Every Mile Here
*LestRun.com Message Board Thread Here
*Watch on Demand Here