Rest of Monaco: A Crazy Fast 1500, Brazier & Hoppel 1-2 in 800, Kipyegon Scares WR, & Hassan Drops Out
By LetsRun.com
August 14, 2020
The big story at tonight's Herculis meeting in Monaco was Joshua Cheptegei's incredible world record in the 5,000 meters, which gets its own article here. But there were plenty more stellar performances as the first real Diamond League meet of the 2020 World Athletics season more than lived up to the hype, including a couple of 3:28's in the men's 1500, a 1-2 finish by Americans Donavan Brazier and Bryce Hoppel in the 800, a near-world record by Faith Kipyegon in the women's 1000, and a dominant win by Hellen Obiri in the women's 5,000 after Sifan Hassan dropped out with a kilometer to go.
Full recap and analysis of Monaco below.
(Note: We like to include results in our recaps but the DL did not sent out individual event results in a text file. Full PDF results can be found here).
Article continues below player.
Men's 1500: Cheruiyot is still the king as Jakob Ingebrigtsen breaks European record
Timothy Cheruiyot remains unstoppable in the 1500 meters. Even an awful pacing job from his training partner Timothy Sein (who went 52.59-58.65 for his first two laps) could not torpedo race as he held on to defeat Jakob Ingebrigtsen in a thriller, 3:28.45 to 3:28.68. By lowering his pb from 3:30.16 to 3:28.68, Ingebrigtsen broke Mo Farah's 3:28.81 European record and ran the fastest 1500 ever run by someone under the age of 20 — although Ingebrigtsen isn't eligible for Ronald Kwemoi's world U20 record of 3:28.81 as he turns 20 next month.
The Race
Sein, who had been tasked with hitting 400 in 54.5, instead came through almost two seconds fast in 52.59. Inexcusable since the meet was using Wavelight pacing technology to help the rabbits. Almost everyone in the field elected to lay off the pace — except Cheruiyot, who was tucked right behind Sein and the second pacer, Vincent Keter, and had a large lead on the rest of the field. By 800, however, much of that lead had evaporated as Sein overcorrected with a 58.65, hitting two laps in 1:51.24 with Cheruiyot seven meters in front of Jakob and Filip Ingebrigtsen and Brit Jake Wightman, who comprised the chase pack.
By the bell, Cheruiyot's lead was down to five meters, and it continued to shrink until the back straight, at which point Jakob was right behind him. Despite keeping it close around the final turn, however, Ingebrigtsen could never completely close the gap, and Cheruiyot impressively held off the young Norwegian in the home straight to claim a well-deserved victory.
Wightman, who passed Filip on the final turn, finished a very impressive third in 3:29.47 — #2 on the all-time British list behind only Farah, and ahead of the likes of Coe, Cram, and Ovett.
Quick Take #1: Cheruiyot is so tough
While Cheruiyot and Ingebrigtsen both ran 3:28, Cheruiyot did it the hard way: he went out too fast, then slowed too much, and had no one to chase over the final lap. Yet none of that mattered in the end, as he still won out over Ingebrigtsen on the home straight. 
You could use this as evidence that when you're as good as Cheruiyot, it doesn't really matter how you run — he has enough talent to paper over any mistakes (even though the mistake this time belonged to his pacer and not to Cheruiyot himself). Equally, you could argue that this race proved Cheruiyot's toughness, his ability to absorb a fast early pace and still bounce back and win at the end when he had to. 
In reality, Cheruiyot is extremely talented and extremely tough — which is why he's been almost impossible to beat in recent years. Cheruiyot has now won 13 of his last 14 Diamond League 1500/miles dating back to 2017, an incredible level of consistency.
Quick Take #2: Jakob Ingebrigtsen runs 3:28 at 19
Age has always been part of Jakob Ingebrigtsen's story, ever since he became the youngest sub-4:00 miler in history as a 16-year-old in 2017. Sometimes, it seems as if his full name is "teenager Jakob Ingebrigtsen." That won't apply much longer — Ingebrigtsen turns 20 next month — but he managed one last spectacular teenage run today in taking down Mo Farah's European record with his remarkable 3:28.68. 3:28 for anyone, at any age, is incredible — only 15 men have ever done it. But it's extra insane when the individual in question is at the age most people start their sophomore year of college.
Yes, Ingebrigtsen had already run 3:30 as an 18-year-old, but that's no guarantee that he would go faster; it's not uncommon for those who run incredibly fast as teenagers to hit a wall and burn out. Ingebrigtsen's consistency, and his ability to improve year after year is almost as impressive as his precociousness.
Quick Take #3: Jake Wightman is in legendary company now
The all-time British list for 1500 meters:
3:28.81 Mo Farah, 2013, Monaco

3:29.47 Jake Wightman, 2020, Monaco

3:29.67 Steve Cram, 1985, Nice

3:39.77 Seb Coe, 1986, Rieti

3:30.62 Charlie Da'Vall Grice, 2019, Monaco
Wightman, who was 5th at Worlds last year, may not have the global silverware of Cram, Coe, or Steve Ovett, but the 26-year-old is now ahead of all three men on the all-time UK list (and is the fastest British-born 1500 man ever). Quite an accomplishment.
Men's 800: U-S-A! U-S-A! Hoppel almost topples Brazier as Americans sweep
You couldn't have asked for much more from the first Diamond League 800 of the year. While Donavan Brazier got the win as expected — in a world-leading 1:43.15 — he was pushed all the way by fellow American Bryce Hoppel, who almost caught Brazier at the line and notched a pb of over a second by running 1:43.23 to move to #7 on the all-time US list.
The Race
Canada's Marco Arop, the NCAA indoor runner-up behind Hoppel last year, went to the lead early, with Brazier settling into second and Hoppel third, just behind Brazier. They would stay that way for the first 400, with pacer Mame-Ibra Anne passing through in 50.40 and the trio of racers following close behind.
Those three began to separate on the back straight, with Brazier moving onto Arop's shoulder to pass at 600 (1:16.85). Arop made Brazier work for it, forcing him to run wide in the outside of lane 1 for most of the final turn, but by 100 to go, Brazier had the lead.
But the race was not won yet. Brazier began to pull away from Arop down the home straight, but Hoppel, who had stalked the two around the turn before swinging wide with 100 to go, had a full head of steam and was closing on Brazier with every step. Brazier, however, did not let up, and held off Hoppel by half a stride. Behind him, almost everyone ran fast, with second through sixth place all setting personal bests. 
Quick Take #1: Brazier takes care of business
Brazier has worked hard over the last two years to win from different positions, but tonight's race was where he is most comfortable, just off the shoulder of the leader. He didn't have to fight for position early or worry about being boxed in and could choose exactly when to make his move.
Before the race, we almost took it for granted that Brazier would win, but the 800 is among the most unpredictable events in track, and this was a strong field — seven men broke 1:45. He deserves credit for coming out and getting it done, and in a fast time to boot.
Quick Take #2: What a run from Bryce Hoppel
We knew coming in that Donavan Brazier was fit. We had no idea about Hoppel, who hadn't raced since winning the 800 at USA Indoors (without Brazier) in February. 
He exceeded all expectations. Running in his first race in six months — and his first Diamond League ever — Hoppel ran a huge PR, dropping his best from 1:44.25 to 1:43.23 to finish second. To come out and do that in your first European race at the age of 22 without any tuneup races is remarkable.
It may be a little early to hype this up as the next great US distance rivalry — things can change quickly in the 800, and Hoppel has yet to beat Brazier in five races. But we can't wait to watch these guys race each other over the next few years. Hoppel is 22 and Brazier is 23 (just five months older), so they both should be around for a while. Clearly, both are serious contenders for medals next year in Tokyo.
Quick Take #3: Hello, Benjamin Robert
After Brazier, the next five runners all set personal bests. Hoppel's was massively impressive, but so was the 1:44.56 by France's Benjamin Robert in 4th. Robert, just 21, entered Monaco with a pb of 1:46.52 — which he ran as an 19-year-old back in 2018 — and took almost two seconds off that time today. A year younger than both Brazier and Hoppel, he's certainly someone to watch moving forward.
Women's 1000: Faith Kipyegon almost breaks the world record
On paper, the women's 1000 looked to be one of the races of the meet. And while it was overshadowed by Cheptegei's world record and some close finishes in the men's mid-d races, it still provided quite a spectacle, with Faith Kipyegon obliterating everyone over the final 200 to win in 2:29.15 — the #2 time in history and just .17 off Svetlana Masterkova's 2:28.98 world record.
Quick Take #1: Kipyegon never needs much time to heat up
Last year, Kipyegon, who gave birth to daughter Alyn in 2018, returned to the track after almost two years away and ran 3:59 in her first race back to win at the Pre Classic. Injuries limited her to just one more race before Worlds in October, but she ran brilliantly in Doha, clocking a personal best of 3:54 to finish second in the 1500 final behind Sifan Hassan. 
So perhaps it shouldn't have come as a surprise that, in her first race of 2020, Kipyegon was already in midseason form, turning a tight race into a blowout thanks to a 28.49 final 200 to easily run away from British training partners Laura Muir and Jemma Reekie.
Quick Take #2: Almost everyone ran fast today…
The 1000 isn't run much, so a national record isn't quite as meaningful as one in the 800 or 1500. Still, there were five national records in this race, including some fast times behind Kipyegon from Muir (2:30.82 British record), Ireland's Ciara Mageean (2:31.06, a breakout run for the 28-year-old), and Reekie (2:31.11, also under the old British record).
Quick Take #3: …except for Raevyn Rogers
Rogers' first full race under Pete Julian (she had previously rabbitted a few as part of the Big Friendly series) did not go well as she was dead last in 2:37.10. This was a poor run, but nothing to lose sleep over. Rogers remains an enormous talent, and as a 400/800 type, the 1000 is a little out of her range anyway.
Women's 5,000: Hellen Obiri dominates as Sifan Hassan drops out with 1k to go
Hellen Obiri delivered a vintage performance to win the women's 5,000, using a rare inside pass to storm by Letesenbet Gidey and clock a world-leading 14:22.12.
With 1k to go, the race was down to Obiri, the two-time defending world champ, plus Gidey, 1500/10k champ Sifan Hassan, and surprising Brit Laura Weightman, when Hassan, clearly struggling, stepped to the side and dropped out of the race.
Weightman fell off, setting the stage for a classic Ethiopia-Kenya duel. Obiri, known for her kick, was content to sit on Gidey, who could not shake her rival. By the back straight of the bell lap, Gidey had drifted out to the outside of lane 1, hoping to prevent Obiri's inevitable attempt to move by her outside shoulder. But that move never came; instead, Obiri blew by on the inside, opening up a five-meter gap before Gidey even knew what hit her. Obiri won going away thanks to a 63.85 final lap, the entire 4+ second winning margin coming over the final 200.
Quick Take #1: What could Shelby Houlihan have done in this race?
Last month, Houlihan ran 14:23 in Portland with a 61.46 last lap. Today, Obiri ran 14:22 to win with a 63.85 last lap. That's not apples-to-apples as it was hotter in Monaco and Obiri didn't really start kicking until 200 to go. But it certainly suggests that Houlihan would have been in the mix with some of the world's best 5k runners. Houlihan has raced a bunch recently, but it might have been nice for her to see how she stacked up against these women directly considering she'll have to choose between the 1500 and 5k in Tokyo next year.
Quick Take #2: Great run from Laura Weightman, Jessica Hull, and Shannon Rowbury 
Weightman, 7th at Worlds last year, ran a nine-second pb of 14:35.44 to pass Jo Pavey for #2 on the all-time UK list (only Paula Radcliffe is in front of her).
Meanwhile the members of Pete Julian's Zombie NOP had a great day, as Jessica Hull ran 14:43.80 to break Benita Willis' 18-year-old Australian record of 14:47.60 and American Shannon Rowbury ran 14:45.11 at the age of 35 to stamp herself as a serious contender for an Olympic 5k spot next year.
Men's steeple: El Bakkali wins it
With world champ Conseslus Kipruto forced to withdraw due to a positive COVID test, this race was a bit of a letdown. In the end, it came down to two-time World Champs medalist Soufiane El Bakkali of Morocco against Kenya's 2017 World Youth champ Leonard Bett battling it out on the final lap. El Bakkali pulled it out, and had enough time to celebrate his way home over the final 100m, winning in a world-leading 8:08.04.
Quick Take #1: Not a great showing by the Ethiopians
The long-awaited breakthrough of Ethiopians in the steeple came to fruition last year as Getnet Wale won the Diamond League and Lamecha Girma came .01 away from winning the world title in Doha. Both men struggled today, however, as Girma was 8th in 8:22.57 and Wale 10th in 8:35.85. Ethiopia has seen significant civil unrest over the last two months, which may have made training difficult for the two men.
Sprints
Men's 200: Lyles brothers go 1-2 after pre-race protest
Noah Lyles, who channeled the spirit of 200m predecessors John Carlos and Tommie Smith before the race by wearing black socks and raising one black-gloved fist on the start line, sprinted to a commanding 19.76 victory and was never challenged. Lyles' younger brother, 22-year-old Josephus, made it a Lyles sweep, just missing his pb by running 20.30 to take second.
Men's 110h: Holloway starts fast but loses as Ortega runs a world lead
Reigning world and NCAA champ Grant Holloway got off to a good start but was run down late as 2016 Olympic silver medallist Orlando Ortega of Spain got the win in a world-leading 13.11 with Brit Andrew Pozzi, the 2018 world indoor champ, second in 13.14 (equal to his pb). Holloway ended up fourth at France's Wilhem Belocian PR'd to grab third in 13.18 (previous pb 13.25).
Men's 400 Hurdles: Warholm runs FAST, wins with ease
World champ Karsten Warholm was the heavy favorite here and ran like it. Running in lane 7, Warholm made up the stagger on Constantin Preis to his outside by the first hurdle and would run unchallenged the rest of the way. In the end, he finished in 47.10, tied for the eighth-fastest performance in history. 
Women's 100: Switzerland's Ajla del Ponte pulls the upset
Running against a field that included World Champs bronze medalist Marie-Josee Ta Lou and 10.85 woman Aleia Hobbs, the 2018 US champ, it was Switzerland's 24-year-old Ajla del Ponte who kept her unbeaten streak over 100m in 2020 alive, winning in 11.16 to Hobbs' 11.28 in second.
Women's 400: A Resurgent Lynna Irby wins her first DL race
A resurgent Lynna Irby won the women's 400 easily in 50.50 over 2019 NCAA champ and Worlds 4th placer Wadeline Jonathas, who ran 51.40. Irby looked more like the phenom she was prior to last year and more like the person who set an age-12 world record of 54.57 in 2011. Irby ran 49.80 to win NCAAs as a 19-year-old in 2018, but struggled mightily last year after she turned pro after NCAA indoors and didn't even make the US final in the 400 or run faster than 51.14.
Field Events
With most of the infield being used as the call area for the track events (they wanted the call area to be outside due to COVID-19), there were fewer field events at this meet than normal.
Men's Pole Vault: Mondo hits first outdoor 6.00m clearance of 2020
With world champ Sam Kendricks a DNS (his poles did not make it to the meet), Mondo Duplantis was the obvious favorite, and though he took three attempts to clear 5.70m, he made 5.80 on his first attempt before skipping ahead to 6.00m, which he also made on attempt #3. He took three tries at 6.15m, which would have been the highest vault ever outdoors, but came up short.
Women's High Jump: 18-year-old Yaroslava Mahuchikh takes it
The young star Mahuchikh, the silver medalist at Worlds last year, and Ukrainian countrywoman Yuliya Levchenko both cleared 1.98m and failed all three attempts at 2.01; Mahuchikh, who cleared 1.95m on her first attempt, won on countback.
Women's Triple Jump: Rojas wins 
The good news for 2017 and 2019 world champ Yulimar Rojas is that she remained undefeated on the year as she won with a 14.27m jump in round 4. The bad news is it was the first time all year she didn't jump at least 15.03.
*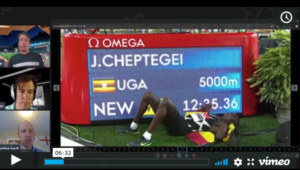 Become a founding member of the LRC Supporters Club and watch the LetsRun.com Monaco/ Joshua Cheptegei Post-Race video recap show (and get exclusive discounts — how does 20% of virtually every running show sound? — content, and support quality journalism)
More: LRC Joshua Cheptegei Runs 12:35.36 To Break 5,000-Meter World Record in Monaco Move over Kenenisa Bekele. The world record now belongs to Joshua Cheptegei.
Talk about Monaco on our world famous fan forum / messageboard.