WTW: Nike Is Correct – Actions Speak Louder Than Words In Regards To Doping, Meet The Family That Soon Will Have Three Sub-4 Milers, We Say Goodbye To A Coaching Legend And Hello To African 43-Second 400 Runners, And Is Scott Jurek's New WR "Soft"?
by LetsRun.com
July 14, 2015
The Week That Was is back. Sorry for the hiatus but we've been busy covering the 2015 USA meet, the 2015 Paris Diamond League meet and the 2015 Lausanne DL meet with a reduced staffing count as people have frolicked in Paris on their honeymoon, vacationed in Boulder, and vacationed in all 50 states. At least, all of the vacations had a running element to them. Now, everyone is back and so is the Week That Was.
Past editions of The Week That Was can be found here. Questions or comments? Please email us or post them in our running fan forum.
Article continues below player
****
It's Official – It Sucks To Be The Middle Sibling
Wouldn't it be great to run 3:38.76 for 1,500 at age 20 years and 99 days? A feat like that and you are an up-and-coming phenom, correct? (For comparison's sake, Evan Jager first ran 3:38 at age 20 and 133 days).
You'd definitely be a phenom if you were from a small country like Norway, right?
Think again.
Meet 22-year-old Filip Ingebrigtsen of Norway. At age 20 and 99 days, he ran for 3:38.76. Now here's the crazy thing. He's only the third-most talented runner in the family. His older brother Henrik ran 3:38.61 at age 19. At age 21, Henrik was 5th at the 2012 Olympics in the 1,500. Now Henrik is a 3:31.46 performer.
And check this out. Filip has a younger brother, Jacob, who two weeks ago at age 14 – yes, 14 – ran 3:49 for 1,500. Truly ridiculous.
More: MB: Jacob Ingebrigtsen 14y 3.49.71 on 1,500m 
****
Stat Of The Week I: Putting Scott Jurek's Appalachian Trail Record In Perspective
Last week, ultra runner Scott Jurek, who once won seven consecutive Western States Endurance Runs, ran the Appalachian Trail faster than anyone in history as he completed the trail in 46 days, 8 hours and 7 minutes. To run 2,189 miles in 46 days is no small feat as you are averaging 47.2 miles per day (to be honest, the unsupported record of 58 days, 9 hours, and 40 minutes is more mind-boggling to us).
That being said, it surprised us that he beat the old record, which was held by a woman, Jennifer Pharr Davis, by just a few hours – three hours and 13 minutes to be exact. The fact that he beat a woman's mark by such a small amount of time made us wonder if Jurek's new record is soft as compared to how close other men's and women's world records are.
In track, the men's world record time is normally very close to 90% of the women's world record.
Here are the marks for the distance events.
Male To Female Performance Ratio
Event
M WR
W WR
M as % of W
800
1:40.91
1:53.28
89.08%
1500
3:26.00
3:50.46
89.39%
5000
12:37.35
14:11.15
88.98%
10,000
26:17.53
29:31.78
89.04%
13.1
58:23
65:09
89.61%
26.2
2:02:57
2:15:25
90.79%
Average
**
**
89.48%
This phenomenon isn't limited to just distance events. It applies to the sprints as well:
Male To Female Performance Ratio
Event
M WR
W WR
M as % of W
100
9.58
10.49
91.33%
200
19.19
21.34
89.93%
400
43.18
47.60
90.71%
Average
**
**
90.66%
and even to other sports, whether it's cycling, rowing, swimming, etc. as shown here.
So how does Jurek's record compare to Pharr Davis's? Well, Jurek's time is nowhere close to being 90% of Pharr Davis's. His time is 99.71% of Pharr Davis's.
If Jurek was to equal 89.48% of Pharr Davis, which is the average for the distance event world records, he would have needed to finish over 4.5 days earlier – in 41 days, 14 hours and 0 minutes.
Now given the fact that the contestants are asleep for 25-33% of the competition, one might not expect the men's record to be 90% of the women's. If you assumed it was just 90% when the athletes are awake but the same when they are asleep, then it would end up being 92.5-93.33% depending on whether they slept 6-8 hours per night.
Ultra experts are pointing out that the trail is eight miles longer now than when Pharr Davis ran it and the Jurek ran northbound (Georgia to Maine), which is the harder direction to do it in (Davis did it southbound). Still, there is a WR that is there for the taking.
We came across this great interview on backpacker.com (thanks to "Alex K" on the message board) with the former record holder Pharr Davis and she admitted she didn't run at all, "I never really ran – I was hiking just like everyone else."
Speaking of fast walking, we now bring you to our message board post of the week. "DSR" gives you a little history lesson on pedestrianism in a post he made when talking about Jurek's new record:
Just to throw an interesting perspective into the mix, a friend just made me aware of the long lost sport of Pedestrianism, and the father of the sport, Edward Payson Weston. In 1867, he walked from Portland, ME to Chicago, covering over 1200 miles in 26 days. That's about 46 miles per day. Sound familiar? 🙂
Don't get mired in the details, obviously different terrain and different circumstances all around. Instead think about the fact that some guy walked 1200 miles at essentially the same pace as JPD and SJ, but almost a century and a half earlier! I am in awe of both JPD and SJ, but I must admit I found this more than mildly amusing.
https://en.wikipedia.org/wiki/Edward_Payson_Weston
Other accomplishments from the article:
"In 1907, at the age of 68, Weston repeated his Maine-to-Chicago walk of 1867, beating his own time by over 24 hours. In 1909, he walked 4,000 miles, from New York to San Francisco, in 100 days.
His last great journey was in 1913, when he walked 1546 miles (2488 km) from New York to Minneapolis in 51 days."
Discuss the Appalachian Trail record on our message board:
*Scott Jurek Appalachian Trail Record Attempt
*Would you attempt Appalachian Trail speed record for 15-min of fame?
****
Genzebe Dibaba Runs 3:54.11
If you look at the section above, and compare the women's world records to the men's on a percentage basis, the only record that jumps out as maybe being "too fast" is the women's marathon record.
Yet, the women's 1,500 and 800 records have long been viewed by many in the drug-testing era as being unbeatable. Well, last week, Genzebe Dibaba became the first woman this millenium to break 3:55 in the 1,500 and gave track fans a glimmer of hope that a women's mid-d record could someday fall this century.
Competing in a small meet in Barcelona, Dibaba's splits were 61.1 – 64.2 (2:05.3) – 63.5 – (3:08.7) – 45.4. Her last three full laps were 63.9, 63.8, 61.1.
Watch the race for yourself below.
To everyone who insists the Chinese records have to be doped to the gills, ask yourself this question: How fast can your average 14:15 male run for 1,500?
Most can break 3:50.
More: LRC Genzebe Dibaba Runs 3:54.11 For 1,500 In Barcelona – The Fastest Time In The World Since 1997
*MB: Genzebe Dibaba just ran 3:54.11 for 1500 in Spain! 
****
Stat Of The Week II
14.7 – combined margin of victory for reigning world cross-country champ Geoffrey Kamworor in the two 5k races he ran at the Kenyan champs last week (the first round and final). Kamworor won the first round at altitude by 6+ seconds in 13:13.28 and then the final by 8.6 seconds over Isiah Koech, who won World bronze in the 5,000 in 2013 and has run 13:07 this year, in 13:14.7. In case you are wondering, the altitude world record is 13:09.
Kamworor wasn't the only Kenyan impressing at the Kenyan champs (which are separate from the Kenyan World Championship Trials, which take place at the end of the month).
Vivian Cheruiyot, who won the 5,000 at Worlds in 2009 and the 5/10 double in 2011, is starting to come into form as she returns from maternity leave. At the Kenyan champs, she dropped down to 1,500 and won by more than 1.5 seconds in 4:09.88. After finishing a distant third at the Pre Classic in 14:46.69 at the end of May, Cheruiyot picked up her Beijing 10,000 qualifier by running 31:13.29 on July 5 in Brussels in a race where she was the only finisher.
****
European U-23 Champs / World University Games
Kamworor wasn't the only distance runner to win two races by a large margin last week. At the European U-23 championships in Tallinn, Estonia, 21-year-old Ali Kaya or Turkey won the men's 5,000 by 34+ seconds in 13:20.16 and the 10,000 by 60+ seconds in 27:53.88. Both were meet records. Considering the Kenyan-born Kaya has already run 13:00 this year, his domination was to be expected.
On the women's side of the distance ledger, Boston College's Liv Westphal, who was 8th at the NCAA Championships in the 5,000, won the 5,000m in a new PR of 15:30.61. The mark is also "a French national under-23 record, European lead, and personal best" according to Race Results Weekly (RRW).
At the 2015 World University Games last week in Gwangju, South Korea, BYU's Shaquille Walker, who was 5th at NCAAs and 6th at USAs earlier this summer, got the victory in 1:49.05. In other action, as noted by RRW, "Russia's Ekaterina Sokolenko set a meet record in the 3,000m steeplechase, running 9:25.77, and three woman broke 2:00 in the 800m, led by New Zealand's Angie Petty (1:59.06), who beat Jamaica's Simoya Campbell (1:59:26) and Germany's Fabienne Kohlmann (1:59.54).
****
Nike Is Correct – Words Don't Mean Much In The Doping Fight
We won't spend a lot of time talking about the doping investigation into the Nike Oregon Project this week as it has received plenty of publicity in recent weeks. We will say one thing. We don't understand the logic that both Nike and Mo Farah are using to defend themselves.
Last week, in his first race since the investigation was made public, Farah won the men's 5,000 at the 40th Athletissima Diamond League track and field meeting in Lausanne and then said, "This victory is also a way to answer some of the critics regarding my coach that came out lately."
Similarly, after Galen Rupp won the 10,000 at the 2015 USA Championships, Nike tweeted out the following picture:
https://twitter.com/nikerunning/status/614316202479890432
We don't understand the logic of how winning races silences doping accusations. Lance Armstrong sure won a lot of Tour de France titles after accusations were made about him.
When the scandal firs broke, Nike quickly issued a statement saying that they do "not condone the use of performance enhancing drugs in any manner." Yet in the past, they were still supporting Lance Armstrong even after USADA banned him before changing course.
And over the years, they have sponsored many of the highest profile of drug cheats.
What do Alex Rodriguez, Barry Bonds, Lance Armstrong and Marion Jones all have in common? They all were sponsored by Nike.
If Nike really cared about clean sport, sport would be much better off. Instead it pays lip service to clean sport.
More recently, Nike has issued a statement that according to the AP said the "company had conducted its own internal investigation and found no evidence to support the doping allegations" but of course released no details as to what the investigation entailed. Who was interviewed, were all potential witnesses given job protections if they spoke honestly, were ex-employees with non-disclousure agreements freed of those agreements, did Nike look into claims that a man they named a building after has been alleged to have committed many prescription drug violations?  We don't know and Nike doesn't want you to know because they are paying lip service to clean sport. If they really were adamant that the the 100% truth come out, they'd have released all of that info.
We agree with Nike on one thing – talk is cheap. Actions do speak louder than words.
Lots of Nike athletes over the years have loved to juice.
****
An Inspired PR
The Olympic ideal is that wars and politics are put aside for a few weeks so that sport can flourish. That doesn't mean that sport can't make powerful political/social statements.
Last week at the 34th Meeting de Atletismo Madrid, competing on the 20th anniversary of the Srebrenica massacre (where 8,000 Muslim Bosniaks were killed by the Bosnian Serb Army of Republika Srpska), Amel Tuka of Bosnia & Herzegovina ran with a little extra motivation as he'd written "never forget" on the back of his bib to honor those killed and ended up with a win, new PR and national record of 1:43.84.
The 24-year-old Tuka is having a breakout 2015. He's been the national record holder since 2013 when he ran 1:46.29, which he improved to 1:46.12 in 2014.
But July 2015 has been unreal for him. First on July 1, he skipped the 1:45s entirely by running 1:44.19 in Slovenia. Ten days later in Madrid, he ran 1:43.84.
Eleven men have now broken 1:44 this year.
The 11 Sub-1:44 Guys In 2015
800 m
1 1:43.08 NR Ayanleh Souleiman DJI 3 Dec 92 1 Catalunya Ch Barcelona 8 Jul
2 1:43.27 Nijel Amos BOT 15 Mar 94 1 Athletissima Lausanne 9 Jul
3 1:43.56 Mohamed Aman ETH 10 Jan 94 1 GGala Roma 4 Jun
3 1:43.56 Robert Biwott KEN 28 Jan 96 2 Catalunya Ch Barcelona 8 Jul
5 1:43.58 David Rudisha KEN 17 Dec 88 188/71 1 adidas New York NY 13 Jun
6 1:43.82 NR Abdulrahman Musaeb Balla QAT 19 Mar 89 3 Catalunya Ch Barcelona 8 Jul
7 1:43.84 Boris Berian USA 19 Dec 92 2 adidas New York NY 13 Jun
7 1:43.84 NR Amel Tuka BIH 9 Jan 91 1 Madrid 11 Jul
9 1:43.88 Pierre-Ambroise Bosse FRA 11 May 92 3 adidas New York NY 13 Jun
10 1:43.92 Job Kinyor KEN 2 Sep 90 3 GGala Roma 4 Jun
11 1:43.94 Adam Kszczot POL 2 Sep 89 178/60 4 GGala Roma 4 Jun
****
Logo Of The Week
The world truly is flat nowadays. Thanks to the Internet, a good idea in one location quickly shows up in another country. "TrackTown" has apparently made it to Canada.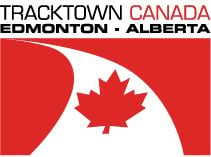 The 2015 TrackTown Classic (formerly Edmonton International Track Classic) was held last week in Canada.
*Edmonton Results *Duane Solomon Avoids The "Gray Zone," Takes Down Erik Sowinski And Nick Symmonds In 1:46 Maggie Vessey won the women's 800.
*With Injury And Coaching Change, LaShawn Merritt Has Had A Rocky Year But Is Trying To "Bounce Back"
****
Action Of Note From Belgium And Italy
We know Lopez Lomong hasn't been having the best year of his career, but we found it odd that he ended up in the "B" heat of the 1,500 last week at the Kortrijkse Guldensporenmeeting (18th/Flanders Cup). Lomong, a former NCAA and two-time U.S. champ at 1,500, has run 13:21 this year. To his credit, he got the win in the "B" heat.
Race A:
1. Ross Murray, 1990, GBR, 3:38.51
2. Eric Jenkins, 1991, USA, 3:38.98
3. Chris O'Hare, 1990, GBR, 3:39.18
4. Ford Palmer, 1990, USA, 3:39.30
5. Duncan Phillips, 1989, USA, 3:39.41
6. Jeff See, 1986, USA, 3:40.19
7. Riley Masters, 1990, USA, 3:40.53
8. Will Geoghegan, 1992, USA, 3:40.68
9. Abdelhadi Labali, 1993, MAR, 3:40.83
10. Julian Matthews, 1988, NZL, 3:41.02
11. Aman Kedi, 1994, ETH, 3:41.19
12. Andreas Bueno, 1988, DEN, 3:42.23
13. Jeremy Rae, 1991, CAN, 3:43.80
14. Isaac Presson, 1992, USA, 3:44.79
15. Krzysztof Zebrowski, 1990, POL, 3:46.56
16. Jawad Dhouri, 1996, MAR, 3:51.37
Michael Rutt, 1987, USA, DNF (pace)
Amine Khadiri, 1988, CYP, DNF
Race B:
1. Lopez Lomong, 1985, USA, 3:41.27
2. Helio Gomes, 1984, POR, 3:41.46
3. Richard Ringer, 1989, GER, 3:41.69
4. Joe Stilin, 1989, USA, 3:42.19
5. Craig Forys, 1989, USA, 3:43.09
6. Michael Atchoo, 1991, USA, 3:43.65
7. Daiki Hirose, 1991, JPN, 3:43.77
8. Ismael Debjani, 1990, CABW, 3:43.95
9. Brian Shrader, 1991, USA, 3:44.12
10. Reed Connor, 1990, USA, 3:44.13
11. Maverick Darling, 1989, USA, 3:45.96
12. Tiidrek Nurme, 1985, EST, 3:49.11
13. Jesper Van Der Wielen, 1991, NED, 3:50.23
14. Peter Cooriyeu,, USA, 03:51.7
15. Hamish Carson, 1988, NZL, 3:53.45
Kamal Majdoubi, 1989, MAR, DNF
Mohamed Abid, 1995, MAR, DNF
Martin Sperlich, 1991, GER, DNF
Adil Beryami, 1990, MAR, DNF (pace)
It's also worth noting that Alexa Efraimson rebounded nicely from her disappointing showing at USAs as she had two solid runs last week. On July 11, in this same meet in Belgium, she ran within .20 of her 800 PR – 2:01.33 – finishing second to Jenny Meadows (2:00.56). Four days earlier, in Lignano, Italy, Efraimson ran the 2nd-fastest 1,500 of her career (4:05.63) in same race in which American Kerri Gallagher punched her ticket to Worlds with a 5-second PR (4:03.56). Efraimson wasn't the only one getting over a surprising bomb at USAs as Eric Jenkins ran a stellar 7:41.79 3,000 PR, winning by 8+ seconds over Collis Birmingham.
In the 1,500 in Belgium, we got proof positive that Nicole Tully, the 2015 USA 5,000 champ, made the right decision to move up to the 5k this year. She was only 4th in the 1,500 in 4:09.27.
1,500 Women:
1. Heather Kampf, 1987, USA, 4:08.73
2. Abbey D'Agostino, 1992, USA, 4:08.78
3. Tigist Gashaw, 1996, ETH, 4:09.14
4. Nicole Tully, 1986, USA, 4:09.27
More: Full Lignano, Italy Results
****
Two African Runners Break 44.00
Two weeks ago, in the 4.5 billion-year-long history of Earth, a person not born in North America had never run a 400 in under 44 seconds.
Then, in the span of less than 24 hours, it was done twice by two different men.
In Paris on July 4, South Africa's Wayde Van Niekerk, who turns 23 on July 15, became the first non-North-American-born person to break 44 when he ran 43.97, a nice improvement on the 44.24 he ran to win in New York on June 13. His African record didn't even last a full day, though, as on July 5 in La Chaux-de-Fonds, Switzerland, 28-year-old Isaac Makwala of Botswana ran a huge PR of 43.72.
Makwala's 43.72 was pretty staggering. Coming into the race, his seasonal best was just 45.10. In his previous race, he'd finished just 6th in Morocco in 46.40. Before that he was 6th in Oslo and 7th at Pre. So he went from finishing sixth in Morocco in 46.40 to becoming the 5th-fastest man in history.
But Makwala always runs well in La Chaux-de-Fonds (as does nearly everyone – the amount of PRs at the meet are amazing). We don't know if he likes Swiss cheese or the 1,000 feet of altitude, but his seasonal best has come there in each of the last 3 seasons.
In 2013, he ran 45.86 in La Chaux-de-Fonds and 46.06 elsewhere. For 200, he ran a 20.21 NR there but only 20.70 elsewhere.
In 2014, he ran 44.01 in La Chaux-de-Fonds and 44.23 elsewhere. For 200, he ran a 19.96 NR there but only 20.32 elsewhere.
In 2015, he ran 43.72 in La Chaux-de-Fonds and so far has run 45.10 elsewhere (he hasn't run the 200 this year).
Isaac Makwala's Progression According To tilastapaja.org
Outdoor Alltime  Show/hide
2007  46.48 
2r6
Eindhoven
14 Jul
2008  45.64A 
2
Addis Ababa
2 May
2009  45.56 
1
Bamako
21 Apr
2010  46.07 
3
Tomblaine
25 Jun
2011  46.27 
3s1
Maputo
12 Sep
2012  45.25 
1
Porto Novo
28 Jun
2013  45.86 
3
La Chaux-de-Fonds
7 Jul
2014  44.01 AR
1
La Chaux-de-Fonds
6 Jul
2015 43.72 AR
1
La Chaux-de-Fonds
5 Jul

More: LRC Wayde Van Niekerk's 43.97 African Record Lasts Less Than 24 Hours As Isaac Makwala Runs 43.72 (includes race video)
*MB: Isaac Makwala runs 43.72 – moves to #5 all time in 400 at La Chaux-de-Fonds (Switzerland).
*Wayde Van Niekerk Becomes First Non-North-American-Born Person To Break 44 In 400
Take That, England, Wales And NI: Scottish Women Won Every Single British Title 800 Through 10,000
****
Video Of The Last Two Weeks / Yet Another Runner Loses A Race By Celebrating Early / Free Coaching Advice: Always Run Through The Line
This year the AJC Peachtree Road Race – America's largest 10K road race – in Atlanta, Georgia, tried something new under new Atlanta Track Club head Rich Kenah (1:43 800 runner, 1997 WC bronze for USA). For the first time ever, it featured a mixed-gender team competition between Europe, USA, Asia and Africa. The race also had a highlight show on the NBC Sports Network. Africa won the team title but all of the national press went to the open race, where American Ben Payne celebrated too early and was caught by British Olympian Scott Overall.
You can watch a clip of the finish below. We were made aware of it when they showed the Peachtree finish on ESPN's SportsCenter before using it as an excuse to show a montage of sports' greatest early celebrations.
Overall was more than happy to get the win. We like how he wasn't afraid to brag about it.
Pleased to take the win today at the Peach tree 10km. Always run through the line! #Peachy pic.twitter.com/HBRozJKSvv

— Scott Overall (@scottoverall) July 4, 2015
More: AJC Peachtree Photos
*MB: Video of Peachtree photo finish – open division
*Results  
*Team USA Is Strong, But Team Africa Prevails In Peachtree Cup *Results 
****
RIP Roy Griak
Former Minnesota coach Roy Griak, who coached the Gophers for more than 30 years and worked at Minnesota for more than 50 years, died last week at age 91. A number of remembrances were posted about him on the message board, including one by two-time World XC champ Craig Virgin. But we particularly loved this one from former Michigan State runner Ken Popejoy, who was the 50th American to break 4:00 in the mile, and the first ever to do so at a Big 10 championships.
Please permit me to relate a Roy Griak moment in time……
In the fall of 1972, I had started out the season as one of the favorites to maybe win the Big Ten XC individual championship. My friend, Garry Bjorklund had won it in his first three years but was injured in his senior season.
By the time Minn came to my course for the Michigan State dual meet, I was pretty badly injured with shin splints in both legs and my season was basically over. None the less, I ran the 6 mile race and was well into last place with 2 miles to go. My coach yelled at me to drop out as I was "an embarrassment to me, him and my school". Well, I refused to drop out and when I came to the finish straight, the chute and timing was being removed!! As I crossed what was the finish line area, my coach had packed the rest of my team into a van and was leaving the course. I was left to find my own way home….with sore chins, 2 miles from campus.
As I sat on the bench, pondering my current misfortune and my potentially dismal future in the sport, The Minn team ran by on their warm down. Coach Griak stopped and asked why I was sitting by myself without a team or coach. As I told him, he put his arm around me, just like a father and after an amazing and encouraging conversation, he invited me to go with him and the Minn team to get a steak dinner before they left town. Both he and all of the team members took me in as if I was one of their own!!!
I truly don't know if I would have had any future in running without the kindness and support of this warm and gentle man. Minn, the Big Ten and the sport itself has lost a role model, a mentor and a friend.
There will never be another Roy Griak….he will continue to live in all of us who were so fortunate to be touched by his goodness
More: MB: RIP Roy Griak – A Legend
****
Recommended Reads
LRC Questions Arise Regarding Alberto Salazar's Explanation For Testosterone Experiment On His Sons – In 2006, Alberto Salazar Said The Idea That Gatlin Was Sabotaged Was "Preposterous On So Many Fronts"
*MB: Salazar called Gatlin sabotage claim "preposterous" in 2006 
Austin Meek: Getting To The Truth Of Salazar Allegations Is More Complex Than Who You Believe
UK Columnist Oliver Brown rips Alberto's response: "Coach might have hoped his impassioned opus would extinguish the controversy but it appears that he doth protest too much."
Steve Magness Article On Why Distance Runners Need A Coach