Questions Arise Regarding Alberto Salazar's Explanation For Testosterone Experiment on His Sons – In 2006, Alberto Salazar said the idea that Gatlin was sabotaged was "preposterous on so many fronts"
by: LetsRun.com
July 1, 2015
A key part of Alberto's Salazar's defense against possible doping violations is that he says he set up a doping experiment of giving androgel (testosterone) to his sons not because he wanted to figure out how much testosterone he could give them without testing positive as Steve Magness implies, but rather because he was wanted to see if someone could sabotage his athletes by rubbing Androgel on them.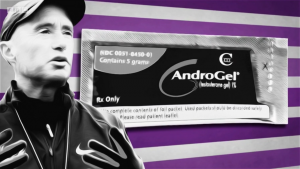 However, it's worth pointing out that in 2006, when news first broke that Justin Gatlin's camp was claiming massage therapist Chris Whetstine caused Gatlin to test positive by secretly rubbing a DHEA (testosterone precursor) cream on him,  Salazar, himself, was one of Whetstine's most outspoken defenders and Salazar said the Gatlin's sabotage claim was  "preposterous on so many fronts."
Article continues below player
In his response to the BBC/ProPublica investigation,  Salazar claims that in 2009 Chris Whetstine rubbed Galen Rupp's shoulders in the post-race area after Galen Rupp's University of Oregon team set the 4x mile world record at the 2009 Oregon Relays. Salazar says he was so so concerned about sabotage that he set up an experiment to give his sons Androgel to see if it was possible for someone to sabotage his athletes and have them test positive by rubbing Androgel on them after a race. Whetstine is the massage therapist Justin Gatlin unsuccessfully tried to blame for causing him to test positive by rubbing a DHEA (testosterone precursor) cream onto Gatlin. The USADA tribunal did not buy Gatlin's team's sabotage story and neither did Alberto Salazar, at least in 2006.
When the sabotage claim first surfaced in 2006, Chris Whetstine first public statement was a short statement to LetsRun.com, denying the sabotage claim and saying he had the support of Alberto Salazar. Whetstine's statement said: 
"I am a lurker at your famous website and I appreciate all that you have done for the running community. While I am choosing to allow my attorney to speak publicly regarding the specific issues, I am comforted by the continued support given me by members of the running community, specifically Tom Jordan and Alberto Salazar. It is at times like these that we find out who our friends are."
Salazar then spoke to Wayne Drehs of ESPN a few days later, and vigorously defended Chris Whetstine saying the sabotage claim was not believable. Alberto said, "Trevor is a world-renowned, legendary coach. Right then and there, if he sees somebody acting strange and putting something in his pocket, he's going to put a stop to it and figure out what the heck is going on. It wouldn't go any further than that. And Chris would never get close to Justin again."
Salazar also said to Drehs,   "You can't help but laugh. It's just preposterous on so many fronts. I guess anything's possible, but it just doesn't make sense. There's no way in the world."
In fairness to the Salazar camp, much of Salazar's defense was not specifically on whether sabotage would put someone over the T/E ratio, but  rather on how Salazar believed Graham would not give Whetstine access to Justin after he saw something suspicious. Salazar said, "It's ridiculous. He never would have gotten anywhere near Justin (after Graham saw something suspicious)."
However, on the sabotage front, another question to be answered is why Salazar tested specifically Androgel on his sons. Justin Gatlin's team never claimed Androgel was applied on Justin Gatlin. Trevor Graham was very specific in his allegations that a pink tube with crooked "S" on it was used which as the picture on the right shows is Sarati DHEA cream for women, not Androgel. The press and trial referred to it as a testosterone based cream, but there are many testosterone based products or precursors out there, not just Androgel.
A question that Alberto Salazar left unresolved is why he used Androgel specifically on his sons and where he got it from. If he gave them Androgel from his own prescription that goes against the impression Salazar tried to give that his Androgel was used solely for his personal use. As Salazar wrote, "As my pharmacist attests, my Androgel prescription has been filled consistent with my personal prescribed use."
Another related tidbit on the sabotage front that we learned from reading the 947 pages of the Justin Gatlin trial testimony is that Justin Gatlin never flunked the T/E ratio test. Justin Gatlin's T/E ratio was always below 4/1 and was actual .19/1 on one of his tests in 2006. However he tested positive because USADA detected exogenous testosterone in his system by using the more expensive direct carbon isotope ratio test (CIR).
Salazar claims he set up the sabotage experiment "to see if rubbing Androgel on an athlete after a race could cause a positive test," yet it appears he never did the more expensive CIR test to detect exogenous testosterone.
The T/E ratio test and other screening tests are often done to determine if the CIR test needs to be done, but the Gatlin trials shows what many already know that an athlete can test positive for exogenous testosterone without having a high T/E ratio.
Interestingly, the scientific expert hired to testify in Gatlin's defense was from Aegis (the same company Alberto Salazar used to test some of his samples) and even he admitted that a banned cream applied to Gatlin an hour or so before drug testing (ie just after he competed) would likely be too soon to trigger a positive test. So even one of Gatlin's defense experts admitted it would likely take more time to be sabotaged. He said it was "improbable" that it would trigger a positive test so quickly.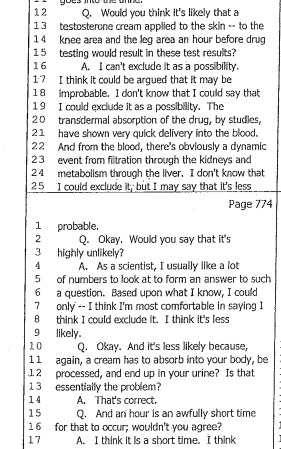 There is no evidence that Alberto Salazar knew the details of the Gatlin trial, and he is free to change his opinion on the sabotage issue, but the Justin Gatlin trial and Salazar's statements in 2006 show there are still many unresolved issues surrounding Alberto Salazar's sabotage defense, not the least could he even be sanctioned for just setting up such an experiment.
More:*2006 ESPN Article where Salazar said sabotage claims are "ridiculous"

2015: MB: Salazar called Gatlin sabotage claim "preposterous" in 2006
*Telegraph: Alberto Salazar latest: Doubts raised over testosterone justification
Salazar said he tested testosterone on his own son as after the Justin Gatlin positive he was scared Galen Rupp could be sabotaged, yet Salazar himself dismissed the theory that Chris Whestine sabotaged Justin Gatlin as "preposterous on so many fronts." "You can't help but laugh..It's just preposterous on so many fronts….I guess anything's possible, but it just doesn't make sense. There's no way in the world."