Is Emma Coburn's Record Soft, What about Jager's, American Mile/1500 Prs for Will Leer, Molly Huddle, Jordan Hasay; Tyson Gay vs Jon Drummond
The Week That Was In Running – July 7 – July 13, 2014
by LetsRun.com
July 15, 2014
Previous versions of the Week That Was can be found here. Questions? Comments? Email us.
In case you missed our extensive mid-week coverage and analysis of the Glasgow Diamond League meeting, go here as we don't repeat ourselves below.
Article continues below player
****
How Fast Should The American Record Be In The Women's Steeple?
The big story on LRC last week was Emma Coburn's American record in the women's steeple – LRC Emma Coburn Takes Down Jenny Simpson's American Record, Runs 9:11.42 In Glasgow *LRC Emma Coburn Speaks After Setting American Record In Glasgow. A great run for sure.
However, after it was over, we were having a conversation with someone who said to us, "Yeah, but they've only been doing the women's steeple for a little more than 10 years. Isn't that a soft record? The men run much closer to the 3000 times than the women, don't they?"
Well, we know that's the common perception as after all the men's world record in the flat 3000 is 7:20.67 and the men's steeplechase record is less than 33 seconds slower (7:53.63) whereas the women's world record in the steeple of 8:58.81 is more than 42 seconds slower than the fastest non-Chinese 3000 ever run (Genzebe Dibaba's 8:16.60).
People need to remember that women are running a slower pace. On a percentage basis, those two marks are very similar. The men's steeple mark is 7.5% slower than the flat 3000 mark and the women's steeple mark is 7.8%. 8.5% (we did the math wrong)
How does Emma Coburn's new steeple mark up stack up to the best American flat 3000 time on a percentage basis? Very similarly. The fastest flat ever run in US history by a non doper is Shannon Rowbury's 8:31.38 (convicted doper Mary Slaney three times broke 8:30 including an 8:25.83). Emma Coburn's mark of 9:11.42 is 7.8% percent slower than this.
On the men's side, Evan Jager's 8:06.61 as it's 8.4% slower than Bernard Lagat's 7:29.00 flat 3000 American record.
3000
vs.
Steeple Records
Men's
World
Records
Women's
World
Records
Women's
American
Records
Men's
American
Records
Flat 3000
7:20.67
8:16.60*
8:31.38**
7:29.00
Steeple
7:53.63
8:58.81
9:11.42
8:06.61
% Difference
7.5%
8.5%
7.8%
8.4%
*Ignoring the Chinese marks as many believe them to be doped.
**Ignoring the three marks put up by convicted doper Mary Slaney.

For Jager to get down to 7.8% off of Lagat, he'll need to run 8:04.02.
If you want to count Slaney's 8:25.83 as legitimate (and we most certainly do not), then 7.8% slower than that would be 9:05.27.
Discuss this topic in our messageboard as we offer some additiona analysis: Another bad analogy from Letsrun, Is Coburn's steeplechase AR soft?.
###
Since we're talking about the women's steeple, we thought it was worth pointing out that 2013 World Champion Milcah Chemos is on the upswing. At the beginning of the season, she clearly was in AWFUL shape as she opened up with a 9:38.21 in Shanghai and followed that up with a DNF at Pre.
She's headed in the right direction however and has improved nearly 20 seconds in two months. If this was a Worlds or Olympic year, it would be impossible to count her out for at least the podium in another month.
Milcah Chemos's steeples in 2014:
9:38.21 – 8th in Shanghai on May 8 th
DNF – at Pre on May 31st
9:26.49 – 8th in Paris on July 5th
9:21.91 – 3rd in Glasgow on July 12th
****
American Mile PRs
Last week some of you were a little miffed (MB: JORDAN HASAY with 3-sec PR over 1500m) when many celebrated a 1500 PR by Jordan Hasay at the Glasgow Diamond League meet because Hasay finished last in the race. To us, a PR is a PR and should always be celebrated (it's worth noting that in the men's 1500 at the same meet, former Oklahoma State star Tom Farrell of GBR, a 13:15 5000 runner, also got a PR while finishing last as he ran 3:37.90 (previous pb of 3:41.07)).
Regardless, Hasay wasn't the only American long distance specialist to PR at the mile/1500 last week and we wanted the others to get their 15 minutes of fame. In the Clonliffe International Mile at the Morton Games in Ireland, American 5000 record holder Molly Huddle PRd in 4:26.86. That converts to a 4:07.07 1500 equivalent. Hasay ran 4:07.70 in Glasgow but there was one big difference in the two 4:07 equivalent performances. Hasay was last in her race, Huddle first in hers.
In the men's Morton Mile at the Morton Games, Will Leer got the win in a new pb of 3:51.82 (previous pb of 3:52.47 indoors). He turned the tables on Pat Casey who beat him at USAs (when Leer ran an awful tactical race) as Casey was second in a pb of 3:52.62.
We started to wonder, "How high up is Leer on the all-time US mile list?"
Here's the answer:
The 20 Sub 3:52 Men In Us History
3:46.91 Alan Webb 2007
3:47.69 Steve Scott 1982
3:48.38 Bernard Lagat 2005
3:48.83 Sydney Maree 1982
3:49.31 Joe Falcon 1990
3:49.80 Jim Spivey 1986
3:50.34 Todd Harbour 1981
3:50.40 Steve Holman 1997
3:50.53 Matthew Centrowitz 2014
3:50.64 Leo Manzano 2010
3:50.84 Tom Byers 1982
3:50.92 Galen Rupp 2013
3:51.1h Jim Ryun 1967
3:51.34 John Gregorek 1982
3:51.39 Rich Harris 1984
3:51.45 Russell Brown 2011
3:51.45 Lopez Lomong 2013
3:51.62 Chuck Aragon 1984
3:51.74 Andrew Wheating 2010
3:51.82 Will Leer 2014
Note: The list largely came from www.alltime-athletics.com (but they only list Lagat's time for Kenya not the US).
###
Morton Mile –
1. Will Leer, USA 3:51.82 PB
2. Patrick Casey, USA 3:52.62 PB
3. Cory Leslie, USA 3:53.44 PB
4. Zane Robertson, NZL 3:53.72 PB
5. Kyle Merber, USA 3:54.76 PB
6. John Travers, Donore Harriers 3:55.44 PB
7. Dave Bishop, SCO 3:56.96 PB
8. Vincent Letting, KEN 3:57.44 PB
9. Hamish Carson, NZL 3:57.79 PB
10. Andrew Colley, USA 3:58.17 PB
11. Eoin Everard, Kilkenny City Harriers 4:00.07
12. Danny Mooney, Letterkenny 4:00.79
13. Ciaran O' Lionaird, Leevale 4:00.88
14. Sam McEntee, AUS 4:05.82
15. David McCarthy, West Waterford 4:11.02
The full 2014 men's Morton Mile results are on the right and they included a few other American PRs including a 3:54.76 from former Millrose HS mile champ and Columbia runner Kyle Merber. The 3:54.76 converts to 3:37.37 for 1500, hopefully quieting the conspiracy theorists who somehow think the huge PB of 3:35.59 that he ran at Swarthmore a few years back came as a result of a short track or delayed stopwatch.
We hope Merber eventually breaks that PB which came in perfect weather, right after a storm and featured perfect pacing by Olympic silver medallist Nick Willis.
More: 2014 Morton Games Results
*MB:
*MB: Kyle Merber 3:35.59 is NOT the American Collegiate Record

****
Jon Drummond's Alleged Role In Tyson Gay Saga Starts To Leak Out
One of the bigger stories in 2014 has been American sprinter Tyson Gay coming back to the circuit after just a one year drug ban. We know that Gay got a reduced ban because he cooperated with USADA. Part of the cooperation as reported by David Espstein was that Gay implicated his ex-coach Jon Drummond in the doping.
Well Drummond in turn has sued Gay, USADA and its head Travis Tygart for defamation and thanks to that lawsuit, we are getting to hear some of the allegations ahead of time (USADA's final arbitration hearing against Drummond isn't until September) thanks to some great reporting by Max Baker of the Ft. Worth Star-Telegram last week.
Baker's story on the Drummond lawsuit reveals that Gay says Drummond introduced him to chiropractor Clayton Gibson III and that Gibson then in turn gave Gay some illegal substances. Drummond doesn't deny that he sent Gay to Gibson, as he came highly recommended by former Texas star Marshevet Hooker, but Drummond claims he "unequivocally" told Gay not to take any substances that Gibson gave him. Gay claims just the opposite – that Drummond encouraged him to take them.
Additionally, Gay says the Drummond had a bag of illegal substances himself that he personally injected into Gay. Drummond, in turn, says that's not true. Yes, Drummond admits he had a bag of substances that Gay had received from an unknown source but Drummond says he didn't inject them into Gay. As Gibson wrote:
After meeting with USADA, Drummond remembered a bag of substances that Gay had received in 2012 from an unknown source. The coach said he told Gay not to use anything from the bag, which Drummond stored under his sink and eventually turned over to the USADA.
****
Quote of the Week I (that wasn't quote of the day)
"There were five sweets for the winner, three for second and one for third. I was the youngest of three (children). I cried as I didn't get as many sweets."
–David Rudisha talking to The Independent about his start in athletics. His father, Daniel, a 4 x 400 Olympic silver medallist would organize races between his children after getting home from work. Rudisha did admit, though, that his dad would often give in and give him extra treats despite his third-place finish.
We hope the Americans reading this, who are afraid to have winners and losers in road races for kids, don't riot.
Rudisha's interview with The Independent also included another great quote about the Masai people:
"They're sometimes stubborn but they're quite respected because they're very honest people. In most places where people are guarding homes and big places like streets, normally Masai have that job. They are honest, you can't bribe them."
More: David Rudisha: Back on track and aiming to be out of this world

****
Quote of the Week II (that wasn't quote of the day)
"It's great to have run a 1-minute PB; I'm always proud to set a PB, but lining up with 2:06, 2:07, 2:08 guys makes me realize you need to run that. Other guys are coming up in the States running 2:10 etc., and it's great to see the depth improving and to try to stay ahead of it, but I think there's a cultural problem in the U.S. and elsewhere. Too much reverence for 2:10 and not enough drive for 2:07 or 2:08. People think that 2:10 means you've arrived."
– American marathoner Jeffrey Eggleston talking to Brett Larner of Japan Running News after his 2:10:52 marathon pb in Australia.
More: "Too Much Reverence for 2:10 and Not Enough Drive for 2:07 or 2:08" – Jeffrey Eggleston Talks Post-Gold Coast
*Messageboard Discussion:Jeff Eggleston: I think there's a cultural problem in the U.S. Too much reverence for 2:10 and not enough drive for 2:07
****
Video Of The Week/A 48 Year Old Breaks 4:20
The video above is footage of 48-year-old father of five, Brad Barton, becoming the oldest sub-4:20 miler in history.
Barton ran 4:17.54 in San Diego last week. The crazy thing is he wanted more – he was shooting for 4:12.
If Brad's 4:17 doesn't inspire you, then Brad can inspire you in a different way. He's a professional speaker at corporate events. Check out his website: Bradbartonspeaks.com
More: Magical Olympian Mile: Brad Barton Oldest to Go Sub-4:20
****
Photo of The Week
Below is a photo of Mo Farah participating at the Weetabix Ultimate Sports Day. Given all of the "Not Rupp Certified" talk over the years, we must admit we got a chuckle when a messageboard poster wondered how NOP coach Alberto Salazar ok'd Mo doing the following: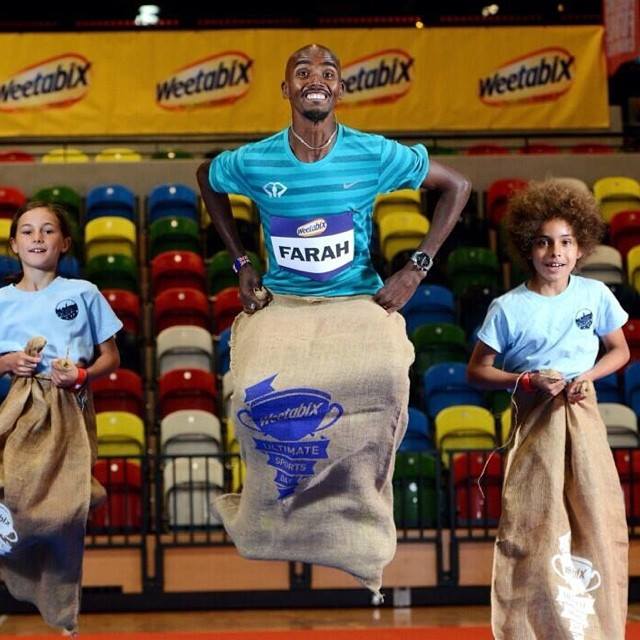 Our answer: it's probably great at working on proprioception and different muscle groups.
Perhaps we should ask NOP assistant coach Pete Julian who works with Farah. Julian is one of the good guys in the sport and was featured in a great ready by Ken Goe in The Oregonian this week for his battle with cancer. It's a great read if you haven't read it: "Every single time I take a pill I say a prayer that it's still going to work….I get into that CT machine, and I'm shaking out of straight fear. It's always there for me."- Pete Julian.
More: How is Salazar allowing Mo do this?
****
USA Junior Sprinting Stars
Last week, we had a section about getting ready for World Juniors. Just after publishing The Week That Was, however, we thought, we really should have talked more about the amazing USA junior sprint action. Pardon us for being a week late. By now, you've probably heard about how the US junior records at 100 for both boys and girls.
Florida State signee Trentavis Friday of North Carolina, aged 19, ran 10.00 in the semis before false starting in the final. He made amends for the FS by running a wind-aided 20.03 in the 200. 10th grader Kaylin Whitney of Florida, aged 16, ran 11.10 to break Angela Williams' 11.11 mark. She then came back and ran 22.49 in the 200 (HS record is Allyson Felix at 22.11).

However, neither of those was the most amazing performance.

That goes to 14-year old Sydney McLaughlin of New Jersey , yes 14 (just finished freshman year).

She's incredible.

Prior to USA Juniors, she became the first person to win 100h and 400h at the same NJ Meet Of Champions. She also ran a 52.2 on the 4 x 400.

At US juniors, she came within .20 of beating the NCAA champ, Shamier Little, in the 400h.

McLaughlin ran 55.63 to Little's 55.43. We thought Little was an incredible prodigy (and she is) but McLaughlin is absurdly good.
55.63 is the #2 time in US HS history, is 20th in the world and yet she can't go to world juniors because at age 14, she's too young!!!
More: MB: LetsRun – Meet Sydney McLaughlin – The 14 yr old who nearly beat an NCAA champ last week but is too young for World Jrs!
*14-year old Sydney McLaughlin ran 55.63 400h at US juniors – #2 time in US HS history but is too young for World Jrs
*A tale of two Saturday's for Trentavis Friday: National Record to False Start/No Worlds – MileSplit United States
*Meet of Champions: 14 yr old Sydney McLaughlin of Union Catholic completes historic hurdle double and smashes a meet recordThe freshman became the first person to win the 100h and 400h at the same NJ MOC meet. Incredible. She then ran a 52.2 4 x 400 leg.
****
Recommended Reads
Read The Story Of Nigeria's Emmanuel Ifeajuna, Who Was The First Black African To Win Gold At The Commonwealth Games, But Whose Life Came To A Tragic End
Heather Kampf, Who Is Feeling Good After A Win In Ireland, Blogs About Overcoming The Power Of Your Mind She hopes to go sub-2 soon.
Post By Elite Canadian Hammer Thrower: Throwing and Porn – More In Common Than You Think
Oregon Project Assistant Coach Pete Julian Has Defied The Odds To Battle Cancer And Stay Alive
Good Ajee Wilson Profile: Why Ajee' is a winner
Netherlands' Sifan Hassan Had No Idea How Fast She Was Running When She Clocked 3:57.00 At The Paris DL Meet
US High School Shot Put Record Holder Raven Saunders Had To Fundraise The Money To Pay For Her Trip To Eugene
****
Quotes Of The Day & Last Week's Homepages:
Note: To see a particular day's homepage, click on the hyperlink of the date. The hyperlink below the date on the quotes will take you to that particular article – not that day's homepage.
– Excerpt from manuscript written by Nigeria's 1952 Commonwealth Games high jump champion Emmanuel Ifeajuna. Ifeajuna was the first black African Commonwealth gold medalist and was celebrated as a national sports hero, but then in 1967 was executed by firing squad for his role in Nigeria's civil war.
---
---
– Nike Oregon Project assistant coach Pete Julian talking about his ongoing battle with cancer which has lasted 15 years. The former elite, who has run 13:33 and 2:15, has had 3 surgeries since 2000, but has been saved by a miracle drug that wasn't supposed to work.
---
---
– David Rudisha, who will compete in the UK this weekend, talking to The Independent, about the 2012 Olympic final.
---
– Netherlands' Sifan Hassan talking about how she had no idea she was running so fast when she clocked 3:57.00 to win the Paris Diamond League meet last weekend and thanking Jenny Simpson for pulling her to the fast time. Read our recap on this tremendous race which saw five runners go under 4:00 and another three come extremely close.
Questions? Comments? Email us.