LRC LetsRun,  Meet Sydney McLaughlin – The 14-Year-Old Who Nearly Beat An NCAA Champ Last Week But Is Too Young For World Jrs!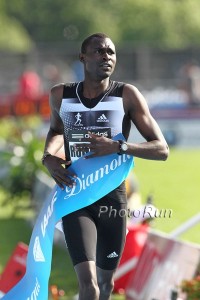 LRC Meet Preview A Great Women's 1,500, A Totally Loaded Men's 5,000, Emma Coburn Chases The American Record And David Rudisha In The 800 So much good stuff it takes two days to get it in. Plus recent US champs Leo Manzano and Ajee' Wilson in the men's 1,500 and women's 800.
*Rudisha at press conference: "I want to get the world leading time and to get close to 1:42."
*IAAF Full meet preview A struggling Yohan Blake in the 100, Rudisha returns to UK for 1st time since his 1:40.91 800 WR.
*MB: CENTRO In Glasgow 800
*5k: LAGAT, LEVINS, MEAD, SOI, LONGOSIWA, ALAMIREW, ROP, etc. all racing in Glasgow on Friday!
Next Week: Monaco 800s And 1,500s Will Be Special – Kiprop Will Face WR And Kiplagat And Souleiman; Rudisha, Aman, Amos, And Solomon In 800 In other action, world 400m hurdles champion Zuzana Hejnova will race for the 1st time on the year, the women's 100 is absolutely loaded and for just the 2nd time in history, 6 men with PRs of 2.40 or better will compete.
*MB: Check out the Monaco 200m (men) – – MOST INTERESTING sprint lineup of 2014 !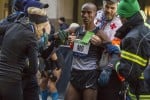 LRC
Mo Farah Was In Hospital Last Week For Two Days, Pulls Out Of This Weekend's Sainsbury Glasgow Grand Prix
A tough year for Mo medically as he passed out after the NYC half in March.
*
Discuss In Our Forums

*
Salazar Was So Concerned About Farah That he Skipped World Juniors And Flew To Park City
The docs never found anything and the stomach ailment is past him and he's back to training.
Track And Field Stars Are Beautiful People
USATF DQ Report Analysis / We Refuse To Fall To The Holiday Weekend News Dump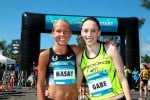 We wonder if it's normal for an official to tell a coach about a foul he admits he didn't see. Then we start to go off into la-la conspiracy land as we notice a key part of the report regarding Salazar shows up in a different font. To us, the whole report reads like a 5th grader's book report, not a report worthy analysis of a decision that (illegally) fixed the outcome of a national championship race.
Weekly Recap – The Week That Was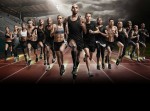 This week we wonder if there is a skip USAs jinx, marvel at some amazing field eventers, get ready for World Juniors, tell the suits how to market our beloved sport better, praise a racewalker, dash the dreams of those who compare Matt Llano to Ryan Hall, and wonder why Nike seems to be embarrassed by the fact that elite runners are skinny.
World Juniors Start In 2 Weeks
Mid-D Stars In The News
Good Ajee' Wilson Profile: Why Ajee' Is A Winner "I used to race my mum every year. … It was huge to beat my mum for the first time. I can't remember when I first beat her, but after I did she stopped racing me." And for the record, her name is pronounced "

ah-jhay."
Other News Of Note