Olympic And World Championships Medalists Highlight 107th NYRR Millrose Games
Press Release
February 6, 2014
On February 15, 2014, more than twenty Olympic and World Championships medalists will compete at the 107th NYRR Millrose Games, making for an unforgettable night of action at The New Balance Track & Field Center at The Armory.
Article continues below player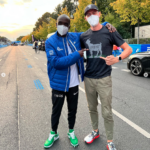 Kipchoge loves the 1:59:40 Shirt Get Yours Today
What a legend!
Among the top Americans entered in the 107th NYRR Millrose Games include Olympic gold medalist and Decathlon world record holder Ashton Eaton, eight-time NYRR Wanamaker Mile champion Bernard Lagat, and teenage sensation Mary Cain.
As has been tradition, the NYRR Millrose Games will also showcase some of the best high school talent from both the New York metropolitan area and from across the nation. Alexa Efraimson -the reigning Nike Cross Nationals champion- will travel from Camas, Wash. to New York City, taking on Cain in the NYRR Women's Wanamaker Mile. Competing in the Girl's Pole Vault will be Texas standout Desiree Freier, who has cleared 13 feet, 9 inches and finished ninth at the IAAF World Youth Championships in 2013.
NCAA Cross Country champion Abbey D'Agostino leads a number of collegiate athletes who will compete alongside professionals in four events. The Dartmouth senior will race 3,000 meters, while University of Arizona standout Lawi Lalang will compete in the NYRR Wanamaker Mile. Florida's Cory McGee, who represented Team USA at the 2013 IAAF World Championships, is entered in the NYRR Women's Wanamaker Mile.
"I would have to say that this year is the deepest NYRR Millrose Games," said Dr. Norbert Sander, Executive Director of the Armory Foundation. "This year is different. You have athletes with terrific credentials in every event."
For complete fields in the NYRR Millrose Games, please click here.
USATF Championship Series:
The NYRR Millrose Games will serve as the second stop of the 2014 Indoor USATF Championship Series.  The Series will conclude at the USA Indoor Track & Field Championship on February 22 and 23 in Albuquerque, New Mexico.
TICKETS:
The 2014 NYRR Millrose Games is nearly sold out, though a select number of tickets remain available on NYRRMillroseGames.org. The 2014 NYRR Millrose Games will begin at noon and conclude at 6:30 pm, featuring the prime time window from 3 pm to 5 pm. Further questions can be answered by calling The Armory at (212) 923-1803 ext. 7200.
TELEVISION:
The 2014 NYRR Millrose Games will be shown live on NBCSN from 3 pm to 5 pm. NBCSN can be found on Time Warner (Channel 122), Cablevision (Channel 146) and FiOS (Channel 90 and 590).
There will also be a free live web broadcast on USATF.tv from 5 pm to 7 pm.