Bernard Lagat And Nick Willis Headline Paavo Nurmi 2000m Race At The 2014 Millrose Games
Press Release
January 8, 2014
New York – Finland's Paavo Nurmi was one of the greatest distance runners in history. An Olympic gold medalist in 1920, 1924, and 1928, Nurmi became known world-wide as the 'Flying Finn.' In 1925, Nurmi traveled to New York City, where he set a world record for 2000 meters at The Armory during a prolific indoor racing series.
In honoring Nurmi's great legacy, the 107th NYRR Millrose Games will play host to the Paavo Nurmi 2000 Meter Race on Saturday, February 15 at The Armory. The event will feature eight-time Wanamaker Mile champion Bernard Lagat and 2008 Olympic silver medalist Nick Willis, who won the prestigious NYRR 5th Avenue Mile last year.
Article continues below player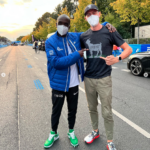 Kipchoge loves the 1:59:40 Shirt Get Yours Today
What a legend!
"I'm looking forward to coming back again to the Millrose Games in February – 2000m is a new distance for me indoors, and that's exciting," said Lagat, the 2004 Olympic silver medalist at 1500m. "I've had two great runs at The Armory the last two years and hope for another one this year."
The Paavo Nurmi 2000 meters will also feature Evan Jager, the American record holder in the 3000m steeplechase; Canadian Olympian and former NCAA champion Cam Levins; and American Junior record holder German Fernandez. Finnish national champion Niclas Sandells is entered as well.
"Everywhere you turn there is great history at The Armory," said Dr. Norbert Sander, Executive Director of the Armory Foundation. "Breaking the American record in the 2000m here at the 2014 NYRR Millrose Games will rewrite the history books and find a place alongside the epic run of Paavo Nurmi in 1925."
In honoring Paavo Nurmi's legacy and world record race at The Armory, a delegation of honored guests will be in attendance from Finland, which will include Mr. Ilkka Kanerva, a member of the Finnish Parliament. Mr. Mika Nurmi, grandson of Paavo Nurmi, will be the race's official starter.
"Our family is delighted with the Paavo Nurmi 2000 meters at the Millrose Games and I am very much looking forward to being the Race Starter in the arena where my grandfather set the world record," said Mika Nurmi.
Fans are urged to visit NYRRMillroseGames.org to purchase tickets. The 2014 NYRR Millrose Games will begin at noon and conclude at 6:30 pm, featuring the prime time window from 3 pm to 5 pm. Further questions can be answered by calling The Armory at(212) 923-1803 ext. 7200.