LRC Justin Gatlin Runs 9.77/19.71 To Pull Off Greatest Single-Day 100/200 Double In History Justin Gatlin had the fastest 100-200 same-day double ever as he crushed the competition in Brussels. *Video Of Both Races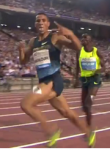 LRC Taoufik Makhloufi AND Silas Kiplagat Celebrate Early As Makhloufi Wins DL Finale, Does He Silence His Critics? Kiprop, Kiplagat and Souleiman all had $40,000 reasons to win this one but Makhloufi was your winner. Galen Rupp PRed and was in the the thick of it with 200m to go, but didn't have the wheels the last 200m.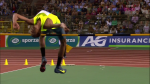 The Rest of The Meet: A Spectacular High Jump, Jenny Simpson Wins Grudge Match Over Rowbury, Moves To #2 All-Time In US At 3,000 A WR almost fell in the HJ. Doper Mary Slaney's record lives to see another day. We recap all the events for you here.
Random But Interesting
Olympic News
News From The Commonwealth
Road News: Geoffrey Ronoh Upsets Again; Return Of Doper Mathew Kipsorio
Want To Buy Daniel Komen's Spikes?
More Weekend Track Results