Doping News
Post-NYC
South African Athletes To March On Embattled Athletics SA Offices; Many Have Called For A Vote Of no Confidence Legendary Athletes of South Africa secretary-general Dorah Mngwevu said, "ASA is like a dilapidated house that needs to be demolished."
More Post-NYC
US News
UK Stuff
Sad News, But A Great Way To Go Out: Oldest Women's Finisher At 2013 New York City Marathon, Joy Johnson, Dies Day After Race After Falling At Mile 20 Johnson refused to go the hospital, kept going, finished, and did the Today show the next day and then died in her sleep that night. She always wanted to die running, so she went out doing what she loved.

*Geoffrey Mutai Talks To Sean Hartnett Day After 2013 New York Marathon Win (Video)
*Meet The One Millionth New York City Marathon Finisher Julissa Sarabia ran 5:19:47.
*Runner With Down Syndrome Becomes First To Fnish NYC Marathon
Administrative News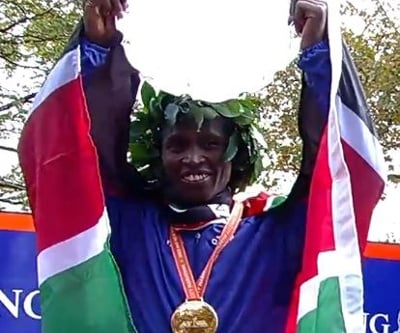 Men: LRC Ten Takeaways About The 2013 ING New York City Marathon Men's Race And Geoffrey Mutai We start by asking just how good was Mutai before telling you about the happiest second place finisher ever, tell you that Ryan Vail has a lot to be proud of, Meb Keflezighi impressed us immensely even though he finished 20th 23rd, who had the biggest breakthrough, and a reminder to Stanley Biwott that the marathon is more than 26 miles, not 23.
*LRC Meb Keflezighi on Finishing: "I'm doing (it) for Boston and for what happened and I'm doing it for America." Text/video.

Race Recap: Man Among Boys, Geoffrey Mutai Wins NYC Marathon RRW Geoffrey Mutai pulled way from Stanley Biwott in the 23rd mile and then cruised to an impressive victory. Tsegaye Kebede was second and picked up the $500,000 WMM crown. Ryan Vail was the top American. *Results *LRC Photo Gallery

NYC On The Boards:
Non-LRC NYC Coverage
Previous

LRC Predictions: You Heard It Here First, NYC Will Be Slow LRC coaching genius, John Kellogg, who predicted the 2:03 in Boston in 2011, has seen the forecast for NY and says the winning time could be over 2:10. We still expect the favorites Geoffrey Mutai and Priscah Jeptoo to triumph.

More: *NY Times Article On Yuki Kawauchi: "Japanese Civil Servant Runs Marathon for Fun, Not Profit"
Previous NYC News
Friday: LRC On Comeback From Soleus Tear, American Meb Keflezighi Hoping To Defy Doubters Yet Again Meb revealed he partially tore his soleus in early September. He nearly pulled out, but America's best hope has really had things turn around the last few weeks and will go into NY not tapered as he's been playing catchup.
*Meb: "I'm going to play year to year but this is not going to be my last marathon. If I can run within my PR, why stop?"


LRC Teammates Alisha Williams And Mattie Suver Hoping For Low 2:30s The Scott Simmons-coached athletes think they are ready.


LRC American Ryan Vail Ready To Take Next Step Forwards After Six Weeks Over 140 MPW On Average The former Okla. State Cowboy also talks NCAA XC action, giving props to the CU Buffs and NAU Lumberjacks.

Thursday News:

LRC Edna Kiplagat And Priscah Jeptoo Are Both Ready To Battle For $600,000 Two-time World Champion Edna Kiplagat and Virgin London Marathon Champ Priscah Jeptoo are the favorites for the 2013 ING NYC Marathon and both said Friday they are ready for their $500,000 battle on Sunday.


LRC Training Partners Kim Smith And Amy Hastings Talk Confidently - Smith Says Hastings Is At New Level In 2013 Amy Hastings has upped her training and can hang with training partner Kim Smith now. Both hope that means for a strong result on Sunday.


LRC Catching Up With Europe's Leading Women Entrants: Lisa Stublic Of Croatia, Sabrina Mockenhaupt Of Germany And Portugal's Ana Dulce Félix Mockenhaupt is thrilled to be in NY as she loves Americans, whom she calls "crazy" but in a great way; Dulce Félix reveals she's trying to overcome the sudden death of her father, and Stublic hopes she can PR yet again.

NYRR Dash To The Finish Line Video Interviews: *LRC Evan Jager Talks about his 2013 season and 2014.
*LRC Chris Derrick Reflects On His 2013 Track And Cross-Country Season Derrick looks back at 2013, looks ahead to 2014 (sub-13:00 and sub-27:00 are on the horizon), and talks about German Fernandez, Alan Webb and you LRC message boarders.
*LRC Nick Willis Talks about World Speed Golf, running the 5k at Commonwealths and a marathon debut? *LRC Ben True On His 2013 "Almost Year" Before 2013 NYRR Dash To The Finish Line
*LRC Lisa Uhl Talks about her move to Iowa being the right choice despite a subpar 2012 and her marathon debut. *LRC Sara Hall Talks about a possible marathon debut, Ryan Hall and more.
Non-LRC NYC Coverage
Top Weekend Results: Alan Webb Is Back!?! And HS XC Action
Best Marathoners In 2013: Wilson Kipsang And Edna Kiplagat Voted AIMS Best Marathoners Of The Year Stephen Kiprotich and Priscah Jeptoo finished as runners up for the award.
Wow: Tom Cruise Compares Acting To Olympic Training "A sprinter for the Olympics, they only have to run two races a day. When I'm shooting, I could potentially have to run 30, 40 races a day, day after day."
Olympic News: 2012 Through 2024
Upcoming
International Elites In The News
International: Bolt Wants Sub-19 In 2014
News From Russia
Not Your Everyday Reads
News From Kenya
Post-NYC / Distance News: Dennis Kimetto Says Chicago Was A Missed WR Opportunity
Women: LRC 6 Takeaways From The Fascinating Women's Race Big props to runner-up Buzunesh Deba, an awful day for the Americans and - most importantly - did a mysterious man on a bicycle save the day for Priscah Jeptoo, who is the greatest women's distance runner in the world right now?

Race Recap Priscah Jeptoo Comes From Behind For $625,000 Victory RRW 14 miles into the race, Priscah Jeptoo was 3:24 behind 2011 runner-up Buzunesh Deba. Jeptoo had to catch her if she wanted to win $600,000. She did it in impressive fashion as Deba held on for second. Top results. Adriana Nelson was the top American. *Results
Other News
*LRC Photo Gallery link fixed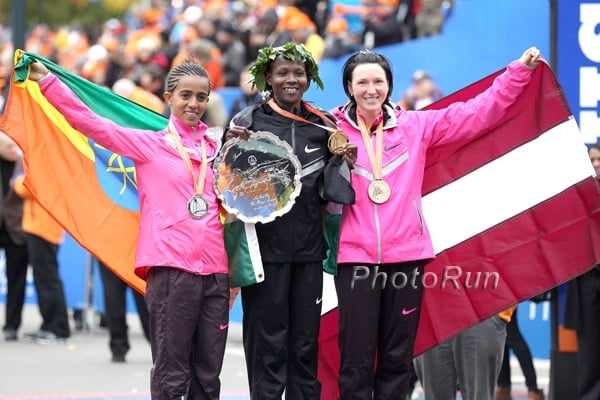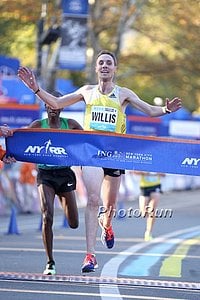 LRC Nick Willis Over Sam Chelanga, Aaron Braun link fixed
Nick Willis showed he's pretty good at 5k with a big kick the final 800m to get the win over Ben True's new training partner Sam Chelanga and Aaron Braun. Recap, results, post-race video.
LRC Chris Solinsky's Still Got The Fire After His 14th Place Finish: "It's Embarrassing" ... "It Was Really Bad" ... "A Shit Performance" Video and text.
*Discuss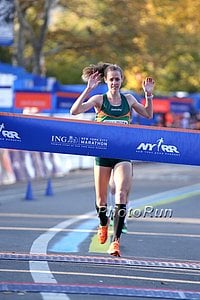 LRC Molly Huddle Over Emily Infeld & Shalane Flanagan updated Molly Huddle got the best of Jerry Schumacher-coached athletes Emily Infeld and Shalane Flanagan as she won in course record time. Recap, results, post-race video.
*Discuss

LRC Photo Gallery
Weekly Recap - Better Late Than Never
LRC Week That Was: Did Mark Wetmore Pull One Over On Everyone At PAC-12s? Wisconsin Men Lose, A Savior For The Providence Women, A 3:49 Miler Runs New York, And Is Indoor Track Faster Than Outdoors? This week we tell you about the 3:49 miler that ran NYC just months after running 3:32 (no, not Nick Willis), take a look back at the NCAA conference actrion and wonder if Mark Wetmore totally pulled one over everyone at PAC-12s and let you know Providence has taken our advice and trotted out a new 5th woman. Plus we try to answer the age-old question, "Is indoor track actually faster than outdoors?"
MB: Are indoor tracks faster than outdoor tracks? Nick Willis says yes*. What say you?
MB: Did Mark Wetmore outfox everyone in the Pac 12 and haver his guys go out harder than everyone else?
News From Europe
LA News
USA Today: "Films On Lance Armstrong Have Titantic-Like Appeal?" A long look at the three movies and documentary (The Armstrong Lie) that are in the works. The documentary is set to be released in select cities Friday.
Olympic Games News
More NCAA (Full Updated Conference Champs Coverage Farther Down)
Big West: *Men Results *Women Results
*Cal Poly Sweeps Big West Men And Women's Titles Laura Hollander led Cal Poly, winning by over a minute with a new CR. Cal Poly's Chris Frias won the men's race.


West Coast: *Men Results *Women Results
*Jason Witt Takes 1st Place To Help BYU Men Win West Coast Conference Champs Portland was 2nd by 18 points.
*San Francisco Women Win Fifth-Straight WCC Title, Led By Bridget Dahlberg, Who Took The Individual Title
*Meet Video Highlights


Big 10: *Men's Results *Women's Results
*Indiana University Wins Big 10 XC Title To End Wisconsin's 14-Year Streak The top 3 teams were relatively close with Michigan 2nd and Wisco 3rd.
*Michigan State Women Win 3rd Big 10 Title In 4 Years Rival Michigan was a close 2nd with Minnesota 3rd.
*Wisco Freshman Malachy Schrobilgen Gets Big 10 Individual Title On losing "the streak," Coach Mick Byrne said, "The message is that this is just one race. We still have two races to run and we can either hang our hats up or we can come out fighting."
*Michigan's Erin Finn Wins Big 10 Individual Title To Lead Team To 2nd Place Finish


PAC-12: *Men's Results *Women's Results
*Colorado Men Are Back-To-Back PAC-12 Champs
*University Of Arizona Wins PAC-12 Title With Close Win Over Colorado
*Edward Cheserek Wins PAC-12 Title, Leading Oregon Men To 2nd Place Team Finish
*Stanford's Aisling Cuffe Takes PAC-12 Individual Title Stanford women finished 5th as a team.


Heps: *Men Results *Women Results
*Columbia Men And Dartmouth Women Wins Heps Team Titles Abbey D'Agostino dominated on the women's side while Harvard's Maksim Korolev won handily for the men.


Big 12: *Men Results *Women Reults
*Oklahoma State Men Get Their 6th Straight Big 12 Title
*Iowa State Women 3-Peat At Big 12 (W/ Video)
*Texas Tech's Kennedy Kithuka Repeats As Big 12 Individual Champ
*Marielle Hall Is Texas' First Big 12 Individual Champ Ever


Big East: *Men Results *Women Results
*Freshman Patrick Tiernan Leads Villanova Men To Big East Title Providence was 2nd.
*Emily Sisson Claims Big East Title To Lead Women's Cross-Country To Its Sixth Conference Crown Georgetown was 2nd.


ACC: *Syracuse Wins ACC XC Champs
*FSU Wins 6th Straight Women's Title
*Results On the men's side, #14 Syracuse faced #18 North Carolina and #23 Notre Dame, while for the women, #5 FSU was up against #10 Virginia, #19 Syracuse and #22 Notre Dame.


Friday's New York City Marathon On The Run Video Show (Meb, Mutai, Alisha Williams, Jason Hartmann, David Epstein, Wejo). More Episodes Here.
Don't Think You Can Run 2:03 Clean? Geoffrey Mutai Wants To Talk To You (More Here).
Episode #2 On The Run With Frank Shorter, Bill Rodgers, Joan Benoit, Stephen Kiprotich, More (Larger Here). Each Night At 8pm Eastern Here.
Random Stuff: Harry Potter Is Seb Coe