Next Weekend's Pre Men's Mile Will Have It All
News From The UK
IAAF Beijing World Challenge Was Yesterday: Brimin Kipruto Loses Again *Full Results
IAAF Recap: David Oliver Wins 110 Hurdles In WLing 13.16 As Jason Richardson Was Well Beaten In 3rd (13.48) Justin Gatlin won the 100 over Mike Rodgers 9.91 to 9.96 (something went wrong for Doc Patton, who was last in 12.05), Olympic champ Anna Chicherova set the HJ WL at 2.02m, Allyson Felix dominated the 200 in 22.36, as did LaShawn Merritt the men's race in 20.40, and Kellie Wells won the 100H in 12.87. In the LJ, world leader/hometown favorite Li Jinzhe won in 8.31m, but was forced to exit the stadium after suffering an injury to his left arm. SA's Godfrey Mokoena was back in 4th (7.97m). *Full Results
Kenyan Distance Events: Kenya's Hilary Yego Won The Steeplechase In 8:09, Beating 2008 Olympic Champ Brimin Kipruto By 6 Seconds In the women's 1,500, Eunice Sum out-sprinted Mary Kuria, 4:04.49 to 4:05.17, while in the men's 800, Alfred Kirwa Yego beat Edwin Melly on the line, 1:46.43 to 1:46.46.
US News: Mary Cain Racing Pre 800 And Debut 5k In Early June
US News: Men's Moscow Marathon Team Announced
Running Science
(In Case You Missed It Over the Weekend) Week #2 Of IAAF Season Is In The Books *Full Results *LRC Shanghai Photo Gallery (Videos In Race Recap Below) (Non-LRC Coverage Further Down Page)
Sunday Road Results: Ryan Hall 2nd At Bay To Breakers
Non-LRC Shanghai Coverage
UK News: Jessica Ennis Gets Married
Random But Interesting
Random ... Less Interesting
A Few Recommended Reads
Young Phenoms In The News
News From Kenya (A Deceased Phenom In The News)
Ultramarathon News
Running Science: Kenyan/Ethiopian Dominance - Is It In The Genes?
Sunday Results
Mid-D News
Two Interesting Reads From The UK
Re:Run San Diego
2 Reviews & 1 Book Excerpt From John McDonnell: The Most Successful NCAA Coach In History
Not Your Everday Track & Field Links
Administrative News
International News
Other Upcoming
Non-Oxy/Shanghai Track Results: Asafa Powell Injured Again
College Running News
News From Kenya
Big Administrative News
Upcoming Pro Action
Doping News
Upcoming Action
Saturday's Pro Action - US 25km Champs At Fifth Third River Bank Run / UAE 10km *USA 25km Results *UAE Results
Doping News: Well Done, WADA
Interesting Distance Runner News
Two Recommended Reads
Interesting Reads From Africa
News At Home
The Virgin London Marathon - The World's Most Competitive *Top Results LRC: Photo Gallery
Interesting Stats
Update On The Pregnancy Front
The Week That Was
LRC Mary Cain Rewrites The Record Books, German Fernandez & Robby Andrews Struggle, Molly Huddle Impresses, WADA Testing Alert, And Is Alan Webb Done? We offer some extra insight into last week's action at Oxy, Shanghai, Bay to Breakers (aka Ryan Hall's comeback) and more.
International News: Oscar P Won't Be Racing In 2013
RR: T&F News Article On Bryshon Nellum's Long Road From Gunshot Victim In 2008 To Olympian (And 4 X 4 Silver Medalist) In 2012 Interesting to note that he made the Olympics last year after not even making the NCAA final.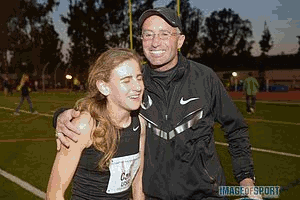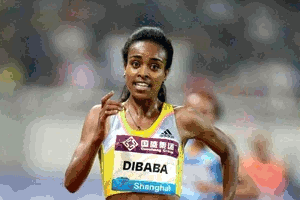 US News
LRC

Win Upgraded VIP Tickets To The adidas Grand Prix (aka The Best Value In NYC Pro Sports)

As part of their advertising package, the adidas Grand Prix gave us 2 Diamond Level VIP Tickets to the meet. And we're giving them to you. You're welcome. Instead of enjoying VIP perks, we'll be slaving away for you for free.
16-Year-Old Track Runner Who Spent 5 Months In The Hospital Recovering From Leukemia Is Going To NYC adidas GP As Part Of The Make-A-Wish Foundation He'll also get to meet his favorite athlete, Tyson Gay.
Doha Destroyers Abeba Aregawi And Hagos Gebrhiwet Added To Fields At NYC adidas GP Gebrhiwet will line up in the 5,000 while Aregawi will take on 2008 Olympic 1,500 champion Nancy Langat in the 1,500. Previously announced in the 800, David Rudisha will take on Nick Willis, Erik Sowinski, Robby Andrews, former Olympic silver medalist Mbulaeni Mulaudzi and Brit Andrew Osagi.
9 More Olympic/World Champions Added To Fields Sanya Richards-Ross vs. Amantle Montsho and Christine Ohuruogu in the 400, Christian Taylor vs. UK's Phillips Idowu in the TJ, Reese Hoffa vs. Ryan Whiting in the SP and Tianna Madison vs. Kelly-Ann Baptiste in the 100.
Veronica Campbell-Brown Leads "Parade Of Caribbean Stars" For adidas GP She'll be in the 200 Olympic bronze medalist (ranked #1 in 2012) Javier Culson will lead the 400H. Warren Weir, Nickel Ashmeade, almost-Bolt-slayer Kemar Bailey Cole will also compete.
US Pro News: Deena Kastor Going To Worlds
Another One Bites The Dust: Russian Ultramarathoner Natalia Volgina Tests Positive For Steroid And Is Set To Lose Her Two Oceans Marathon Title And $27,000 Prize Money
BAA Offers Invitations To 2014 Race To 2013 Boston Marathon Racers Who Were Prevented From Finishing Race Due To Terrorist Attack
Our Weekly Recap - The Week That Was
LRC Is Tyson Gay Better Than Usain Bolt? Lawi Lalang The NCAA 1,500 Fav? Abbey D Does The 10k? Is Faith Kipyegon On Drugs? Is The PAC-12 > The SEC? This week we declare the US women's 1,500 medal chances are over unless your name is Jenny Simpson, anoint a new NCAA men's 1,500 favorite, try to move Abbey D'Agostino up to the 10k (or marathon), wonder if the PAC-12 is better than the SEC at track, ask if Kenyan star and Mary Cain slayer Faith Kipyegon is on drugs (not unless Alan Webb was), and give kudos to Brittney Reese, Garrett Heath, and the Dartmouth and Oregon State women.
Doping News - Smoke Up
Gone Over The Weekend? 2013 IAAF Diamond League Started Friday *Results *Flash Photo Gallery
*IAAF Full Meet Recap

Men: LRC Men's 3,000: Hagos Gebrhiwet Makes A Statement With Impressive 3,000 Win - 18-Year-Old Phenom Seems To Be The Man To Beat In 2013 Mo Farah's probably going to be training a bit harder tomorrow after seeing this one as Ethiopia may soon have a third king in the Haile-Kenenisa line of rulers.


LRC Men's 800: David Rudisha Has To Work For It But He Opens 2013 Season With World-Leading 800 Win Rudisha put on a clinic on how to control an 800 from the front. The entire field was right behind him with 200 left but he closed faster than he did in London to win.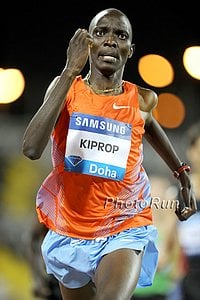 LRC Men's 1,500: Asbel Kiprop Is Back - Kenyan Dominates 2013 Diamond League Opener In Doha Kiprop may have flamed out at the Olympics but lots of people seem to have forgotten he was injured. He killed everyone in Doha.
*Johan Cronje Breaks South African 1,500 Record With 3:33.46 For 8th Place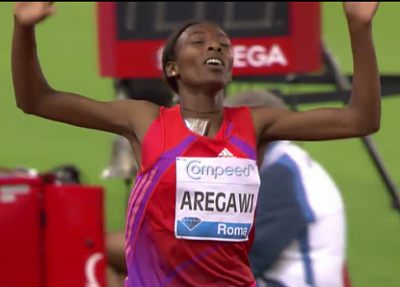 Women: LRC Women's 1,500: Sweden's Abeba Aregawi Wins As Three Women Run 3:57.54 Or Better!!! In terms of quality, the women's 1,500 was race of the night. Coming into the race, only two clean women had run 3:57.54 or better in over a decade. Three did it in the season opener, including a new teen star from Kenya, Faith Kipyegon, who didn't even win. One other person who didn't win - a very happy American in Gabriele Anderson.

LRC Women's Steeple: Lydiah Chepkurui Pulls Off A Big Upset Five of the top six from the Olympics lined up but a non-Olympian got the win thanks to a 2:57 last 1k.
LRC The #1 Recruit In The Land Signs With ... New Mexico? The #1 recruit in the land has decided where he'll be running next year and coach Joe Franklin is a very happy man as a result. Whom do we consider to be the top recruit???
Think The Sub-2-Hour Marathon Is On The Horizon? Think Again
LRC The Myth Of The Sub-2-Hour Marathon The mainstream media thinks it may be close but in reality most people reading this will be dead when it happens.
*Science of Sport's Ross Tucker agrees: Pacing, fatigue and the brain. Lessons from London.
*MB: Sub 2 Hour Marathon Discussion: My Thoughts and Yours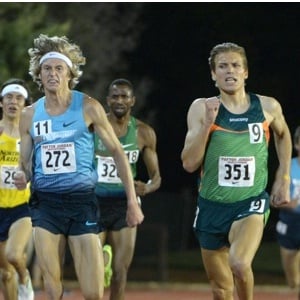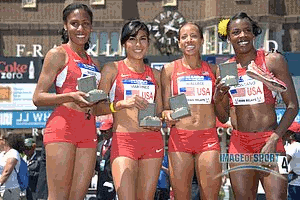 Blue Collar / Inspirational Runner Of The Week
LRC Meet Conner Paez: "Please don't cut off my leg. Please just don't amputate my leg. I can't lose my leg. I need to run." Two years ago, Conner Paez was on top of the world as a freshman at the University of Pennsylvania (8:16, 14:18). Then his life turned in a second as he was broadsided by a car while on his motor bike. The injuries were bad, very bad. He almost lost his leg, then some toes. Doctors told him he'd never compete again. What's he doing this weekend? Competing again.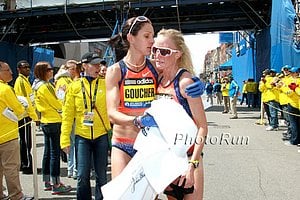 Learn From The Pros
LRC Ten Training Tips From Bernard Lagat, Dathan Ritzenhein And Abdi Abdirahman The American men took center stage at the NYC Half on Thursday. You can watch video interviews with the top American men (Lagat here, Ritz here and Abdi here) and we will have more on their race preparations on Friday, but in the meantime we compiled ten training tips from Bernard, Dathan, and Abdi that you can use in your own training.