Q&A With the 4th Fastest 10,000 Runner in History, Nicholas Kemboi, After His First Marathon Victory in Prague
After winning in Prague, Nicholas Kemboi's Goal is Moscow World Championship Marathon
by RunCzech
May 14, 2013, published on LetsRun.com on May 16, 2013
LetsRun.com note: Below you will find an interview with the fourth fastest 10,000 runner in history Nicholas Kemboi of Qatar (26:30.03 pb) after the Kenyan born runner earned the first marathon victory of his career in 2:08:51 on Sunday at the Volkswagen Prague Marathon. The interview was done by the RunCzech PR people. Enjoy.
Article continues below player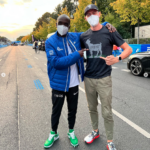 Kipchoge loves the 1:59:40 Shirt Get Yours Today
What a legend!
Donning a pair of small-framed glasses, a pullover and a blazer on top, you could be tricked into believing you're talking to a bank clerk or embassy counsellor. However NICHOLAS KEMBOI is first and foremost an amazing marathon runner.  A Kenyan representing Qatar.  And he'll surely never to forget his first marathon victory in Prague this past Sunday. "It was a truly amazing feeling" the 29-year old runner boasted, proving we are right.
How did you find the race?
I had my heart set on winning right from the start and felt charged with the will to pull it off. I wanted to stay fresh for as long as possible, allowing me to go all out for victory. At the tenth kilometre I was basically only observing my rivals. By the twentieth, however, I had started to pick up my pace a bit as the pacemaker was slow.  This left four of us in the group which meant I started getting my hopes up that                I could pick up a medal on the stage. But then at the thirtieth kilometre I tripped slightly on the cobblestones which caused me to sustain a muscle injury on my left foot.
But that didn't hold you back?
I slowed down but fortunately was able to pick up my pace later on. After launching my attack on the Kenyans, I was left on my own. And I could see I was able to win.
Is it better for you to run for a long time in a group and leave the fight to the end or to break away from the group somewhere and run alone?
It's better to run in a group of two or three and to help each other out. But from around the fortieth kilometre it's a good idea to break away and run alone ahead. To know whether it's realistic for you to win or not.
Did you have chance to soak up the race atmosphere in Prague or were you purely concentrating on your own performance?
No, no, no, I loved the amazing atmosphere. People were cheering me on all along the course and I could feel their support.  It gives me strength and spurs me on to see people enjoying themselves.
You've already taken part in the world track championships, the world cross country as well as world half marathon championships. And now you're a marathon runner.  Do runners really see this course as the crème de la crème within the discipline?
Yes. Running a marathon is the most beautiful, yet toughest thing to do; you really need to have trained incredibly well to be able to put in a stellar performance. I spent years running on the track but that's something really rather different. For the track, you need speed. While for the marathon you need speed as well as endurance.
You now have your first three marathons under your belt – the year before last you finished second in Valencia with a time of 2:08:01 and last year finished fifth in Istanbul in 2:20:40. Are you planning on taking part in the marathon at the World Championships in Moscow?
That's my goal right now.
And your plan?
I'll try it…to see if I can pick up a medal. I think I have it in me to do it.
Changing your citizenship to Qatari in 2005 partially helped make these dreams come true, it would have been difficult for you to qualify at all in the Kenyan team. Was it a tough decision to make?
Firstly I have to say that it was my decision and mine alone to make and that nobody put me under any pressure. At the same time, even after it happened, nobody asked any questions, wondered why I'd done it or doubted me. It wasn't an easy choice but now I'm really happy I did it. It allows be to just focus on running.
But you carried on living in Kenya, in Eldoret, am I right?
Yes, I spend most of my time there. I pay a visit to Qatar ever now and then, but thanks to their federation, I'm given the perfect conditions for training. That's important for my career.
Did you seek advice from other Kenyan runners who had changed their citizenship before you?
We spoke about it, and now meet up at races or during training sessions. They assured me that it would give me chance to broaden my horizons, gain an understanding of what life was like in another country. And they were right.
Has your family also accepted the idea?
I told them about it and allowed them some time to take it all in, to wait and see whether they would agree. They fully support me because they know that it's good for my career and that it will give me the best chance to reach my potential.
You decided against changing your name just as Stephen Cherono did, who became Saif Saaeed Shaheen. Am I right in saying you also decided not to change your religious denomination either?
I already had quite a few achievements under my belt by that point and didn't want people to have to start getting used to calling me by another name. And I remain a Christian, – there have been no issues with that, I'm not a Muslim. I could become one if I wanted to but they left it up to me.
You retain the fourth fastest time ever in the 10 000 metres which you picked up in Brussels in 2003 behind the legendary Gebrselassie, Kelbee and Tergat. How fast can you run a marathon?
I'm confident I can do it in 2:06. I'm focusing more on the world championships this year, though I'd like to try to go for that time at the start of next year. Then later maybe for 2:05, that'd be great.
How long do you see yourself running like this for?
I'd like to take part in the Rio Olympics in 2016. After that I'll see what limitations my body has in store for me.
So you'll most certainly be returning to Prague or another RunCzech race?
I'd love to come back here again because I really like it. Plus I won here which means I'll never forget that wonderful feeling associated with Prague. It's a good course for fast times, I hope to be able to return. Either for the half marathon or to do another marathon.
---
The RunCzech Running League
The RunCzech Running League brings together all the prestigious Prague races organised under the Prague International Marathon heading, alongside races in selected regions of the Czech Republic organised by tempo team prague, known as the RunCzech races. This lead to the creation of a running series of races spanning the whole Czech Republic allowing all those involved to combine their passion for running with a love for travel.
During the course of 2012, 64 043 competing runners took part in the RunCzech Running League from all over the world. This created a prestigious running ranking system for the 34 346 people participating in competitive runs allowing them to measure their results against other runners split into categories according to sex, age not to mention the completely new grouping of profession.
In 2013 the RunCzech Running League includes the following races:
The Hervis Prague Half Marathon (6th April)
The Volkswagen Prague Marathon (12th May)
The Mattoni  Karlovy Vary Half  Marathon (25th May ) – a new race in 2013
The Mattoni  České Budějovice  Half Marathon (8th June)
The Mattoni  Olomouc Half  Marathon (22nd June)
The Prague Grand Prix (7th September)
The Mattoni Ústí nad Labem Half  Marathon (15th September)
And hosting of the Košice  International Peace Marathon (6th October)
An eighth race will be added to the RunCzech Running League in 2014, at which point capacity is expected to reach 81 000 runners, making the project complete.
Boasting a total of four IAAF Road Race Label awards, organisers of the RunCzech Running League have picked up more accolades than anywhere else in the world, all of which attest to the first-rate standard of the organisation. These include:
The IAAF Road Race Gold Label for the  Hervis Prague  Half Marathon
The IAAF Road Race Gold Label for the  Volkswagen  Prague Marathon
The IAAF Road Race Silver Label for the 10 km Run featuring as part of the Prague Grand Prix
The IAAF Road Race Silver Label for the Olomouc  Half Marathon – new in 2013
Prague International Marathon, spol. s r.o.
Prague International Marathon spol. s r.o. ("PIM") was set up in 1995 by Carlo Capalbo, President of the Company with the aim of organising a large-scale international marathon on the streets of Prague.  A total of 958 runners made it to the start line of that first race. Since then, PIM's activities have burgeoned into a whole series of running events referred to as the RunCzech running league.
The Volkswagen Prague Marathon ranks among the top 10 world marathons taking place in one of the most beautiful locations around. The 2012 race attracted 9 057 competing runners from all over the world. As of 1999, we have also been organising the Prague half-marathon along with races over shorter courses, the Grand Prix. In 2012 the Hervis Prague Half Marathon became the fastest half-marathon in the world! The Ethiopian runner, Zersenay Tadese completed it in the record time of 58:23.
Races organised by PIM are sponsored by some of the largest companies in the Czech Republic; Volkswagen, adidas, Hervis and Mattoni. The whole organisation and atmosphere of the races has drawn a crowd of resounding names in the athlete world to the Czech Republic (the likes of Haile Gebrselassie, Stefano Baldini, Paul Tergat, Moses Tanui, Antonio Pinto and [Patrick Makau), not to mention thousands of visitors.
In addition to the above, PIM also organises the Junior Marathon for high school students. Relay race (comprising 10 members per team) runners firstly participate in regional rounds, the winners of which subsequently proceed to the final as part of the Volkswagen Prague Marathon, scheduled for Sunday 12th May 2013.
tempo team prague s.r.o.
tempo is dedicated to developing marathon races along with other running events held in Europe.  It was set up in 2000 by a group of experts and sporting enthusiasts. The term "tempo" is derived from the name of the organisation "The European Marathon Promotion Organization".
tempo team's activities entail concept creation, brand building, marketing as well as the actual organisation of sporting events. Right from the start, tempo team has played a key role in organising the Prague marathon as well as developing the RunCzech Running series.
tempo team is the name of the main organiser of races taking place in various regions under the RunCzech running league heading comprising the České Budějovice HalfMarathon, the Olomouc Half Marathon,  the Ústí nad Labem  Half Marathon and most recently the Karlovy Vary Half Marathon.