2013 NCAA Outdoor Track and Field Championship Schedules
Schedules for the the NCAA finals in Eugene, Oregon as well as preliminary rounds in Austin, TX and Greesnboro, NC
by LetsRun.com
May 14, 2013
Are you looking for the schedule for the 2013 NCAA Outdoor Track and Field Championships? Either the East or West Regionals (Preliminary Rounds) or the NCAA finals in Eugene?
Article continues below player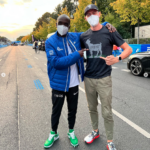 Kipchoge loves the 1:59:40 Shirt Get Yours Today
What a legend!
You are in luck. We had a real hard time finding them on google so we decide to embed them below for your convenience as we always claim one of the main goals of LetsRun.com is to save you the visitor time.
Click on the upper right hand corner of each viewer to expand it to make it bigger.
Schedule for 2013 NCAA Outdoor Track and Field Championships in Eugene, Oregon June 6-7-8
Schedule for 2013 NCAA Outdoor Track and Field East Preliminary Round in Greensboro, NC May 23-25
Schedule for 2013 NCAA Outdoor Track and Field West Preliminary Round in Austin, TX May 23-25