US's Bernard Lagat And Galen Rupp Face The World In Prefontaine Classic 5000
Pre Classic Press Release
May 13, 2013 
Eugene, Oregon – The best 5k field in the world this year will be in Eugene, featuring American record holders Bernard Lagat and Galen Rupp at the Prefontaine Classic to be held June 1 at historic Hayward Field.  The Pre Classic is a member of the elite IAAF Diamond League.
Rupp and Lagat are familiar with the history of Pre, as well as Hayward Field.  Rupp, a native Oregonian, finished his collegiate career at Oregon with a 5k/10k NCAA championship for the Ducks in 2009.  Training near hometown Portland under the tutelage of Oregon legend Alberto Salazar, Rupp is the American record holder in the 10k (26:48.00) and earned the silver medal at that distance in London.
Article continues below player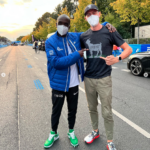 Kipchoge loves the 1:59:40 Shirt Get Yours Today
What a legend!
Lagat lives in Pacific-12 country.  A 1999 graduate of Washington State, he trains in Tucson, Arizona, and has been a U.S. citizen since 2004.  Since that time he has re-written American distance history, now holding no fewer than 7 American Records: 1500, 3000 and 5000 meters outdoors, plus 1500, mile, 3k, and 2-Miles indoors.  Lagat won the gold medal at both 1500 and 5000 meters in the 2007 World Championships, as well as silver in the 5k in 2009 and 2011.  He has an Olympic silver (2004) and bronze (2000) in the 1500.  Lagat is also a 2-time winner of the Bowerman Mile (2003 and 2006).
The Pre Classic offers much more, led by Thomas Longosiwa, the London bronze medalist, and fellow Kenyan Isiah Koech, a 19-year-old who was ranked No. 3 in the world last year by Track & Field New after finishing 5th in London and 4th in the 2011 World Championships at age 17.  Koech has the fastest PR in the field at 12:48.64, the second-fastest ever by a Junior-aged runner.
Two more sub-12:50 runners headline a loaded field, and both know the energy that Hayward Field fans provide, having run at last year's Pre Classic.  Kenya's John Kipkoech was ranked No. 8 in the world last year by T&FN.  Ethiopia's Yenew Alamirew was an Olympic finalist last year.
The Pre Classic field is far from done. Edwin Soi of Kenya has an Olympic bronze medal from the 2008 Beijing Games and owns speed enough to gather a bronze in the 3k at the 2012 World Indoor Championships. Add Hayle Ibrahimov of Azerbaijan to the mix. He was a London finalist in his first major international test, finishing 9th.
Last year's 5k/10k NCAA champion Cam Levins, a Canadian who also trains under Salazar, made the London Olympic final and has committed to the Pre Classic 5k.  So has Collis Birmingham of Australia, who has twice run at the Pre Classic and returned home with PRs.
More Americans are clearly a part of the picture. Reigning national cross country champ Chris Derrick just missed making the London team in the 10k, but he knows the power of Hayward Field, having won the Pac-12 5k title for Stanford last year.
The field includes two more runners known for being part of last year's magical Kenyan Olympic Trials 10k at Hayward Field.  Emmanuel Bett finished in the unfortunate 4thspot, and was 5th in Kenya's 5k trials.  Mark Kiptoo, though 8th in last year's 10k Kenyan OT, earned No. 10 in the T&FN world rankings in the 5k.
The talented field includes 18-year-old Albert Rop of Kenya, Olympic finalist, Juan Luis Barrios of Mexico, and 2012 World Junior 10k bronze medalist Geoffrey Kirui of Kenya.  Rop ran an incredible 7:35.66 3k as a 16-year-old in 2011.
The 5k race at the 39th Pre Classic is the signature event of the meet's namesake, Steve Prefontaine, who was known to run fast and fearless.  It was won last year by eventual double London Olympic gold medalist Mo Farah in 12:56.98, the fastest ever in the U.S. That mark could be in jeopardy. And what of Mr. Farah?  In an intriguing development, Mo will decide the week of the meet between the 10k on Friday and the 5k on Saturday. Rupp and Lagat and Farah? Oh My!
Men's 5000 Meters

Personal Best

Isiah Koech (Kenya)

12:48.64

 

Yenew Alamirew (Ethiopia)

12:48.77

 

Thomas Longowisa (Kenya)

12:49.04

 

John Kipkoech (Kenya)

12:49.50

 

Edwin Soi (Kenya)

12:52.40

 

Mark Kiptoo (Kenya)

12:53.46

 

Bernard Lagat (USA)

12:53.60

 

Galen Rupp (USA)

12:58.90

 

Jacob Cheshari (Kenya)

12:59.72

 

Albert Rop (Kenya)

13:01.91

 

Collis Birmingham (Australia)

13:09.57

 

Juan Luis Barrios (Mexico)

13:09.81

 

Hayle Ibrahimov (Azerbaijan)

13:11.34

 

Chris Derrick (USA)

13:12.00

 

Hassan Mead (USA)

13:15.50

 

Cam Levins (Canada)

13:18.29

 

Geoffrey Kirui (Kenya)

13:20.54

 

 

 

 
Fans can follow the event lineups as all announced fields are posted atPreClassic.com.  The direct link to current start/entry lists is HERE and includes updates to previously announced fields.
Tickets for the 39th annual edition of the Prefontaine Classic, to be held May 31-June 1 at Hayward Field in Eugene, Ore., are available now from PreClassic.com and from 1-800-WEBFOOT.  Sponsored by NIKE continuously since 1984, the Prefontaine Classic will be shown live to an international audience and by NBC Sports from 1:30 till 3:00 p.m. PT on June 1st.
The Prefontaine Classic is the longest-running outdoor invitational track and field meet in America and is part of the elite IAAF Diamond League of meets held worldwide annually.  Last year's Pre Classic presented the most 2012 Olympic gold medalists (20) of any invitational meet in the world.
Steve Prefontaine is a legend in the sport of track & field and is perhaps the most inspirational distance runner in American history.  Many call him the greatest ever.  He set a national high school 2-Mile record while at Coos Bay High School that lasted nearly two decades.  While competing for the University of Oregon, he won national cross country championships (3) and outdoor track 3-Mile/5000-meter championships (4) every time he competed, and never lost a collegiate race at any distance.  As a collegiate junior, he made the 1972 U.S. Olympic Team and nearly won an Olympic medal, finishing 4th in the 5K at the 1972 Munich Olympics, at age 22.  After finishing college in 1973 and preparing for a return to the Olympics in 1976, he continued to improve, setting many American records.  His life ended tragically on May 30, 1975, the result of an auto accident, at age 24.  The Pre Classic began soon after and has been held every year since.