2013 IAAF Shanghai Diamond League Recap: Asbel Kiprop Pulls Off A Houdini Act, New Stars in the Men's Steeple and Women's 5,000?
by LetsRun.com
May 18, 2013
The second stop of the 2013 IAAF Diamond League track and field circuit took place Saturday night in Shanghai (Saturday morning in the US) under wet conditions.
Mid-d and distance wise there was some great action as Asbel Kiprop pulled off an mind-boggling/thrilling victory in the men's 1,500, a new phenom emerged in the men's steeple, and perhaps as well in the women's 5000. Plus Francine Niyonsaba dominated the women's 800.
Article continues below player
The biggest news from the meet was Kirani James opening with a 44.02 win.
We recap the mid-d and distance action for you below in great detail before quickly taking a look at the other events. We've embedded in all Universal Sports race videos if they exist.
Men's 1,500: Asbel Kiprop Pulls A Houdini Act and Esacapes With An Absolutely Thrilling Victory
"Are you kidding us?"
That's what we thought to ourrselves after the finish of this thriller.
In the end, the Asbel Kiprop show continued as he picked up his second 1,500 victory over the world's best in the span of eight days but boy did he make it interesting. On a wet evening in Shanghai, Kiprop took his customary spot up front near the two rabbits at the start, but 500 meters in, he let the rabbits go and allowed himself to be swallowed up by the pack.
Kiprop almost appeared to be bagging it as at the bell he was way back in 9th place. Even with 300m to go, he was still in 9th. And then wait, coming off the final turn, Kiprop reappears in the picture in sixth to contend.
What's this?
Yes, you got it, he spotted the field 1.5+ seconds seconds at bell – hell 1.5 seconds at 300 – and still got the job done as he just barely had enough time to catch Ethiopia's Mekonnen Gebremedhin at the line as Kiprop won in 3:32.39 to Gebremedhin's 3:32.43.
Truly ridiculous. Look how far back Kiprop was at 300m: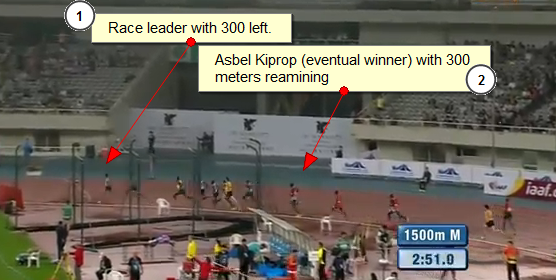 Leader to leader, the last lap was run in 55.41 but Kiprop was in about 53.3.
2008 Olympic silver medalist Nick Willis was right behind Kiprop with 100 meters remaining in seventh and poised for a good finish as he's known for having a good close and he seemed to be moving up. But when Willis moved outside to try to bring it home, he went down in a fall. Perhaps he clipped the runner in front of him? It's hard to say for sure but Willis ended up 10th in 3:40.72. However, considering sixth place ended up running 3:33.85, it's safe to say Willis was on his way to a 3:33 finish.
The sixth place finisher was non other than 2011 world championship silver medalist Silas Kiplagat. Kiplagat, who was only 10th in Doha last week, had talked a lot of trash coming into Shanghai about the great shape he was in, but he certainly didn't show it in Shanghai and he had no excuses like last week when he nearly fell at the bell.
Quick Take (QT) #1: When he's on,there is no one on the planet who can beat Asbel Kiprop except maybe for Algeria's Olympic champion Taoufik Makhloufi (and we've never really seen the two of them battle each other when they both were on) or perhaps a totally in-form Silas Kiplagat (not the case right now). That being said, Kiprop certainly can beat himself and thus the 1,500 is going to be a must-watch race all year long.
QT #2: Watching the race replay, we had Kiprop in the following places with the following splits at various places in the race (for places, we took out the rabbit).
300: 41.7 (1st)
400: 56.5 (1st)
700: 1:40.5 (4th)
800: 1:55.0 (4th)
1100 : 2:39.0 (9th)
1200 2:53.0 (9th)
1500: 3:32.39 (1st)
QT #3: After the race, Nick Willis emailed his post-race reaction to Athletics New Zealand. On the positive side, stuff.co.nz says he wrote,"Ran the best first 1000m of my Diamond League career."
But he was clearly upset with finish: "Very disappointing to come all the way to China and not have my performance reflect my fitness. Regardless, I ran a poor tactical race from 1000-1200m, and that cost me a chance at the win. Even if I hadn't tripped, third was the best I could have finished. Good prep for my upcoming races in the US."
QT# 4: If you didn't watch this race, the results don't show it justice – so please do yourself a favor and after looking at the results below, watch the full race replay which is embedded below the results.
Rank
Athlete
Nation
Result
Diamond Points
Diamond Ranking

1

KEN

3:32.39

4

1

2

ETH

3:32.43

SB

2

2

3

KEN

3:32.96

1

3

4

MAR

3:33.29

SB

5

KEN

3:33.67

6

KEN

3:33.85

SB

7

KEN

3:35.29

SB

ETH

3:35.47

9

KEN

3:37.64

10

KEN

3:38.28

11

CZE

3:38.71

12

MAR

3:38.76

13

NZL

3:40.72

14

CHN

3:41.19

PB

15

NZL

3:42.08

16

CHN

3:46.56

SB

KEN

DNF

KEN

DNF
400m: Rotich, Andrew Kiptoo (KEN) 55.95
800m: Rotich, Andrew Kiptoo (KEN) 1:53.16
1200m Iguider, Abdelaati (MAR) 2:51.32
Men's Steeple: 18-Year old Phenom Conseslus Kipruto Impresses
The future in the men's steeplechase has arrived and it has a name – Conseslus Kipruto.
Heading into the men's steeplechase which featured the fastest man in the world from 2012 in Paul Kipsiele Koech (who just missed the World Record last year), as well as the 2008 Olympic champ Brimin Kipruto (who almost certainly would have medalled in London had he not fallen in last year's Olympic final), as well 2012 Olympic bronze medallist Abel Mutai, we urged you not to over look 18-year old Conseslus Kipruto.
We wrote the following of Kipruto (the 2011 World Youth and 2012 World Junior steeple champ who ran 8:03.49 last year at age 17 and was 5th at world juniors this year in XC):
He might represent the future of the event.
As said above, it looks like the future is now here.
Kipruto ripped a 59 last lap (leader to leader it was 59.83 but Kipruto wasn't in the lead at the bell) to get the win in a new personal best and new world leading time of 8:01.16, which also was a new Shanghai meet record. Kipsiele Koech, who is known for producing fast early season times in May, ended up second in 8:02.63 as 21-year old Hilary Yego, the 2009 World Youth champ, ended up third in a new pb of 8:03.57 (previous pr of 8:07.71).
The top three were right together at the bell. Heading into the last water jump, Kipruto and Koech were next to each other but coming off the water jump Kipruto pulled away convincingly. Kipruto stuttered coming into the final barrier on the homestretch but it didn't matter as he was flying on the last lap. The 2012 Olympic bronze medalist Abel Mutai was the best of the rest at 8:08.83.
Quick Take #1: Kipruto appears to be something special. The world junior record of 7:58.66 from 2001 by Stephen Cherono appears to be within reach. Cherono is of course the world record holder at 7:53.63.
QT #2: Don't let the 8:14 time by 2008 Olympic champ Brimin Kipruto make you write him off. He's very good at getting his peak right. Last year in May on the DL circuit, he only ran 8:26 in Doha.
QT #3: This was a high quality affair. Prior to tonight, Kenya's Jairus Birech was the world leader at 8:15.26. Tonight he ran a new seasonal best of nearly 5-seconds (8:10.27) and was only sixth.
Rank
Athlete
Nation
Result
Diamond Points
Diamond Ranking

1

KEN

8:01.16

WL,MR

4

1

2

KEN

8:02.63

2

2

3

KEN

8:03.57

PB

1

3

4

KEN

8:08.83

SB

5

KEN

8:09.50

PB

6

KEN

8:10.27

SB

7

KEN

8:14.97

8

KEN

8:20.69

9

KEN

8:29.29

10

UGA

8:30.42

11

CAN

8:31.35

SB

UGA

DNF

CAN

DNF

KEN

DNF

MAR

DNF

CHN

DNS
Intermediate times:
1000m :Lagat, Haron (KEN) 2:38.37
2000m: Koech, Paul Kipsiele (KEN) 5:24.03
Women's 800: Francine Niysonaba Dominates Final 200 of Uneven Race

With 2008 Olympic champion Pamela Jelimo a no-show, the women's 800 was won as expected by the woman who was the revelation of the 2012 season, Burundi's Francine Niysonaba. Niyonsaba burst onto the scene out of nowhere least year as a 19-year old novice who had no idea of the proper way to run an 800, often making multiple moves, and before the year was over she was an Olympic 800 finalist with a 1:56.59 pb.
Tonight, on the first lap, Niyonsaba showed she's still not a veteran as she ran a crazy second turn. Heading into the second turn, it looked as if Niyonsaba was going to settle into last place, then she changed her mind and quickly accelerated and blew by everyone in the field except for the race leader and the rabbit (whom no one followed). Niyonsaba then stayed up front and controlled the race nicely in the unevenly paced raced before destroying everyone in the final 100.
Niyonsaba's split at 400 was right near 60 (probably just under) and her 600 split was 1:31.21, but she was able to pick it up over the last 200 and finished in 2:00.33 – a new world leader (Brenda Martinez's 1:59 from the Re:Run meet has not been accepted as the track didn't have a curb on it). Very few people are able to accelerate over the final 200 in a 2:00 race and that was confirmed by the fact that second was nearly a full second back. 2007 world champ Janeth Jepkosgei won a three way battle for runner-up honors in 2:01.28.
QT #1: Niyonsaba is a talent and will be hard to beat this year. That being said, she needs to learn how to race.
QT #2: The announcers of the IAAF international feed (not sure who they were, if you know, please email us) said 2008 Olympic champ Pamela Jelimo, who finally had a good year last year after two horrible years, was unable to get a visa to China. However, that may just been an excuse for not showing up as they've heard she's not in good shape once again.
Rank
Athlete
Nation
Result
Diamond Points
Diamond Ranking

1

BDI

2:00.33

WL

4

1

2

KEN

2:01.28

2

2

3

MAR

2:01.49

SB

1

3

4

KEN

2:01.54

SB

5

BLR

2:02.44

6

CHN

2:02.81

7

RUS

2:02.92

8

CHN

2:02.94

SB

9

IND

2:03.61

10

KEN

2:04.31

POL

DNF
400m Cichocka, Angelika (POL) 58.28
600m Niyonsaba, Francine (BDI) 1:31.21
Women's 5000: Dibaba Over Defar But In A New Way
Last year at the Olympics, Ethiopia's Meseret Defar stunned seven time Olympic/World track champion Tirunesh Dibaba in the women's 5000 to become a two-time Olympic 5000 champ (she also won the 5000 in 2004). Well tonight in Shanghai, Dibaba's little sister, Genzebe Dibaba, got revenge for her big sis as Genzebe used her 3:57.54 1500 speed to crush Defar and everyone else in the field over the final 400 thanks to a sub-59 second last lap (leader to leader it was 59.00).
Genzebe Dibaba won in a new world leading time of 14:45.92 to Defar's 14:47.76. Kenya's Viola Kibiwot, herself a 3:59 1,500 runner who was 6th in the 5000 at the 2012 Olympics, was third in 14:48.29 after doing most of leading after the second rabbit departed at 2k.
QT #1: We don't understand why races need rabbits at all if they are going to last only 2k – which isn't really a big help. Once they dropped, the pace slowed dramatically which played into the 1,500 runner Dibaba's hands.
QT #2: We described Dibaba as a "1,500 runner" above but it will be interesting to see where she ends up. When the 22-year old Dibaba first came onto the circuit, she tried to make it as a 5000 runner but had much less success than she had last year in the 1,500. She was just 8th in the 2009 and 2011 world champs at 5000. Of course, she was very young then. Now that she's a bit older, the 5000 might be perfect for her. Particularly championship 5000 races which often are tactical as she's got great wheels.
The 5000 might also be more appealing as somehow her 3:57.54 last week only got her third in Doha.
QT #3: A disappointing night for 2009 and 2011 world championshp silver medalist 2011 Sylvia Kibet who was just 9th.
QT #4: Below the results, we've embedded 3:49 of race highlihts.
Rank
Athlete
Nation
Result
Diamond Points
Diamond Ranking

1

ETH

14:45.92

WL

4

1

2

ETH

14:47.76

2

2

3

KEN

14:48.29

1

3

4

KEN

14:49.84

5

KEN

14:49.92

PB

6

ETH

14:50.24

PB

7

KEN

14:50.99

8

ETH

14:59.05

9

KEN

15:02.90

10

ETH

15:02.90

11

KEN

15:05.89

12

ETH

15:07.96

SB

13

ETH

15:11.12

PB

14

ETH

15:13.48

PB

15

KEN

15:17.51

PB

16

ETH

15:19.14

PB

17

CHN

16:16.33

SB

UGA

DNF

GBR

DNF
Intermediate times:
1000m: Achola, Janet (UGA) 2:55.92
2000m:Clitheroe, Helen (GBR) 5:52.83
3000m: Kibiwot, Viola Jelagat (KEN) 8:56.90
4000m: Kibiwot, Viola Jelagat (KEN) 12:00.76
Non-Distance Action
Men's 400: King James Reigns Supreme
In the battle between the 2008 and 2012 Olympic champs as well as the 2012 Olympic silver medalist, this one firmly belonged to the 2012 Olympic champ Kirani James who really pulled away from LaShawn Merritt over the final 100 to win in a really quick 44.02 to Merritt's 44.60. London silver medalist Luguelin Santos as third in 45.11.
QT #1: 44.02 is very good. James has only run faster once in his life – the 43.94 he ran to win Olmpic gold.
QT #2: 44.60 – the time Merritt ran today for 2nd – won James gold at the 2011 world champs.
400 Metres - Men                                              
                                                            Pts
    1 James , Kirani                   GRN      44.02          4        
    2 Merritt , LaShawn                USA      44.60          2        
    3 Santos , Luguelín                DOM      45.11          1        
    4 Borlée , Jonathan                BEL      45.57                   
    5 Gordon , Lalonde                 TRI      46.39                   
    6 Zhang , Huadong                  CHN      47.77                   
      Williams , Conrad                GBR         DQ                   
      Maslák , Pavel                   CZE         DQ                   
      Guo , Jian                       CHN        DNF
Men's 110 Hurdles
World record holder and Olympic champ Aries Merritt didn't even make it over the first hurdle and he didn't even try to jump it. Television commentator Tim Hutchings was stunned by Merritt's lack of effort. Perhaps he felt something in his hammy – no need to risk it – this early. In his absence, the win went to the London silver medallist Jason Richardson in a modest 13.23. Race replay below results.
110 Metres Hurdles - Men                                      Wind: -0.5 m/s
                                                            Pts
    1 Richardson , Jason               USA      13.23          4        
    2 Wilson , Ryan                    USA      13.25          2        
    3 Xie , Wenjun                     CHN      13.28          1        
    4 Oliver , David                   USA      13.35                   
    5 Porter , Jeff                    USA      13.45                   
    6 Shubenkov , Sergey               RUS      13.52                   
    7 Shi , Dongpeng                   CHN      13.64                   
    8 Fourie , Lehann                  RSA      13.82                   
      Merritt , Aries                  USA        DNF
Women's 100
In a rematch of the Olympic gold and silver merdallists from London, Shelly-Ann Fraser Pryce got the win over Carmelita Jeter as Jeter pulled up hurt at the end of the race.
100 Metres - Women                                            Wind: +0.1 m/s
                                                            Pts
    1 Fraser-Pryce , Shelly-Ann        JAM      10.93          4        
    2 Okagbare , Blessing              NGR      11.00          2        
    3 Jeter , Carmelita                USA      11.08          1        
    4 Henry-Robinson , Samantha        JAM      11.23                   
    5 Brooks , Sheri-Ann               JAM      11.27                   
    6 Bailey , Aleen                   JAM      11.30                   
    7 Zang Milama , Ruddy              GAB      11.36                   
    8 Tarmoh , Jeneba                  USA      11.42                   
    9 Wei , Yongli                     CHN      11.50
Men's Long Jump
The battle between the last three Olympic long jump champs was won by China's Jinzhe Li? Yep, that's right. He improved his pb from 8.25 to 8.34 in the process.
Long Jump - Men                                               
                                                            Pts               Wind
    1 Li , Jinzhe                      CHN       8.34          4              +1.1
    2 Menkov , Aleksandr               RUS       8.31          2              -0.2
    3 Rutherford , Greg                GBR       8.08          1              -1.0
    4 Su , Xiongfeng                   CHN       8.00                         +0.2
    5 Makusha , Ngonidzashe            ZIM       7.96                         -1.7
    6 Gaisah , Ignisious               GHA       7.95                         -0.1
    7 Mokoena , Godfrey Khotso         RSA       7.74                         +0.7
    8 Saladino , Irving                PAN       7.72                         +0.7
    9 Tomlinson , Christopher          GBR       7.66      +0.9
   10 Phillips , Dwight                USA       7.62      +0.7
   11 Jegede , J.J.                    GBR       7.58      +0.9
   12 Watt , Mitchell                  AUS       7.58      -0.8
   13 Claye , Will                     USA       7.56      -1.0
Women's Pole Vault
Double Olympic champ Elena Isinbaeva got the win over American Mary Saxer. Detailed results with misses here.
Pole Vault - Women                                            
                                                            Pts
    1 Isinbaeva , Elena                RUS       4.70          4        
    2 Saxer , Mary                     USA       4.60          2        
    3 Spiegelburg , Silke              GER       4.55          1        
    4 Li , Ling                        CHN       4.50                   
    5 Janson , Lacy                    USA       4.40                   
    6 Savchenko , Anastasia            RUS       4.40                   
    7 Bengtsson , Angelica             SWE       4.40                   
    8 Holliday , Becky                 USA       4.15
    8 Kushch-Mazuryk , Natalya         UKR       4.15
    8 Viuf , Katy                      USA       4.15                   
      Kiryashova , Aleksandra          RUS         NM
Men's 200
2012 Olympic bronze medallist Warren Weir started to lose it completely at the end of his 200 as American Justin Gatlin moved up late but Weird hung on for a narrow victory.
Let's hope Wallace Spearmon, who had run a 9.92 windy 100 at the Texas Relays, isn't injured.
Men' results

200 Metres - Men                                              Wind: 0.0 m/s
                                                            Pts
    1 Weir , Warren                    JAM      20.18          4        
    2 Gatlin , Justin                  USA      20.21          2        
    3 Young , Jason                    JAM      20.22          1        
    4 Zhang , Peimeng                  CHN      20.47                   
    5 Martina , Churandy               NED      20.59                   
    6 Patton , Darvis                  USA      20.61                   
    7 Xie , Zhenye                     CHN      20.63                   
    8 Spearmon , Wallace               USA    1:20.88
Women's 400h

2012 bronze medallist Zuzana Hejnova got the win as America's London silver medalist Lashinda Demus really struggled over the final 200.
400 Metres Hurdles - Women                                    
                                                            Pts
    1 Hejnová , Zuzana                 CZE      53.79          4        
    2 Morosanu , Angela                ROU      53.85          2        
    3 Pedroso , Yadisleidis            CUB      54.54          1        
    4 Muhammad , Dalilah               USA      54.74                   
    5 Spencer , Kaliese                JAM      54.91                   
    6 Demus , Lashinda                 USA      55.12                   
    7 Odumosu , Muizat Ajoke           NGR      55.94                   
    8 Williams , Tiffany               USA      56.05                   
    9 Kubokura , Satomi                JPN      56.42
Trple Jump Women
Triple Jump - Women                                           
                                                            Pts               Wind
    1 Ibargüen , Caterine              COL      14.69          4              -1.1
    2 Saladuha , Olha                  UKR      14.43          2              -1.4
    3 Gumenyuk , Irina                 RUS      14.02          1              -0.3
    4 Xie , Limei                      CHN      13.99                         -1.2
    5 Williams , Kimberly              JAM      13.99                         -0.7
    6 Panétta , Níki                   GRE      13.81                         -0.1
    7 Veldáková , Dana                 SVK      13.76                         -0.8
    8 Costa , Keila                    BRA      13.63                         -0.5
    9 Li , Yanmei                      CHN      13.55      -1.3
      Knyazyeva , Hanna                UKR         NM
Throws
Discus Throw - Men                                            
                                                            Pts
    1 Malachowski , Piotr              POL      67.34          4        
    2 Kanter , Gerd                    EST      63.14          2        
    3 Urbanek , Robert                 POL      62.85          1        
    4 Cadee , Erik                     NED      62.40                   
    5 Casañas , Yennifer Frank         ESP      62.39                   
    6 Gowda , Vikas                    IND      61.97                   
    7 Maric , Martin                   CRO      60.73                   
    8 Smith , Rutger                   NED      60.12                   
    9 Pestano , Mario                  ESP      57.14
   10 Xin , Jia                        CHN      53.83

Javelin Throw - Men                                           
                                                            Pts
    1 Pitkämäki , Tero                 FIN      87.60          4        
    2 Veselý , Vítezslav               CZE      86.67          2        
    3 Tarabin , Dmitri                 RUS      85.36          1        
    4 Mannio , Ari                     FIN      83.43                   
    5 Zhao , Qinggang                  CHN      81.18                   
    6 Walcott , Keshorn                TRI      79.02                   
    7 Yego , Julius                    KEN      78.23                   
    8 Farquhar , Stuart                NZL      76.36                   
    9 Chen , Qi                        CHN      75.46
   10 Oosthuizen , John Robert         RSA      74.62
      Thorkildsen , Andreas            NOR         NM
Shot Put - Women                                              
                                                            Pts
    1 Schwanitz , Christina            GER      20.20          4        
    2 Gong , Lijiao                    CHN      19.73          2        
    3 Carter , Michelle                USA      18.83          1        
    4 Liu , Xiangrong                  CHN      18.11                   
    5 Heltne , Anca                    ROU      18.02                   
    6 Terlecki , Josephine             GER      17.97                   
    7 McCall , Jeneva                  USA      17.83                   
    8 Márton , Anita                   HUN      17.23                   
    9 Hryshko Dubitskaya , Aliona      BLR      17.06
   10 Sviridova , Olesya               RUS      15.91
      Borel , Cleopatra                TRI         NM