Is Tyson Gay Better Than Usain Bolt? Lawi Lalang The NCAA 1,500 Fav? Abbey D Does The 10k? Is Faith Kipyegon On Drugs? Is The PAC-12 > The SEC?
by LetsRun.com
May 15, 2013
Last week's Weekly Recap can be found here.
This week we anoint a new NCAA men's 1,500 favorite, try to move Abbey D'Agostino up to the 10k (or marathon), wonder if the PAC-12 is better than the SEC at track, declare the US women's 1,500 medal chances are over unless your name is Jenny Simpson, ask if Kenyan star Faith Kipyegon is on drugs (not unless Alan Webb was), and give kudos to Brittney Reese, Garrett Heath, and the Dartmouth and Oregon State women.
Article continues below player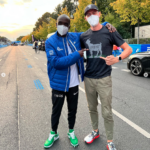 Kipchoge loves the 1:59:40 Shirt Get Yours Today
What a legend!
The big news of the week was of course the the start of the Samsung Diamond League last Friday in Doha, Qatar. This is the equivalent of the pre-season games ending and the regular season beginning in the NFL.
There was some great action in the first huge international pro meet of the year in Doha. Now of course we assume you come to LRC every day and know what happened, as we broke it down in great detail when it happened. But just in case your Internet was down last Friday and were therefore prevented from coming to LetsRun, here are the highlights:
Men: LRC Men's 3,000:Hagos Gebrhiwet Makes A Statement With Impressive 3,000 Win – 18-Year-Old Phenom Seems To Be The Man To Beat In 2013
*LRC Men's 800: David Rudisha Has To Work For It But He Opens 2013 Season With World-Leading 800 Win Rudisha put on a clinic on how to control an 800 from the front. The entire field was right behind him with 200 left but he closed faster than he did in London to win.
*LRC Men's 1,500: Asbel Kiprop Is Back – Kenyan Dominates 2013 Diamond League Opener In Doha
*LRC Women's 1,500:Sweden's Abeba Aregawi Wins As Three Women Run 3:57.54 Or Better!!!
*2011 World Champ Amantle Montsho Wins 400 In WLing 49.88 Over Allyson Felix And GB's Christine Ohuruogu
*IAAF Full Meet Recap

****
Tyson Gay > Usain Bolt?
Two of the bigger names in the sport on the men's side, Tyson Gay and Usain Bolt, competed last week but not in Doha.
A week after running 9.86, Gay blitzed a wind aided 19.79 at the obscure NTC Classic. We're being generous when we call it obscure. Watch the video below. Every high school meet we participated in had more spectators. It's pretty cool he ran 19.79 at such a meet. It would have been better for the sport if he did it at a high school meet. Seriously. Why not have all the pros at the obscure NTC Classic run at a high school meet on the same track? At least try to bring in a few fans.
Usain Bolt, meanwhile, was making his 100m debut at the Cayman Invitational, where he won in a very modest 10.09 (with a .3 mps tailwind) over training partner Kemar Bailey Cole. And if you watch the video below, many people were left wondering if Bolt won at all. Bolt's and Gay's opposite early season form is making 2013 very interesting. Worlds are 3 months away and right now Gay's got the upper hand.
*More On Bolt's Run With Video And Photo *Message Board Thread On Bolt's Run
*Message Board Thread On Gay's Run
****
NCAA News & Notes: New NCAA Men's 1,500 Favorite; Elijah Greer Impresses; Move Abbey D Up To The 10k

Can we take back what we said last a while back about Oregon's Mac Fleet and Oklahoma's Pat Casey being co-favorites for the NCAA 1,500 title? At the PAC-12s, Arizona's Lawi Lalang beat Fleet by more than 3 seconds as Lalang ran 3:38.53 in a conference meet. Ridiculous.
Fleet (3:42.20) was actually third in the race behind Washington State's Todd Wakefield (3:41.83).
Given his NCAA meet records at the mile and 3,000 indoors, Lalang is the 1,500 favorite if he runs it. The only problem is we don't think Casey, who is a true miler, will let Lalang gap the field like everyone did indoors, and the finish could be interesting.
Oh yeah, one more thing – Lalang's 3:38 came after he won the 10,000.
Up until PAC-12s, Lalang, who seemed to be a bit burned out by the time NCAAs rolled around last year (3rd in 5k, 11th in 1,500), has been taking a low-key approach to outdoors. His only other outdoor meet was a 13:40 5,000 in Arizona, so he should be firing on all cylinders when NCAAs come next month.
One other thing about the NCAA 1,500. 2013 NCAA indoor runner-up Ryan Hill will be going for that title as well. He'd missed all of outdoors with a foot issue but got an NCAA regional qualifier last weekend at 3:42 in his 2013 outdoor opener.
Speaking of NCAAs, we found it impossible to find an NCAA schedule. It literally took us about 30 minutes to find the schedules for the NCAA finals in Eugene and preliminary rounds in NC and TX. So if you are looking for them yourself, enjoy: 2013 NCAA Outdoor Track And Field Championship Schedules
####
After last week, the NCAA men's 800 favorite is certainly indoor champ Elijah Greer of Oregon. Greer dominated the PAC-12 meet as he won by 1.40 seconds – an eternity in an 800 (Rudisha only won last year's Olympics by .82 seconds) – and his principal rival in 2013 indoor NCAA runner-up Cas Loxsom failed to win the Big 10 title as Minnesota's Harun Abda got the win.
####
If you needed evidence as to why Jordan Hasay moved up to the 10,000 after being a 1,500 star as a teen, you got it last week at the PAC-12 meet. Hasay was just 5th in the 1,500 in 4:15.53. She simply doesn't have the wheels for the 1,500.
####
Speaking of not having wheels, what we are going to say is a bit blasphemous by LetsRun.com standards as we have been pumping the prospects of Abbey D'Agostino throughout the entire calendar year. In our minds, she's a virtual lock for the 2013 Moscow World Championships team at 5,000. That being said, she ran a twilight 800 last week and "only" ran 2:08.11.
That's in line with what she's run in the past (2:09 split at Heps) and that means to us at the world class level, if she's ever going to be in the medal hunt, we think it's more likely to be at the 10k/marathon distance than at 5k.
We view this positively – look for her to sort of be the next Shalane Flanagan, not Regina Jacobs.
Flanagan has a 2:09 800 PR according to tilastopaja. And while she had the American record at 5,000 at 14:44.80, 2:08 runners generally aren't sniffing medals in the 5,000.
Former NCAA star Sally Kipyego (2:08/4:06 PRs) did get fourth in the Olympics at 5,000 with similar speed, but Kipyego is much better at 10,000 (two-time silver medallist) than 5,000.
Typing the above about D'Agostino is the perfect reason why everyone is salivating over Mary Cain. She's running 2:01 as a junior in HS. You can't coach that kind of speed.
More on D'Agostino near the bottom of this piece.
####
National-Leading Marks In College Last Week
For a long time, we said the SEC was the biggest and baddest track and field conference in the land. We don't have time to figure out if that's true currently, but you certainly wouldn't realize it in comparing national leading collegiate marks set last weekend at conference meets. The PAC-12 had six, the SEC had four and Mountain West one.
NCAA D1 National-Leading Marks Set Last Week
PAC-12
Women
Oregon's Phyllis Francis's 51.57 in 400m.
Stanford's Kori Carter's 54.21 in 400H.
Arizona's Brigetta Barrett's collegiate record of 6'6.25″ (1.99m) in HJ.
Men:
USC's Bryson Nellun's 44.76 in 400m.
USC's Reggie Wyatt's 49.17 in 400h.
Arizona's Lawi Lalang's 3:38.53 in 1,500.
SEC
Women
Arkansas' Makeba Alcide 5968 in Heptathlon .
LSU's Kimberly Duncan's 22.35 in 200m.
Men:
Mississippi's Isiah Young's 20.20 in 200m.
Florida's Omar Craddock's 54'00" (16.46m) in TJ.
Mountain West
San Diego State's Shanieka Thomas 46'5.25″ (14.15) in tj.
####
Speaking of NCAA conferences … after last week's note about how the Big 12 conference only had two sub-1:50 guys, we got an email asking that we give out some sub-1:50 800 love to D2 Ashland University. The emailer points out that "Ashland University a D2 school has 3 guys under 1:50 outdoors so far which is more than the entire Big 12 and equals the Big East. Maybe you could include a tidbit giving them some props?"
No problem – it's well deserved.
****
The US Women's 1,500 Medal Chances Take A Big Hit
Over the last few years, one of the most entertaining things for US track fans has been cheering on the studly group of US women in the 1,500 as they dreamed of bringing brought home some serious hardware.
Well, we are the bearer of bad news for US fans. Last week, in our minds, the medal chances of everyone not named Jenny Simpson basically were extinguished in Doha when three women – Abebe Aregawi, Faith Kipyegon and Genzebe Dibaba ran 3:57.54 or faster. As we stated in our Doha recap, coming into the race, in the last 10 years only two women not implicated in doping had run 3:57.54 or faster. And now three did it in the season opener.
The US women not named Simpson are very good but they aren't really capable of competing with 3:57 people without some help this year. But we guess they could get some help, and as a result, we technically shouldn't say the US chances were eliminated as one can always hope that there are falls or that people burn themselves out. Anyone remember last year what happened in the men's and women's 1,500?
Last year, the three Kenyan men, who were under 3:30 on the year, got it all wrong in London as they did not medal and the top women in the world didn't get it much better. Last year, Aregawi and Dibaba both ran fast early in the year and by the time London came around, Aregawi barely beat 2009 World Championships bronze medallist Shannon Rowbury (Aregawi was 5th, Rowbury was 6th) and Dibaba was out with injury in the first round. But we don't expect that to happen again this year with Dibaba and Aregawi as the two 22-year-olds are more experienced and unlikely to get it wrong two years in a row (the 19-year-old Kipyegon is the one most likely to get her peak wrong).
With or without help, there's legitimate hope for Simpson as she has run 3:59 in the past and seems to be in great form given her 4:03 win at Drake. Is it conceivable to think she could get into 3:58 or even 3:57 shape? Yes it is. But Rowbury only ran 4:09 at Drake. She's got 12 seconds to make up. 2011 world #1 Morgan Uceny ran 4:17 at Drake and has 20 seconds to make up.
****
Teen Prodigies/Is Faith Kipyegon On Drugs?
We briefly mentioned Faith Kipyegon above. The 19-year-old was the big surprise of the week as she lowered her PR from 4:03.82 to 3:56.98 and set the Kenyan national and national junior records in the process.
After her spectacular run, we received an email from a LetsRun visitor from Germany. The email said the following:
Dear Track & Field friends
Only one comment:  It is an appreciating development that Faith Kipyegon  took from 4:17,1 (2010) to 4:09,48 (2011), 4:03,82 (2012) and now 03:56,98 (2013). In a sequence of four years every year about 6 seconds faster. Incredibly. Astonishing. And raising questions.
We thought the email was thought provoking and wanted to share it with you so we can use it to make a point. Kipyegon's certainly been knocking off a lot of time each of the last three years – 7.6 seconds, 5.6 seconds and now 6.9 seconds. But to us, improvement like that at the ages of 16-17-18-19 doesn't raise "questions" (we are assuming he means drug questions).
To us, seeing a teen prodigy improve in a fairly consistent pattern raises way less questions than we have about your average pro (and particularly your average pro who drops a huge chunk of time later in life).
There are tons of young athletes across the globe who have improved 20 seconds in three years from 2010 to 2013 like Kipyegon, just no one is talking about them as they are running in obscurity in the collegiate ranks.
Take a look at NCAA 4th placer in the mile Carly Hamilton of Georgia. The 20-year-old is one year older than Kipyegon and has improved even more than Kipyegon since 2010. In 2010, Hamilton ran a 4:54.58 for 1,600 in Ohio, so that's basically a converted 4:34.4 for 1,500. Her PR this year? 4:12.15 – an improvement of 22 seconds since 2010.
That's looking at 3-year improvement. What about looking at the last two years? In the last two years, Kipyegon has come down 12.50 seconds. How much did Alan Webb improve from his sophomore to senior year in HS? 13.61 seconds (4:06.94 to 3:53.33).
Does that mean she and other teens prodigies aren't on drugs? No (we remember actually a few years back listening to a fan tell us he thought a prominent HSer (who went on to get an AR) was on drugs), but in general we are way less suspicious about child prodigies than other pros.
And talent doesn't get any more prodigious than it does for someone like Kipyegon. She won the world junior cross title in 2011 running barefoot. That summer, wearing shoes, she won the 2011 world youth 1,500 title in 4:09.48 with a 64-second last lap.
Last summer, she showed she was at a new level as she won the world junior 1,500 title by a ton in 4:04.98. Her last lap? 60.76. In that race, she absolutely destroyed US phenom Mary Cain and it's not like Cain ran poorly, as Cain set the then-US junior record of 4:11.01 in the race, but it was no contest as shown by the following photo:
Then in April, Kipyegon defended her world junior cross title in Poland.
With three big young talents like Aregawi, Dibaba and Kipyegon, the women's 1,500 looks like it could be very exciting over the next few years. Let's hope they turn out to be track and field's version of Federer, Nadal and Djokovic in men's tennis.
****
US Pro News – Garrett Heath And Brittney Reese Impress
It wasn't surprising to us that last week an in-form Nick Willis won the Medtronic TC 1 mile in Minneapolis, as we'd expect the 2008 Olympic silver medallist to defeat a collection of American men's milers who have never made a World or Olympic outdoor US team. However, Nick crushed them just like he did at the Drake Relays.
Top 6 At 2013 Medtronic TC 1 Miler
1    51 Nick Willis              Ann Arbor      MIC  30   M    3:56.2
2    57 Garrett Heath            Winona         MN   29   M    3:57.3
3    62 MacKlin Chaffee          Boulder        COL  26   M    3:58.1
4    52 William Leer             Wayzata        MN   28   M    3:59.3
5    60 Craig Huffer             Boston         MAS  23   M    3:59.4
6    50 Craig Miller             Colorado Sprin COL  25   M    3:59.7

As you can see, the runner-up was former Stanford man Garrett Heath. The 27-year-old Heath is having a fantastic season so far. Prior to last week's runner-up finish, Heath had already secured a US road title in Iowa and a huge 13:20.01 PR for 5,000 at Stanford. It will be interesting to see if Heath, who set a 3:36.03 1,500 PR last year, can get the "A" standard of 3:35.50 this year. We may start to find out at the USATF high performance meet at Oxy this weekend.
More: Nick Willis And Sarah Brown Win Over Competitive Fields At Medtronic TC 1 Mile In Minneapolis *Elite Results *Longer Medtronic Recap From DownTheBackStretch
####
Kudos to US long jumper Brittney Reese, who set a PR last week in Doha.
Reese, the 2012 Olympic gold medalist and 2009 and 2011 world champ, set a PR of 23 feet, 9 1/2 inches (7.25 meters, previous PR 7.19 meters outdoors, 7.23 indoors). The last time a non-doper American jumped farther (we say non-doper so we can ignore Marion Jones)?
July 31, 1994, when Jackie Joyner Kersee matched her American record of 7.49 meters.
Reese is #3 all time in the US (#2 in our book, as Marion Jones is currently at 2nd).
How good is 23'9.5″ for the long jump? Damn good. Reese would have scored in the Big 10 men's meet and just missed scoring in the PAC-12 men's meet by 1 centimeter.
****
Quote Of The Week I (That Wasn't Quote Of The Day)

"When we competed at school I was average."
– Quote from 2:05:25 runner Albert Matebor, who devoted himself to running late in life and only made his marathon debut at age 25. Before becoming a pro runner, Matebor sold potatoes is his brother's "farm shop to earn some money."
Last week, Matebor was indeed average by pro standards as he was fourth at the 19th Volkswagen Prague Internatoinal Marathon in 2:10:56.
More: Globe Runner: A Late Convert To running: Albert Matebor
*Qatar's Nicholas Kemboi (2:08:51) And Kenya's Caroline Rotich (2:27:00) Win Prague Marathon Rotich won Cherry Blossom and the NYC Half earlier this year.
****
Quote Of The Week II (That Wasn't Quote Of The Day)
"At the 2008 Trials, I barely made it out of the first round – advancing on time. In the second round, I won.  But I knew, 'I'm in trouble.'  I knew I had nothing left … I was literally on the line right before the final asking myself what I was going to do when I finally thought to myself, 'I'm going to make everybody run a PR if anybody's going to beat me today.  I'm gonna go for it.'"
– Khadevis Robinson talking in a great profile on him by Dave Hunter in RunBlogRun and showing why we here at LetsRun have always viewed him as one of the best – if not the best – interviews on the circuit.
More: Khadevis Robinson – A Very Fine Vintage
****
Photo Of The Week/What About The Sport?
This was actually from a few weeks ago but we didn't get to it.
What you are seeing is the Oregon State seniors celebrating Senior Day at home for the first time in a long time, as Oregon State has a new outdoor track this year – the Whyte Track and Field Center – and now has home meets for the first time since 1988.
At the Beavers' final home meet, the University of Oregon showed up and competed at Oregon State for the first time since 1988. WIth so many schools de-emphasizing track and field with it's large roster requirements, it's good to see someone is pushing the sport forward.
More: *OSU Track And Field Program Moving Forward
*Stoddard Reynold's Photos Of Meet
*Kinsey Gomez Calls Racing At Home "An Incredible Feeling"
*Sam Crouser's First Impression A Positive For New OSU Track
****
What About The World?
We often focus on things that benefit the sport of track and field. However, at the end of the day, we'll admit that track and field isn't the most important thing because people ultimately are running in circles.
So here are two great stories.
1) Above we talked about pushing the sport forward, well there is one Oregon State track and field senior who may be pushing humanity forward. 1500 meter runner Lauren Graebner and a classmate are finalists for a nationwide contest to design a modern Islamic hijab. Their "Unity scarf" might win the "American Hijab Design Contest."
2) The Dartmouth women's track and field team, including star Abbey D'Agostino have adopted a local middle school where twice a week they participate in a Girls on the Run program, an after-school gathering. The goal of the program is to build "build teamwork, confidence and fitness" and they get participants able to do a 5k run while talking about various topics.
Two great articles on the stories below.
More: Hijab For Every Kind Of Woman
*The Road To Confidence: Dartmouth Women's Track Athletes Commit To Girls On The Run
****
Recommended Reads
Western State's Ian Butler On Remarkable Run In Life's Goal To Succeed
Dai Greene & Gold: Pain Of Finishing 4th In London Will Never Leave, But Brit Aims To Rule The World After Olympic Agony
RunBlogRun Looks Back At The Career Of Khadevis Robinson And Talks To Him About His Plans For 2013
Religion Blog: What Truths Does Iconic Image Of Boston Marathon Truly Capture? "

****
Quotes Of The Day & Last Week's Homepages:
Note: To see a particular day's homepage, click on the hyperlink of the date. The hyperlink below the date on the quotes will take you to that particular article – not that day's homepage.
---
"It says to cheats: 'We're going to get you and deal with you even more effectively than we have in the past.' We're in business to protect the overwhelming majority of clean athletes around the world. The way you protect clean athletes and support them is to deal properly and effectively with the cheats."
– World Anti-Doping President John Fahey talking about the changes to the WADA code which will increase the minimum ban for first time dopers from two years to four.
---
 "He was generous to a fault, especially in bars, where he would buy any drink to whoever recognised his status."
– Excerpt from a piece in The Standard on the great Sammy Wanjiru as the two-year anniversary of his tragic death (May 15) approaches.
---
"This is what I believe. I believe it's a numbers game. There are a tremendous number of unbelievably talented great Kenyans trying to become professional runners and with running to school back and forth just as a means of locomotion, they've got a tremendous training background behind them before they even got in to competitive running. So they've got this headstart on you. And now I believe that the only way for Europeans and Americans to compete with them with our much lesser numbers of such talented runners, is that we gotta do everything perfect."
"Do we have Mo and Galen run 170 miles a week? Of course not – there's an 80% chance that anyone doing that would get injured. So what we try and do is do everything else perfect so that the differences in muscular power, strength and co-ordination that we get with our strength training, allows them to cut that gap in terms of the miles and the crazy workouts."
"Their better biomechanics allows them to pick up seconds, better racing tactics, better finishing speed. That's how I feel, we've just got a couple of diamonds and we've got to polish them perfectly to compete against the tons of raw diamonds coming out of Kenya.
– Alberto Salazar, talking about African distance running dominance and how he tries to combat it. We're sure that they will be doing things extra perfect today after seeing Hagos Gebrhiwet's dominant 3,000 win in Doha yesterday.
---
 "Hopefully I will find the way to beat David Rudisha again. I have a plan but I am not going to reveal it. You will see me on track!"

– Ethiopia's 800m World Junior Record Holder, Mohamed Aman, talking ahead of today's Doha Diamond League about the prospect of beating David Rudisha. Aman is the only person to have beaten Rudisha in the last two years; he did so twice and both times it was raining. Unfortunately for Aman, today's forecast for Doha is clear skies.
---
 "Behind the warm and respectful applause for Tyson Gay at last Saturday's Jamaica Invitational, there was tangible concern."
– Intro to Jamaica Gleaner article by Hubert Lawrence talking about the world-leading 9.86-second 100m Tyson Gay ran last weekend at the Jamaican Invitational. We're sure that Usain Bolt's less than impressive 10.09 opener didn't do much to lessen that concern.
---
"I'm not a quitter. So that was out of the question. If I had just been beaten, that would have been different. But I knew I could do a bit better. That [not making the 2008 Olympic team] was one of the best things that ever happened to me. I went back to Santa Monica and a complete stranger came up to me and exclaimed, 'Oh my goodness, Khadevis, I saw your race. I can't believe it. You should have made it. I love watching your races. You inspire me. You motivate me. Don't retire.' And I thought, 'I've never said anything about retiring! That's something else.'"
"I had letters and emails from people I've never known. Since I had this crisis, this downfall, people felt I was approachable, I was human. But if I had won or made the [2008 Olympic] team, I never would have had this rejuvenating experience."
– Khadevis Robinson talking about dealing with the disappointment of not making the 2008 US Olympic team in the 800 and the positives he took from it to use as motivation to continue on and make the team again in 2012. Read our recap from that race, where KD took it out in a "punishing" early pace, but tied up just missing an Olympic spot in 4th.
---
 "I didn't know what position I was in as I was dipping for the line. I remember the crowd were pretty quiet which I didn't think was a good sign. But I thought maybe I've got third, I wasn't sure. I looked up at the board thinking, 'Please give me third', but it came up with fourth. It was odd, as in some ways there was relief that this nine, 10, 11 tough months were finally over."
– Dai Greene, the 2011 400H world champion but 2012 Olympic 4th placer, talking in a great article where he admits the pain of 2012 will never go away but he's proud of his effort to come back from injury. He could have just sat on his "arse" and done nothing.