Today's Oscar P/Paralympic Updates
Padua And Other Weekend Results
The Olympics Lasted 17 Days But Will Give Us Stuff To Write About For Months
Patrick Makau Loses A 10 Miler, And Other Weekend Results
Olympians Getting Paid Their Due ... Or Not, If You're Sally Pearson
Morgan Uceny Gets A Hero's Welcome In Her Home Town "I just felt amazing and I was like, this is it, this is going to happen for me. And the next thing I know I was on the ground. When I knew it wasn't going to happen, I just reacted. I didn't think I should get up, there was no thinking at all. I was just devastated and I couldn't have moved if I wanted to. I knew it was over and I just didn't do anything about it."
Bolt, Geb And Kiprotich In The News
Future Events
Thursday: The Track Season Is Winding Down, But We Hope You Saved Something For Zürich *Results *Yahoo Photos
LRC:

Mo Farah Wins Final Track Race Of 2012, Centro, Leo Disappoint, Merritt Keeps Rolling

Post-Olympic fatigue seemed to be fully in play as the meet was full of lackluster results, as Mo Farah won the 2 mile in 8:27, the men's 200 was won in over 20.00, the men's steeple was won in 8:20, the women's 800 was won in over 2:00, and Anna Pierce won the women's 1,500 in 4:11. Aries Merritt did win a quick hurdles and Carmelita Jeter beat Shelly-Ann Fraser-Pryce again.
Lance Armstrong Pleads Guilty Gives Up
Goodbye, London
Friday
Wednesday
Monday
Brussels: The Last Diamond League Meet Of The Year Is Friday *Entry Lists
Mark Your Calendar For October 28th: Frankfurt Marathon Is Shaping Up To Be A Great Race
US News: Adam Goucher Returns To Racing, Lukas V Leaves The Hospital, Jeff Demps Is On The Injured List
More On The Oscar P Blade Length Debate *Video: Oscar P Loses 200
World Mountain Running Champs *More Results
Paralympics: Oscar P Loses And Says It's Unfair
US News: Teg Starting To See The End?, Estrada Almost Did, Magness And KD Land Coaching Jobs
Matt Tegenkamp Running US 20km On Monday In Stratton Faxon New Haven 20k- Race Will Be Free On Net At 8:40am ET USATF lists the contenders as Sean Quigley, Christo Landry, Joseph Chirlee, Andrew Carlson and James Carney on the men's side and Stephanie Rothstein, Katie McGregor, Maegan Krifchin, Renee Metivier-Baillee and Alisha Williams for the women. *Full Elite Entries *MB: Chad Hall Making 20km Debut - Anyone think that the Foot Locker Champ talent will come out?
Matt Tegenkamp: "I think at the point I am at in my career I am not naïve enough to think that my track career is going to go on forever and ever." "It is amazing that it is a two year build-up and it is absolutely over in the blink of an eye. The adjustment back from London was probably the most difficult I've ever had in my career." *MB: Tegenkamp to retire???
Diego Estrada Says That He Lets All The "Haters" And Critics Get To Him And He Went Into London Emotionally Drained He said immediately after the Olympics, he considered quitting the sport completely, but is back training now.
Former Oregon Project Coach Steve Magness Named University Of Houston Assistant Cross-Country Coach He's also still coaching some pros, such as Jackie Areson, Tommy Schmitz and Sara Hall.
US Trail 10k Champ David Roche's Post-Race Report In an email, David recently partially credited Wejo's "Why I Sucked in College" article as helping him in with his running career.
Music Video: "Run Louisiana Day" Puts Out Clever Music Video To Promote Event And Encourage Everyone In The State To Go For A Run Louisiana 2nd in the nation for obesity. *Event Website
Paralympics Open To Huge Fanfare In The UK
US Marathon News
Olympic Trifecta:

Meb + Abdi Will Join Ryan Hall At The 2012 ING New York City Marathon

All three US Olympic men's marathoners plus Hartmann, Gotcher, Arciniaga, Carlson, Bauhs and Vail will run New York this year. New York also announced they are going to offer $50,000 in prize money per gender for Americans only.
Good Interview: Runner's World Q&A With Meb The cobblestones in London really beat up his feet and he hasn't run since the Olympics, but he thinks he'll be ready by NYC. Also talks about a London mishap with Ryan Hall's drink. Some quotes "that weren't QOD" in there.
Olympians: Vivian Cheruiyot Might Not Race Next Year And Might Run The Marathon In 2016
Mo Farah/Usain Bolt News
Monday/More Weekend Track Action
Friday
Thursday
LetsRun.com T-Shirts Are Here Labor Day Special, 4 Different Shirts $50
In Case You Were Gone All Weekend: Berlin *Results
Lance Armstrong News
Paralympics Results *Photos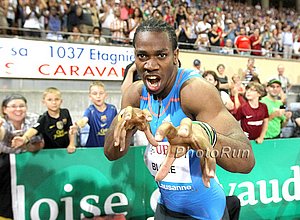 Nick Symmonds' Beer Mile AR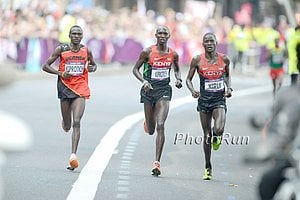 LRC Asks Carmelita Jeter & Jason Richardson About Mark Block
Day 8 Olympic Photo Gallery: Women's 4 X 100 WR, Uceny Falls, Women's 5,000m Final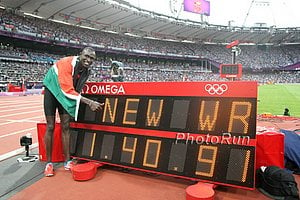 Day 6 Photo Gallery: Allsyon Felix, Aries Merritt, Brittney Reese, Women's 1,500m Semis
Day 5 Photo Gallery: Leo 1,500m Silver, Men's High Jump, Men's 800m Semis, Men's Discus Final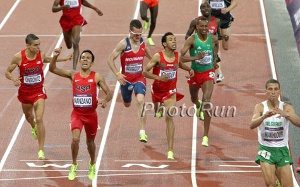 Day 4 Photo Gallery: King James, Felix Sanchez, Jenn Suhr, Women's Steeple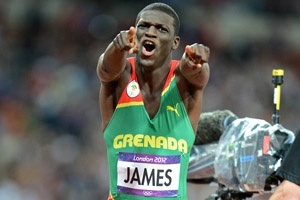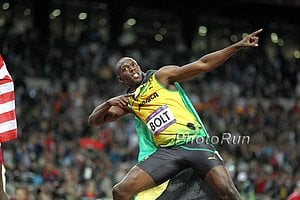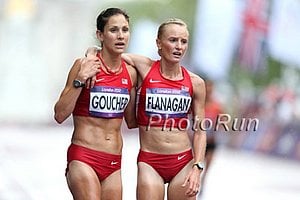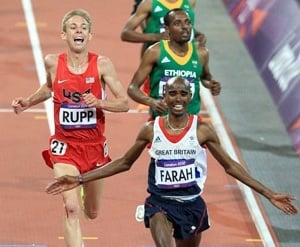 A Legend Passes Too Young