Upcoming Action *Bogota LIVE Webcast 10:15am EDT Sunday
*Deriba Merga Vs Geoffrey Mutai In Sunday's Bogotá Half-Marathon Merga is defending champ as he won last year in 1:02:31. Field also includes Rotterdam Marathon champ Wilson Chebet and USA half marathon champ Mo Trafeh.
*Ryan Hall Racing Sept. 4th Virginia Beach Rock 'n' Roll Half Marathon As Tune Up For Chicago
*Now That Blade Runner Has The "A" Standard He's Looking For Consistency He'll race again tomorrow at Istvan Gyulai Memorial meet in Budapest.
Other UK News:
French Athletes Trained To Fight With Their Heads? The Monaco 1500 incident was "eerily reminiscent" of when French midfielder Zinedine Zidane head butted Italy's Marco Materazzi at the World Cup final.
David Monti Takes A Look At Morgan Uceny's Rise To The Top Of The 1,500 Ranks The daughter of a bricklayer and bus driver knows a thing or two about hard work. She gives a lot of credit to her training partner Anna Pierce for her rise, as well as her coach.
Ryan Hall Teleconference Highlights
Ryan Hall Sees BOA Chicago Marathon To Olympic Trials 14-Week Gap As Ideal Hall also sounds like he's tired of being the rabbit: "In Boston I functioned as the pacemaker."
*Brief Chat With Ryan Hall
Rojo Gets Props In A Brief Chat With Sage Canaday What other college coach would let his athlete run a marathon in college and run the Trials the week before he qualified for NCAAs in cross? Canaday has now gone on to 2:16:52 and to write a book Running With The Hansons.

News From Europe
World Champs Are 30 Days Away
Ryan To Run Chicago
Ryan Hall To Run Chicago Philip Hersh of the Chicago Tribune has broken the news that Hall will run this year's Bank of America Chicago Marathon and take on Boston runner-up Moses Mosop. Three months later, Ryan will run the Olympic Marathon Trials. The appearance fee of Ryan is so high that the Chicago/Trials double makes a lot of cents sense.
*Lornah Kiplagat To Run Amsterdam Marathon In October
Worlds Are Coming Soon ... And LRC Will Be There
Not Your Normal Boring Reads
Geoffrey Mutai Wins In Castelbuono He ran 29:05 to finish over a minute ahead of NYC Marathon champ Gebre Gebremariam in 2nd (30:13) and Mathew Kisorio 3rd (30:14). London Marathon champ Emmanuel Mutai finished sixth in 30:48 and Ryan Hall was supposed to race this, but his blog says he's currently in Switzerland.
*Highlights Video
*Top 10 Results
Upcoming: Gebre Gebremariam Returning To Defend Title At Beach To Beacon 10k Sam Chelanga will also be in the field. US marathon record holder Deena Kastor and twice Olympic silver medallist Catherine Ndereba in women's field.
World Champs News
NCAA:
*HEPS XC Champs Moved From VCP To Princeton Due to the ongoing construction, Heps will be held at somewhere other than Van Cortlandt Park for just the 3rd time in the 72-year history of the meet.
*NCAA Now Requiring Schools To Monitor Social Media There is a company that will "flag" all rostered athletes' names so that the athletic department can follow them and be notified about what they say.
London News
Post-Monaco Diamond League-Related News
Previous Post-Monaco News
DN Galan Stockholm Diamond League *Results *Photos *Video
LRC Vivian Cheruiyot Sizzles, Shalane Flanagan Misses, Kenia Sinclair Stays Undefeated*, LaShawn Merritt Returns, Usain Bolt's 20.03 Win Leaves Some Questions, Silas K Wins Again And Much More Stockholm was the second-to-last Diamond League meet before Worlds and last for many athletes competing. Vivian Cheruiyot and Silas Kiplagat stamped their status as favorites at Worlds. Usain Bolt won by nearly half a second and we weren't that impressed. David Oliver was upset, Yelena Isinbayeva came back to form, and an Aussie became the favorites for Worlds in the long jump. The American distance runners disappointed, except for 37-year-old Magdalena Lewy Boulet, who ran a huge 50-second PR of 15:14.25 in the 5,000m.

*IAAF Recap: Vivian Cheruiyot Gets 5k NR And WL With 14:20.87
*Bolt Complains Of Back Pains On Tight Turn In Stockholm; Caster Semenya Disappointed and Worried As She Should Be Caster Semenya runs 2:01 and says she is disappointed and worried, as she should be.
*Scientists Say Usain Bolt's Key To Success Lies Not With Foot Speed, But Foot Pressure Lets him take 41 steps in a 100m while the normal elite takes about 44.
*Yelena Isinbayeva Backs Up Her Bold Statements With A Win In Stockholm She said before the meet she was "still the best vaulter in the world" and she proved that by beating high class DL field.
*BBC VIdeo Interview With Usain Bolt After 200m Victory
*Mitchell Watt Breaks Australian LJ Record

Stockholm On The Boards:
Looking Ahead To World Champs
*USATF Profile On Texas Wide Receiver And US Long Jump Champ Marquise Goodwin He talks about the balance needed to split his focus between football and track and he isn't sure in which one his future lies.
*Khalid Mulazim Breaks Master's World Record In The 400m With 50.18 He says the record will last about a month as he plans on going sub-50.
Athletics Kenya Grows A Brain
Athletics Kenya Now Is Letting World Championship Team Members Race In Europe AK Head: "We have noticed that our athletes have become more professional in how they are competing and are using these races to maintain their form. This is very good for our country and that is why we allowed them to enter these events."
2011 Aviva World Trials Take Place This Weekend In Britain *Meet Website
News Coming Out Of Europe
Injuries, Injuries
Week In Review

LRC Week That Was: American Men's Medal Chances In Daegu With less than a month until Worlds, in our weekly look at the world of track and field we look at the American men's distance medal chances in Daegu. And while our beloved Menjo won't be in Daegu, he is in the news. Plus we've got some football talk from Florida coach Will Muschamp, a Brit celebrating July 4th, and Alberto on old school and new school training.
US News
Professor Attributes Jamaica's Wealth Of Fast Sprinters To A Diet Of "Yam And Bananas"
Russian Vera Sokolova's 20K Racewalking WR Ratified By The IAAF In related news, Guinness World Records ratifies records for largest tonsils removed and most nails filed in 8 hours.
The Olympics Are 1 Year Away *NBC Video
US News
International News/Results
Last Updates From Junior Meets:

Pan Am: IAAF Recap: US Dominates With 53 Medals
*US Wins 4 More Golds On Final Day Of Pan Am Juniors: Immanuel Hutchinson Wins 800 In 1:49.04
*Recap Of Jamaica's Performances

Euro Juniors: IAAF Recap: Angelica Bengtsson Breaks Yelena Isinbayenva's Pole Vault Meet Record With 4.57m
Top Weekend Action
Russian Champs: Two Russians Led By Yekaterina Martynova Run 4:01 In 1,500 IAAF Martynova's 4:01.68 was nearly a 3-second PR. Two men ran 3:36 in the 1,500.
*Day 3 Russian Champs Recap World record holder and 2008 Olympic steeple champion Gulnara Galkina-Samitova, who is on the way back after maternity leave, was 4th in 9:32.07.
*Athletics Weekly Of Entire Russian Champs Drug chat Anastasiya Kapachinskaya ran 49.35.

World Military Games: Recap - Kenyans Excel A couple of real Kenyan studs showed up, including Mark Kiptoo, who was 4th at the Kenyan trials in the 5,000, and Lausanne 5k winner Vincent Chepkok. They both ran 13:06.

Barcelona: IAAF Recap: Spain's Kevin López Wins 800 In 1:44.49 As US's Tyler Mulder Gets 3rd In 1:44.83 Stuff many people missed in the results included Zerseney Tadese's 5+ second win in the 5000 in 12:59 as well as Leo Manzano 1:45.52, Lopez Lomong 3:33.59, Russell Brown 3:36.34, and Adrian Blincoe with A standard of 13:18.27. Yesterday, we mentioned Ben Bruce 8:19 Steeple, AJ Acosta 3:38 1,500m B Win, Ohuruogo 51.49, Hannah England 4:01 1,500, Geena Gall 2:01.

Pan Ams Jrs: *Results
Day 3 Recap - More Domination Of Weak Distance Events By US Athletes
Day 2 Recap Parker Stinson got gold in the 10,000.
Day 1 Recap US Results: Omar Kaddurah Wins 1,500m With 56 Last Lap
*DyeStat Coverage *Milesplit Coverage

European Juniors: 2011 Meet Concludes
*Ireland's Ciara Mageean Wins Silver After 1,500 After Trying To Win From Front
*Fairy Tale Ending - Host Estonia Wins One Medal - Gold - On Last Throw Of Javelin

German Champs: Day 1 Recap
Science Of Sport Guys Making News
*wind aided.
Silas Kiplagat Outlasts Nick Willis (More Stockholm Coverage And Video Here)
Kenia Sinclair Stays Undefeated, American Women Struggle
LaShawn Merritt Returns
Usain Bolt Runs 20.03
Monaco Photos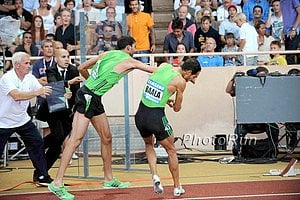 LRC Contest Recap - The Greatness Of You
LRC USA Nationals Contest Recap As usual we had a couple of ringers come out on top in our contest. Our winner is in the elite of the elite of LetsRun.com, as not only has he been to watch the World Championships and Olympic Trials, he has a @runner.org email address, and a real-life wife. Our runner-up was a state champion in high school and has started a post-collegiate group in Utah.
USAs In Review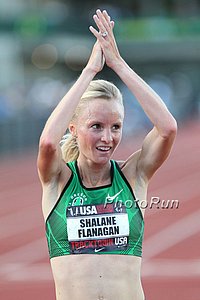 LRC 2011 USATF Women's Nationals (Distance) In Review Which event represents America's best chance for a distance medal at Worlds? It's the same event an American led the world in 2010. Still stumped? You'll have to read the article. We break down all the action, look at the very different fates of non-qualifiers Christin Wurth-Thomas and Anna Pierce, wonder if Kara Goucher can beat Shalane at Worlds, and even talk about coach Gags' commute and the reverse LetsRun.com jinx.

LRC USA Men's Nationals In Review Wejo puts Galen Rupp's 10k performance in perspective, talks about the stellar men's 5,000m, and break down all the distance action. Plus Dathan Ritzenhein, German Fernandez, Evan Jager and even Xavier Carter, Adam Nelson, and Adam Goucher just to get your attention.
A Must-Watch (We're Not Sure How We Missed This) - Sammy Wanjiru's Mom Theatens Others With A Machete 2 Weeks Ago (More Here)
Women's World XC In Photos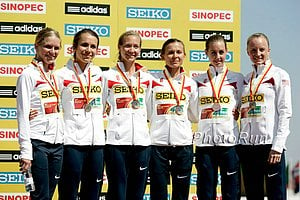 Men's World XC In Photos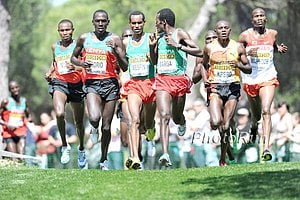 Great Deals

Universal Sports Back To Top