2011 USATF Men's Nationals In Review
By Weldon Johnson, LetsRun.com
July 1, 2011
Rojo is in Kenya, so we'll take a different tack for our Week in Review.
Today we'll recap USA Nationals from the men's side of things, women's recap here.
We'll go longest event to shortest.
Men's 10,000m: "I was not that impressed with Galen Rupp in the 10k."
Now that I've got half of you really upset and the other half intrigued, let's begin. Part of the "problem" with covering nationals is that you are so close to the action and going from one event to the next, it is hard to take a step back and take things in from a larger perspective.
So when I got back home, I called a friend who shall remain anonymous but he knows a lot about track and field. I asked him what he thought of the meet.
One of the first things out of his mouth, "I wasn't that impressed with Galen Rupp in the 10k."
Wejo: What?!?
Him: Closing in 1:52 off of a 29-minute 10k pace doesn't mean much to me.
Wejo: Hmmmm ... You've got to be impressed with him in the 5k ...
Him: Yes.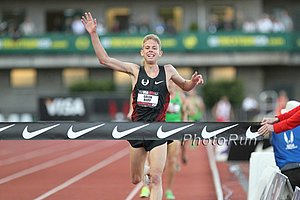 It got me to go back and look again at the men's 10,000m. I didn't really comprehend how slow the race really was. Until the last three laps of the race, Galen Rupp ran ONE lap under 68 seconds. 68 seconds is 28:20 pace. At 8,000m (5 miles), Rupp was at 23:20 (4:40 pace), which is 29:10 10k pace.
The ENTIRE field minus five guys was in contention with 2 laps to go (If anyone knows what happened with Brian Olinger email us. The former steepler was in contention with 800 to go and we think stepped off the track with 700 to go. Did he pull a Todd Williams?). The 10k was a 9,200m warmup and an 800m all-out sprint. Rupp destroyed the field the last 800m, closing in 1:52.5. I understand my acquaintance's point that we should not get carried away and anoint Galen the next World Champion. If I told you before the race that it would come down to a final 800 and Rupp would beat Scott Bauhs by 2.5 seconds over the last 800m, I bet you wouldn't be that impressed. Well, that's what happened.
Having said that, Galen did everything that could be expected of him. What's he supposed to do, close in 1:50? I think the bigger point is that closing in 1:52.5 off of 29-minute pace is not the same as closing fast in a 27-minute race. Point taken, but a bigger point might be that until Rupp's senior year he wasn't a closer. He couldn't even break 4 minutes in the mile. Now he's one of the best closers in America and shows great finishing speed. (That's the point I tried to ask Galen about with this awkward question).
This is a great year to be a 10,000m runner. Why so, you say? First, the era of Kenenisa Bekele (and Sileshi Sihine) may be over. Who has won every global championships since 2003? Kenensia Bekele. Who won 4 silvers and a bronze in this same time period? Sileshi Sihine. Take them out at the top (Sihine looks more likely to be a factor than Bekele) and things immediately get a lot easier. Plus, on the world stage, many of the guys who we would expect to replace Bekele atop the 10,000m ranks no longer run the 10,000 because the money is in the half marathon and marathon. That makes medalling much easier. Sammy Wanjiru, rest in peace, who would be 24, ran 26:41 as a 19-year-old and quickly moved to the marathon. Moses Mosop is only 26 and got a bronze at Worlds in the 10,000m 6 years ago and he is no longer runs the 10,000m. Ten years ago, a guy like Geoffrey Mutai would be focused on the Worlds 10,000m. Now it's not a concern. Thus, medalling might be 1 or 2 seconds easier at Worlds this year. Galen Rupp with his finishing speed has to think he's got a chance.
Remember Dathan Ritzenhein?
For each event, we also wanted to look at the top 3 from 2009 and see how they did in 2011, and see how the new US team members in 2011 did in 2009.
Looking at the 10,000m results from 2009. a name jumped out - Dathan Ritzenhein. In 2009, Dathan had parted ways with coach Brad Hudson and immediately after nationals announced he was going to be coached by Alberto Salazar. The rest of 2009 was magical. Dathan did well at Worlds, and then ran the stunning 12:56 5,000m, and 1:00:00 for bronze at the World half. Now he's injured, coming back from foot surgery, and there are serious questions whether he'll make the team for London. Success at the top of the sport is very precarious, so everyone should enjoy it while they're on top. Rupp's win in 2011 was his third straight USA 10,000m title, so I hope he takes a little time to savor each one.
| | | | |
| --- | --- | --- | --- |
| Top 3 from 2009 | Time | Top Guys 2011 | |
| 1 Galen Rupp | 27:52 | 1 Galen Rupp | 28:38 |
| 2 Dathan Ritzenhein | 27:58 | 2 Matt Tegenkamp | 28:39 |
| 3 Tim Nelson | 28:01 | 3 Scott Bauhs | 28:40 |
| | | 5 Tim Nelson | 28:43 |
*Men's 10k Splits
More: LRC Men's 10,000m: Galen Rupp Closes Out Matt Tegenkamp With 1:52.5 Final 800m
Men's 5,000m: Frontrunning Like I've Never Seen Before From An American
My favorite distance race of the championships was the men's 5,000m. Everyone wanted the Rupp-Solinsky matchup in the 10,000m. Instead, we got in the 5,000m with Bernard Lagat as well. It doesn't get any better than that.
On an aside, Chris Solinsky entered the 10,000m and didn't run. If anyone doesn't think there is a rivalry between the Jerry Shumacher (Solinsky's coach) and Alberto Salazar (Rupp's coach) groups, they are crazy. For the second straight 10,000m in three weeks, Galen Rupp or Chris Solinsky was on the starting list, yet did not race, and the other one did not know about it in advance. It's not like Chris and Galen are just two athletes who are sponsored by Nike. They both are sponsored by Nike and both their coaches work for Nike. Yet they are keeping secrets from one another. Excellent. We love the fact there is a rivalry even amongst co-workers. We think rivalries are exactly what the sport needs.
Final Lap Or Full Race Men's 5,000m

What the sport doesn't need is for competitors and fans not to know who is running what race beforehand. USATF should implement a rule that if you don't run the first event, you are entered in, you have to pay a substantial fine or are barred from the meet. That would not only make the sport more fan friendly (how can the sport sell rivalries when we don't even know who is racing), but also would make it more friendly to athletes who are denied spots at USATFs by athletes like Solinsky who enter an event and don't run it.
Back to discussion of the 5,000m. It was an fabulous race and shows the strength of US distance running. The first half was very slow (14:08 pace) and then just before halfway, it started getting very fast. Matt Tegenkamp put in a series of two 61-second laps, and then there was a slight recovery for a lap. Training partner Solinsky then took over the final 4 laps and I don't think we've ever seen such a display of frontrunning ever from an American. A 61.9 dropped the field minus Rupp, Lagat, and Tegenkamp. Solinsky, however, was just getting going, as he increased the pace the next lap (59.9) and ended Tegenkamp's day. Solinsky ratcheted it down even further the third lap with a 59.1 and at the bell, it was still a three-man race with Solinsky leading Lagat with Rupp trying to hang on.
Solinsky would pick it up the final lap even more, running 57.65 to run 3:58.57 the last 1,600m. The only problem for him was Bernard Lagat was even better. Lagat ran 56.79 to run 3:57.8 the last 1,600m to get the win. Simply incredible. Meanwhile, Galen Rupp had arguably what was a more impressive finish than in the 10,000m, running 4.00.0 the last 1,600 and he somehow ended up farther behind Lagat than Scott Bauhs was behind Rupp in the 10,000m. Crazy.
That turns us to the 5,000m in Daegu. Once again, just like in the 10,000m, we think things are much easier without Kenenisa Bekele or without a 100% fit Sileshi Sihine. Matt Tegenkamp was 4th in 2007 without Bekele. With Bekele in the field, it makes it that much harder. Speaking of 2007, did you remember that Adam Goucher made the final? It's worth pointing out what Bekele has done the last 2 championship 5,000m finals. In 2009, the pace was slow but a little bit faster than USATF 2009. What did Bekele do? He closed in 53.21 and 3:58.3 to edge Lagat to win in 13:17. He would have dusted Lagat at USATFs.
As impressive as that was, we called the 2008 Olympic 5,000m, the "greatest 5000m ever run." The race was much faster, yet Bekele ran the last 1,600 in 3:57 with a 53.87 to win in 12:57. Simply unbelievable. There is a reason he won by nearly 5 seconds.
All three Americans have shown the ability to mix it up with the world's Best. Lagat obviously has the best chance in Daegu, but the other two must think with more sharpening they can be in the mix.
More: LRC Men's 5,000m: Bernard Lagat's 3:57.80 Close Wins A Thriller Over Chris Solinsky And Galen Rupp Recap, results, video more.
Men's 1,500m: Centro Jr. Wins And Thoughts Turn To Jager And Fernandez
Last year, Matt Centrowitz was the third-best 1,500m runner on his team. Now he's the best in America.
A critic might point out that Centro Jr. is the best 1,500m runner in races run over 3:40.00. The Oregon junior is undefeated this year outdoors in the 1,500m. He won the NCAA title with ease and he outkicked Bernard Lagat at USAs to win impressively. Believe it or not, Centro Jr. has not run under 3:40.00 this year. Saturday's final is the type of race he has shown he can dominate.
Centro Jr., like a former NCAA champion before him, Leo Manzano (who somehow pulled it out the final 100m to book his ticket to Daegu), has excellent racing skills. In a slow race, it is essential to be in the front and that is where Centro was throughout. As Asbel Kiprop (Pre) and Will Leer (USAs) have found out this year, having the fastest last lap in the field doesn't help you if you start out too far back.
Centro's win brings up a few points. First, in pointing out that Centro can run much faster, I am almost forced to make German Fernandez comparisons. Way back as a redshirt freshman in 2009, Centro ran 3:36 and was the big deal heading into NCAAs. What happened at NCAAs? Centro Jr. got hurt and didn't make the final, while the true freshman Fernandez got the NCAA win. Since then, their careers have gone in opposite directions, but in 2009 before Centro's injury, some were speculating he was better than Fernandez. See: Centro vs. Fernandez over 1500m?
Don't write off Fernandez. The kid is a full year younger than Centro Jr. and clearly has a ton of talent.
Why Are 1,500m Runners So Dumb?
The other thing Centro's win brings up is race tactics, or "Why are 1500m runners so dumb?" The thread is from two years ago and focuses on how just about every 1,500m runner thinks they will win in a sit-and-kick race. As Steve Holman and Hicham El Guerrouj often found out - as well as favorite Andrew Wheating - on Saturday, sit and kick 1,500s often don't turn out well for the favorites. However, as some have pointed out, the lack of desire to push the pace may not always be an overconfidence in one's kick but a bit of a "Prisoner's Dilemma" - no one wants to sacrifice themselves to help the group.
David Torrence put it well: There is no point to take it out hard. You saw what Christin (Wurth Thomas) did (in the women's race)."
We understand the point, but not everyone has a chance in a slow race either. The favorite, like Andrew Wheating, has to have some sort of strategy to try and prevent a total sit-and-kick race, because championship races time and time again have shown an all-out 400 does not favor the favorite or necessarily the guy with the best leg speed. So our question is, if you were coaching Andrew Wheating, what would you have advised him to do?
And while we're on it, someone needs to give Centro Jr. a Wikipedia page. Look how extensive Will Leer's is.
2009 Worlds Team Members Vs. 2011
By accident, we googled "2007 USATF results" instead of 2009 results. Anyone else remember that in 2007 when Lagat won Worlds, he was only 3rd in the US?
| | | | |
| --- | --- | --- | --- |
| Top 3 from 2009 | Time | Top Guys 2011 | |
| 1 Lopez Lomong | 3:41.68 | 1 Matt Centrowitz | 3:47.63 |
| 2 Leo Manzano | 3:41.82 | 2 Bernard Lagat | 3:47.96 |
| 3 Dorian Ulrey | 3:42.84 | 3 Leo Manzano | 3:48.16 |
| | | 4 Andrew Wheating | 3:48.19 |
| | | 7 Lopez Lomong | 3:48.54 |
| | | 8 Dorian Ulrey | 3:49.02 |
| | | 12 Evan Jager | 3:50.11 |
Remember Me - Evan Jager?
Jager made the Worlds team in 2009 as huge surprise in the 5,000m. Then he had a navicular stress fracture and surgery and this year ran the 1,500, perhaps as a precautionary measure to stay healthy and work on his speed. Before you feel sorry for Jager for not making Worlds, remember he is still young. Everyone is impressed Centro made Worlds, yet Jager made it two years ago and he is less than a year older than Centro.
Making the team at 5,000m next year will be very difficult. Jager had better hope that Rupp, Tegenkamp and/or Solinsky focuses on the 10k. It will make things a lot easier.
*LRC Men's 1,500m: Matt Centrowitz Jr. Pulls Away From Bernard Lagat Recap, results, video, more.
Men's 800m: Nick Symmonds Impresses
With all the talk of a youth movement in the mens' 800m, the big two, veterans Nick Symmonds and Khadevis Robinson, who have won the last 7 USATF titles between them, delivered.
Three weeks ago, Nick Symmonds was dead last in the Prefontaine 800. Afterwards, he talked about delaying his speedwork to focus on peaking in Daegu, but first he had to make the team. He made it in grand fashion, as he blitzed the field and got the win in 1:44.17 over Khadevis Robinson and Charles Jock. It was Symmonds' fourth straight title, which is pretty impressive when you're going against a three-time champ who is still pretty good.
The other big story in the men's 800m was Robby Andrews' mojo running out of steam. In the final, the NCAA champ Andrews was way too far back at 400 and once he didn't close the gap by 300 to go, it was pretty much over for him. In retrospect, perhaps it's not too surprising. Competing on the NCAA level as a youngster is very different than taking on America's best. Andrews has shown amazing ability and guts in his short collegiate career, but now it seems almost obvious that if you had to pick one between Symmonds, Robinson, and Andrews to not make the team, that Andrews would be the guy who didn't make it. The other two have a ton of experience on their side and at this stage probably a little more talent.
That brings us to Charles Jock, the surprise third place finisher. Perhaps we shouldn't be too surprised because if NCAAs had been 798 meters, we would be talking about how amazing this kid was and how he went out in 49 seconds and still head on to go wire-to-wire to win the NCAA title. Instead, he was second place and everyone assumes Andrews is the much better runner. They're both very good and Jock proved it in Eugene. The frontrunning style can be very risky, especially for a relative novice, but Jock ran his race to perfection. He didn't go out quite as fast as at NCAAs and had a little more left. Well done, Charles.
| | | | |
| --- | --- | --- | --- |
| Top 3 from 2009 | | Top Guys 2011 | |
| Nick Symmonds | 1:45.86 | Nick Symmonds | 1:44.17 |
| Khadevis Robinson | 1:45.97 | Khadevis Robinson | 1:44.49 |
| Ryan Brown | 1:46.97 | Charles Jock | 1:44.67 |
*LRC Men's 800m: Nick Symmonds Makes It Four In A Row
Welcome Back, Billy Nelson
Billy Nelson ran 8:21 in the steeplechase while in college to make the 2008 Olympic team. The last two years as a pro, he hasn't broken 8:35. This year he moved back to Colorado to train under his collegiate coach Mark Wetmore and clearly Wetmore's magic is to Nelson's liking. He's back to his old ways and he was rewarded with the USATF crown.
| | | | |
| --- | --- | --- | --- |
| Top 3 from 2009 | | Top Guys 2011 | |
| Josh McAdams | 8:29.91 | Billy Nelon | 8:28.46 |
| Dan Huling | 8:32.91 | Dan Huling | 8:29.27 |
| Kyle Alcorn | 8:34.65 | Kyle Alcorn | 8:29.44 |
| | | 4 Josh McAdams | 8:30.78 |
*LRC Men's Steeple: Billy Nelson's Return To Oregon Is Successful
Who Says We Don't Cover The Sprints: Remember Xavier Carter?
The big news in the sprints - after Walter Dix's 100-200 double - was who didn't make the team.
Tyson Gay pulling out of the 100m got a ton of national coverage. Then Wallace Spearmon didn't make it out of round 1 of the 200.
A story that got almost no coverage was Xavier Carter not making the 200m final. Perhaps by this point, we shouldn't be surprised. Five years ago as a twenty-year-old, Carter was the most coveted athlete in the sport after pulling off the 100, 400, 4 x 100, 4 x 400 NCAA quadruple. He ran 44.53 and 19.63 that year.
He was compared to Jesse Owens and Michael Johnson. Asafa Powell had this to say: "It was a crazy run - I had never even heard of him before but we all know who Xavier Carter is now."
Somehow five years later, he's never made a Worlds or Olympic team and doesn't appear likely to ever make one. He's been arrested off the track. Hopefully he can turn his life around. As weak is the 400 is right now, Carter could be a force.
Adam Nelson Still Throwing Strong At 35 And Has Some Advice For Other Older Guys
Thirty-five-year-old Adam Nelson was the surprise winner of the shot. The two time Olympic silver medallist has rejuvenated his career in 2011 and is focused on getting that elusive Olympic gold. Nelson said the one thing that has helped him this year is he is staying healthy.
Nelson said of his "old" age and strong performances, "Someone once told me, it's often injuries that precede the lack of motivation and ability."
When asked if he ever wanted to quit the sport, he said that happened in 2004, even before the Olympics. He said he "got really frustrated in seeing the disparity in the pay scales between the throwing world and the sprints and distance runners ..." and was "competing for the wrong reasons (i.e., the money)." Then he got silver at the Olympics and said, "One of the best things was getting second in the Olympics" because it helped him find his love for the sport in 2005 when he didn't have a sponsor. Now he's got Saucony as a sponsor (we can't believe the shot guys have trouble finding sponsors, as it is one of our favorite events to watch on TV and they are entertaining). Nelson said of his enthusiasm now, "When you do something you love doing, it's really hard to stop doing it, especially when you're still pretty good at it."
Sunday:
Men's 800m: LRC Men's 800m: Nick Symmonds Makes it Four in a Row
Women's 800m: LRC Women's 800m: Alysia Goes Wire to Wire
Women's Steeplechase: LRC Emma Coburn Wins, Stephanie Garcia Falls, and Hey Delilah Goes to Korea

Saturday USATF Coverage
Men's 1500m: LRC Matt Centrowitz Jr Pulls Away from Bernard Lagat
Women's 1500m: LRC The Thrill Victory (Morgan Uceny) and Agony of Defeat (Christin Wurth Thomas)
Men's Steeple: LRC Billy Nelson's Return to Oregon is Successful
Friday: USATF Coverage
Men' 5000m: LRC Men's 5,000m: Bernard Lagat's 3:57.80 Close Wins A Thriller Over Chris Solinsky And Galen Rupp
Women's 5000m: LRC Women's 5,000m: Molly Huddle Impresses, Hastings And Bizzarri Continue The Mammoth Mojo
800m Semis: LRC All the Favorites Advance And KD Asks For Some Energy From His Fans In The Final
*Ashton Eaton Sets PR With Decathlon Win, Olympic Gold Medallist Bryan Clay Falls In 110 Hurdles And Doesn't Finish The Meet
*Walter Dix Just Outleans Justin Gatlin To Win US Champs 100
*SI's Tim Layden Takes a Look at Justin Gatlin's Situation
*Post Race Interviews

Complete Thursday USATF Coverage: *10k Photos
Men's 10k: LRC Men's 10,000m: Galen Rupp Closes Out Matt Tegenkamp With 1:52.5 Final 800m
Women's 10k: LRC Women's 10,000m: Shalane Flanagan Goes Wire to Wire Over Kara Goucher and Field
1500m Round 1 and Men's Steeple Round1: LRC Thursday's 1500m Heats: 2011 US Leader Russell Brown Bows Out
800M Round 1: LRC: 800m Round 1 Goes According to Form
---
Runner's World &
Running Times



Combined Only $22
a Year
Save $87

---

Running & Track and Field Posters
---

Great Running Shoe Deals Nike Lunar Glide $79.99 A very popular innovative Nike shoe on sale now.
---