2011 USATF Women's Nationals In Review
By LetsRun.com
July 3, 2011
Earlier, Wejo gave his perspectives on the 2011 USATF Men's nationals.
In this piece, we review the women's distance races at 2011 USAs.
We go longest event to shortest (flat races only) before going back to the steeple (at the end of our analysis of each event, you also can find links to our coverage from nationals for that particular event).
Women's 10,000m: Can Shalane Or Kara Medal In Daegu?
Shalane Flanagan went out and did what you'd expect her to do - win. She didn't wait around. She took the lead on the first lap and held it until the end.
Now the focus turns to Worlds. From a bigger perspective, medalling in all of the women's distance events is getting harder each year due to the emergence of the Kenyan women. The Kenyan women until 2007 in the history of the World Championships and Olympics had won 12 medals total, since then in the last four years they've won 13. So even with a drop off from the Ethiopians Tirunesh Dibaba and Meseret Defar, the overall competition is getting deeper.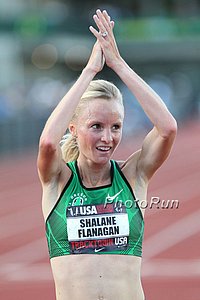 Having said that, with only 3 medals available and a limited number of stars in the sport, the difficulty in medalling in any individual year really depends on who is healthy and who opts to run what event. Medalling in 2007 was much easier than 2008 or 2009.
The good news for Flanagan (bronze 2008) and Kara Goucher (bronze 2007) is that in 2011, two of the stars at 10,000m - Tirunesh Dibaba and Elvan Abeylegesse, who have 4 of the 9 medals since 2007 - may be non-factors this year. Abeylegesse will miss Worlds because she is pregnant. Dibaba was supposed to run her first race of the year at Prefontaine but did not run. Having both of them out helps, but remember neither Dibaba or Abeylegesse medalled at 10,000m in 2009.
Kara Goucher deserves some major props for her fine running in 2011 right after the birth of her baby Colt 9 months ago. Less than 7 months after the birth of Colt, Kara was fifth at the Boston Marathon. She took little time recovering from the marathon and hit the track and is now ahead of Boston runner-up Desiree Davila. Super-impressive. While we're talking of Goucher, we think she may have a chance to beat Flanagan at Worlds. Flanagan has had some tremendous successes under coach Jerry Schumacher since joining him in 2009 (World XC bronze this year, runner-up New York City Marathon), but she's still not the same track runner she was under previous coach John Cook. Since parting with Cook, her best 5,000m was the first one she ran indoors, a 14:47, when she was self-coached. Under Schumacher in two years, she has run 14:49 twice. That won't cut it if she wants to medal in Daegu. She'll need to be in her 30:22 form of Beijing.
Davila's run at USAs was a huge PR (29 seconds) and she deserves a Thumbs Up as well. She's never been the track runner that Goucher is, but she, too, has come back to the track in grand fashion. Two weeks before nationals, she ran 15:34 for 5k and then two weeks later at USAs she nearly doubled that performance.
While we're on the PR parade, Olympian in the marathon, 37-year-old Magdalena Lewy Boulet, had the biggest PR - 32 seconds. Very impressive.
| | | | |
| --- | --- | --- | --- |
| Top 3 2009 USAs | | Top 3 2011 USAs | |
| 1 Amy Begley | 31:22 | 1 Shalane Flanagan | 30:59 |
| 2 Shalane Flanagan | 31:23 | 2 Kara Goucher | 31:16 |
| 3 Katie McGregor | 32:08 | 3 Jen Rhines | 31:30 |
| 4 Magdalena Lewy Boulet | 32:20 | 4 Desiree Davila | 31:37 |
| 6 Amy Hastings | 32:56 | 5 Magdalena Lewy Boulet | 31:48 |
| | | 6 Amy Begley | 32:34 |
*Women's 10k Splits
More: LRC Women's 10,000m: Shalane Flanagan Goes Wire-To-Wire Over Kara Goucher And Field
Women's 5,000m: Molly Huddle Does What You'd Expect From An American Record Holder, Amy Hastings And Bizzarri Step It Up
Last year in Brussels, Molly Huddle finished 10th in the 5,000m. It was a race that would change her career. How so? Although only 10th, she ran 14:44.76 to break the American record by .04. Huddle has said on numerous occasions that it changed her outlook as a runner.
Their is a certain alpha-dog status that comes with being the American record holder and Huddle displayed that in Eugene.
The final three laps of the women's 5,000m field, Huddle ran like someone who is much better than everyone else in the field. She put away the field to get the impressive win in 15:10. Now Huddle sets her sights on Europe. Can she put the American record in the 14:30s where it needs to be? One would think so, as Huddle was a much more confident runner in Eugene.
Final Lap Or Full Race Women's 5,000m

Amy Hastings ran 15:51 to win the NCAA indoor title in 2006. In the 4 years since then, she had only improved 8 seconds. She saw how hard the jump to the pro ranks is.
Hastings' move to the marathon in 2011 has transformed her career. First up was the LA marathon, where she ran an impressive 2:27:03 for second in late March. Hastings only recently returned to the track and she found what Paula Radcliffe and some others have discovered, the marathon made them better track runners. Two weeks ago in Seattle, Amy ran a 15:19 PR. She backed it up in Eugene with a 15:14 PR to book her ticket to Worlds. So after the marathon, her 5k PR has dropped nearly 30 seconds in less than 4 months.
Angela Bizzarri was even more credentialed than Hastings in college with 3 NCAA titles. A nice 11-second PR at USAs got her third place and a spot at Worlds assuming she or Hastings can run under the World Championships "A" Standard of 15:14.00 before the first week of August (Bizzarri finished 3rd at nationals two years ago and only needed to hit the "B" standard of 15:25 to go to Worlds and couldn't do it). Bizzarri and Hastings are both training partners in Terrence Mahon's Mammoth Track Club, so they both likely will go chase the standard even though Hastings' spot on the Worlds team is secure with her second place finish.
Mahon's wife, Jen Rhines, another Mammoth Track Club runner, was 4th after making the team in the 10,000m the night before, but we want to give our attention to some blue collar runners.
Coach Gags On His Blue Collar Group

Julie Culley, who trains with famed coach Gags (Frank Gagliano, former coach of Georgetown and the Oregon Track Club) in New Jersey, was 5th in small PR of 15:21.18 (Culley ran at Worlds 2 years ago). Gags' group is pretty amazing. He lives in Rye, NY. Twice a week, he drives through New York City and picks up some runners, including Delilah DiCrescenzo, who made the Worlds team in the steeple. Then they all drive to Rutgers, NJ to work out. Then they hop back in the car, he drops them off, and the 150-mile round trip is complete.
Although her dad and coach, Steve, was a World Championships bronze medallist in the marathon, Neely Spence is definitely a blue collar runner because she runs for Division II Shippensburg University. She had a 6-second PR for 7th.
Not sure if Desiree Davila can still be classified as blue collar anymore now that she's second at the Boston Marathon, but her performances this weekend were pretty impressive and blue collar in our book. Desi followed up her 10,000m PR on Thursday night with a 4-second 5,000m PR on Friday. Ever since we featured a video series on her right before Boston and then said she wouldn't win, she's been unbelievable. Just like when we featured Meb Keflezighi on our live radio show in 2009 before the New York City Marathon, then in our previews said he wouldn't win. We call it the reverse LetsRun.com jinx.
| | | | |
| --- | --- | --- | --- |
| Top 3 from 2009 | | Top 3 from 2011 | |
| 1 Kara Goucher | 15:20.94 | 1 Molly Huddle | 15:10.01 |
| 2 Jen Rhines | 15:26.92 | 2 Amy Hastings | 15:14.31 |
| 3 Angela Bizzarri | 15:33.02 | 3 Angela Bizzarri | 15:16.04 |
| 4 Julie Culley | 15:33.92 | 4 Jen Rhines | 15:19.12 |
| 10 Amy Hastings | 15:52.37 | 5 Julie Culley | 15:21.18 |
| | | 6 Desiree Davila | 15:25.35 |
| | | 7 Neely Spence | 15:27.72 |
| | | 8 Lauren Fleshman | 15:31.26 |
LRC Women's 5,000m: Molly Huddle Impresses, Hastings And Bizzarri Continue The Mammoth Mojo

Women's 1,500m: Morgan Uceny Steps Up, Christin Wurth-Thomas Suffers The Agony Of Defeat
Women's 1,500m Final Lap Or Full Race

With five great runners in the women's 1,500m final (sub-4 runners Jenny Simpson, Christin Wurth-Thomas and Anna Pierce, plus bronze medallist Shannon Rowbury and sub-2:00 800m runner Morgan Uceny), simple math dictated two were destined to go home unhappy.
Those two ended up being Anna Pierce and Christin Wurth-Thomas and they suffered very different fates.
First, let's discuss CWT. If you drew up the most cruel way to not make Worlds, you would draw up Christin Wurth-Thomas' race in Eugene. First, she was the favorite. She had run better than any of the other American women in 2011, as coming in her 4:03.72 season's best was 2.5 seconds faster than any other American in 2011.
Second, she likes to front-run, which is always very interesting in championship races and very difficult to pull off. Then she took it out very fast. 62.3 for the first 400m, which is 3:53 pace. No matter what she said afterwards, in our book that's too fast. Nonetheless, for the next 2 laps, she just kept extending her lead. With 2 laps to go, she lead by 2.09 seconds and with a lap to go, the lead was 3.19. Of course by now you know this doesn't end well. Morgan Uceny blew by her with 100 to go and ran away the final 100m to the impressive 1.7-second victory in 4:03.91. CWT still had probably 1.5 seconds on 2nd and 3rd with 100 to go but would totally lock up the last 50 meters. She'd almost stagger into Jenny Simpson as Simpson went by and then CWT veered into lane two right before the finish battling with Shannon Rowbury for the third spot. Rowbury would get it by the cruelest of margins - .01 seconds.
Christin Wurth Thomas On Coming Oh-So-Close

Afterwards, CWT pointed to a bunch of reasons why she didn't make the team, but refused to question her opening lap of 62.3 seconds. She discussed the food poisoning she had during the week and the insomnia that kept her up the night before the race ("I didn't sleep at all last night."). She said at least three times after the race, "I knew it was going to be a rough day."
Well, if she knew that, then she shouldn't have gone out in 62.3. The easiest way to blow up in a race is to go out too fast the first lap of a 1,500m. Throw in insomnia and it's a recipe for disaster. We applaud CWT for not abandoning the way she runs best - from the front - but she could have gone out slower and still tried the same tactic. She said afterwards, "Like Prefontaine said, 'You're going to have to bleed to beat me.' That's what I tried to do today."
That's a nice sentiment and we agree whole heartedly when she said, "I went for it, I can't hang my head." That being said, we think with the passage of time, CWT might wish she had gone out a second or two slower.
While CWT's missing the team was the most dramatic event in the women's 1,500m, the biggest disappointment was Anna Pierce's run. She finished in 10th in 4:12.84. The 10th-place finish is a surprise for sure, but looking at Pierce's recent results, the fact she didn't make the team shouldn't be a surprise. Pierce made the Olympics in the steeple in 2008, in 2009 she went UNDEFEATED in the 800 and was ranked #2 in the World by Track and Field News. She ran the 1,500m at Worlds and made the final and broke 4:00 for the first time after Worlds. Last year she was the US champ, but didn't run under 4:04.5 all year. So far this year, she's yet to run under 4:10 (granted, USAs was only her 2nd 1,500). One has to start wondering if the 1,500 is her best event (she's shown breaking 2:00 in the 800 is not that difficult for her) and whether her training is as optimal as it was in 2009 because she doesn't look quite like the same runner.
That brings us to the champ, Morgan Uceny, who is also Anna Pierce's training partner. (both are ex-Ivy Leaguers who blossomed late; good profiles on Pierce here and Uceny here). Uceny joined the Mammoth Track Club in fall 2009 and went sub-2:00 for the first time last year, and now has her first US title (back to Pierce: Since gaining Morgan as a training partner, Pierce has not performed quite as well, so perhaps she's leaving too much on the track in training. Or maybe the extra endurance work Pierce did for the steeple helped her in the 1,500). Coming in, Uceny was the least credentialed of the five stars in the 1,500m final, but her dominating victory in Eugene made a lot of people take notice. She backed it up with a convincing Diamond League win in Lausanne this past Thursday. People who saw her win at USAs should not be surprised by her win in Lausanne, because the races from Uceny's perspective were nearly identical, which we talked about in our Lausanne recap. The one surprise was that the rest of the women in the Lausanne field could not respond better.
Worlds And Mary Slaney's American Record
Shannon Rowbury has to be happiest of the trio going to Worlds. She's been battling back from injury. With the stacked 1,500m field this year at USAs, she easily could have been a victim of the cut-and-dried US Trials system. Now because of 1/100th of a second, she's going to Worlds and has to think she'll be in much better fitness in two months time. Despite her bronze medal, Rowbury has never broken four. She'll relish her opportunities to compete the rest of the summer. Simpson was sidelined by injuries last year, so she has yet to return to her 1,500m form of 2009. We're still not convinced her best event is the 1,500m. Simpson spoke lovingly of the steeple at USAs, but her coach, 1996 1,500m Olympian Julie Benson, is a 1,500m coach, so we see the logic in running the 1,500m this year and then reassessing before London.
Christin Wurth-Thomas hinted at going after Mary Slaney's American record of 3:57.12 this year. 3:59.59 (CWT's best) is a long way from 3:57.12, however. As good as this crop of American 1,500m runners are, they are quite a ways from Mary's record. It'll be interesting to see what Uceny does in her first fast race in Europe this summer.
Looking at past USATF Champions, we couldn't help but notice the 11 USATF wins by drug cheat Regina Jacobs and wonder how many she stole from Suzy Favor Hamilton (and while we're at it, we'll note that Mary Slaney was busted for drugs and her conviction was never overturned by the IAAF).
(Disclosure: LRC's Rojo coaches the men at Cornell. Uceny went to Cornell. Rojo can claim no credit for her success, but we might be a bit biased).
| | | | |
| --- | --- | --- | --- |
| Top 3 from 2009 | | Top 3 from 2011 | |
| 1 Shannon Rowbury | 4:05.07 | 1 Morgan Uceny | 4:03.91 |
| 2 Christin Wurth | 4:06.00 | 2 Jenny Simpson | 4:05.66 |
| 3 Anna Willard (Pierce) | 4:07.70 | 3 Shannon Rowbury | 4:06.20 |
| | | 4 Christin Wurth | 4:06.21 |
| | | 10 Anna Pierce | 4:12.84 |
LRC The Thrill Of Victory (Morgan Uceny) And Agony Of Defeat (Christin Wurth-Thomas)
Women's 800m: Everyone Brings Their "A" Game, How Much Damage Can They Do In Daegu?
While the US women may have run the best over the last few years at 1,500m, the most competitive mid distance event at this year's USA meet was the women's 800m. Five women (two-time US champ and last year's champ, Alysia Montano, two time-US champ Alice Schmidt, late closer Maggie Vessey, 2010 NCAA star Phoebe Wright, and former NCAA champion Geena Gall) had broken 2 minutes this year prior to USAs.
What did they do at USAs? They all went out and ran as fast (Gall) or faster than they previously had this year. Every single woman brought their "A" game.
In the end, that resulted in Montano getting the impressive wire-to-wire win, Vessey being a strong second and Alice Schmidt hanging on to get third.
Phoebe Wright got fourth despite running the third-fastest 800m of her life, and Geena Gall was fifth despite matching her PR. No doubt they'll be disappointed not going to Worlds, but sometimes you have to tip your cap to those who beat you.
It's fitting the top 3 were who they were, as they had the top PRs in the field and most of the time in our sport, class prevails over heart.
A Look Back At Hazel Clark-Riley And A Look Ahead
Before we turn to Montano's, Vessey's and Schmidt's chances at Worlds, let's turn to one who didn't run USAs, Hazel Clark-Riley. The 33-year-old, five-time US champ has been injured so far this year and one has to wonder with the strength and youth in the event now if Hazel's days at the top of the event are over. No doubt she'll try and make London, which would be a great way to end her career.
Looking at the top 3 in reverse order, Alice Schmidt may have two USA titles, but they were nearly 10 years ago (2002 and 2003). She missed 2009 with a stress fracture and in her return last year only ran 2:01, so USAs was a testament to her perseverance.
Vessey ran 1:57.84 in 2009 but didn't go sub-1:59 last year. She made the difficult decision to switch coaches this year and the verdict is still out if she can return to her 2009 form, but USAs was a big step in that direction.
Alysia Montano: "I was going to take it out hard
and everyone else is going to have to catch me."
Plus She Says She Had No Idea She Went Out In 56

Now that brings us to Montano. One thing we have conveniently not mentioned yet is that her 1:57.34 last year was a world leader. Yes, ladies and gentleman, an American led the world and was ranked #3 by Track and Field News. She also got a world indoor bronze in 2010.
Her 2010 was even more impressive because of what preceded it. In our preview, we said this would be Alysia's first Worlds team, but that is incorrect, as she won USAs in 2007 and made the team that year. In 2008, she suffered a stress fracture and spent 2009 coming back from that. 2010 was her first full year back and she ended up being the world leader, showing the promise she had in 2007 when she won USAs as only a junior in college.
Looking Ahead To Worlds: What Sort Of Damage Can 2010 World Leader Montano Do?
Everyone's attention now turns to Worlds and the American record (1:56.40) of Hazel's sister-in-law, Jearl Miles-Clark. As good as Hazel is, she only has run sub-1:58 once with a 1:57.99. Montano is the only active American who has come within a second of the record and we think she's the only one who could conceivably break it this summer.
Things are wide open this year at Worlds. No one has gone sub-1:58 this year. Montano wouldn't be the favorite if Worlds started today (she was only 4th at Pre), but she has to be among the names you'd consider. And if Montano is one of the favorites, then Vessey has to like her chances of doing well in the final, and Schmidt must like the trajectory she is on.
Many laymen operate under the assumption Caster Semenya will dominate Worlds like she did in 2009. But if she is receiving hormonal treatment so she can compete against women, she physically is not the same person she was in 2009. Rumors are 2008 Olympic Champion Pamela Jelimo, who has been terrible in 2011, is in the same boat. The Worlds could be very interesting and from the American female perspective, the 800m looks like the best place for a distance medal.
In closing, props to former Indiana State runner Erica Moore in 6th place. She ran 2:00.17. Last year she was predominantly a 400m hurdler with a 2:06 indoor best. Now she's running 2:00 and just about any other year would have a ticket to Worlds.
| | | | |
| --- | --- | --- | --- |
| Top 3 from 2009 | | Top 3 from 2011 | |
| 1 Hazel Clark | 2:00.79 | 1 Alysia Montano | 1:58.33 |
| 2 Geena Gall | 2:01.01 | 2 Maggie Vessey | 1:58.86 |
| 3 Phoebe Wright | 2:01.12 | 3 Alice Schmidt | 1:59.21 |
| 4 Maggie Vessey | 2:01.19 | 4 Phoebe Wright | 1:59.25 |
| 6 Morgan Uceny | 2:01.32 | 5 Geena Gall | 1:59.76 |
| 7 Alysia (Montano) Johnson | 2:01.58 | 6 Erica Moore | 2:00.17 |
LRC Women's 800m: Alysia Goes Wire-To-Wire
Women's Steeple Full Of Drama
As on the men's side, the women's steeple was the weakest distance event at USAs.
(Sponsored)
New Puma Video Series On Delilah!
Episode I: Delilah Goes To Worlds
More Here

America has two very good steeplers in Jenny Simpson and Anna Pierce, but neither one of them has run the steeple the last two years.
What the field lacked in firepower up front, it made up for in drama. Heading into the final water jump, Virginia's Stephanie Garcia (NCAA runner-up) was battling Delilah DiCrescenzo for the final Worlds spot. Garcia had a clear but not invincible lead heading into the final water jump, and then she went for a swim in the water. Delilah did her best to avoid landing on her, and just like that, their fortunes had changed. Delilah made her first Worlds team and Stephanie was left to wonder what if.
Up front, it was a battle of the last two NCAA champions, as this year's champ Emma Coburn of CU outkicked last year's champ Bridget Franek.
We don't have too much more to say about this event. All 3 Worlds participants will be looking more for experience than anything else at the Worlds. Hopefully, one of them can get into the 9:20s.
We found it interesting that Garcia acknowledged that every steepler thinks about what all the spectators are thinking, "What the hell happens if you fall?" She said the horror scenario of the water jump fall entered her head before the race, even though she had never fallen in the water before.
Sara Hall was a disappointing 5th in her first full year of the steeple despite having the "A" standard coming in. We give her major props for "getting it." With "it" we don't mean how to run faster or how to steeple. She understands how the bills are paid. Good race or bad race, Sara is there to face the media with a smile on her face. Our sport is begging for attention, yet athletes in our sport often won't talk to the media after a bad race or go into hiding like Dick Cheney before races. Not Hall.
| | | | |
| --- | --- | --- | --- |
| Top 3 from 2009 | | Top 3 from 2011 | |
| 1 Jenny Barringer (Simpson) | 9:29.38 | 1 Emma Coburn | 9:44.11 |
| 2 Anna Willard (Pierce) | 9:35.01 | 2 Bridget Franek | 9:44.90 |
| 3 Bridget Franek | 9:36.74 | 3 Delilah DiCrescenzo | 9:46.31 |
| 6 Lisa Galaviz | 9:52.60 | 4 Stephanie Garcia | 9:51.57 |
| 9 Delilah DiCrescenzo | 10:02.14 | 5 Sara Hall | 9:52.52 |
LRC Emma Coburn Wins, Stephanie Garcia Falls, And Hey Delilah Goes To Korea
LRC USA Men's Nationals In Review Wejo tries to bring some perspective to the 2011 USA nationals. He starts off by pissing off the whole state of Oregon by examining Galen Rupp's performance in the 10,000m, talks about the stellar men's 5,000m, and keeps on going to break down all the distance action. Of course he mentions Dathan Ritzenhein, German Fernandez, Evan Jager and even Xavier Carter, Adam Nelson, and Adam Goucher just so those of you on the fence will read the article. Shameless.
Sunday:
Men's 800m: LRC Men's 800m: Nick Symmonds Makes it Four in a Row
Women's 800m: LRC Women's 800m: Alysia Goes Wire to Wire
Women's Steeplechase: LRC Emma Coburn Wins, Stephanie Garcia Falls, and Hey Delilah Goes to Korea

Saturday USATF Coverage
Men's 1500m: LRC Matt Centrowitz Jr Pulls Away from Bernard Lagat
Women's 1500m: LRC The Thrill Victory (Morgan Uceny) and Agony of Defeat (Christin Wurth Thomas)
Men's Steeple: LRC Billy Nelson's Return to Oregon is Successful
Friday: USATF Coverage
Men' 5000m: LRC Men's 5,000m: Bernard Lagat's 3:57.80 Close Wins A Thriller Over Chris Solinsky And Galen Rupp
Women's 5000m: LRC Women's 5,000m: Molly Huddle Impresses, Hastings And Bizzarri Continue The Mammoth Mojo
800m Semis: LRC All the Favorites Advance And KD Asks For Some Energy From His Fans In The Final
*Ashton Eaton Sets PR With Decathlon Win, Olympic Gold Medallist Bryan Clay Falls In 110 Hurdles And Doesn't Finish The Meet
*Walter Dix Just Outleans Justin Gatlin To Win US Champs 100
*SI's Tim Layden Takes a Look at Justin Gatlin's Situation
*Post Race Interviews

Complete Thursday USATF Coverage: *10k Photos
Men's 10k: LRC Men's 10,000m: Galen Rupp Closes Out Matt Tegenkamp With 1:52.5 Final 800m
Women's 10k: LRC Women's 10,000m: Shalane Flanagan Goes Wire to Wire Over Kara Goucher and Field
1500m Round 1 and Men's Steeple Round1: LRC Thursday's 1500m Heats: 2011 US Leader Russell Brown Bows Out
800M Round 1: LRC: 800m Round 1 Goes According to Form
---
Runner's World &
Running Times



Combined Only $22
a Year
Save $87

---

Running & Track and Field Posters
---

Great Running Shoe Deals Nike Lunar Glide $79.99 A very popular innovative Nike shoe on sale now.
---