Turkey Day Runs:
California: Scott Bauhs Wins His Pro Debut At Synapetics 5k Bauhs is a stud with a bright future.
On the boards: Scott Bauhs Wins Elite 5k
* Galen Rupp vs. Scott Bauhs

CT: Martin Fagan Wins Manchester Road Race
*Results
Canadian XC Nationals Today
*Results
On the boards:
*Alan Webb: Should he follow Mottram's idea to go solo?
*Colt McCoy is dating a Baylor Runner ... sic em' horns The knockout young woman they showed about 10 times on ESPN during the Texas / Texas A&M game is her.
*Shaheen parts company with Renato conova (sic)
Jelimo Talks About Meeting Kenya's President After Beijing It was quite a year for her, as in addition to Olympic gold, she took home the $1 million Golden League jackpot. EA Standard
Best Recap Of NCAA Women's Race From Mike Scott
2008 NCAA D1 XC
*LRC Prediction Scores Are In - Check Them Now
Arkansas XC Had Its Worst NCAA XC Meet Ever This year represented a lot of negative firsts for the Razorbacks. The first year without John McDonnell in a long, long time and the first conference XC loss in 34 years, and the first Regional loss after 18 years. It was the Razorbacks' worst NCAA performance ever, but they have made the meet every year since 1974 (the year McDonnell's conference streak started).
*For a great look at the history of the NCAA Champs click here for men, here for women.
Post NCAA News:
*German Fernandez Possibly Facing Long Recovery From Injury
*Metcalf: "We should be better next year" (scroll down in article)
*Oregon Gets Hero's Welcome At Hayward
Men Results: *Team *Individual LRC: *Men's Photos Almost 600 of them.
LRC: RUPP And Oregon Are Golden Galen Rupp put away the demons of the near misses and captured his first NCAA title by shadowing Liberty's Sam Chelenga for 9,600m and then outkicking him on the straight to lead Oregon to the team win. Oregon dominated the team title as Oklahoma State had a forgettable day. Super frosh German Fernandez dropped out with an achilles injury (photo of Fernandez in great pain here), while Oregon frosh Luke Puskedra was a very impressive fifth.
*USA Today Recap of Race
*On the boards: Eyewitness Account Of German Fernandez's Injury
*Chelanga's Lack Of Experience Shined Through!
*German Fernandez Has Achilles Injury
*Recap On NCAAs From Oregonian
*NCAA Post-Race Interviews: Flotrack
*NCAA Post-Race Interviews: Trackshark
Women Results: *Team *Individual LRC: *Women's Photos
Kipyego Threepeats Susan Kuijken tried to make it interesting, but in the end, Sally Kipyego was too good and she became the first woman to win 3 NCAA XC titles. The Washington women got the women's team title as expected.
Only On LetsRun : *Kipyego Is Lucky
*UW Coach Greg Metcalf Says Race Didn't Go According To Plan But Huskies Came Out On Top
*Metcalf: "We should be better next year" (scroll down in article)
*NCAA Post-Race Interviews: Flotrack
*NCAA Post-Race Interviews: Trackshark

*LRC: 2008 NCAA Men's XC Championship Preview Rupp vs. Chelanga And Oregon vs. Oklahoma State Headline A Championship For The Ages
*LRC: 2008 NCAA Women's XC Championship Preview Kipyego And Washington Chase History - Others Shoot For The Podium
Recommended Read: Rupp & Kiptoo-Biwott Friendship Fuels Oregon Success The article for the most part is a profile on Kiptoo-Biwott, who is a father figure to the team and a new father himself.
*Liberty's Preview of Race
*W. Virginia Women Hope To Respond To Bell Ringing With 1,500 Meters Left
*Terre Haute Tribune Star Preview
*Profile Of Indiana State's Scott Keeney
*Matt Centrowitz Jr. Reportedly Will Race NCAAs For Oregon *Message Board Thread on Oregon 7
*Oklahoma State Ready For NCAAs - Shooting For Win
*Recommended Read: Dick Patrick's USA Today Sam Chelanga Interview
*Great For The Sport: NCAAs To Be Shown Live In Hayward Field
*Oregon Runner Alex Kosinski Profiled By Eugene Paper
*LRC: World Famous NCAA XC Prediction Contest
More NCAA XC News:

NCAA D2 & D3 XC Nationals
D2 Scott Bauhs Gets Coveted Individual Win As Adams St. Wins Team Titles
*Men's Results *Women's Results
D3 Cortland St. Gets 1st Men's Title As Middlebury Wins Women's
*32 Page Message Board Thread
*On The Boards: Runner Turns Down Rhodes Scholarship Interview To Run Nationals Kudos to Grinnell College's Henry Reich for putting his teammates first.
Worth A Read: Long Ryan Hall Journal Entry
This Puts 1983 Boston To Shame
408 Runners Break 70 In Japan's Ageo City Half Marathon! People talk about how amazing it was that 83 guys broke 2:19 in Boston in 1983, but 408 under 70 flat? Insane!!! *Message Board Discussion: Is This The Deepest Half Marathon In History?

Lance Armstrong Gives A Lengthy Interview On His Comeback And Talks About Almost Everything
From politics to doping to fearing for his safety at this year's Tour, Armstrong tells all and the best part is The Guardian has published it all.
*AP Recap of Interview: Armstrong Fears For His Safety
Column: Lance Armstrong should stay away from France
*Lance Armstrong Claims British Cycling Success Helps Prove His Innocence
2008 ING New York City Marathon *Results *Searchable Results *Video: Men's Highlight Video *Photo Gallery
Post-NYC News
*Paula Targeting London Gold In 2012 She can do it if she's healthy.
*Daniel Rono Remarks On His 3rd At ING NYC A big difference between NYC and many other top-level marathons is the lack of rabbits, and Rono mentions this was a big experience for him to actually have to race the whole time. His 3rd was the top Kenyan finish in both the men's and women's races.
*Radcliffe Wants Another Baby Before 2012
*Is A World Record Attempt In London Up Next?
*Two Die At Marathon
Lots Of Info On Kara Goucher's Great Debut
*Kara Goucher: Paula Radcliffe Is The Greatest Ever
*Queens Native Goucher Says 1st Marathon Was "Awesome"
*3rd Is A Win For Kara Goucher Both Goucher and her coach Alberto Salazar were pleased by the result and it looks like she's a marathoner now.
*Alberto Salazar's Pre-Race Advice For Goucher: "Have Faith."
News From New Zealand
*Athletics New Zealand May Review Whether Rod Dixon's 1983 Time Should Be Ratified As New Zealand Record Dixon claims the course wasn't short.
*Illness / Sore Throat Ends Kim Smith's Run Between 30km And 35km The article also talks about how 1983 champion Rod Dixon ran just over 3:30.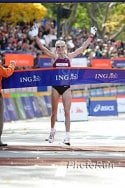 Women's Race: Paula Dominates Goucher Third
Paula Radcliffe showed why she's the best marathoner in the world as she dominated the women's field in the second half of the ING NYC Marathon. Radcliffe took a different strategy this year in NY. She led every single step of the way, but she said with the high winds her plan this year was to save something for the end and run negative splits and it showed. She poured it on the final six miles, winning by nearly two minutes. Radcliffe never looked back and said when she turned for the final quarter mile at Columbus Circle, she wasn't even positive she had the race won. American Kara Goucher ran up front for most of the race and had a successful debut in third in 2:25.53 (American debut record). Olympic silver medallist Catherine Ndereba, Dire Tune, Rita Jeptoo and Gete Wami were left in Radcliffe's wake, causing Wami to tie with Irina Mikitenko for the World Marathon title. The World Marathon Major race directors were then left to vote to break the tie. They voted for Mikitenko and just like that she got $500,000 and Wami got nothing.
*Radcliffe Doesn't Look Back En Route To 3rd Win
*Paula Destroys Top-Class Women's Field
*Mikitenko Awarded WMM Prize In Tie-Breaking Vote
*Women's Recap And Race Replays From UniversalSports.com
*Paula Post-Race Press Comments
On the boards: Wami gets nothing of World Marathon Prize while tying for spot #1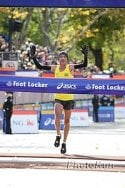 Men's Race: Marilson Gomes Dos Santos Storms From Behind To Win Coming into the 2008 ING NYC Marathon, Abderrahim Goumri had the distinction of being the top marathoner in the world who had never won a marathon (2nd in London in 2007, 3rd in London in 2:05:30 this year, and 2nd in NY last year). On Sunday in NY, he was clear of the field and on his way to what seemed to be his first marathon victory. However, savvy 2006 NY champ Marilson Gomes Dos Santos saved his best for last and stormed from behind in the final mile to overtake Goumri and get the win (afterwards Goumri said a missed fluid bottle might have caused him to run out of steam). Dos Santos ran 1:02 for the second half for a big negative split. Veteran Paul Tergat said he twisted an ankle on the course but returned to action with a fourth place finish. American Abdi Abdirahman led the American charge in 6th place as four Americans were in spots 6, 7, 8 & 10.
*Men's Recap and Race Replays From UniversalSports.com
*Gomes dos Santos Is Going To Disney To Celebrate
*NYT: New York Brazilians Say "Gomes who?"
On the boards: Nate Jenkins at NYC marathon?
Sunday Down Under: Geb vs Mottram: *Geb Wins In Windy Conditions As Mottram Is 4th After an opening 10k of 28:46, Geb hammered home a 13:55 to get the win.
*Haile Gebrselassie Focused On Time In Showdown Versus Mottram Over 15k On Sunday Geb also talks about skipping the 2008 Olympic Marathon and running the Games in 2012. Geb, like Paula, seems to have the mental ability to focus on 2012: "2012 is very soon! It's not the age, actually. It's mental. If you are strong mentally, then there is no problem."
More: Geb: "I see this tall white guy who beats all the Ethiopians and the Kenyans sometimes and I'm surprised, I want to know his background." www.smh.com.au
Excellent Read On Benita Johnson The former World XC champ has had a very tough 2008 (her father died and her marriage fell apart). But now she's smiling again and ready to take on the world's best Sunday in Australia (Dita and Ndereba are on hand).
Also This Weekend: With $50,000 1st Prize, Nigeria's Obudu Ranch International Mountain Running Race Has Attracted Some Traditional Stars Like Mestawat Tufa IAAF
Stephanie Twell To Race Seniors To Prepare For Her European XC Defence
Flora London Men's Field Announced ...
It's Going To Be Sick Once Again
Today the Flora London Marathon announced a positively sensational field of men's runners for their 2009 race. The field will include 3-time winner Martin Lel, "The Future" Sam Wanjiru, half marathon phenom Zersenay Tadese making his marathon debut, US greats Khalid Khannouchi and Dathan Ritzenhein, Felix Limo, 2-time World champion Jaoud Gharib, "Mr. Runner-Up" Abderrahim Goumri and 5 other guys who have run under 2:08 in their careers. Ryan Hall's Boston debut certainly won't be an easy win, but with these guys all running London he'll have a great shot.
*Unbelievably Exciting Men's Field Announced For London!
*Video Highlights Of Martin Lel's 2008 London Record 2:05:15 Win
Turkey Day Racing: (Manchester Road Race still to come)
*Not Messing Around: Scott Bauhs To Run Turkey Trot 5k, Go For USA Road Record 13:24
*Why Berwick's Thanksgiving Race Is Special
Olympic And IOC News
*Nervous Holidays For Some: Olympic Drug Retests For CERA To Take 4 More Months
*IOC Head Rogge Glumly Speaks On Cheating By Athletes
*We Agree: "London Should Be London" In 2012 - Not Try To Outdo/Outspend Beijing
More Chiba Recaps:
*Great Recap With Video Of Ethiopian Course Record Performance At Chiba Ekiden
*US Individual Splits From Chiba; Ed Moran Runs Best With 13:47 5k, Good For 5th
*Chiba Ekiden Recap: Ethiopia Wins (Combined Men's And Women's Team)
Ian Stewart (Guy Who Beat Pre For Bronze) To Lead British Distance Buildup For 2012 Games
Isinbayeva Is Better And Hotter Than Her Rival
World's Fa$$$$test Man
*Bolt Fights For Right To Party And Rule The Sprinters' Roost He's going to stop partying now and start training, but he doesn't get why some are upset that he's been enjoying himself for the last few months.
*Bolt Will Be Cashing In In 2009 To The Tune Of $200,000 An Event
*Bolt And Isinbayeva Are 2008 IAAF Athletes Of The Year 800m star Pamela Jelimo was undefeated for the year but didn't win.
Paula Radcliffe Has Discovered Childbirth Has Made Her A Better Athlete
Drug News *Disgraced Cyclist Bernard Kohl To Reveal Sources Of CERA As He Agrees To Cooperate With Officials
*Researchers Studying Potential Performance-Enhancing Benefits Of Viagra
*Survey: 20% Of Young Greeks Would Take PEDs To Improve Physique
Quotes From The Greats At World Athletics Gala
World Silver Winner Leonard Komon Wins IAAF Spanish XC
Myron Rolle Wins Rhodes Scholarship

Liz McColgan And Paula Radcliffe Call For Cycling-Style Centers For Running Where People "Can Eat, Sleep, Drink & Train"
*Radcliffe Still Dreaming Of Marathon Gold
Ryan Hall's first international marathon on US soil will come on Patriot's Day of '09.
John Hancock Financial Signs Ryan Hall To Run Boston Marathon!
*Message Board Thread Here *Hall quote: "To win [Boston] would mean as much to me as winning any marathon in the world, including the Olympic Games. To win in Boston would show the world that American distance running is indeed back to the days of Salazar, Beardsley, and Rodgers ... What is done in Boston lives on for all time."
A LetsRun.com Thumbs Up
Children's Running Book Review LRC reviews Kids Running and our guest reviewer says, "I can say with full confidence that it is perhaps the best children's running book of 2008."

Usain Bolt Answers Carl Lewis' Doping Questions In Interview

LetsRun.com Boston 08 LetsRun.com Party Photos The party hosted by Puma was a smashing success. A packed house, as those passionate about running (from ages 5 to 65+) came to celebrate a great weekend in Boston. LetsRun.com fans celebrated with Rojo, Wejo, Matt Taylor, and a few legends in the sport, including former marathon world record holder Steve Jones and Olympic Silver Medallist Sonia O'Sullivan. The Harpoon beer was flowing, DJ Inkognito kept things going and contrary to popular opinion, there was a healthy mix of males and females. The reviews were excellent. "It's refreshing not to see the same 50 people (industry insiders) at a party." "Most favorable female-to-male ratio I've seen in a long time."
101 Years Old, Still Smoking, Running and Drinking: Buster Martin: "I'm not worried about the fags because I'll carry them with me. Everyone says smoking kills but it's taking a long time in my case." The 101-year-old legend plans on smoking while running Sunday's London Marathon.
LetsRun.com 2007 Worlds Coverage:
*Sunday's Homepage Ndereba marathon
*Saturday's Homepage
*Friday's Homepage Tyson Gay
*Thursday's Homepage Lagat
*Wednesday's Homepage Lagat
*Tuesday's Homepage Bekele 10k
*Monday's Homepage Tyson Gay
*Sunday's Homepage Dibaba/Goucher 10k
*Saturday's Homepage Kibet Marathon
LetsRun.com London Men: Lel Leads 3 Under 2:05:30!!!, Ryan Hall 2:06:17
Ryan Hall Goes Through Halfway on World Record Pace
The 2008 Flora London Marathon will be remembered for a long time. The lead pack of 9 went through 5k at 14:21 (2:01 pace). They continued together (yes, all 9) through halfway on world record pace (1:02:13). Ryan Hall then went to the front soon after and asked the pacemakers to go FASTER. Soon Hall was off the back, but he would catch the leaders briefly again and go on to run 2:06:17. Until Sunday, only 7 guys had ever run under 2:06:15, now 11 have. Up front, it came down to a 3-man battle over the final mile before Martin Lel got his 3rd straight World Marathon Major win over the final quarter mile as he led 6 guys under 2:07 and to $50,000 bonuses each. Recap, photos, video above
This Guy Has Totally Won Back Our Respect
Maasai Warriors Finish Marathon link fixed One of them went back to the course and finished the race a day after being forced to go the hospital after a ceremonial wrap cut off his circulation. He said, "It was very important for me to do this. This is what I came to England for."
LetsRun.com Ryan Hall Reflects On His Incredible Run We tell you (and let you watch) what Ryan, his dad, his granddad, his coach and even Martin Lel had to say about Ryan. Lel was full of praise for the American and shocked by Ryan's attempt to get the pacemakers to go even faster. If Hall didn't already have your respect, he does after reading this article, as he pays homage to a throwback type of guy - Steve Jones. Text and Video.
LetsRun.com Video: Ryan Hall Talks About His 2:06:17 at the 2008 Flora London Marathon
*More LRC London Videos Here
*Photo Gallery
LetsRun.com Rojo's Tour of China, Part 1 - Hanging Out With Usain Bolt
Rojo went to the Puma Party put on for Usain Bolt. Open bar, Chinese dancers putting on their best sorority girl imitations, and then Rojo going 1-on-1 with Bolt. Rojo actually asked Usain about moving up to the 800m. Bolt hinted the Jamaicans want him to run the 4 x 400m. More importantly, Bolt apologized for visiting Facebook instead of LetsRun.com.
2008 real,- BERLIN MARATHON - Watch Video Highlight or Race Replay *Results *Photos
Haile G. 2:03:59!!! Mititenko 4th Fastest Woman Ever Haile Gebrselassie made more history Sunday on the streets of Berlin. After going through the halfway point in 1:02:04, Haile continued to flirt with world record pace but was stalked by Boston runner-up James Kwambai. Haile threw down the gauntlet the last 7km to dispatch Kwambai and just dip under the 2:04 barrier. On the women's side, German star Irina Mikitenko ran a brilliant race, running a negative split to smash the 2:20 barrier and become the fourth fastest woman ever.
*Geb: "I can go faster."
*The Science Of Sport Analyzed Geb's Splits As The Race Unfolded link fixed
*Geb's Record in Berlin Is His 24th World Record (or 26th depending on who is counting)
*Mikitenko Moves Into Tie in World Marathon Majors Standings Gete Wami must finish 2nd or higher in New York to move ahead. If she doesn't, they will be tied (and tied in the tie-breakers) so they might share the title. *Washington Post Article on WMM
*Falk Cierpinski, son of Waldemer Cierpinski, 2:13 in Berlin
On the boards:
*Wanjiru's Olympics > Geb's WR
*Haile's Splits from Berlin. ... how far could you run with him??
*Live Message Board Thread