Again, Who Are The Idiots That Schedule USA Jrs and NON For The Same Weekend???
USA Jrs. *Schedule/Results
Elijah Greer 1:47.68 The high school junior dropped his pr nearly 3 seconds (1:50.3 prior to the meet). Sick
*Day 2 Recap
*USATF Recap of Day 1. Florida's Terrence Wilks ran 10.19 in the 100m as Centro Jr. won the 5k in 14:44 (his first 5k ever). Today, NCAA 400h champ Jeshua Anderson faces 2007 World Youth Champion William Wynne. *IAAF Recap Of Day 1
*Jamaica's Sprint-Heavy Squad Picked For World Jrs.
NON: Friday Recap*Live Results
*Girls HS Record in DMR Broken
There aren't many in depth recaps of any of the races but you can try dyestat and milesplit. There is an excellent recap of Fernandez's run here.
*Saturday photos from NON
Canadian HS Senior Kendra Schaaff 16:05 5k
Lengthy Profile on Front Page of Minnesota Star Tribune on Triple Jumper Shania Marks Marks has dedicated the last 4 years to making the team but jumping does not define her life.
Interview With US 1,500 Junior Sensation Christine Babcock She'll be competing at the US Olympic Trials.
Brits Say Odds Of Paula Competing in Olympics Are Slimmer As She's Still Not Running (Yet She May Be) We don't quite get it as when Dathan Ritzenhein and Nike's Oregon boys run on an anti-gravity treadmill, it counts as running. But when Nike's Radcliffe runs on one, the Brits don't consider it running.
*Is Running On An Anti-Gravity Treadmill Running?
*BBC Report Says Paula Radcliffe is "On Schedule" B
Recommened Read Lauren Fleshman Gives Great Insight on What It Takes To Be An Elite: If it wasn't for Fernandez's record, this was the quote of the day: "Sure, you simply won't make it in high-level sport without incredible self-awareness and personal drive. But a selfish athlete doing everything alone will accomplish very little. The higher you reach, the more you rely on people to give you a boost in physical preparation, health and well-being, and emotional support:"
Phillips Idowu May Be Britain's Best Bet For Olympic Gold He ponders what a gold could do for him. "I could buy a Bentley baby."
Drug News:
*Justin Gatlin Gets Restraining Order That Temporarily Allows Him To Compete At Trials
*Former European SP Indoor Champ Faces Lifetime Ban
LRC Rankings Updated:
*Men's 800 & 1,500 A decent amount of change in both events. Duane Solomon moves way up as several new faces enter the rankings.
*Women's 800 & 1,500
*Men's & Women's Steeple As a result of us rewarding the NCAA champs and moving them up on the rankings, we have a new #1 on the women's side.
*Men's & Women's 5k Not a whole lot of change, but both the men and women have new #2s.
Thursday's Action: Victoria Results Gary Reed 1:45.6 Win, Carrie Tollefson 4:14, Grant Robison 3:41
Linford Christie Goes Off on Seb Coe and Calls Britain Racist: The former cheat Olympic stud doesn't understand why he isn't honored like Seb Coe. Christie said the following: "I think there's institutionalised racism in this country."...."I've achieved more single-handedly, I'd say, than any other athlete or any other sportsman in this country.".... And lastly he said the following about Seb Coe: "What did he achieve for athletics?" Linford, we'll tell you very simply why you aren't honored - DRUGS. As for Coe, he did win two Olympic golds and two Olympic silvers.
Gatorade Honors Chanelle Price as US Girls HS School Track Athlete of the Year: Price, who is also a finalist for the overall award for all sports as well, cried when she got the award as somehow her mom kept it a secret from the text message loving Price.
*2nd Long Article on Price Being Honored
Renato Canova Speaks & We Listen
Canova Criticizes Athletics Kenya For Having Olympic Camp Prior To Trials He thought the camp should take place after the Trials and says that Kenya shouldn't try to imitate Ethiopia as Kenya has more talent.
Bob Braman Gets Well-Deserved 3-Year Contract Extension Previously, he made $120k per year - way less than their football assistants.
Athletics Kenya Picks 23 For World Jrs. 2 Jr. World Champions from 2006 Were Left Off The Squad.
*Matthew Kisorio Leads Kenyan Squad To World Jrs. The guy is a stud and recently ran 13:38. He was 3rd in world jr. xc in 2007.
Drug News: Yet Again More Problems With EPO Test & Lab Work
Slovenia's Helena Javornik Cleared Of EPO Doping Offense Slovenia has cleared their national record holder from the mile to the marathon despite the fact that both her A & B samples were positive according to WADA. In the process, the Slovenia federation took a jab at the WADA lab. We don't have any inside info on the case but were impressed by the fact that Javornik continued to compete throughout as she said emphatically that she hadn't done anything.
*Greek Drug Cheats Costas Kenteris and Katerina Thanou Trial Delayed Until 2009

Osaka Looking at Hosting Mass Marathon

LRC: The Week That Was This week we give props to Bobby Curtis, Marcus O'Sullivan, everyone in Burnt Orange and to Jenny Barringer and her rival Anna Willard. We say hello to Dorian Ulrey and Robert Finnerty and goodbye to Alan Culpepper and the great Sally Kipyego. We also prepare to say goodbye to the US women's steeple record and lastly we wonder if Andy McClary sent John McDonnell into early retirement.
USATF to Start Drug Testing at Youth Champs How about instead saving the money and trying to come up with tests for the drugs the athletes actually take?
By Tomorrow: Updated US Distance Rankings
Jen Rhines Just Running 5k at Trials
Tim Broe: Coach or Run? "I've had my time in the spotlight."
Scott Larson Now Coaching Beginning Runners
Blasts From the Past: *Scott Larson Now Coaching Beginning Runners
*Article on Wejo from 1999 from the Washington Post He swears he found the article by just googling for a photo request for another journalist.
Jen Rhines Is Excited To Run Just The 5k At the US Trials
2007 World XC Silver Medallist Moses Mosop Is Racing Against Time To Reover From Nagging Knee Injury He still has pain.
Carolina Klüft Wins LJ in Native Sweden As Abubaker Kaki Races (& Wins) Again Kaki's win was in 3:40. *Full Results
A Look At Any Chances Kenya Has At Medalling In Anything But Track & Field In 1988, Kenya won medals in a lot of sports. Not anymore.
Former European Bronze Medallist At 800m Becky Lyne Struggling With Injury
Field Events & C. Cantwell To Headline July 5th Meet in Spain
World Javelin Throw Champion Barbora Spotakova Throws World Leader At Home Meet
The NCAAs Won't Be the Same: Arkansas Won 3 Conference Titles as a School This Year and All Three Were by John McDonnell
Belgium 13:14 5k Runner Tom Compernolle Dies in Military Accident
39 Year Old Simon Vroemen Makes Olympics With 8:12 Steeple
Eugene Register Guard Article on Matt Scherer Defeating Nick Symmonds at 600m
Ed Eyestone Excited About Doing Olympic Commentary on NBC
American Miler Series: Alan Webb 1:47.41 for 5th, Anna Willard 4:06.26 The Olympic Trials will be interesting to say the least. Steve Sherer and Andy McClary both ran 3:36 (just missing the "A" standard) and both beat Chris Lukezic and Rob Myers. McClary's 3:36 was 4 seconds better than he's been running this year and appeared out of nowhere (although he was fifth at USATFs last year).
*Message Board thread on Webb
Midwest Distance Gala High Schooler Robert Finnerty Runs 4:01.09 Mile Our apologies for not featuring this earlier. Wejo didn't realize in looking at the results the kid is in high school. Although a letsrun.com poster was singing Finnerty's praises 3 years ago here.
**Video of Race
*Christine Babcock Breaks High School 1,500m Record to Qualify for Olympic Trials

OTC Results: Gabe Jennings 3:41.12 Win
Mercedes Mile Recap The top guys didn't show this year chasing "A" standards or OT standards.
More Weekend Action:
Roads: Kim Smith Wins Steamboat 4-Miler in 20:00, Khalid Khannouchi 9th in 19:09 Wejo sat 1 row behind Khalid on a flight from Chicago and Khalid was talking about running the Olympics.
UK: Geti Wami Wins, Liz Yelling 3rd in Bupa Great Women's Run in Sunderland
Comrades: Leonid Shvetsov Wins Comrades Marathon in Record Time
Japan: Sapporo Half Marathon Recap IAAF
Track: Bekele Runs 13:06 in Morocco, May Not Run Again Until Olympics He'll decide on whether he runs the 5k at the Olympics after he wins the 10k.
Florida: Veronica Campbell-Brown Runs 10.88 World Leader in Florida
Britain: Dwain Chambers Runs 10.24 Into Wind, Still Hasn't Hit Olympic Qualifying Mark
Steeple: Eunice Jepkorir 9:11 Steeple
LRC Each Day at NCAAs:
*Day 4: LRC Hernandez Edges Wheating, Manzano Wins, Hannah England Runs NCAA Record
*Day 3: LRC Barringer, Kipyego Romp, Bobby Curtis Surprises, Kyle Alcorn Wins Again, LSU, Trinidad Sprint
*Day 2: LRC Lisa Koll Dominates, Shadrack Songok Repeats
*LRC Day 1 Recap and Video Highlights
Injury News: Craig Pickering Has Injury Problem
*World XC Runner Up Moses Mosop Dealing With Injury
Dayron Robles: "Every world record is perfect." The 21-year-old reflects on his world record and is excited about competing in his first Olympics.
*Liu Xiang Says Robles' Record Will Serve As Motivation

On Demand for Subscribers on WCSN.com
Ostrava Meet *Results *Free Video Highlights
12.87 WR for Dayron Robles, Usain Bolt 19.83 Dire Tune 1 Hour Record Liu Xiang may have the pressure of 1 billion people on his shoulders at the Olympics, but he no longer will be the favorite as Robles has the World Record. Kaki over Rudisha at 800, Kipchoge wins 5k, Dibaba wins 10k.
*Free Video Highlights
*Interviews (Robles WR Celebration)
*Ostrava: Christine Ohuruogu back on track with victory
*Pre-Ostrava: Bolt's Dream Has Always Been 200m World Record
Pre:*Results *Photos
Sweet 16 for Mutola, Bekele 26:25, Lagat Wins 2 Mile, American Record for Brad Walker in PV, Alan Webb Soundly Beaten, High Schoolers Shine link fixed
The distance races were stacked at Pre. Maria Mutola got her 16th and final Pre win (assuming she does retire), Bernard Lagat looked great like he has every time in 2008, Abdi Abdirahman just missed Meb Keflezighi's American record at 10k, and Alan Webb made his 2008 track debut and ran like we've never seen him run before. High schooler Chanelle Price ran 2:01 in the 800 and high schooler Jeff Demps was third in the 100.
Full Recap: AFP Pre Recap
Pole Vault: Brad Walker Breaks American Record in Pole Vault USA Today
Distance:*Maria Mutola Makes It Sweet 16
*Bernard Lagat Shows Fine Form at Pre USA Today
*Bekele Comes Up Short Oregonian
*On the boards: Treniere Clement Only 4:11
*On the boards: Solinsky Beats Mottram
Hurdles:*Liu Xiang DQd for False Start at Pre
*On the boards: Liu Xiang Was Faking
Shot: Adam Nelson 72' 7" 'Those were some of the easiest 22-meter throws I've had in my life' Oregonian
100m: On the boards: High Schooler Jeff Demps 3rd in the 100
*On the boards: Allyson Felix Gets Smoked
More:*Athlete Quotes
*Post Race Interview from Pre
*More Photos
*NYC Reebok Grand Prix:USAIN BOLT 9.72 World Record!! *Meet Results *Video of Usain Bolt's 9.72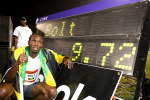 Bolt Runs 9.72.The Jamaican put on a show in the Big Apple to conclude a meet that showed exactly what track can be in this country - a large sold-out crowd, live tv and unreal performances. Tyson Gay ran a great race with 9.85 but was soundly beaten. In other action (like anything else matters), Veronica Campbell-Brown ran the fastest 100 of the year (10.91). In the distances, Paul Koech ran a U.S. all-comers record in the steeple, Lauren Fleshman went sub-15 for the first time, Lopez Lomong got his first big professional win, and Yusuf Kamel edged Khadevis Robinson in a very close men's 800. *Message Board Thread Here
*LRC Distance Recaps
*Photo Gallery
*Race Results Weekly Distance Recap With Athlete Quotes
*NY Daily News Recap (Only NY newspaper that delayed Sunday publication to include the Bolt article)
*Ato Boldon Wonders Whether Bolt Can Get 100, 200, and 400 World Records USA Today
*Usain Bolt Not Overly Excited about World Record USA Today
*Athlete Quotes from Reebok Grand Prix
Drug Talk: Hopefully Bolt can join some sort of baseline testing program like Tyson Gay to restore people's confidence.
*Drug Scandal Hangs Over Bolt's 9.72 Times of London
*Progression of 100m World Record
*NY Times: Is Bolt Clean? New York Times
Om the boards Please, Jesus, Let Bolt Be Clean We think he should voluntarily join a baseline testing program like Tyson Gay. And while we're at it, we think that everyone's baselines should be published.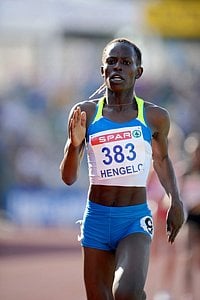 Last Weekends Action: *Results *Video Highlights
Hengelo: Pamela Jelimo 1:55.76, Geb Sub-27, Bekele Sub-13 It was expected to be an Ethiopian night in Hengelo, but 19-year-old Pamela Jelimo emerged on the world scene in a big, big way with a stunning 1:55.76 800. Sileshi Sihine outkicked Haile G for the win in the 10k, and Kenenisa Bekele went sub-13 in the windy conditions. American Matt Tegenkamp ran 13:28.
*Free Video Highlights from the Meet
*Watch The Full Meet on Demand on WCSN.com ($4.95 a month)
*Irving Saladino Jumps Farther Than Anyone Else Has In the Last 14 Years Shows how week the long jump has been that 6 men have still jumped farther.
*Video of Saladino's Jump
Great Interview: Jos Hermens Talks About Saladino, Haile Gebrselassie He says Geb did NO speed work shorter than 2,000m prior to the race.
On the boards: Jelimo's 1:55.76 possibly the fastest clean mark ever?

Olympic Trials:

LetsRun.com: Deena Triumphs in Boisterous Boston It was an incredible day on the streets in Boston. The fans turned out in droves to cheer on America's finest and Magdalena Lewy-Boulet made it interesting by opening up nearly a 2-minute lead before Deena Kastor came from behind for the win. We give you all the analysis, talk about Deena's strategy (no miles over 5:25), and more (Joan Benoit's final competitive marathon)
*LetsRun.com! Boston Women's Olympic Trials Photos
*4 Minute Highlight Video of Post Race Comments (Deena, Magdalena, Blake Russell and Joan Benoit all give their take)
*Victor Sailor Photos link fixed. Photos rearragned. A few captions added.
More coverage:
*USAToday article by Dick Patrick
*Joan Benoit Article in NY Times
*Olympic Trials Coverage *Splits for Every Mile Here
*LestRun.com Message Board Thread Here
*Watch on Demand Here

LetsRun.com London Men: Lel Leads 3 Under 2:05:30!!!, Ryan Hall 2:06:17
Ryan Hall Goes Through Halfway on World Record Pace
The 2008 Flora London Marathon will be remembered for a long time. The lead pack of 9 went through 5k at 14:21 (2:01 pace). They continued together (yes, all 9) through halfway on world record pace (1:02:13). Ryan Hall then went to the front soon after and asked the pacemakers to go FASTER. Soon Hall was off the back, but he would catch the leaders briefly again and go on to run 2:06:17. (Until Sunday, only 7 guys had ever run under 2:06:15, now 11 have.). Up front, it came down to a 3-man battle over the final mile before Martin Lel got his 3rd straight World Marathon Major win over the final quarter mile as he led 6 guys under 2:07 and to $50,000 bonuses each. Recap, photos, video above
This Guy Has Totally Won Back Our Respect
Maasai Warriors Finish Marathon link fixed One of them went back to the course and finished the race a day after being forced to go the hospital after a ceremonial wrap cut off his circulation. He said, "It was very important for me to do this. This is what I came to England for."
LetsRun.com Ryan Hall Reflects On his Incredible Run We tell you (and let you watch) what Ryan, his dad, his grand-dad, his coach and even Martin Lel had to say about Ryan. Lel was full of praise for the American and shocked by Ryan's attempt to get the pacemakers to go even faster. If Hall didn't already have your respect, he does after reading this article as he pays homage to a throwback type of guy - Steve Jones. Text and Video.
LetsRun.com Video: Ryan Hall Talks About His 2:06:17 at the 2008 Flora London Marathon
*More LRC London Videos Here
*Photo Gallery
Vancouver Sun Harry Jerome: *Results
Taylor Milne Surprises in 1500 The Canadian won the race and got the Olympic "A" standard, defeating Nate Brannen and Kevin Sullivan. Sullivan, the elder statemen of Canadian 1500m running, was trying to help another Canadian get the "A" standard. The US's Grant Robison ran 3:37.22 but his time apparently is too late to get him in the Trials.
*Gay Reed Runaway Winner in 800
More Results (Kara Goucher 4:06.1 1500, Galen Rupp Ran 3:43, Amy Mortimer missed the "A" standard by less than a second for the third time this year)
8:34.40!!!! German Fernandez Breaks Jeff Nelson's 2 Mile Record *Results 64.2, 2:10, 3:14.9, 4:19.4, 63.9, 64.7, 63.3, 62.9
*Message board thread
*Nice Recap from Dyestat Fernandez went and played basketball Friday afternoon before breaking the record.
*Videos of Race
On the boards: How long till Fernandez record goes down?
*Photos
SPAR European Team Cup: *Schedule/Results
*Nicola Sanders Wins 400 at European Cup, Jenny Meadows Wins to Honor Her Dad Who Died
*Great Britain Men, Russian Women Lead European CupIAAF
*Men's Event by Event Recap of European Cup
*Women's Event by Event Recap of European Cup
Prerace:
*Men's Entries *Women's Entries
*Men's Meet Preview The team competition is wide open as 4 of the 6 teams could win. Lots of good distance action including Mehdi Baala in the 1,500.
*Some believe Russia's Gulnara Galkina may go for the women's world record in the 3k Russia will dominate the women's team competition as usual
*Britain Hoping For Team Success
*Portugal's Reigning TJ World Champ Nelson Evora Looking Forward To Competing on Home Soil
*Poland's Anna Rogowska Looking For PV Glory
Reigning World Steeplechase Champ Dorcus Inzikuru Is Out of Olympics But Training For Next World Champs
A First? A Brit (Tom Lancashire) Praises The American Collegiate System
Good Read: 800 Olympic Semifinalist Balazs Koranyi Writes About Doping on the Circuit I
The 2008 Eugene Olympic Trials Are Nearing
Good Read: A Look Back At The Last Olympic Trials In Eugene - The 1980 Trials To Nowhere
*2008 Olympic Track and Field Trials Television Schedule
*$8 Million Later - Renovated Hayward Field Getting Rave Reviews
*Can You Say $6 Million? A Look at How Much the 2000 and 2004 Olympic Trials Cost to Put On Of course the 2004 Trials ended up making $600,000 while the 2000 Trials lost $1 million.
Lindsey Gallo Enjoying Running & Excited About Trials
Hardball
Twist In Bonds Case - Feds Now Going After Trainer's Wife
Chad Johnson To Race Several of His Hansons-Brooks Teammates at This Weekend's Bjorklund Half Marathon
Mom Of Sextuplets Runs Marathon Less Than Year After Suffering Cardiac Arrest While Giving Birth
Article Claims Doctors Have Told Paula It's Impossible for Her to Be Ready for Beijing But She's Ignoring Them
Eunice Barber Only Jumps 6.38 in Return to Competition
Algerian Fathi Meftah Gets 2 Year Doping Violation for World XC
Dwain Chambers Running 100 and 200 in Germany June 28
LaShawn Merritt and Jeremy Wariner to Race in Rome on July 11th But first up will be a more important matchup at the Olympic Trials.
Roman Sebrle Competing in First Decathlon of Year This Week
LetsRun.Com Rumor Yet Again Proven To Be Fact
Jerry Schumacher Leaving Wisconsin For Nike In 10 years in Madison, his xc teams never finished worse than sixth and they won one title and were an agonizing 2nd four times. With his departure, the men's programs at Wisco, Stanford and Arkansas are all looking for coaches. Crazy. We received a lot of emails from people insisting this wasn't going to happen. *Message Board Thread on Jerry Schumacher's Departure Here
Clemson Coach Bob Pollock Retires After Winning 21 ACC Titles In 20 years, he won 21 titles but apparently being accused of financial improprieties earlier in the year took its toll. Asst. coach Charles Foster is expected to leave as well. They violated the #1 rule of all non-revenue-producing college sports coaches: don't bring in any negative publicity. *2nd Article on Retirement
Australian Track Athletes to Skip Opening Ceremonies to Avoid Pollution What about the Olympic spirit?
1 Hour Podcast With Coach John Cook (Shannon Rowbury, Shalane Flanagan and Erin Donohue's Coach)
Interesting: A Look Back at Marie-Jose Perec and Her Bizarre Withdrawal from the 2000 Olympics
Hazel Clark Doing More Distance Training This Year
Boaz Lalang in Athletic Kenya Olympic Trials Camp
Mitochondrial Eve? Kenyan Runners Get 100% of their Running Genes From Their Mothers?
2008 NCAAs D1 Results

NCAA Day 4: LRC Hernandez Edges Wheating, Manzano Wins, Hannah England Runs NCAA Record The Wheating, Hernandez duel more than lived up to its hype. Leo Manzano went out in style, Hannah England ran very fast, but she owes a big thank you to Sally Kipyego. Not to mention, Cornell won the men's triple jump for the 2nd straight year, Walter Dix takes the 200, Cory Martin won the shot and the hammer. We recap the action.
*Day 4 Photo Gallery
*AP Recap: Florida State, Walter Dix Three Peat, LSU Women Win
Interviews: Wheating, Hernandez, Manzano, England, Kipyego, Bowman, Dix, Martin and more.
*4 Guys Go Sub-45 in NCAA 400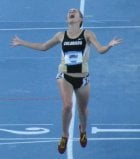 Day 3: LRC Barringer, Kipyego Romp, Bobby Curtis Surprises, Kyle Alcorn Wins Again, LSU, Trinidad Sprint
NCAA Day 3 Recap, Photos, Interviews Friday had great action at the NCAA track and field champs. It was a banner day for LSU and Trinidad in the Sprints, Jenny Barringer just missed the American record in the steeple, Sally Kipyego set an NCAA meet record in the 5k, Bobby Curtis went 3 flat the last 1200 to win the 5k, and Kyle Alcorn got his 2nd NCAA win. Not to mention Walter Dix is the ultimate team player and some major pros to Angela Bizzarri for a thirty second pr.
*NCAA Day 3 Photo Gallery
*AP Recap of Friday's NCAA Meet Trinidad and LSU shine.
More: Interviews: Kipyego, Barringer, Alcorn, Curtis, Vaughn, Nelson, Thompson, Dix, Hanany.
*Sally Kipyego Faces Tough Decision on Whether to Turn Pro
*Death of Friend as a Youngster Has Inspired Sally Kipyego
*Thread on Jenny Barringer Almost Breaking American Record At NCAAs
Sprints: Walter Dix Talks About His Injuries
*Thompson Wins 100m
Field: Mikael Hanany PRs 7' 7.25" to Win High Jump
Day 2: LRC Lisa Koll Dominates, Shadrack Songok Repeats Text and video highlights
Koll put on an exhibition in the women's 10,000m that got her a standing ovation before the home state crowd. Shadrack Songok won an exciting men's 10k over Shawn Forrest as 9 guys were in contention with 3 laps to go. Ngonidzashe Makusha long jumped 27' 2.5", Brittney Reese long jumped a world leader, and Ashton Eaton went over 8,000 points in the decathlon. Plus Manzano, Wheating vs. Hernandez round one, Felnagle, and falls and controversy in the men's 1,500 semi. Alysia Johnson pulled out of the women's 800 with a sore foot as a precautionary measure for the Olympic Trials.
*Update: AJ Acosta in the Men's 1,500m Final Thanks to LetsRun.com
*RRW Thursday Distance Recap
*Des Moines Register Special Section on NCAAs
*AP Recap: Brittney Reese from Mississippi Equals World Leader To Win NCAAs (6.93m)
*Alysia Johnson Has Sore Foot, She Could Have Run
*Pre-Race Q&A With Leonel Manzano
Interviews: *Lisa Koll Video Interview
*Shawn Forrest Video Interview
*Shadrack Songok Video Interview
*IAAF Recap of Day 2 of NCAAs Focuses on LJ's Brittney Reese seemed disappointed with her world-leading win as she was hoping to go 23 feet but says injuries have hurt her. Meanwhile, FSU freshman Ngonidzashe Makusa was obviously thrilled with his 27'2.75" performance that made him the #4 guy in the world and gave him the win by almost a foot.
Day 1 Recap and Video Highlight
Day 1 was 100% prelims and by and large most things went according to plan (Porscha Lucas the #1 seed in the 200 didn't make the 100 final for Texas A&M). Travis Padgett looked like the man to beat in the 100m semis. Jacob Hernandez and Andrew Wheating both advanced to the 800 semis easily, and the great NCAA career of Yale's Lindsay Donaldson came to an end. Mark Wetmore's CU team got 2 steeple prelim wins, and 3 guys into the 5k final.
*Pre-Race Q&A With Leonel Manzano
*Flooding Causes Some Teams to Move Hotels
*BYU Dealing With Death of Heptathlete Chelsi Petersen
Previous:
*Track and Field News: NCAA Women's Predictions (Three Way Battle)
*Lisa Koll Hoping To End State of Iowa's 10 Yr Drought From NCAA Title
*Arkansas' Dacia Barr Psyched Sally Kipyego Is Running 1,500
*Track and Field News: NCAA Men's Predictions 10 deep men's and women's individual predictions.
*Billy Nelson Ready To Make Some Noise At NCAAs He took up the steeplechase as a 5'5 college freshman and has only grown one inch since.
*Colorado Ready For NCAAs
*Des Moines Register Talks About How Steve Prefontaine Shined In Des Moines and Looks For Next Pre
ExxonMobile Bislett Games *Bislett Game Results


14:11.15!!!!!! 1:42.69 for Kaki
*Photos
Tirunesh Dibaba's performance was simply amazing. Running in 78-80 degree weather she smashed the world 5,000m record. She averaged 4:15 each 1,500m and ran her last 1,500 in 4:06-4:07. (Jen Rhines ran a 14:54 pb) In other action, in the much-anticipated 800m matchup between teen sensations Abubaker Kaki and David Rudisha, Kaki was simply amazing. He led coming into the homestretch, then blew away the field the final 100m running 1:42.69, the first sub-1:43 clocking in 5 years and a junior world record as Rudisha ran a pr but lost for the first time in 12 races. Pamela Jelimo showed 1:55s are easy for her as she clocked a 1:55.41, Samitova-Galkina ran a 9:14 steeple, and Andrew Baddeley went sub-3:50 to get the big upset in the mile that we're sure everyone in Britain will be writing about tomorrow. Jeremy Wariner ran 43.98, his first sub-44 clocking before the Trials. Despite our harping on his decision to switch coaches, he's running very well (nonetheless, his loss may have cost him $200,000).
*Tirunesh Dibaba: "I could have run faster" iaaf.org
*Athlete Quotes from Bislett
*Baddeley Breaks Through
On the boards: *Dibaba 14:11.15 WR!! -
*Andrew Baddeley 3:49.38!!
*Wariner 43.98 at Bislett
LRC: NY Mini Hilda Kibet Wins, Deena Third Deena Kastor and Madaí Pérez put up a brave fight but Hilda Kibet was too good on the streets of NY. Text, photos, video
*NY Mini Results
*Photos

Justin Gatlin's Suspension Upheld
He can't compete until 2010
*Gatlin says his running career isn't over.
LetsRun.com Boston 08 LetsRun.com Party Photos The party hosted by Puma was a smashing success. A packed house, as those passionate about running (from ages 5 to 65+) came to celebrate a great weekend in Boston. LetsRun.com fans celebrated with Rojo, Wejo, Matt Taylor, and a few legends in the sport, including former marathon world record holder Steve Jones and Olympic Silver Medallist Sonia O'Sullivan. The Harpoon beer was flowing, DJ Inkognito kept things going and contrary to popular opinion, there was a healthy mix of males and females. The reviews were excellent. "It's refreshing not to see the same 50 people (industry insiders) at a party." "Most favorable female to male ration I've seen in a long time."
You'll Be Hearing About This For a Long, Long Time
*Maurice Greene, HSI Linked to Steroids A few HSI athletes have been caught doping in the past (Larry Wade the most notable), but this NY Times article brings to print some of the rumors some of you may have heard. And it is a sad, sad day for American sprinting if true.*Times Of London Story on Maurice Greene Being Accused Of Doping
Maurice Greene Defends Himself He says he never used drugs but did pay for teammates bills without asking what it was for. Greene: "This is a bad situation for me. My name's come up in something and it's not true."
LetsRun.com London Women: Mikitenko Wins Crazy Women's Race The women's race went totally not according to form. German Irina Mikitenko was the surprise winner. The race went out slow, then picked up, then slowed back again. Then Gete Wami wiped out at a water stop, nearly knocking her own teeth out, fell back off the back, then battled back only to get dropped again as Mikitenko threw it down the final 5k. And a perfectly sunny day turned into a cold rainstorm at times. Text, Photos, and Video
Other London Coverage: *Yelling Makes GB Team: A great moment when she looked rival Hayley Haining in the eye at 19 miles,. Amazingly, both ended up happy as both PRd.
*British Men Could Run 25 Miles, Everyone Else 26.2 Miles And They'd Still Lose in London
*World Marathon Majors Point Standing - Lel has a huge lead. Wami's is narrowed by Mikitenko s
*Dick Patrick of USAToday Writes About Ryan Hall
*American Ryan Hall mixes it with Kenyans
*AP Story on Ryan Hall: Hall Confident About Beijing Chances
*Quotes From The Top 3 In London
*Gas Leak Causes London Marathon to be Diverted
*Paula Radcliffe Talks About Her Beijing Preparations
*Jon Brown Blasts UK Performance Director Dave Collins The 4th placer in the marathon at the last two Olympics absolutely rips Collins - a man who somehow managed not to show up at world cross country last month when it was in Scotland.
101 Years Old, Still Smoking, Running, and Drinking: Buster Martin: "I'm not worried about the fags because I'll carry them with me. Everyone says smoking kills but it's taking a long time in my case" The 101-year-old legend plans on smoking while running Sunday's London Marathon.
LetsRun.com 2007 World's Coverage:
*Sunday Homepage Ndereba marathon
*Saturday Homepage
*Friday Homepage Tyson Gay
*Thursday Homepage Lagat
*Wednesday's Homepage Lagat
*Tuesday's Homepage Bekele 10k
*Monday's Homepage Tyson Gay
*Sunday's Homepage Dibaba/Goucher 10k
*Saturday's Homepage Kibet Marathon