SICK HS ACTION:

2008 has featured strong high school distance running all year and it continued this week. The biggest surprise came at the Midwest Distance Gala where Robert Finnerty ran a 4:01.09 mile. It's not like we are saying Finnerty is a nobody as the guy has been a stud for quite a long time. Someone was even singing praises for this guy on the message-board three years ago. Last year, he went 8:56 in the 3,200 as a junior and as a senior ended up 9th at Footlocker xc in December. But 4:01.09 is 7th all-time on the high school list. There is a big difference between 9th in the nation one year and 7th all-time. We loved the following post-race quote from Finnerty as it shows just how crazy good high school running is nowadays. Despite having run 8:56 as a junior, Finnerty rightly said the following. "It really gives me a sense of belonging," Finnerty said. "For a long time I felt like with the top guys in the country, I was just outmatched. But this changes things a little bit."

Very impressive for the Wisconsin signee.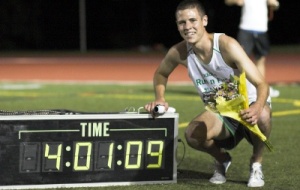 Rob Finnerty
Photo
compliments of Milesplit.us
In women's action, Christine Babcock, who ran a 4:33 1,600 at the California state meet, broke the US high school record for 1,500 by running 4:16.42, beating Kim Gallagher's 26-year-old record of 4:16.6. Babcock ran the race as one can't qualify for the US Olympic Trials 1,500 with 1,600 or mile times. Congrats to Babcock but we'll take this time to say it's absolutely ludicrous that USATF won't accept mile or 1,600 times for qualifying purposes to the Olympic Trials. Well you can do it with a mile - if you run the equivalent of the Olympic A standard. Hopefully someone is reading this at USATF. A big thumbs down to them for not having a standard conversion process.

But what is even more ludicrous to us is that the mile isn't the event run at every single US track meet in the country. People intuitively understand the mile in America and it should be the standard distance for races run here - not the 1,500 and not the 1,600. The NCAA should do it and USATF should do it. Even high schools should do it.
*Article on Finnerty *Video of Finnerty's 4:01.09 *Full Results of Midwest Distance Gala *Article: Christine Babcock Breaks High School 1500m Record Qualifies for Olympic Trials


NCAA Highlights: The big brother nationals were held this past weekend in flood ravaged Iowa. It was a bit surreal to fly in and out of Cedar Rapids, parts of which were 10 feet underwater. The action was pretty impressive as it usually is at the NCAA meet. We won't recap it all here. You can check the following links for that:
*Day 4: LRC Hernandez Edges Wheating, Manzano Wins, Hannah England Runs NCAA Record
*Day 3: LRC Barringer, Kipyego Romp, Bobby Curtis Surprises, Kyle Alcorn Wins Again, LSU, Trinidad Sprint
*Day 2: LRC Lisa Koll Dominates, Shadrack Songok Repeats
*LRC Day 1 Recap and Video Highlight
But let us give you some of the highlights.
Thumbs Up to Sally Kipyego
Let's face it, Kipyego doesn't get the credit she deserves because she's Kenyan. If she was American, we'd all be singing her praises on a daily basis. But Kipyego's NCAA meet this year was absolutely fabulous even though she lost for the first time in a year to a fellow NCAA competitor.
First up was the 5k final where she set an NCAA meet record (15:15.08). Afterwards, Kipyego talked about the importance of winning the 5k in her last chance at NCAAs. The 5k was the one title she didn't have from last year, as Michelle Sikes ran the #2 collegiate time ever and an NCAA record to beat her. In her comments, Kipyego said the 5k race at NCAAs that she lost last year was actually her favorite college race because she was pushed the hardest. She said, "It still remains my favorite race of the entire time I've been competing at NCAAs."

But Kipyego wasn't done for the weekend. Up next on Saturday was the 1,500m final and she made the race what it was - extremely fast and another NCAA record. This time Florida State's
Hannah England
was the winner, pulling ahead of Kipyego the final 100m, but both England and Kipyego were rewarded with Olympic "A" qualifiers. Kipyego got beaten, but she ran a huge PR. And once again she was excited because she was pushed and ran super fast. You can see her celebrating her fast time in the photo on the right despite the fact she lost.
So a major thumbs up to Sally Kipyego for being a true champion and a fantastic competitor. Sure, winning the race is super important, but ultimately Kipyego wants to make herself a better runner, and that means getting pushed and occasionally losing. A 2008 version of Steve Prefontaine - foreign and female.
She certainly doesn't believe in sacrificing the gift as she could had zero incentive to hammer the 5k from the gun like she did other than out of a desire to put on a show.

Thumbs Up to Men's 800m Runners
Thumbs up to
Jacob Hernandez, Andrew Wheating
and
Duane Solomon
for bringing their "A" game to the NCAA meet. Wheating and Hernandez got all the pre-race publicity and the delivered one of the most thrilling races in NCAA history (Hernandez winning by .01, 1:45.31, to 1:45.32), but Solomon (who made the World Championship team last year for the US) also upped his game from his previous 2008 performances and was only .4 back in 1:45.71. Not much more needs to be said, but if you want to watch the
race you can do so here.
Hook 'Em Horns

Jacob Hernandez Interview
"Actually Leo's on another level. "

Thumbs Up to Texas Distance coach Jason Vigilante. Vigilante coached the men's 800m winner (Hernandez) and the men's 1,500m winner (Manzano) at NCAAs. Not to mention the Longhorns set a DMR world record indoors with four guys that were all from Texas high schools. Additionally and unsurprisingly, the Longhorns won the DMR and indoor mile titles. Now Vig will probably be the first to tell you he does not deserve too much credit with Manzano because the kid is a huge, huge talent.

Jacob Hernandez said as much himself, "Actually Leo's on another level." And when a guy who ran 1:48.48 in high school says that, you should take notice. Nonetheless, Vig deserves a lot of praise for developing Manzano, keeping him healthy, and guiding him and the rest of the team through a fabulous 2008 season. The rest of the team is now running on a different level thanks to them working together the last 4 years.
Thumbs Up to Jenny Barringer. The Colorado Buffalo blitzed the NCAA field, smashing the NCAA record, and coming within .45 seconds of Lisa Galaviz's American record. A truly stunning performance. She basically nearly time-trialed (without rabbits) an American record. She's now the one to beat at the Olympic Trials for sure. And to think at Big 12s, she didn't even win - on her home track at altitude.

Thumbs Up to Old School Running and Marcus O'Sullivan and Bobby Curtis
O'Sullivan, the Villanova coach, is definitely old school since he was one of the best milers in the World in the '80s and '90s (101 sub 4 minute miles, 5 Wanamaker Mile titles, 3 World indoor golds) and apparently some of that has rubbed off on Bobby Curtis. In a day and age where most coaches seem to think the point of running is to fly kids out to Stanford and have them time trial a great time only to come back at NCAAs 6 weeks later and lay a goose egg, it was refreshing to see Curtis win the NCAA 5k title. Curtis was second last year in the 5k, but since he and O'Sullivan didn't fly out to Stanford this year, his seasonal best was only 14:02.33. Thus, a lot of people stupidly overlooked him (including the CSTV announcers who acted like it was a huge shock that the guy who was 2nd last year won).
What did he do? He went out and beat 13:18 5k runner Brent Vaughn. We're huge fans of Vaughn and think he and Curtis were the class of the field. Nonetheless, it was refreshing to see a guy who knows how to race (Vaughn is a great racer as well) come out on top. We also like the old-school racing advice that O'Sullivan gave Curtis. None.
O'Sullivan did not even speak to him before the race and is not big on pre-race advice. As Curtis said, "By this time in my career he would hope I know what to do."
Who is Dorian Ulrey? That's a thread on the message boards and after this weekend a lot of people won't be asking the question much longer. Ulrey is from Illinois (apparently he lives right on the border with Iowa) and is a true sophomore at Northern Iowa. Dorian's 2nd place at the NCAA 1,500 was a big surprise (he even looks surprised in the photo). And running for an Iowa school, Ulrey got a standing ovation. Leo Manzano thought the ovation was for him, and he certainly deserved it, but we're sure the ovation was for the N. Iowa runner. You should have heard the crowd going nuts for N. Iowa during the 4*400 prelims.
Louis Q and Kyle Alcorn
And while we're heaping praise on basically all the distance champions, we might as well say something about Kyle Alcorn. The guy was virtually unheard of coming into the year. Now he has an indoor 3k title, a runner-up in the DMR, and an outdoor title. And perhaps just as impressive, he realizes how good his coach, Louie Q(uintana) was . Q was a Kinney (Footlocker) champ who was 4th at NCAA cross, Penn Relays performer of the year in 1993, and on the cover of Track and Field News in 1993, but hampered by injuries throughout his career.

Walter Dix
We've already praised Leo Manzano but we also need to praise another guy who stayed in school - Walter Dix. Last year, Dix won the 100 and 200, and we're sure turned down a few hundred thousand dollar offers to turn pro (actually the rumor is he turned down more than a million). People always talk about staying in school until one realizes Dix with a horrible year could easily have cost himself a few hundred thousand. This year Dix has had some hamstring problems and it showed. 4th in a great men's 100 at the NCAA meet, Dix is the ultimate team player, (He's not been running the 4*100 to let his hamstring heal this year), as there he was Friday night running the 4*100. Fortunately, Dix was back on track Saturday winning the 200. We're sure some of the shoe agents will try and use Dix's injury problems against him at the negotiating table. But they shouldn't. Anyone who can run 19.69 for 200m (video), as Dix did in college, is one of the fastest guys to grace the planet. Maybe at some point the fastest ever for 200, and that's saying a lot. (Dix has only run a few 100s this year and is rounding into shape heading into the Trials).

2008 NCAAs D1 Results

NCAA Day 4: LRC Hernandez Edges Wheating, Manzano Wins, Hannah England Runs NCAA Record *Day 4 Photo Gallery
*AP Recap: Florida State, Walter Dix Three Peat, LSU Women Win
Interviews: Wheating, Hernandez, Manzano, England, Kipyego, Bowman, Dix, Martin and more.
*4 Guys Go Sub 45 in NCAA 400
*Day 3: LRC Barringer, Kipyego Romp, Bobby Curtis Surprises, Kyle Alcorn Wins Again, LSU, Trinidad Sprint
*Day 2: LRC Lisa Koll Dominates, Shadrack Songok Repeats
*LRC Day 1 Recap and Video Highlight
*Des Moines Register Special Section on NCAAs
Ostrava More Than Lives Up To The Hype, Boaz Lalang Appears
After last week's big meets in Oslo and Eugene, many people thought the pro track action might die down as there was no Golden League action. Then the entries came out for the IAAF meet in Ostrava and it looked like the meet was going to be special. It more than lived up to the hype. The meet was highlighted by Dayron Robles' world record in the 110 meter hurdles. Liu Xiang certainly will be one of the biggest stories at the 2008 Olympics but he certainly will not be the favorite. Robles is the favorite. It also featured a world record by Dire Tune in the 1 hour run. Eliud Kipchoge won the men's 5k as Tirunesh Dibaba won the ladies 10k.

Lastly, in the battle of teenage 800 sensations, the great Abubaker Kaki (1:43.80) defeated David Rudisha (1:44.47). And guess who got third? The American-based teenage sensation, Boaz Lalang of Rend Lake College. We've been hyping Lalang all spring ever since he ran a ridiculous 1:46.87 800 at the Sea Ray Relays in close to 30 mile per hour winds. At the time, we speculated his 1:46 might be worth a 1:44. Well there is no need to speculate as Lalang ran 1:44.69 in Ostrava. He's was only .22 behind Rudisha.

Watch on Demand for Subscribers on WCSN.com
Ostrava Meet *Results *Free Video Highlights
12.87 WR for Dayron Robles, Usain Bolt 19.83 Dire Tune 1 Hour Record Liu Xiang may have the pressure of 1 billion people on his shoulders at the Olympics, but he no longer will be the favorite as Robles has the World Record. Kaki over Rudisha at 800, Kipchoge wins 5k, Dibaba wins 10k.
*Interviews (Robles WR Celebration)
*Ostrava: Christine Ohuruogu back on track with victory
*Pre-Ostrava: Bolt's Dream Has Always Been 200m World Record
LA Marathon Sold
We never thought we'd give a thumbs up to Chris Devine but America is a very forgiving society. And we've ripped his company for being an amateurish operation that doesn't pay bills on time. We must admit we'll be quiet for a while as he totally fessed up and did what so many successful people refuse to do - admit blame, offer no excuses and simply apologize.
Chris Devine
on the announcement that Devine Racing has sold the LA Marathon:
The guy was great last year as he ran 3:39 to get 5th at USAs but inconsistent performances like that are what are probably making John McDonnell go into retirement. Too much stress for the old ticker. We're kidding of course and think it's fantastic to see the 22-year-old run 3:36.
*Video of Webb's Race