Flora London Marathon:
Martin Lel and Chunxiu Zhou Triumph
Ryan Hall 2:08:24 Debut!!
*London 2007 Photos updated 4/23
*Article on Hall's Debut
*Recap from Reuters
The stellar London men's field delivered an incredible finish as it came down to six guys going head to head over the final half mile: 2006 champ Felix Limo, 2005 champ Martin Lel, world record holder Paul Tergat, 2 time world champ Jaouad Gharib, NYC champ Hendrick Ramaala, and Abderrahim Goumri in his debut. In the end , Lel, Gharbi, Limo and Goumri sprinted for the win over the final 200. Lel came out in top in 2:07:41,after losing out last year in a sprint finish. And the future of American marathoning looks bright as Ryan Hall showed he is the real deal and nearly stole the show. He caught the leaders and was leading the race at 35k, and went on to run 2:08:24 an American debut record and an American born record. Only Khalid Khannouchi has run faster. So Hall is the fastest American ever except for a guy who already held the world record when he became an American citizen.
*Gebrselassie Drops Out in London
*Australia's Benita Johnson 7th in London
*London Marathon Video Highlights from BBC
*IAAF Recap of London Marathon IAAF
*Ryan Hall's Debut As Reported by Associated Press
*Liz McColgan Runs 2:50:39
PreRace:
*Gebrselassie is Vulnerable in London www.telegraph.co.uk
*Britain's Dan Robinson Making Name For Himself in the Marathon Independent
London Field Loaded as Usual telegraph.co.uk
*Meb Keflezighi London 2007 Update
*Americans Hope to Make Their Mark at London Marathon
*Current London Betting Odds
The race is less than a day away. Haile G versus Paul Tergat for maybe the final time. Pllus arguably the greatest marathoner ever, Khalid Khannouchi, defending champ Felix Limo (undefeated in his last 2 marathons Chicago 05, London 06), 2 time world champ Jaouad Gharib, Olympic champ Stefano Baldini, NYC champ Marilson Gomes dos Santos, Olympic silver medallist Meb Keflezighi, and fellow American Ryan Hall who will be making his much anticipated debut after his 59:43 half marathon. (Hendrick Ramaala and Martin Lel as well). One of the greatest marathon fields ever assembled.
*Jon Brown Takes a Look at London Field Independent 4th in the Olympics twice yet he's always been overlooked in Britain.
*Katherine Switzer Talks About Her Boyfriend Nearly Killing Boston Race Director in 1967 Times of London
Friday:
Tergat and Geb Take Center Stage
The 2 greatest distance runners ever (of their generation for sure) have not raced each other in 5 years. But every time these 2 match up the battles are epic. As their careers wind down, this could be the final battle in their storied rivalry, although many think the last hurrah will be at the Beijing Olympics. Gebrselassie hinted he may try and run until the 2012 Olympics and said even a return to the track for this year's World Champs may be in store. But up first is one of the greatest marathon fields ever assembled in London. Unseasonably warm weather may prevent a world record attempt but the priority in London is always the win, a win Gebrselassie compares equal to a World Championship. Tergat says he's fit and points out his training partners have recently won Boston and Rotterdam.
*Trip to American in 1992 Showed Tergat What was Possible in Life He appreciates the opportunity in America: "I saw hope and opportunity. It was a huge shock to me. "
*Ryan Hall Believes London is Pressure Free Place for His Debut Washington Times
*9th Place Last year in London Was the Worst Finish for Geb Ever in His Life BBC
*Trip to American in 1992 Showed Tergat What was Possible in Life Guardian
*Benita Johnson Believes She can Go Sub 2:20 in London
Thursday:
Women: *Lornah Kiplagat Ready to Shine in the Marathon and Makes Some Cash for Her School The World XC champ is running better than ever. Can she finally put it together in the marathon?
*Lornah Kiplagat 10 Years Ago was a Pacer at London
*Benita Johnson Shooting for Win in London She's a former world xc champ but has underperformed in the marathon until last time out in Chicago.
*China's Zhou Chunxiu Wants Win in London (She Ran 4 Sub 2:30s in 2005)
Men: Gebrselassie Trying to Come Out on Top in London guardian.co.uk
*Post Your Questions About Haile G with the Author of His Biography
*Haile Gebrselassie Audio Interview About London
*After Half Marathon Test in Korea Khannouchi Ready for London Special K ran 1:04:58 there. But if you know anything by now it should be to never evaluate him off of his shorter distance races before the marathon. He's the best marathoner ever for a reason.
Wednesday's London News:
*Meb Missed 2 Weeks of Training With Blister, Says London Field is Better than Olympics
*Khannouchi Says He's 90 to 95% Fit
*Defending Champ Felix Limo Says He's 95% Fit for London
*The Dreamer Ryan Hall Ready to Tackle the Worlds Best in London Independent
*Paul Tergat Wants to Finally Come Out on Top in London
*Meb to Visit Eritrea after Running London
Post Boston News: Cheruiyot Undecided on Fall Marathon He says its between Chicago and NY.
*A Look at 78 Year Old Bill Welsh Who Led 1955 Boston Marathon
*BAA Launches Boston 2008 Olympic Trials Website It's one of the better websites we've seen. Meanwhile, while everyone else's websites were crashing on Monday, the LetsRun .com juggernaut performed flawlessly.
Boston: Race results
Cheruyiot Triumphs Again, Lidiya Grigoryeva Surprise Winner
Robert Cheruyiot defended his Boston crown in the extreme weather conditions (heavy winds, rain) that made the race a real dog fight. Cheruyiot hit half way in 1:08:45 but dropped the hammer over the more difficult second half to pull away from James Kwambai over the final 2 miles to win in 2:14:13. Lidiya Grigoryeva of Russia also threw down the hammer over the final 2 miles (5:10 mile) to defeat NYC champ and World Marathon Majors leader Jelena Prokopcuka. And hundreds of thousands in appearance fees, could not spare Deena Kastor from the fate that does in many a marathoner, an unscheduled bathroom break as her bid to become the first American winner in Boston came up short. Deena did come back to finish 5th in 2:35:09, and get the US title. *Race results
Women:
*Bathroom Break Cost Deena Big Time in Boston Boston Globe
*Boston Marathon Played Wrong Russian National Anthem
Men: Pete Gilmore is Top American at Boston in 8th
*Kimbia boys go 3, 4 6
*Kimbia Auction of 3rd place finisher (Stephen "Baba" Kiagora) singlet and number Stephen Kiagora.
Video:*State trooper runs into spectator on course
*Flocast Post Race Press Conferences
*Other:
*Astronaut Completes Boston in Space in 4:23
*Soldiers March Boston Marathon in Memory of Their Fallen Comrade
Blow by Blow Coverage: *Former Boston Champs Amby Burfoot's Mile by Mile Coverage
*Or Live LetsRun.com Message Board thread

*A Must Read Inspirational Profile of Boston Marathon Record Holder Robert Cheruiyot The life story of Cheruiyot, who is looking for his 3rd Boston title Monday, is truly remarkable. After being abandoned by his parents, he found a way to survive, first as an indentured servant and then on 30 cents a day helping out at a barbershop where he smoked every day. Thoughts of suicide entered his mind but now less than 10 years later he is running for history although last year's crazy fall at Chicago hasn't helped him as he had to go back to the hospital just 3 weeks ago.
*Extremely Confident Deena Kastor Looking Forward To Bad Weather And Hoping To Be 1st American Female Winner Since 1985 "It looks like a big cross-country race, and I love cross-country. I'm going out there and push the pace..."The last four months have been so flawless, so consistent."
*Joan Benoit Samuelson's Advice: Be Tough The article reveals American Peter Gilmore had his best race of his life in similar conditions
*AP Preview of Race
*Race Official Brace For Crazy Bad Weather
Great Read: Great Ryan Hall Profile on NBCSports Nice article as the focus, with a short video to supplement it. Perfect. Read about how Ryan got started in running, his interesting family, and the reason Sara is not married to a Stanford football player.


Exclusive LetsRun.com World XC Coverage As Wejo Was On-site
*Wejo's Post-Race Recap of the action
*Race Day Photos
*Videos from Race Day
*An Unusual Sight of Bekele in 2nd
*Video of Crowd Going Nuts When Bekele Drops Out
*Ethiopian Junior Staggers Home and Is Yanked From Course Meters From The Finish Line
*Celebration after Kenyan Men's Team Victory *Crowd Control at the World XC Champs
*The Crowd During the Junior Girls Race Going Crazy
*Pre-Race Photos From Kenya
*Wejo's 2nd Report From Kenya
*Wejo's 1st Report From Kenya

Bekele Is Defeated. Wejo has called to say that Bekele's quest for a record 6th long course title didn't happen, as on the last lap just after he took a lead that Wejo was certain enough was big enough to get the win, Bekele suddenly lost it, dropped back and quickly dropped out as the Kenyan crowd went wild. Olympic 10k bronze medallist Zersenay Tadesse won Eritrea's first individual title. Wejo said the Kenyan crowd was unreal as people were watching from the trees. The atmosphere was way, way crazier than Boulder apparently. He said the Kenyan crowd only seemed to care about two things - having a Kenyan in front in each race and seeing Bekele lose. He said they didn't really acknowledged ex-Kenyan Lornah Kiplagat who won the women's race. *Results here.
*News Flash From IAAF on Race: Bekele's dropout unexplained.
*BBC Article on Race as Mo Farah Gets 11th
*AP Preview of Race

First Ever: Ask Wejo: High Mileage Training, Evil Stop Watches, the NCAA Season, and Ryan Hall Weldon answers your training questions on AT pace (whatever that is), 140 mile weeks, and the collegiate racing season. Plus confidence, overconfidence, Ryan Hall's race in Jacksonville, and runners choking at NCAAs. All just an attempt to be more self-marketed than Dean K.
59:43 for RYAN HALL
Yep, sub 1 hour in the half marathon for an American on American soil on a certified course. One of the best American distance performances ever as Ryan Hall won the US Title, the Aramco Houston Half, picking up $21,000, to become the 9th fastest ever on a record certifiable course.
*Photo from Victah Sailer of PhotoRun.net
*Videos of the Race From the Flocast Guys Here
Photos Kip Keino Comes to Ithaca The legendary Kip Keino came to Ithaca, NY, the east coast home of letsrun.com. See photos of the event including Olympic champ Peter Rono, Keino's son, Ian, and LetsRun.com's Wejo, Rojo, and even JK.

Dean Karnazes Profile in the LA Times Quotes from LetsRun.com's Wejo, and message board poster, John Morelock.

LetsRun.com Classic Emails #1 We share with you some of the classic emails from our site's visitors and give you valuable knowledge at the same time. You'll read conclusive proof Lance Armstrong dopes, learn AJ Acosta is not as much an a**hole as you thought, and much more. sense
A Legend Passes: "I don't train never have. I don't think of running as training. I just go out and run each day, and let the racing take care of itself"- Jack Foster of New Zealand, who ran a 2:11:17 marathon at the age of 41 to win silver at the Commonwealth Games in 1974. He died in a bike accident yesterday at the age of 72.
In case you missed it:
Todd Williams Hangs them up
In our lengthy 3 part interview, Todd Williams, the premier 10,000m runner in the US, talks about his illustrious career and the sport of running in general.
Part I here, Part II here, Part III here
Also take a look at Amby Burfoot's look at Todd Williams' incredible American record at 15k in 1995, the same year he finished 9th at World Cross Country.
More isn't always better:
"I had over-trained. I put too much pressure on myself because I wanted that gold medal too much. If I had trained 15 per cent less, I would have won. I was training like a crazy person. There was a lack of self-confidence and a lack of maturity. An athlete does not only train with his body. He trains with his mind."
-Hicham El Guerrouj on why he didn't win Olympic gold in 2000
JK Speaks: Progressing To Peak Fitness LetsRun.com coaching guru John Kellogg talks about progression runs and the art of the sport versus the science of the sport.
LetsRun.com Book Reviews 2 Good Reads on Milers 50 years apart:
Sub 4:00 and The Perfect Mile
"Paul Maurer, in The Gift, not only presents an interesting and captivating story, but he explores the deeper questions of why runners run, why we compete, and what makes such a simple sport, running, so rewarding to those of us who do it. The Gift is one of the best running books I have ever read. "
-LetsRun.com's Weldon Johnson on a new Running novel, The Gift
(The Gift is now available from Amazon.com)
Paul Tergat
*"As the holy scriptures say, 'for whoever much is given, much is expected,' it is, therefore, my duty and privilege to help in any small way in giving back to society."
-Marathon world record holder, Paul Tergat, speaking after founding a sports foundation that will help disadvantaged youths.
*Tergat's hamstring injury has healed and he says he's ready to go at NYC: "I expect good results as I am in good shape" but he's out of next week's Half Marathon in Britain, but interestingly Gezahegne Abera (remember him, formerly the greatest marathoner in the world) is running. www.registerguard.com
And the winner is:
Best Running Movie of All-Time: Fire on the Track
After sitting on the results for months, we're proud to announce that the best running movie of all-time as selected by our viewers is a not an academy award winner, Chariots of Fire, or a highly publicized film produced by Tom Cruise (Without Limits), but rather a running documentary, Fire on the Track: The Steve Prefontaine Story. Read all about the voting and see the 10 best running movies of all-time as selected by our viewers.
"Everybody in Kenya is trying to come to America. I had no dream about coming because I knew this was impossible. It was a miracle," Kiplagat said. "That is why I take advantage of every opportunity. I came here, graduated in three years, and count myself blessed"- Richard Kiplagat who graduated from Iona in 3 years and had a 3.75 GPA
"This is not coming out of retirement, this is just me showing that if you just enjoy what you are doing and stay in there and set little goals. I do a lot of speaking, I've spoken to every group in Australia and I tell them back when I ran I set little goals and I think here I am telling these guys, but I've got to do it myself and tonight was really a chance to walk the walk"
-Steve Moneghetti, who at age 43, broke the world best for the 1 hour run for master's, averaging sub 5 minute pace the whole way as Ron Clarke, John Landy, and Robert De Castella watched him run.
A Staff of One:
"Perhaps the most valuable gift from Letsrun.com is a friendly willingness to share lessons learned by their editorial staff, which includes successful college coaches and highly competitive athletes. "
-Gary Droze, writing about letsrun.com in the Tallahassee Democrat

Today's Sign of the Apocalypse: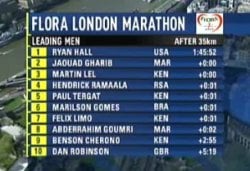 Paula Radcliffe Has Minor Injury Setback, She May Get $1 Million to Run London Next Year It truly is amazing how much money London has to throw around each year. IAAF
Asafa Powell Out of Penn Relays With Sore Knee
Recap of Latest Kenyan AK Meet
Joshua Chelanga Out of Paul Tergat's Shadow with Rotterdam Win
Oregon Invite: Rupp Edges Solinsky
*Blog Recap of Oregon Invite Galen Rupp got the dramatic home win over Chris Solinsky thanks to a strong final 100m as they both ran 13:30. Matt Withrow's struggles continued as he ran 14:07 and Jon Riley ran 13:43. Nicole Teter (remember her?) won the 1500 in her return to action.
*Message board thread
*Nick Symmonds 4th in 1500 in Outdoor Debut in Oregon statesmanjournal.com
*Oregon Invite Results
Sunday's Padua Marathon Preview IAAF
A Look at Steve Meinelt the Youngest Qualifier for the Men's Olympic Marathon Trials
"I respect him (Haile Gebrselassie) for what he has done; he is a great athlete. But I do not fear him... I never know why he has not won in London. Maybe it is because they are tough guys... In Berlin there was no challenge; in Fukuoka there was no challenge; in Amsterdam there was no challenge. You tell me who was in Berlin or Amsterdam or Fukuoka. He has proven he can run 2:05, but with the challenge?"
-Felix Limo talking about Haile G in the marathon
Athletics Australia Loses $1 Million a Year Sponsorship from Telstra
Man Runs Boston Marathon in a New York Yankees Jersey
Former World Record Holder in Steeple Bernard Barmasai Headlines Next Weekend's Vienna Marathon IAAF
Pictures of Desecrated Memorials to Abeba Bikila and Mamo Wolde
Alvina Begay and Brandon Leslie Trying to Go from Navajo Reservation to Beijing Olympics
WADA Says it Will Have to Go After Doping Manufacturers in Drug Fight USA Today
New Running Fiction: Into the Irish Night: Chapters 3-6 link fixed A letsrun.com viewer got very positive feedback on his first 2 chapters so he is now publishing for all to read chapters 3-5.
*Chapters 1-2 are here.
News From the Weekend That We Missed: Hansons-Brooks Distance Project Offers $100,000 Income Guarantee The Hanson brothers have spent a ton of their own cash promoting American distance running.
*Abraham Chebii Defeated Mottram at BUPA Ireland Run IAAF
Lananna Does it Again: Signs Chad Hall Hall is the high school XC champ and brother of Ryan Hall. Lananna is the best recruiter in the country.
A Look at New Zealand's Top Milers Are the glory days returning for the Kiwis?
Kip Keino Mile Update: Masters Prize Money, Come Take Part in the Weekend May 13th, Special Dinner Open to Public with Kip on May 12th
Wall Street Journal Update on Leonard Mucheru (Subscribers Only) He has his Bahrain passport pack after saying what a privilege it was to compete in Israel, but he will not be allowed to compete for the Bahrain national team.
Boston Commentary::
*Bob Ryan of Boston Globe: Kenyans Have Established a Tyranny "Dominance? Did I hear someone say "dominance"? That would be an improvement. What the Kenyans have done to the Boston Marathon, and a few other marathons, is establish a tyranny that certainly should be an embarrassment to the rest of the running world...Well, guess what? You think the outcome would have been much different if it had been 80 degrees and sunny?"
*LetsRun.com Rojo Speaks: Inspired By a Kenyan Robert Cheruyiot Cheruyiot is a true star in the sport and a truly unbelievable rags to riches story.
*LetsRun.com Wejo Speaks: Spira Shoes Attempting to Make a Mockery of the Boston Marathon 2 guys wearing what we thought at the time were "illegal" (now USATF is saying they are not) shoes led the Boston marathon for the first half of the race in what if emailers are correct was just a publicity stunt.
*Update: USATF is Saying the Spira Shoes are Not Banned Just maybe they could have told us this 1, 2 years ago? If they're not banned and Spira knew this, Spira (and USATF) should be ashamed. If they are, Spira should be ashamed.
*Weather Better Than Expected in Boston Boston Globe
Sunday Marathons
*Rotterdam: Joshua Chelanga Crushes Field In Hot Conditions as Kiromia Ominami Joins Twin Sister In Winner's Circle Chelanga was the only one to break 2:10 as he ran 2:08:21 in weather that approached 80 (25 celsius) and swas so hot the race was called off after 3.5 hours. The field went out fast (29:58 at 10k) but the heat started to take its toll and a lot of people cratered. In the women's tace, Ominami won just as her twin (Takami) did in 2002.
*Paris:Qatar's Mubarak Hassan Shami Remains Unbeaten In Marathon Runs World Leading 2:07:19 In Warm Weather Fresh off an 8th place at world XC, Shami won his 5h straight marathon. Magarsa Tafa won the women's race in 2:25.
*Nagano : Nephat Kinyanjui Defends Title in Photo Finish Kinyanjui joins two-time Olympic medallist Eric Wainaina as the only two-time champs as he edged Georgiy Andreyev in the stadium finish. 2:06er Toshinari Takaoka ran 2:15:00 as a training run.
*Turin Marathon 2:29/2:10 Good Enough To Win in Hot Conditions

*Sonia O'Sullivan Falters In Farewell Road Race In Ireland She finished 11th in Sunday's Great Bupa Ireland Run won by Victoria Mitchell
End Is Near For Sonia O'Sullivan At 37, she admits its harder to train and Sunday's Great Ireland Run in Dublin may well be her last competitive road race of her career in her native Ireland. She still plans on racing a marathon in the next year before calling it quits.
Oil Oil Oil
Dubai Marathon To Feature $1 Million Purse and $1 Million World Record Bonus
List of Elite London Entries Rojo didn't realize Khannouchi was running
Mt Sac Shalane Flanagan Sets American 5000m Record (14:44.80) Shalane's fabulous 2007 season kicked off outdoors like it did indoors, with an American record. This time she took down drug cheat Regina Jacobs 5k record, (14:45.38) as Flanagan ran 14:44.80 thanks to a strong final k. And in the men's 5k, Juan Barrios won, but 4 American hit the World Championship "A" standard, led by Anthony Famiglietti who was 2nd in 13:11. (Ryan Kirkpatrick, Ed Moran, and Josh McDougal are the others) Fam's huge pr was less than a month after his American 8k win in NYC. Juan Barrios of Mexico won the men's 5k in a world leading 13:11.
*Results
*IAAF Recap of Mt. Sac Including Juan Barrios World Leading 13:11 5k
*VIDEO: Flocast Has Recaps of All the Top Races (and even the "B" races)and Interviews with Shalane and Fam.
*Scott Davis, Mt. Sac Meet Director is Calling it Quits as Meet Director God gave him another chance at life and being a meet director no longer is in his plans.
Sonia O'Sullivan Running Great Bupa Ireland Run This Weekend As Her Final Road Race BBC
Steve Riddick Fraud Case Gets Underway, His lawyer Accuses Tim Montgomery of Brokering Kilo Drug Transactions If true, Montgomery's case is getting sadder by the minute.
Devine Racing Still Trying to Tarnish Whatever Little Reputation it Still Has Left The way we read this article the checks have been in the mail for over a month as Devine still has not paid last year's prize money for the Salt Lake City Marathon (this year's race is next week). USATF also is a joke for continuing to sanction such an event. We need to start a section on here where you all can rate the road races you run.
Amy Deem and Pat Henry to Coach US Teams at 2007 Worlds
Floyd Landis Loses Arbitration Ruling over Procedures in His Doping Defense
In Depth Talk With USATF CEO Craig Masback from FloCast: 65 minutes with USATF's boss. At least watch it before you bitch . We haven't seen it yet but Mark of Flocasts says its good and its 3am.
*Part1:
*Part 2 Hardest Part of the Job
*Part 3: Poker (He'd better not knock our favorite sport)
*Part 4: TV
*Part 5: Future Goals
*Part 6: Beer, Gambling and Women
Drug Testing Guru Don Catlin to Step Down as Head of UCLA Lab to Dedicate More Time to Research Washington Post In case you haven't realized the real bottleneck in drug testing is on the research side, so it might be better to have Catlin doing research full time. And until the pro sports or the Olympic movement get serious and pony up some serious cash ,there will be no HGH test, etc.
*Don Catlin Says Drug Testers Need More Money, Fortunately USADA is Loaning Him a Key Piece of Equipment
*Don Catlin Says Urine Test for HGH May Never Be Developed
Drugs, Drugs, Drugs:
Balco II is Here
In case you didn't know the drug testing in the major sports isn't too effective. Pharmacists and doctors all over America were arrested in a new huge steroid scandal. NFL, MLB players, and boxer Evander Holyfield are implicated along with the Pittsburgh Steelers' team doctor who ordered up $150,000 of HGH on his private credit card.
*Longer Recap from Albany Times Union
*Doctors Reap Tons of Money from Prescribing Drugs
*Unrelated but in the news: Barry Bonds' Camp Has Never Disputed Steroids Evidence in Game of Shadows Book
JoggersWorld buys Running Times Seriously we think Runnersworld magazine has improved recently. Usually 1 article worth reading plus Ed Eyestone.
*Message board thread
*LetsRun.com Gets Unsolicited Buyout offer
LetsRun.com Boulder XC Coverage
*Results
Kastor Dominates, Culpepper Upsets
A NewDay for US Cross Country
It was a momentous day in US cross country history as 10,000 spectators poured onto the Boulder golf course to witness the return of a single champion at the US championships. Alan Culpepper got the come from behind victory that could define a career, and Deena Kastor put on a clinic, showing she is still the best cross country runner in America by a longshot.
*Splits from all the races
Video:
*LetsRun.com Video of the Men's Finish nd Culpepper Pumping His Fist
Great Flocast Videos:
*Men's Race *Women's Race
Photos: Women's Race Photos
(Other races coming soon)
Denver Post Coverage:
*Culpepper, Kastor Get Titles
*Boulder Running Reputation Solid
*Incredible: 10,000 Fans Turned Out
*Support of Fans Touches Kara Goucher
Boulder Daily Camera Coverage:
*Boulder Does it Self Proud
*Culpepper Feels Right at Home
*Deena Kastor Dominates
*Race Results Weekly Recap of 2007 USATF XC Nationals
*LetsRun.com Boulder 2007 Preview No more hype, no more talking. It's time to lace them up and race so we've got our prerace preview and picks.
*Boulder 2007 LetsRun.com Fan Predictions
*Jordan Hasay Ready for Junior Race
Friday: Wejo in Boulder: The Buzz In Boulder? 'Who's Going to Win' That's what everyone wants to know and it's refreshing to be in a town where people actually care.
*Alan and Shayne Culpepper Balancing Family and Running
Thusrday: Gouchers Ready To Go
*Adam Goucher Profile: In an in-depth LRC profile, Adam Goucher talks about his current fitness level, his thoughts on 2006, his goals for 2007, the end of 4k xc, his relationship with Mark Wetmore and even what it's like to pass Cragg Mottram in a race. (Goucher is 31, not 32 as re originally said in the article)
*Kara Goucher Interview: The American set PRs at 1,500, 3k, 5k and 10k last. She has since upped her training by at least miles per week and is expecting big things in 2007.
*Meb Issues Statement on Pulling Out He got a cold and London is the focus.
*Ritz Ready to Rumble, Says the Course is In Great Shape
*Jorge Torres Ready for Battle in Boulder
*Meb Keflezighi is Out
Wednesday: Alan and Shayne Culpepper Speak
Alan talks about the showdown in Boulder, the most disappointing year of his professional career, returning to the track, the economics and professionalism of the marathon, Mary Wittenberg, and the good 'ole days of American distance running- which are now. Shayne talks about 10 minute miles, the 1500m, the advantages, (and disadvantages) of being forced to take time off from the sport, and the incredibly strong women's field assembled for the US champs this weekend.
Tuesday: LRC Deena Kastor Excited to Return to Her Roots Before she was America's greatest marathoner, she was America's greatest cross country runner and she's returning to her XC roots this weekend. In an depth LetsRun.com profile of America's greatest female runner, Deena explains why she was 'disappointed' with 2006 despite being #1 in the world in the marathon, and how she is training harder than ever. Plus she talks about the Boston Marathon, Shalane Flanagan, Ryan Hall and even letsrun.com.
*Deena Kastor Profile in Ventura Newspaper Racing more is the plan in 2007.
*Gouchers Ready for Happy Return to Boulder for XC Champs It's hard to believe, but Adam says he didn't really become a pro until moving to Oregon and training under Alberto, "One of the main changes for us was becoming professional athletes". Boulder Daily Camera
*Pete Julian, The Man Behind Boulder 2007 If everyone in the world was like Pete Julian it would be a much better place.
Monday: LRC Ritzenhein Ready to Battle in Boulder One of the greatest American XC hopes ever is ready to take on all comers in Boulder at the US championships. He talks about the race in Boulder, his 2006 season, his marathon debut, running more mileage, his relationship with Mark Wetmore, Ryan Hall, his plans for 2007 and whether he intends to run the Olympic Marathon trials.
Upcoming: Interviews with the Culpeppers, the Gouchers, Sara Slattery (who is now officially out of the race with a hot spot on her foot.
*Meet website here.
*The snow is melting (photos of the course from Brad Hudson's Boulder Performance Trainng website) and the forecast is for warmer temps for the middle part of the week but possibly more snow on the weekend.
*Other LetsRun.com Boulder Profiles: Abdi Abdirahman and Shalane Flanagan

Married Thanks to LetsRun.com:
"I don't want to say it. It sounds crazy but it was a dream come true"
-John Stiner, on getting married to his wife, Sarah, who he met on the LetsRun.com message boards. Read about their incredible story.