Shayne Culpepper: Focused on the Track in 2007, But First Up is XC Nationals in Her Hometown
by: LetsRun.com
February 7, 2007
LetsRun.com talked with American distance star Shayne Culpepper a few days prior to the SuperBowl in 2007 (for our international visitors February 1).
Culpepper, a two time US Olympian who lives in Louisville, Co will be competing this weekend in the US Cross Country Championships in her hometown (Boulder is next door to Louisville). Culpepper won the US short course cross country title (4k) in 2003.

She however is most known for her performances on the track and her blazing finishing kick. A two time indoor 3k champ, Culpepper had her most successful season in 2004. After capturing the US indoor 3000m title, she used her tremendous kick to nab the bronze medal at the World Indoor Champs. Outdoors she used her closing speed to outkick Shalane Flanagan to win the US Olympic Trials at 5k. She set her prs of 4: 06.33 and 15:01.36 in 2004..

She is married to US long distance star Alan Culpepper (whose Boulder interview is here) and is the mom to 4 year old Cruz and 8 month old Levi. For a full bio of the two-time US Olympian, please click here.
We began our interview with Shayne by talking about - what else? - the weather. Now we know that people generally talk about the weather when they have nothing else to talk about and it's not that interesting. But it's relevant in this case as snow could play a big impact in this year's US XC Nationals. But now that we at Letsrun.com have gone all corporate, and are official sponsors of the USATF XC Champs afterparty in Boulder, we are no longer allowed to mention anything negative about the event. So since we can't talk about all the snow Boulder has received, we'll leave out that part of the interview.
We pick up the interview with Shayne talking about the birth of her second son, Levi. (Our apologies for just throwing you into the interview mid-paragraph, but with Rojo helping out around here and actually writing stories and doing interviews, Wejo has gotten lazy and just wants to type up interviews and paste them up. Soon Rojo is going to outsource him with a cassette recorder and Indian typist).
Shayne Culpepper: "...I just did an interview recently and they asked "How many injuries have you had?" And literally in the past decade I haven't had an injury, but I've had two babies and that should definitely count as an injury."
LetsRun.com (LRC): Were there any differences having the second baby in regards to coming back to training? Were things easier the second time?
Shayne Culpepper: Definitely the second time around was more difficult - physically and with the day to day tasks of having two children (to care for). (But) it's coming around very well. Like I said before I've never had an injury pretty much my entire career, college included, so for me fortunately I can push a little bit harder coming back maybe than some other folks can. I can push it here and there. So that's been good. Although I had a tough month in November when I was coming back around, and then all of a sudden I kind of crashed and burned. I got really tired and stuff. All in all I am really happy how things are coming around. Certainly I don't feel, like "Oh you're stronger after you have kids (like some people say)." I don't think that is necessarily true. But considering I did have a baby, almost 8 months ago, I'm pretty much thrilled where I'm at at this point in the season. I'm not in the best shape of my life, but I'm on a really good track for being in the best shape of my life when I want to be (later in the season)
LRC: What is your focus going to be later in the season? The 5k?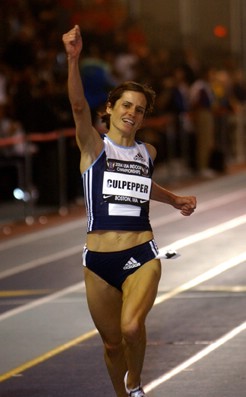 Shayne Culpepper: Actually it's more going to be the 1500. I still feel like in that event I'm still untapped probably more than any other event that I've done. If my career ended and my pr was 4:06, I'd be incredibly disappointed. Ultimately, what I think I need to do is to get into 15 minute 5k shape and carefully add in my speed and round myself into low 4 minute shape. I will run a 5k in April or the end of March, somewhere in there, and then really start focusing on the 1500 after that.
LRC: A couple of years ago you had Suzy (Hamilton), and ... Regina, I'm not really sure she should count (since she's a drug cheat), but now the 1500 seems more wide open. Do you see it that way?
Shayne Culpepper: Yeah, I feel that way. It's not why I've chosen to focus on it, but it's definitely more wide open. When you have Regina and Suzy, Regina is her own entity for reasons that don't need to be said, but even Suzy, you know she's run 3:57, she has such incredible leg speed that I think that when I was in that event with those two women, I didn't realize maybe my potential there because I just felt a little discouraged - maybe you know doing that event for the 4 years that I did and constantly being in their shadows. Moving up to the 5k I had success there and won the Olympic Trials in the 5k, but I still feel like with my finishing speed in the longer events and my 800 speed, I can definitely run a lot faster in the 1500 and I really like the event too. It's fun and you can do more of them. I'm not saying for sure that I'll focus on that event (the 1500) next year, but definitely this year to really try and see what I can get out of myself.
LRC: How does the 8k cross country nationals fit into this your preparations?
Shayne Culpepper: As a workout to be completely honest.
LRC: If the race wasn't in Boulder would you not be running it?
Shayne Culpepper: No I would not. I actually initially did not have it on my plan at all, but Pete (Julian) is putting on such a great event I think that it would be really hard to sit on the sidelines and watch it. I really want to be a part of it. So I kind of timed it (laughing) with my next tempo run that I needed to do. Five miles on a cross country course is definitely not where my strongest points lie. Obviously I'm more of a track runner, speed is a strength for me. But with the race being at altitude, and since I've done good base work this year and I know what it feels like to run in Boulder (at altitude), I think that will carry me through a great race. And its gonna be such a fun event that I wouldn't want to miss it. Pete's done such a great job with it and the whole town is really excited (about it).
LRC: How do you feel like your preparations are going? What were your impressions on your race in Boston (where she was second in the mile at the Reebok Boston Indoor Games in 4:31.35)?
Shayne Culpepper: I was happy with it. It was my first race in 18 months. To finish second and top American was definitely a good way to open up. I wasn't happy with how I raced (strategically). I was way back, in 8th at one point, and I think if I had put myself in better position early on, I would have finished a couple of seconds quicker than that. But when you haven't raced in a long time, you kind of forget about "Alright where do I need to be?" and tactics and all those things. So I'm really looking forward to my next opportunity at running another mile on the track so I can leave it out there. I didn't leave it out there. I walked away from that race without feeling like (I went) anaerobic...
(Shayne went on to say her next track race is the indoor nationals in Boston in two weeks... And then turned to talking about training)
Shayne Culpepper: I've been doing this since 1997, I really know what works for me. That's why I'm more excited about this year than ever because I know what works. I'm more clear than ever about what I need to do to get as ready as possible. Early on in your career, you experiment. I had experimentation of doing 95 to 100 miles a week at altitude and I've experimented with all speed work. And what works for me is not going to work for someone else. But I'm really excited about being clear about what I need to do (in terms of training)
LRC: And what is that?
For me not getting too far away from anything is what I need to do. When I ran my 5k pr (15:01.36 in 2004), all I did was 5k workouts and then I ran a 1500 without doing anything faster than a 70 second quarter, (and) I ran my pr in the 1500 (4:06.33), but it wrecked my legs. It totally wrecked me for almost two weeks because I had not done any speedwork. I think if I don't get too far from anything (all the ingredients) and then get dialed in to 'this is the direction I'm going', I think (that) will really work for me. I think in the past I've always gotten too heavy in one direction whether its mileage or tempos or long intervals or speed and I've never had a real good balance.
LRC: Do you think the time off having the kids makes you focus more or perhaps take a step back and realize "Hey I don't have too many years left?"
Shayne Culpepper: Definitely. Not that I'd ever wish in a million years for an injury, but I think it can be very refreshing at the same time. Injuries can remind you of how much you love the sport, and how much you love to train, and how much you really want to get out of yourself. That time off can just be so refreshing. I've never had an injury and don't wish for one, but the time off for the pregnancy really makes you re-evaluate what you've done and what you want to do. You can't do this forever. You can't go back and get those years back or take 5 years off and decide when you're 39 or 45 'Maybe I should have done that'. Having these two seasons off, one for Cruz and one for Levi, has definitely been super motivating and refreshing for me and I think that's a lot of it for me. When I start losing focus or passion for what I'm doing, it all goes down the tubes. I'm really excited about this year. I really feel refreshed, ready to go.
Through my pregnancy I don't, I can't run. It's the way my body works. This year I had Levi on June 9th. On the day of outdoor nationals on the day of the women's 5k final, my goal on the treadmill was to break 30 minutes for 5k. I thought to myself as I was doing that, "I'm going to have run this distance twice as fast in a year just to be mixing it up for the win". Sometimes when you are so far away from where you need to go, everyday just gets easier and easier and you can build momentum. At the same time it seems daunting, but you're refreshed, you're ready and you're focused. It's been a long road back, even though it's only been 8 months. I was so far out of shape. But I'm just so excited to be fit again to know what it feels like to get on the track and do strides again and be fast and be competitive.
LRC: Wow. (Laughing) 30 minutes for 5k? That's impressive.
Shayne Culpepper: And you know what? I didn't (even) do it. That what was worse about it. I got to 3 miles in 30 minutes and I wasn't able to break the 30 minute barrier for 5k. Granted at that point it had not even been something like two weeks (since the pregnancy) but still.
LRC: I don't think men appreciate how hard it is to have a baby. Thankfully I won't be having any kids.

Shayne Culpepper: Exactly. I feel so fortunate that I can do both. A lot of women struggle with injuries coming back (from childbirth) so I've been lucky with that for sure. So I can push, push, push, push and get it back. The other thing that I went through that was really interesting and is why I had a really bad month of November is that I was actually overtraining. I was overdoing it. I got to the point where I could go run 5 miles at 8 minute pace and that was my tempo run. I just kept pushing, pushing, pushing. Just because I can (only) do 5 mile tempo runs at 8 minute pace, doesn't mean that it's any harder now when I do them, at whatever 5:20s because I was so out of shape. But you're saying to yourself, "Oh that was 8 minute pace (it must be easy)." So you keep pushing, pushing, pushing and then I just crashed and burned. I didn't feel like I was going hard enough because it was so slow (but it was too much). So then I just took a month and took it slow and got back and from then on have been being kind of careful.
The nice thing is you see results (very quickly). Every day gets easier. Every week. The next week I was probably doing it in 7:40s then the next week 7 minutes. It comes back very quickly, but as you get fitter, fitter, fitter, the improvement curve gets more shallow. But still you go through that point where you don't feel like you're training hard, but really my heart rate was probably higher (when I was running 8 minute miles) than it is now for a tempo run so I kind of beat myself up. It was interesting. I have a whole new respect not only for parents of two kids, but just for how hard it is for everyday people to get in shape. It hurts. It hurts just as bad as when I'm super fit and doing a hard interval session. It's not any easier when you're overweight trying to run a 12 minute mile. It's just all relative.
On her plans for cross country nationals:
Shayne Culpepper: I'd like to just leave it all out there ... That is one regret I've always had about my racing in the past is more often than not I would walk away thinking, "I didn't leave it all out there." That's one thing I want to do this year, is not walk away with any regrets. It's going to be a great race. There is a lot of hype around the men's race but I think the women's race is going to be just as exciting. There are a lot of women coming that you forget about that are incredible runners. Elva Dryer or Katie McGregor, these women have all run in the 31:20s and they're all good cross country runners. So it's going to be really exciting to see how it pans out - who handles the altitude, who handles the snow. I'm excited to just see the results for both the men and the women's race.
LRC: What did you think of Shalane (Flanagan)'s (American record for 3k) race in Boston?
Shayne Culpepper: It was incredible. I really was excited for her. She and I talked briefly before our races because we both actually missed about the same amount of time, with her foot and me having the baby. We both missed about 18 months. I was really proud of her and rooting for her. I know how hard it is to come back when you miss that much time.
LRC: Did you have any idea she'd as going to run that fast?
Shayne Culpepper: "... Nothing Shalane does really shocks me too much just because she's so tough and she's so talented. I think she's an incredible, incredible talent. Her talent level is (pause) I think she could be like Paula (Radcliffe). She just has to get it right and she is starting to get it right. When you look back to her college career and leading every step of the Olympic Trials (at 5k) (until the very end when she finished 3rd to Culpepper who won) and making that (2004 Olympic) team, she's just tough and talented. I was really exited to see it because I know how much work she's put into it. And I know that getting out there for the first time, like in my race, is kind of scary when you haven't done it in so long, and to see her perform like that in more or less her first track race in 18 months is really, really impressive ... It's going to be fun to see her race next weekend because she's really a strong cross country runner too, and Deena, it's going to be a great weekend.
*To Read Alan's pre-race interview click here
Boulder Weather Forecast: