Adam Goucher: Very Excited About 2007 Season & US XC Nationals
On eve of 33rd birthday, the American star has big goals and is looking for long sought after sub-13:00 as well as world competiveness
by: Robert Johnson, LetsRun.com
Feb 8, 2007
With the 2007 US Cross Country national race being in Boulder, Colorado this Saturday, it seems only fitting that Adam Goucher will be there contending for the title.
After all, the buzz surrounding US distance running in general as well as US Cross nationals is at a level not seen in recent memory and Goucher deserves a good deal of the credit for helping creating that buzz. Goucher's certainly a home-town favorite that the fans will all want to see as his ties to Colorado and Boulder run deep. A high school national champion for Doherty High School in Colorado Springs in 1993, Goucher made his mark in college running for the Buffaloes of the University of Colorado.
Additionally, Goucher in some ways deserved credit for making the recent resurgence in US distance running possible. The 1990s were a very bleak era for US distance runners. Goucher helped fill the void as almost the lone, bright young American distance prospect the latter half of the 1990s, and he helped pave the way for the American resurgence in the new millennium.
Goucher is really the connection between the era of Todd Williams and Bob Kennedy to the current era led by Ritzenhein, Hall, Webb and others as Meb and Abdi weren't American citizens yet when they were in high school and college. In the 15 seasons between Bob Kennedy's first NCAA XC title in 1988 and Jorge Torres win in 2002, Goucher was the only other American to win the title, which he captured in 1998.
Healthy/Hungry Entereing 2007

Nearing his 32rd birthday (Goucher's bday is Feb 18), Adam Goucher enters this year's nationals as hungry and healthy as he's ever been. Despite the fact that Goucher had a fairly successful 2006 season, as he set prs in the indoor mile and cross country 4k, as well as in the outdoor 2 mile, 5k and 10k, it's clear that he was pretty ambivalent about his 2006 season and wants a lot more in 2007.
"I look at it is as a good year," said Goucher when asked about his 2006 season. "But overall in the end, looking at what I wanted to do outdoors, it was disappointing. I didn't do anything near what I thought I was capable of doing. Yeah, there were some high points, but overall it was a little disappointing, especially the outdoor season."
Goucher's 2006 season started very well, as he set indoor prs in the mile (3:57.60) and 3k (7:41.59), before experiencing the highlight of his season, and arguably his career, at the 2006 World Cross Country championships, where he finished 6th overall.
Outdoors, Goucher became the 35th American to break 28:00 in the 10k, running 27:59.41. He also set a personal best of 13:10.00 in what has in the past been his primary event - the 5k. Nevertheless, for a man who ran 13:11.25 way back in 1999, a miniscule PR wasn't enough.
"Last year, going back to Pre, I wanted the US record in the 2 mile and I just missed that (running 8:12.73 when the American record is 8:11.48). I wanted to win USAs (in the 5k where he finished 4th) and I felt I was ready to go under 13:00 in the 5k and it just didn't materialize," said Goucher via cell-phone from the Nike world headquarters in Beaverton, Oregon.
It is clear in talking to Adam that he feels he was very close to having the big breakthrough he was seeking last year. The long-standing goal of a sub 13:00 5k may have been thwarted by bad luck more than anything.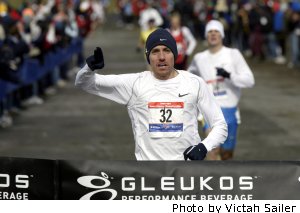 Two days before going to Europe last summer, Adam, who struggled mightily with injuries from 2000 to 2004, badly hurt himself in a workout. He twisted his ankle, which caused his tailbone to go out on him, which in turn gouged out a huge chunk of cartilage (sorry for the inexact description but you get the point) and made it very hard for Goucher to even walk.
"I was in Europe and was like, 'What am I doing here?' Any time you are running on something you can hardly walk on, you aren't going to run your best," said the tough as nails Goucher in the understatement of the century.
Tough As ****
However, in typical Goucher fashion, he did race, and he managed the 13:10.00 pr less than two weeks later. The scenario reminds viewers of the miraculous performance Goucher put on at the 2000 US Olympic Trials when he got into the finals of the 5k as the last time qualifier, but somehow managed to will himself onto the Olympic team in the final by winning the final.
If one were making a list of the toughest American distance runners ever, Goucher's name would have to appear near the top of the list.
Goucher enters 2007 totally healthy and very optimistic about his ability to stave off injuries.
"I'm pretty much feel like I'm over (my injury phase)," said Goucher "But you never know what's going to happy. You can't really avoid things like that - the out of nowhere accident."
Goucher gives Nike and coach Alberto Salazar a huge amount of the credit for his ability to stay injury free. "The resources that we have here are key." According to Adam, "the constant body attention" whether it be in the form of massage treatment, Active Release Therapy, or chiropractic treatment helps keep his body working well. If an injury does ever come up, Salazar makes a few calls and Adam is able to get seen by someone immediately.
Goucher said he does about 85% of his training on the actual Nike grounds, whether it be on the woodchip trails, grass fields or track. His wife, Kara, does a lot of training on a state-of-the-art Alter-G treadmill. Goucher's training partners include Julius Achon, Dan Browne, brother-in-law Bret Schoolmeester as well as former Providence friar Mike Donnelly (easy runs only).
Besides trying to avoid "out of nowhere" accidents, Goucher has plans to change a few things heading into 2007. True to his reputation, Adam feels that he trained a little too hard in 2006.
Changing Things Up For 2007
"I think I'll mix up the training a little bit, give myself a little more recovery. We hammered quite a bit (last year)," said Goucher. "We did a lot of hard stuff and I don't think I was recovered a lot of time, or I just didn't take my easy days easy enough."
Goucher has already made a few "slight adjustments" in his training, and he's noticed the difference. "Day to day I feel a lot better."
With slightly more recovery added in and good health, Adam Goucher is pleased with the way his training has been going heading into US Cross Country nationals.
"I'm feeling really good. The training is going excellent. I'm ready to go," said the 3-time US Cross Country national champion. "I'm confident where my fitness is and that I can run with anyone."
Goucher doesn't seem too concerned with the fact that he didn't compete in the one pre-National race he had planned, as he skipped the Best Cross Country Race of the Planet on Jan. 27 due to poor conditions. "For 12k, you don't need as much of the speed specificity. It's more about strength. You don't necessarily need to have the rust buster to go out and run well as long as you have training hard and are doing race simulations in practice." Last year, Goucher ran 2 indoor races prior to running the shorter 4k at US Cross.
Goucher added that he's primarily focused on "getting ready for the longer distance" this year as well as doing some workouts at altitude to re-adjust, even though he used to live in Boulder.
A Fan Of Old School XC

Given the fact that two of Goucher's 3 US Cross country titles came at 4k, and given the fact that he was the only man to ever win cross country tiles at both 4k and 12k, and given the fact that Goucher's greatest race may have been his 6th place showing in the 4k last year at world cross, one might think Goucher would be very upset that there is only one race at nationals this year.
Wrong.
"I really enjoyed the 4k, but it wasn't really cross country as I grew up with and came to know," said the former 4-time NCAA champion. "I think that overall getting it back to one race is good. No there is no question, right? No one can dodge anyone. You're in there going head to head and the best runner is going to come through. I think it's cool that it's back to one race actually."
With one race comes increased competition, which obviously gets Goucher's blood flowing. Additionally he was understandably excited to get the chance to compete in Colorado, where his family still lives. "I'm very excited to go run there. I think it's going to be a lot of fun. It's is probably the most competitive US cross race maybe ever. Looking back through the years, I can't think where you had this many guys really going in there seemingly ready to run fast and be competitive."
When asked if there was any particular person he was focusing on, Goucher said he was mainly concerned with his own preparations, but did think the Boulder-based runners would be tough to beat.
"I think the Boulder guys that are (living there) are going to be pretty tough to beat. (They're thinking), "Hey, this is my actual back yard. I'm here every day and training.' They are not going to want to get beat on their turf. Plus they are talented guys. You have Dathan (Ritzenhein), Alan (Culpepper), and Jorge (Torres). I imagine they'll all gonna be ready to go. Any one of those guys is going to be able to step up," said Goucher of the US field which looks an awful lot like a CU alumni race.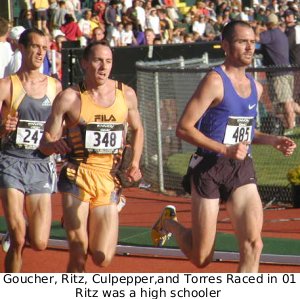 "And then you have Abdi (Abdirahman) - you never know with that guy - but he's almost always ready to run fast and he's very competitive. It will be interesting to see how it all plays out. I would say there is a group of 6-8 guys anyone of which can go in there and potentially win the race."
Inspired By Hall/Mottram
When asked about the recent exploits of non-African born runners like Ryan Hall (59:43 half-marathon) and Craig Mottram (bronze at world-championships in 5k, victory over Bekele, etc.), Goucher admitted they encouraged him and helped him quell a little bit of self-doubt.
"I think it definitely inspires me. It brings it back into the realm of possibility. To see Ryan Hall go out there and do what he did, it's extremely impressive .and makes one think 'Wow that's pretty awesome' but it also brings it back to the reality of: You know what, I can go out there and do that as well."
"It helps to just know that it is possible (to compete with the world's best). It's something I've always felt but maybe at times been a little discouraged by. But overall to see those guys out there running hard, it definitely inspires me to be able say, 'If they can do it, I can do it' and really believe it!"
Speaking of Mottram, Goucher did take his scalp at World cross last year when Goucher, who was 21st at 2k, moved up through the field to finish 6th as the early leader Mottram ended up 11th.
It certainly was interesting for this interviewer to hear Goucher talk about that race and beating Mottram and realize that all runners struggle at times with making the leap from knowing they should be able to do something or possibly could do it to actually doing it.
"That was a good race. I remember when I came up on (Mottram), The first thought that came up on my head was 'I don't know if I should be passing him right now,'" said Goucher, whose 6th place finish was the highest US finish since Pat Porter's 6th in 1986. "Then my natural competitiveness just kicked in and I was like, 'Whatever, it doesn't matter who that is. I'm going to run my race.' I was ready to run. That was a lot of fun. I learned a lot and kind of took it to the next level of competition to know yeah I can compete with everyone."
Competing at the top of the world stage is something that Goucher is very much focused on.
"I have quite a few goals. Definitely, a long over due goal in my opinion for myself is to bring my 5k time down. I really want to run under 13:00 minutes. But I'm also looking at running pretty fast in the 10k and really more than anything I want to competitive at the world level."
A Bit Of A Bittersweet Return Home
Things are certainly looking up for Adam Goucher as he prepares to start the 2007 season in his former home of Boulder, doing what he excels at (cross country) in front of friends and family. However, the return home to Boulder will be a bit bittersweet because of his lack of a current relationship with his former mentor, Mark Wetmore, his coach at Colorado and the man who guided him to so much success.
"We really don't have one," said Goucher when asked about his current relationship status with Wetmore. "If we cross paths at a track meet or on the street, it's pretty much a, 'Hey how's it going?' and that's about it." It's a little bit weird. It's just kind of the way it is unfortunately."
"It was kind of like there was a bad breakup. I don't know. I don't really necessarily understand it because it sucks because both Kara and I did have such a good relationship with him when we were there. I think it was hard for him when we decided we had to move on.. The thing is he knew and he thought we needed to move on as well. It's interesting (how it unfolded)," said Goucher. "I think if maybe we were all able to sit down and talk about stuff it would be possible to have a cordial relationship. We pretty much do."
Despite their lack of a meaningful current relationship, it is clear that Goucher still very much appreciated the role Wetmore used to play in his life.
"But you know, I can never take him out of the picture of where he took us (he and Kara), where he took me and how much he helped me, and molded me into the runner that I am. He will always will be a huge part of my life in that respect."
---
Note: The interview with Adam took place on Feb. 1, 2007. We also spoke with his wife, Kara Goucher, at that time as well. To read our interview of Kara Goucher, please click here. Adam did at the time corretly predict the 2007 Superbowl winner. We apologize for not getting his picks up on in our Elite Runners SuperBowl Predictions page. Goucher predicted Indy 24, Chicago 17.
Robert Johnson, the men's distance coach at Cornell University, can be reached at robertjohnson@letsrun.com