Boulder 2007 XC Champs Are Finally Here
by: LetsRun.com
February 9, 2007
After 10 years of waiting (the short course has existed since 1998), all the months of pre-race speculation, hype, and publicity, things are now pretty simple in Boulder, Colorado on Saturday:
1 Race, 1 True National Champion.
For the true running fan it does not get any better than this.
Men's Preview: Ritz, Goucher or ???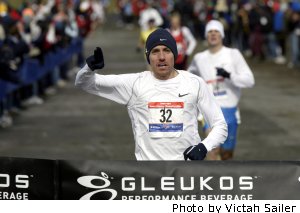 The race is back where we started when we began publicizing the Battle in Boulder with this pre-race flash intro. The 5 runners we featured (the three NCAA XC Champs who all went to the University of Colorado, Adam Goucher, Jorge Torres, and Dathan Ritzenhein, plus CU NCAA 5k champ Alan Culpepper, and NCAA XC runner-up with 2 top 15 finishes at World XCs Abdi Abdirahmam (Abdi is getting props for racing the CU guys on their home turf) are expected to battle it out for the prestigious crown.
We featured those 5 runners because we felt they were the five people most likely to show up no matter what and battle for the crown in Boulder and we were right. By the time the men's race rolls around (the last race of the day), it is going to be extremely muddy. There is a ditch the runners have to go down in and jump over a stream. Not to mention the race is at altitude. If you toe the line on Saturday, you no longer will be able to duck anyone in the short race. Pride and prestige will be on the line.
Racing Goucher, Ritz, Torres, and Culpepper on their home course is daunting enough, but throw in racing at altitude and the risk of injury from running in the slop, and financial considerations come into play these days. In a day and age where top American marathoners get 6 figure appearance fees to show up at major marathons, we were not surprised to see Meb Keflezighi withdraw from the race this week after a cold caused him to miss some training, especially considering the tough conditions in Boulder. Meb has not run USA XCs since 2003, but the draw of being able to show that he truly is the best cross country runner in America nearly got him to he starting line.
While any of the five runners could come out victorious on Saturday, pre-race attention is rightfully focusing on two runners, Dathan Ritzenhein and Adam Goucher, as the two favorites.
Goucher is the one who started the CU cross country legacy. His NCAA championship season was chronicled in Running with the Buffaloes and the rest is history. Goucher is a tremendous cross country runner as evidenced by his 6th place finish at the World Short Course Champs last year. And while winning this race means a lot to all the guys involved, we believe losing it would upset Goucher the most. He started the CU tradition in cross country, and does not want any of the young upstarts to knock him off his pedestal.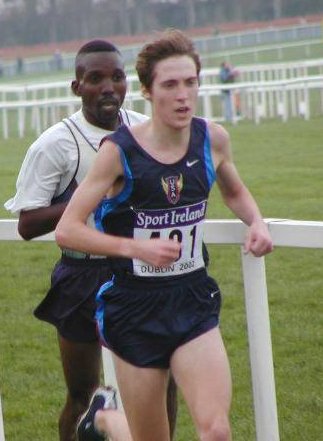 However, he will have his hands full with Dathan Ritzenhein. Since getting the bronze medal at the World Junior Cross Country Championships in 2001, Ritzenhein has been America's brightest XC hope. He followed that up with an NCAA crown in 2003 and an impressive international XC win in Belfast in 2005. The young gun's specialty is clearly cross country. His success at longer distances and running in the mud (both his bronze medal and win in Belfast were in muddy conditions) makes him the slight favorite on Saturday.
We asked Running With the Buffaloes author Chris Lear on who he liked in Saturday's race. He thought Goucher would be tough to beat. When we pointed out that the longer distance and muddy conditions favored Ritz, he agreed there was a chance that Ritzenhein could run away from the field. Lear agreed that Goucher might want it just a bit more than anyone else. Lear believed if it came down to a sprint, Goucher would win. "You've got to take Goucher in a street fight (meaning a sprint in the mud at the end)."
Predictions: We think somehow Ritz will be able to get away from Goucher before the end. However, for the fans we hope it comes down to a sprint.
1) Ritzenhein 2) Goucher 3) Culpepper
(although we hear Jorge Torres runs great in the mud)
Women's Race: Deena, Shalane or a Surprise?

The women's race is extremely deep and features runners with slightly different Boulder ties. 7 time US Cross Country champ, 2 time World XC Silver medalist, and three time Bolder Boulder champ, Deena Kastor headlines the field. Kastor is back running US cross for the first time since 2003. Her chief rival, according to the LetsRun.com viewers is expected to be recent American indoor record holder at 3k, and 2 time NCAA cross country champion, Shalane Flanagan, who was born in Boulder. The resurgent 2000 NCAA Champ Kara Goucher, who was a University of Colorado Buffalo, 1998 NCAA Champ Katie McGregor, Bolder Boulder champ Elva Dryer, and the always tough Lauren Fleshman (4 time top 11 finsisher at NCAA XCs) could challenge Kastor and Flanagan.
But the focus rightfully is on Kastor, the queen of American distance running and cross country running, and the hot Flanagan. We had one prominent track and field journalist swear to us that Kara Goucher would win the race. It may happen but if it does, it would be a upset.
At the time of writing, Kastor and Flanagan have 10 times the number of first place votes as Goucher in the LetsRun.com prediction contest (composite predictions at the bottom). Flanagan and Kastor are neck and neck with Flanagan the slight favorite. The bad conditions, longer distance, and race being at altitude favor Kastor, whose XC credentials, are unparalleled in the field. Flanagan however, comes in with strong connections to Boulder, and full of confidence after her surprising American 3k record. 8k is a long race for her, but there is no question about her fitness.
Some might be concerned about what type of fitness Kastor is in as she is trying to focus on her preparations for April's Boston marathon. However, Kastor says she trained harder than ever over the holidays, and that is saying something because she has won 7 US XC titles before without training hard over the winter. With that in mind, and given the tough conditions in Boulder, and also largely out of respect for all that she has accomplished during her career, we give Kastor the slight nod. That being said, Rojo (who interviewed Kastor) said he wouldn't be surprised if Kastor didn't run for the win at all (she claimed she was going to take it easy at first to make sure the footing was ok) although we tend to believe that she may start a bit conservatively but then her competitive juices will take over.
Predictions: 1) Kastor 2) Flanagan 3) Goucher

No such file or directory