Meb Keflezighi London 2007 Update
Hawi Management
April 20, 2007
Attention Meb and Marathon Fans:
Eritrean-born American and 2004 Olympic Silver Medalist Mebrahtom (Meb) Keflezighi will be running in the Flora London Marathon on April 22, 2007.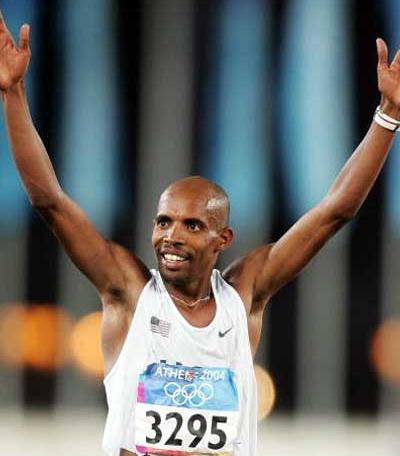 The 2007 Flora London Marathon will be televised in over 160 countries, and millions of households. Please check your local listings for details of the race coverage in your region. In the USA and Canada, the London Marathon will be broadcast on the internet (www.wcsn.com). The race start time is 9:45 am (London time), and all broadcasts will be live, so please plan accordingly.
This will be Meb's first time competing in the Flora London Marathon, and Meb's competition includes: Haile Ghebreselassie, Paul Tergat, Felix Limo, Martin Lel, Stefano Baldini, Jaouad Gharib, Hendrick Ramaala, John Brown, and Marilson Gomes dos Santos. This field is considered to be the best ever for the London Marathon and many experts believe it is the best marathon field ever assembled. The American field in this year's London Marathon is also very impressive and deep. Americans joining Meb in representing the USA in the London Marathon are: Former World Record Holder Khalid Khannouchi, American Half Marathon Record Holder and Meb's Running USA teammate Ryan Hall. Upcoming American marathoners Fasil Bizuneh, and Jason Hartmann will also take part in this historic event.
Meb has had a few setbacks in his training for the 2007 Flora London Marathon. After winning the USA 15k Championships (for the 6th time) in March, he experienced a severe blister that limited his running for two weeks. Meb supplemented his running and maintained his fitness by doing a lot of cross-training during this period.
After taking care of that issue, Meb experienced a sore Achilles and Calf muscle about two weeks prior to the race. These setbacks did not stop Meb doing his best to prepare for his debut in the Flora London Marathon. Meb is fit, optimistic, and fresh going into the race. Meb says: "They could be blessings in disguise." Despite all of the challenges, Meb will "RUN TO WIN." Meb enacts this philosophy in running and life, and encourages everyone to: "Do the best you can in all aspects of life, and try to be the best person you can be."
Meb has been contacted and greeted by the Eritrean Embassy, the Eritrean Relief Association and the Eritrean Youth Association in London, and they indicated they will be cheering Meb on race day. There is also an event to allow Meb to meet his fans in England being organized for Tuesday, April 24. More details about the event will follow.
Following the marathon, Meb will return to his country of birth (Eritrea) for the second time since he left in 1986. Meb's prior visit was in December of 2002. Meb will be accompanied by his parents, Russom and Awetash Keflezighi, wife Yordanos Asgedom, 1 year old daughter Sara Mebrahtom Russom, and his brother and manager Merhawi Keflezighi of HAWI Management. Meb and Merhawi are very interested and committed in providing Eritrean athletes with access to resources and services that Meb and other American athletes benefit from. More information about Meb can be found on his newly designed and updated website: www.RUNMEB.com.
Run To Win,
Team Meb

---

Running & Track and Field Posters
---
Unbelievable interest
ING Orange Savings Account
Sponsor of the NYC Marathon


5 Minute Process to Open an Account
No Minimum Deposit
---
---