Zhou and Lel Prevail at 2007 Flora London Marathon
2:08:24 American Debut Record for Ryan Hall
By David Monti
(c) 2007 Race Results Weekly, all rights reserved

LONDON (22-Apr-2007) -- As they mounted the top step of the podium near the finish line of the 26th Flora London Marathon, Zhou Chunxiu and Martin Lel basked in the warm sunshine which conspired with them to defeat two of the best marathon fields ever assembled.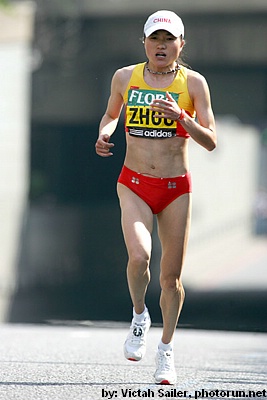 With the mercury hitting 20°C (68°F) by the time the Zhou finished in a world leading 2:20:38, the warm temperatures combined with a cloudless sky had already taken its toll on some of the sport's top stars. Haile Gebrselassie, Stefano Baldini, Khalid Khannouchi, Meb Keflezighi, Galina Bogomolova, Ludmila Petrova, Kyoko Shimahara, Kathy Butler, Blake Russell, and Juan Carlos De La Ossa were just some of the athletes who couldn't finish, while others were forced to jog the final miles to the finish.

"On a day like this I think it's maybe worth a minute or two," the top Briton in the women's race, Mara Yamauchi, told the BBC.

Yamauchi was one of the few women who kept her cool when the lead group shot through 5 km in 16:24, about a 2:18 marathon pace. Dressed all in white, pacemakers Mary Keitany and Irene Kipchumba ran in front of Zhou, Lornah Kiplagat, Benita Johnson, Gete Wami, Constantina Tomescu-Dita, and Berhane Adere, while Salina Kosgei ran three seconds back with two other pacers. Yamauchi was paired (for the moment) with Kiyoko Shimahara (16:34), while Liz Yelling, Kathy Butler and Blake Russell worked together in the third group (16:50).

The leading group would hold together until about 11 miles (18 km) when Johnson, slipped off the back. Kipchumba soon retired, leaving Keitany to maintain the pace, blowing through half-way in 1:09:58. By 25 km, Adere began to lose touch, and went backward rapidly. Last year's LaSalle Bank Chicago Marathon champion would fade badly to a 2:39:11 finish.

Kiplagat, who just won the IAAF World Cross Country championships last month, took over the pace, and the miles ticked by. Tomescu-Dita was the next to let go, leaving Kiplagat, Zhou and Wami to fight it out for the win. The three were still together through the 22nd mile --just past 35 km-- when Zhou, wearing a white cap to protect her from the sun, began to push. She ran 5:29 for the 23rd mile, and quickly gapped Wami and Kiplagat.

"She was too fast and that's what happened," explained Wami who couldn't stay with her Chinese rival.

But Zhou wasn't done. She continued to press, and ticked off a 5:09 for the 24th mile to put the race far out of reach.

"There is no secret to my success today," said Zhou, the first Chinese to win here, through a translator. "It's all hard training and experience."

Her time was the sixth-fastest on this course, but left the 28 year-old athlete wanting for more.

"If there were other athletes running the final kilometers, I think I could have run faster."

Wami finished strong in 2:21:45, the second-fastest time of her career. Tomescu-Dita and Kosgei were able to pass Kiplagat who faded in the final miles, to finish third and fourth, respectively, in 2:23:55 and 2:24:15. Kiplagat ended up fifth in 2:24:56.

As for Yamauchi, she ran alone nearly the entire race to finish sixth --the same position as last year-- in 2:25:41, about half a minute off of her personal best.

"I wanted to be in a group but the group I was in was going faster than I wanted," said last year's Commonwealth Games bronze medalist at 10,000m "I thought I'd catch people, but it didn't work out in the end."

Johnson, who became overwhelmed by the early pace and the heat, showed some grit by finishing seventh in 2:29:47.

"I think the pace just got to me," she said.

1. Chunxiu Zhou (Chi) 2 hours, 20 minutes, 38 seconds
2. Gete Wami (Eth), 2:21:45
3. Constantina Tomescu-Dita (Rom) 2:23:55
4. Salina Kosgei (Ken) 2:24:13
5. Lornah Kiplagat (Ned) 2:24:46
6. Mara Yamauchi (GB) 2:25:41
7. Benita Johnson (Aus) 2:29:47
8. Liz Yelling (GB) 2:30:44
9. Inga Abitova (Rus) 2:34:25
10. Berhane Adere (Eth) 2:39:11
LEL CORRECTS "MISTAKE" FROM LAST YEAR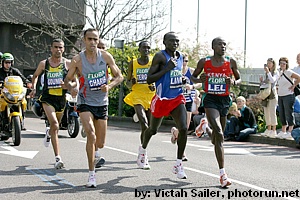 At last year's Flora London Marathon, Martin Lel found himself side-by-side with Felix Limo with about 300 meters to go, and Limo proved to be the better sprinter, beating him by just two seconds. This year's race set-up nearly the same for these two men, but with a different outcome.

"I corrected the mistake I made last year," Lel told the BBC.

Lel's "mistake" was his failure to time his sprint properly, and this year he did it to perfection.

Off of an honest pace set by pacemakers Paul Kimugul and Patrick Makau, a pack of nine reached 30-K in 1:30:40, about a 2:07:30 pace. Lel and Limo were joined by two-time world champion, Jaouad Gharib; last year's ING New York City Marathon champion, Marilson Gomes dos Santos; 2004 Olympic 5000m finalist Abderrahim Goumri, who was making his debut; former New York champion Hendrick Ramaala; two-time Olympic gold medalist, Haile Gebrselassie; and the young American debutant, Ryan Hall of Big Bear Lake, Calif.

Gebrselassie was the first casualty, dropping out abruptly just beyond the 30-K mark.

"I cannot move," he told the BBC from the side of the road. "I don't know what's going on."

The pack of eight continued together through the 22nd mile (35 km), when Hall and Gomes drifted back. Limo, the defending champion, was waiting until 40-K to make his move, hoping Gharib would go for his bottle and then the Kenyan would take off. But Gharib skipped his fluid so both Limo and Lel had to skip theirs to stay on the pace.

"I wanted to take my water, so Gharib leave his water," Lel said after the race. "So I had to leave my water."


Gharib's little surge was covered quickly, and the pack was together into the final sprint. Avoiding his "mistake," Lel launched his sprint with about 300 meters to go and never looked back. Channeling Michael Johnson, Lel's upright sprinting style may have been awkward, but it was effective. He made it to the line first for the second time here in 2:07:41, with Goumri getting the better of Limo to finish second three seconds back. Limo finished third in 2:07:47, while a dejected Gharib --who had been smiling with confidence the final kilometers-- walked over the finish line in 2:07:54. Ramaala, 2:07:56, and Tergat, 2:08:06, filled out the top-6.

Besides Goumri, the surprise of the day was Hall (for a story on Hall's incredible debut click here). Despite struggling a bit in the last two kilometers, he finished seventh in 2:08:24, the fastest debut ever by an American. He also became the second-fastest American of all-time, behind Khalid Khannouchi.

"The last 2-K was really long," said Hall as he ate lunch after the race with his parents. "I felt great leading; that's why I went to the front. I wanted to taste the lead."

The plain-spoken Hall earned the respect of his competitors who were very surprised to see him in the lead pack. One athlete, who preferred not to be identified, commented: "That guy has balls, man."


2. Abderrahim Goumri (Mor) 2:07:44
3. Felix Limo (Ken) 2:07:47
4. Jaouad Gharib (Mor) 2:07:54
5. Hendrick Ramaala (SA) 2:07:56
6. Paul Tergat (Ken) 2:08:05
7. Ryan Hall (US) 2:08:24
8. Marilson dos Santos (Bzl) 2:08:37
9. Dan Robinson (GB) 2:14:14
10. Andi Jones (GB) 2:17:49





---

Running & Track and Field Posters
---
Unbelievable interest
ING Orange Savings Account
Sponsor of the NYC Marathon


5 Minute Process to Open an Account
No Minimum Deposit
---
---